In a world where fashion holds immense importance and designers keep coming up with something new every time, heels make one of the favorite accessories for women. Over the past few decades, there has been increased emphasis on designing and styling different types of heels. So much so, that even the most uncomfortable stiletto heels which have adverse effects on your health are now modified into the most comfortable heels protecting your health instead.
Thanks to the growing awareness about health post-COVID-19 pandemic, we now have safer versions of heels which include cushioned footbeds, premium quality fabrics, and much more. When we talk about formal events, which include prom, galas, art shows, formal wedding pageants, and similar events then, heels are a must-have. Whether they are prom heels or formal heels, you need to look your best, emphasizing your femininity and sophistication at maximum.
Disclosure: This post contains affiliate links. When you purchase a service or a product through the links, I sometimes earn a commission, at no additional cost to you. Read my full disclosure here.
Without further Ado, let's discuss the kinds of heels you can wear at formal events to ensure that you leave a lasting impression!
Formal Pumps Heels
First and foremost, the most elegant and convenient pair is formal pumps. When stiletto heels came in as a catastrophe for most women, formal pumps emerged as their savior for them. They are much more easygoing, simplistic, classy, and comfortable heels. Formal Pumps heels reinforce your femininity by accentuating your feet. They usually come in a slip-on style with a closed toe, but various other designs have emerged recently too.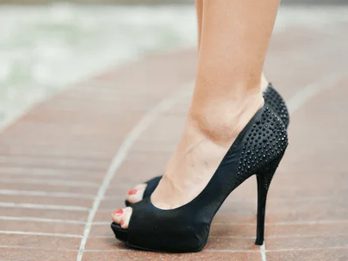 Formal High Heels Stiletto
Yet again, for events like formal weddings or a pageant, formal high heels are the classics. They are the safest bet, but the only risk is discomfort which can make you misbalanced and put you in unnecessary unease. Though the feeling of dread is always there, formal high heels make a strong fashion statement even if you wear them in plain red or jet black. You can never go wrong with these. We recommend you go with plain colors with these formal high heels for your events! If you're going to the prom, then buying stiletto heels with a splash of colors will also look good. On the other hand, if it's a wedding event, then you can get stiletto heels with crystals on them or some embellishments.
Mules
Mules are a cuter and more stylish version of the narrow and pointy stiletto heels. They have a shorter heel size and are much easier to carry. They come in various designs ranging from slingback, and ankle straps to many others. Because of their timeless simplicity and elegance, they make the perfect pair of formal heels for events where you shouldn't wear anything too flashy. Mules are the most comfortable heels in which you can walk around easily and be considered fashion-forward too.
Slingback Heels
Another uber-chic and ultra-modern heel that you should try for formal events would be slingback heels. These low heel formal shoes comprise a strap that secures your feet firmly. They're generally preferred by women who love looking ladylike and at the same time, a bit bold too. Slingbacks have an alluring charm, similar to that of stiletto heels. They can either come in a closed-toe design or an open-toe. These low heel formal shoes are now one of the common most comfortable heels preferred as they prevent slip offs which is a must in formal events.
Formal Block Heels
Block heels are the kind of heels that exude confidence, finesse, and utmost grace. They consist of a thicker version of heels instead of a pointy and narrow heel like a stiletto one, hence they're more comfortable and easy to carry. Block heels give you maximum support and balance, and you can walk around in them for hours without feeling tired. Formal block heels come in many variations, but brands like Stuart Weitzman, Manolo Blahnik, Sam Edelman, and Gucci have some awesome block heels which you can invest in for a formal event.
Final Thoughts
On a concluding note, it can be said that to leave a lasting impression at a formal event, it is important to have the best pair of formal shoes and the ones mentioned above like formal block heels, formal block heels, formal high heels stilettos, and the formal pumps are sure to do the job perfectly! Pair these heels with a formal dress or pants, and you'll achieve the put-together look. You'll also be making heads turn as you walk by owing to the timeless grace and poise that you'll exude by wearing these heels. Before you finalize your decision, you must look at our heels selection which fits best for casual events.