They are cute, stylish, and dapper – peep toe shoes have been a fashion trend for quite some time now. Coming in different variations of shoe styles including flats and heels which also include stilettos, mules, slingbacks, and many others, they make the ideal pair if you want to show off your toes, especially if you have gotten a fresh pedicure. Unlike closed-toe heels in which you are unable to show your toenails, with peep toe heels, the job is done quite well, as the name suggests itself – 'peep-toe'.
Surprisingly, research shows that peep-toe heels can be more comfortable than closed-toe as they allow air to pass by, so they do not suffocate your toes, while also keeping your feet intact. Besides that, peep toe heels make your feet appear thinner and longer too. As a result, girls wearing peep toe heels get that ultra-feminine appeal as well. There is something unique about a pair of peep toe heels that a closed-toe, pointed shape generally does not tend to offer.
Peep Toe Heels Are Appropriate For:
Teenagers and young adults.
Celebrities.
Aged women.
Summer/Spring season.
Are Peep Toe Heels Business Professional?
Peep toe heels may be considered undesirable and unprofessional in one setting while being totally fine and socially acceptable in another, depending on the context and culture of the company. The choice to wear peep toe heels to work or not is ultimately up to the individual. Girls wearing peep toe heels never experience any sort of discomfort both in formal as well as informal events.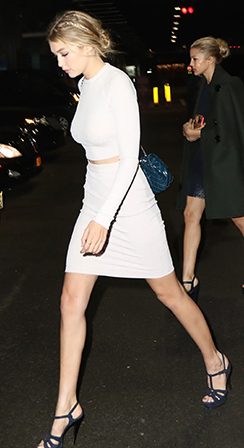 Gigi Hadid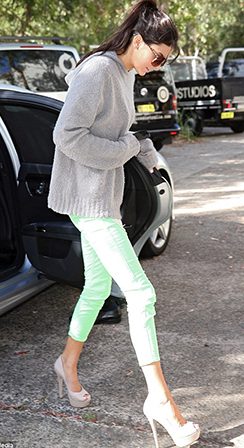 Kendall Jenner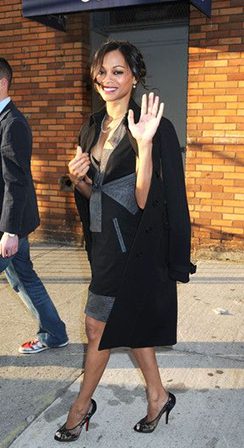 Zoe Saldaña
Disclosure: This post contains affiliate links. When you purchase a service or a product through the links, I sometimes earn a commission, at no additional cost to you. Read my full disclosure here.
Without further ado, let's head into our list of best peep toe shoes available online which you should keep an eye on.
Latest 2023 Peep Toe Heels
1. Bettie Page – Carlie Pump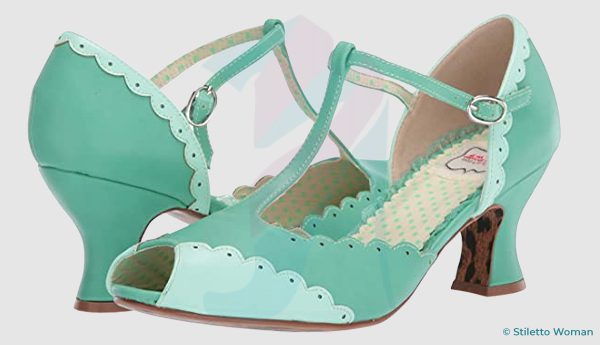 Featuring a blue pastel color with a soft and subtle appeal, Bettie Page's peep toe heels ooze cuteness and the uber-chic look. Not only are they appropriate for parties, but they would also look nice when you go out for casual hangouts with your friends. They are super stylish and accommodate the summer and spring fashion trends. The heel shape allows you to set your walking pace as fast or as slow as you like. Best of all – they are available at an economical price too!
2. Jessica Simpson – Daisile Heel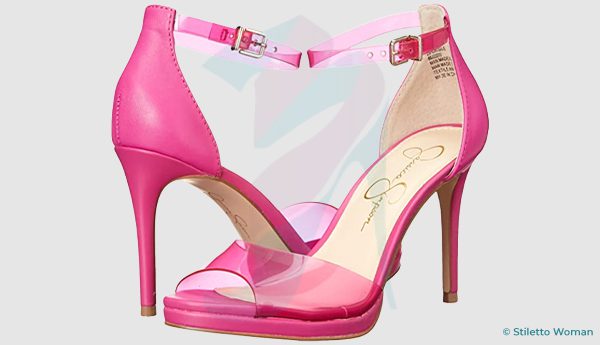 There's nothing like a splash of neon colors on your heels which attract all the attention of the audience in a jiff. This is exactly what Jessica Simpson's peep toe heels offer. The neon pink colored peep toe heels are a definite showstopper. They feature a stiletto heel design with transparent straps which add more to the style of the heels. They come with buckle closure which allows you to walk comfortably in these high heels.
3. GUESS – Jaane Pump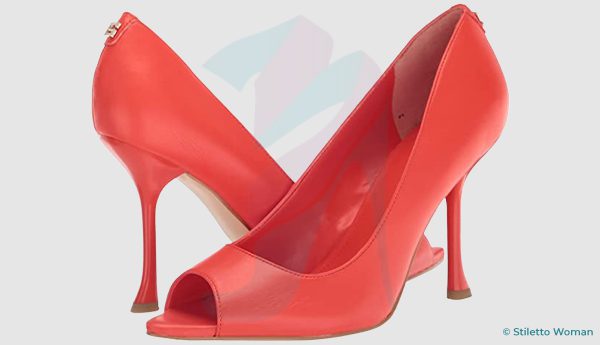 Another option for stiletto heel lovers is GUESS's peep toe heels. Featuring a bold and electric red color, with a sharp and narrow stiletto heel, girls wearing peep toe heels by GUESS exude finesse and style with modernity. Meeting contemporary fashion requirements, this one is a must-have for all heel enthusiasts. Notably, these shouldn't be worn for long hours as you may end up getting foot sprains, but besides that, if you have practice, then you'll be good to go!
4. Lucky Brand – Rhazy Pump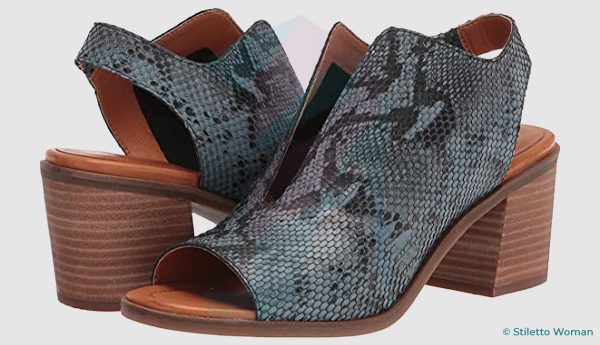 Featuring a wedge heel design with black leather upper and brown sole, these peep toe wedges exude grace. These black peep toe heels suit the everyday look, and you are sure to seamlessly look classy, yet not dread the idea of foot sprains that you end up getting after wearing stiletto heels all day long. Lucky Brand promises amazing quality when it comes to heels, and these peep toe wedges are no exception. The peep-toe design in these adds a dramatic touch, as the whole footwear is covered, but you can show off your toes.
5. TOMS – Classic Wedge Sandal
Featuring the classic espadrille wedge design with platform heels, walking in heels has never been easier. TOMS's peep toe sandals ooze comfort and simplicity. They are easy to carry and easy to wear. With a man-made sole, you're sure to not be disappointed after wearing these peep toe sandals for a long time. These peep toe wedges are durable and the most convenient option if you want to look effortlessly chic.
6. Steve Madden – Dispute-r Ankle Boot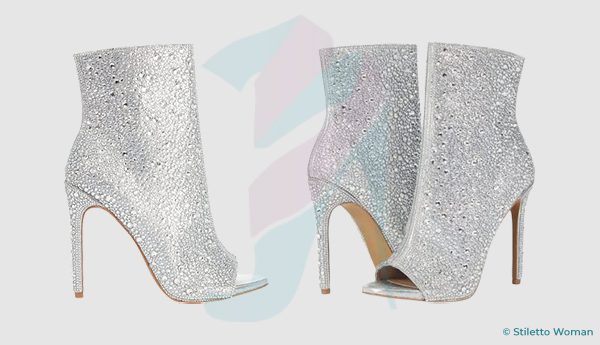 The ultra-hip and classy, Steve Madden's peep toe heels are the perfect example of luxury at its best. Covered with rhinestones on the upper side, with a peep toe design, and high stiletto heels, they make the perfect pair for weddings. The silver color adds more to the luxurious appeal of the footwear and these peep-toe heels are quite unique too. They are made with superior quality materials; hence they will be worth the investment too.
7. LifeStride – Teller Dress Sandal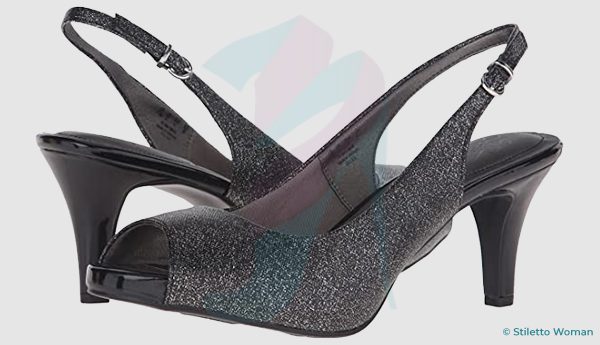 Boldness and adventure wrapped into elegance and modernity, that's Nine West for you. The brand excels in providing unparalleled comfort and versatility in terms of stiletto heels, and these clear stiletto heels are no exception. These peep toe sandals comprise embellishments on the top of the transparent cover, making them ideal for party wear. If your dress is too simple, it'd be advisable to wear these peep toe sandals to make a strong fashion statement.
8. Karl Lagerfeld – Blayze Fashion Boot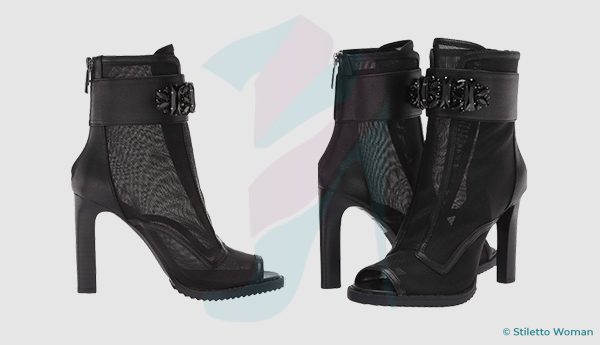 A unique and innovative design with cushioned footbed, Karl Lagerfeld Paris's peep toe heels exudes luxury and comfort at its best. Similar to Steve Madden's peep toe heels, these would be appropriate for parties and bridal events. They come in a classical black color with a net covered design, making them look quite unique.
9. Michael Michael Kors – Lawson Open Toe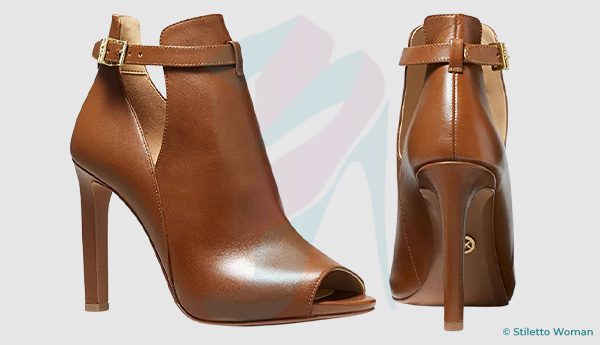 There's nothing like a pair of black leather heels featuring peep-toe design, which is exactly what Michael Kors offers. These black peep toe heels are made in USA, with a suede sole and Vachetta leather upper, which ooze sophistication at its best. They come with an ankle strap and buckle closure to give you maximum support and the best fit for your feet. Besides that, these black peep toe heels have a 3.5 inches heel height in which you can conveniently walk around for quite some time without feeling tired.
10. NINE WEST – Prizz Pump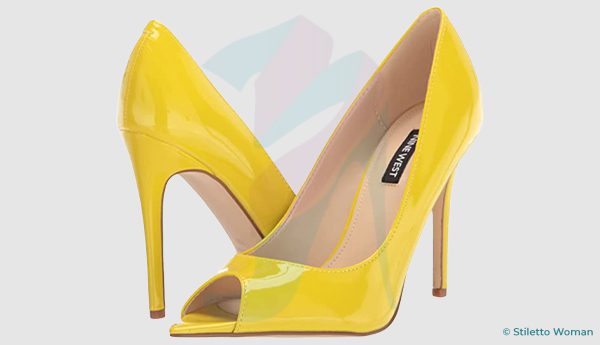 Featuring a unique, man-made design in a cute pink colour, these peep toe heels are the definition of simplicity and cuteness at their best. Nine West's peep toe heels promise excellent quality, along with an alluring peep toe design paired up with stiletto heels. They feature a slip-on closure without ankle straps.
11. FLY London – Wily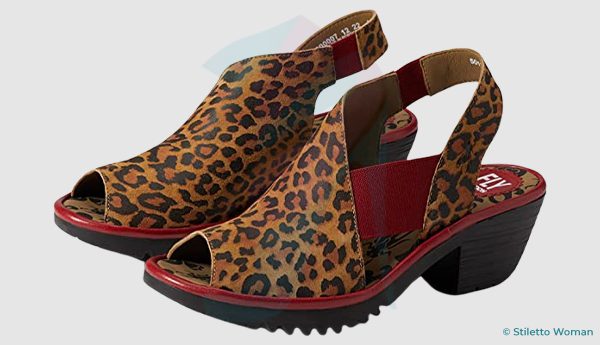 Here's one of the most convenient and reliable options out there for peep-toe heels if you are looking for something casual and suitable for everyday wear. These peep toe wedges consist of side elastic which means you can easily slip them on and off whenever you want. They will not cause you any discomfort owing to the wedge design. Moreover, they will provide you with utmost comfort and a smooth walking experience, by also adding a few inches to your height!
12. Badgley Mischka – Kiara Pump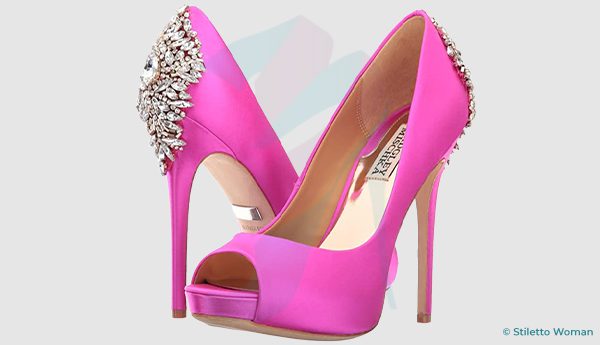 Badgley Mischka is a premium brand, and these peep-toe heels are just another example of the kind of luxury they offer in terms of heels. These peep toe heels consist of the alluring stiletto heels and embellishments too! These heels strike a balance between flashy and sophistication, therefore they would be ideal for formal occasions too, and not just bridal.
13. Casadei – Pump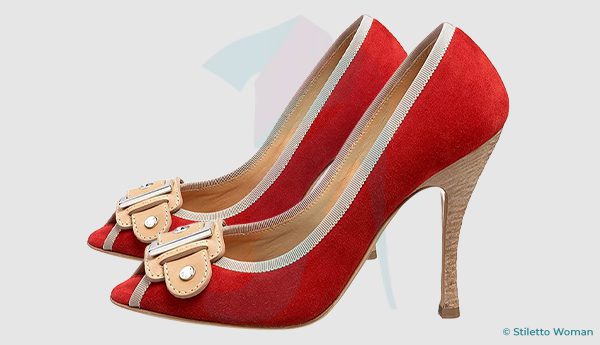 Casadei – practically the king of footwear in terms of offering utmost finesse and comfort to its customers. The company has an excellent reputation in the market relating to its stiletto heels. These peep toe heels consist of superior quality which not only provide you with comfort, but also the modern style that you need to adapt to the latest fashion trends. It comes with a long stiletto heel which can add to your height too!
14. Clarks – Maritsa Lara Sandal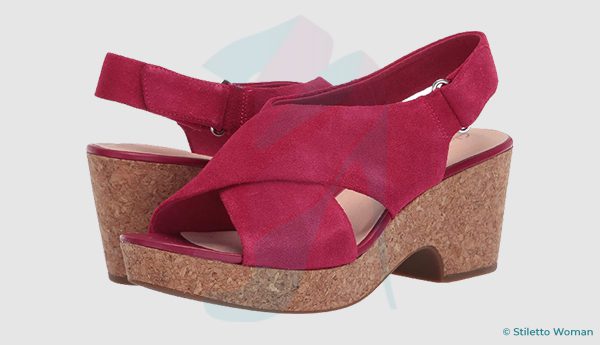 A company that is known worldwide for providing its customers with amazing quality footwear and prioritizing comfort over everything else, Clarks' Peep Toe heels come with a suede material and with a convenient heel height, which allow you to walk easily even for hours. They are appropriate for formal as well as informal events owing to the minimalistic and simplistic style with a slingback design, hence you can put them on quickly too. Girls wearing peep toe heels
15. DKNY – Claudia Peep Toe Pumps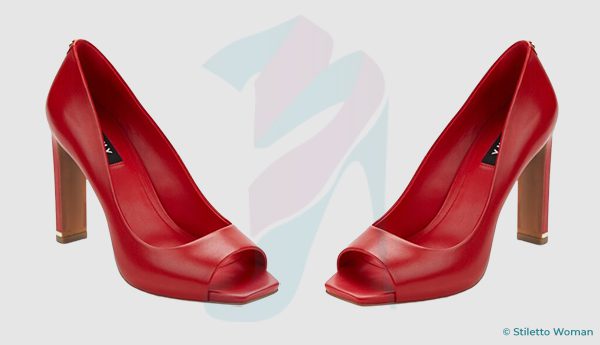 With a pump-inspired look, along with a leather upper, DKNY's peep toe pumps ooze classiness and ease of wearing. They do not have straps and you could simply slip them on and continue with your day. They are easy to wear and easy to take off. Thanks to the slip-on style, they are very comfortable as well. You could walk in these peep toe pumps without experiencing any discomfort even for hours. They can add a few inches to your height too!