Though classic and traditional trends can go a long way in fashion, in the modern era, there's a contemporary look to everything. From mommy jeans to kitten heels, everything has evolved into something unique. As the evolution of heels continues, we get to see newer versions of heels every day as designers work relentlessly to meet the demands. Though cone heels shoes are not a new trend, they're surely back in fashion as high-end designers like Givenchy and Gianvito Rossi have them too! Besides designers, some famous celebrities like Rihanna, Taylor Swift, and Beyonce too, were spotted wearing cone heels shoes.
What You Need To Know Before Buying Cone Heels:
You may assume that cone high heels would look very tacky and traditional as compared to that the look of glamorous stiletto high heels. However, we have newer versions of cone heels which are suited to many occasions and preferences. Ranging from open-toe, closed-toe, square-toe, block heels, and many others – the choices are limitless. A few things that you need to know before investing in cone heels include the following:
Your Individual Requirement

Whether it's your prom, graduation ceremony, casual events, or the desire to have cone high heels, know that there are many variations out there. So make your picks wisely according to the occasion and your preference.

Who Should Buy Cone Shaped Heels?

Women who love to look creative and feminine. Those who have boisterous and trendy fashion tastes would love to go for a nice pair of cone heel shoes. Not just that, but those who attend lots of events would also love to invest in such a pair of heels.

Features To Look Out For

Cone heel shoes come with a strappy look, embellishments, buckles, various textures, heel shapes, heel height, and a lot more. You can pick the one that best suits your needs as you browse through popular designer brands like Gianvito Rossi, Givenchy, and others.

Beyoncé

Taylor Swift

Rihanna
Disclosure: This post contains affiliate links. When you purchase a service or a product through the links, I sometimes earn a commission, at no additional cost to you. Read my full disclosure here.
Without further ado, let's head on to our top picks of the cone heels shoes:
 Stiletto Best Cone Heels in 2023
1. David Tate Loft – Boot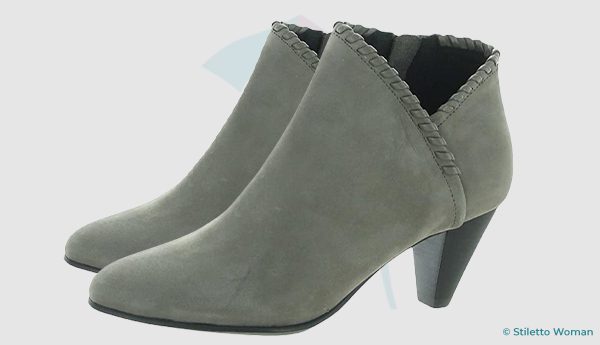 Ranking at the very top, these cone heel booties by David Tate are sure to catch your attention. Not only are they an economical pair, but they have a classic pump style with a pointy toe to help you make a strong fashion statement. Moreover, they'll be appropriate for most occasions and even casual strolls.
2. Donald J. Pliner – Pru Bootie (Cone Heel Booties)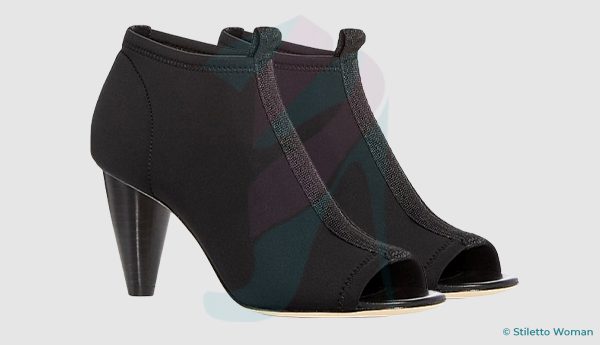 Another pair similar to that of David Tate, are cone heel booties by Donald Pliner which give you a sturdy grip and prevent chances of slip-offs. These are the kind of cone high heels which you can wear all day without experiencing any kind of discomfort. They are super convenient and lightweight.
3. Karl Lagerfeld Paris – Cieone Heeled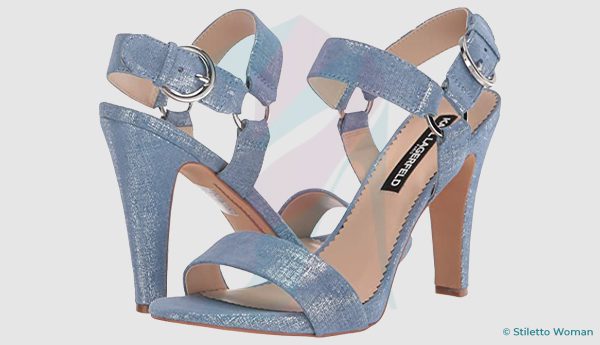 Featuring a unique, yet significant pair of cone high heels by Karl Lagerfeld Paris, these ankle strap heels are sure to make heads turn. They come with an open-toe style and make a comfortable pair too. With a textured and printed design, they can leave a lasting impression on the audience as well. You can't go wrong with these.
4. MICHAEL MICHAEL KORS – Berkley Sandals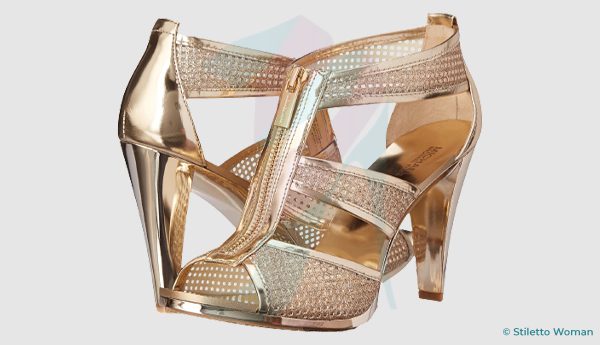 The brand's label should be enough to have you sold at very first glance. The hype of MK heels is such that people across the globe want to invest in a pair of two. These cone heels shoes come with a three-band style and a peep toe design which can make you look fashion-forward and trendy. They can be one of the most comfortable pairs too.
5. Kurt Geiger – Vivian Boots (Cone Heel Booties)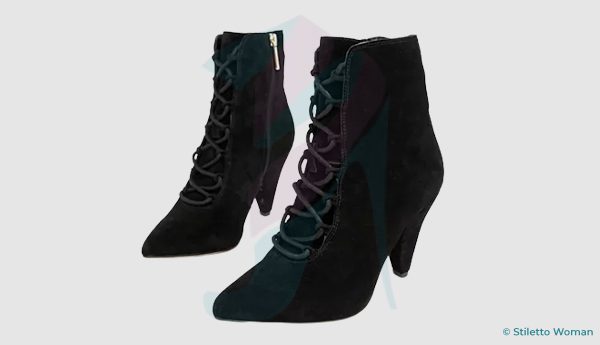 Similar to David Tate and Donald Pliner, these cone heel shoes which fake the form of a boot, can surely give you a sturdy grip, along with a sleek look. Defined by the lacey look and a pointy toe, they can accentuate your figure. They're also available at an economical price, so they'll be a nice, useful pair.
6. Bella Vita – Neve Dress Pump (Cone Heel Pumps)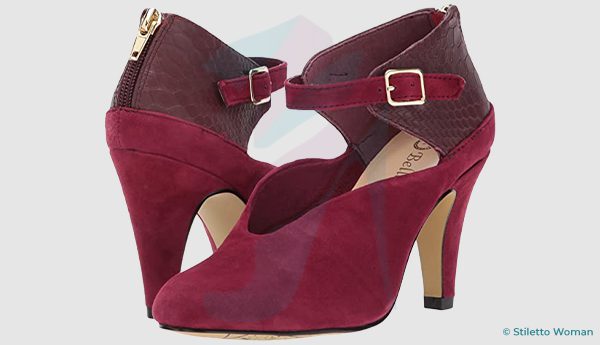 Featuring a pump style with sort of a D'Orsay look, these cone heel pumps come with a buckle strap and a pointed-toe style. These cone heel pumps add a few inches to your height and grip your feet well in order to prevent slip-offs. Besides that, these cone heel pumps are sure to be jaw-droppers owing to the timeless charm of the heels.
7. VIA SPIGA – V Ria Strappy Heeled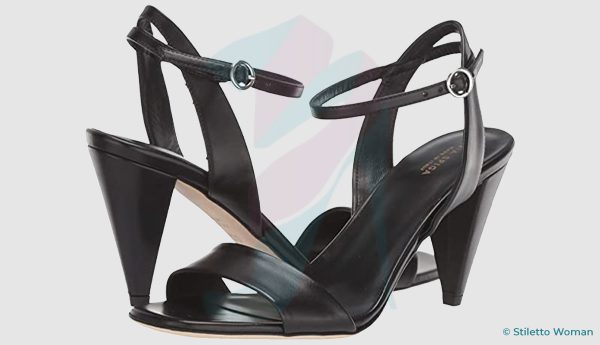 A unique, yet contemporary option for you to try would be these ankle strap cone high heels featuring a cone heel shape by Via Spiga. These heels exude confidence and modernity at their best. They come with an open-toe style which makes them breathable and appropriate for most events too.
8. Vince Camuto – Alsandra Heeled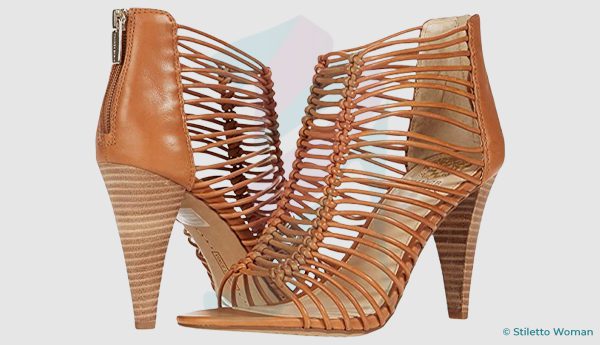 Another great option in terms of cone heels would be that of Vince Camuto. These cone heel shoes come with a printed and unique strappy look. If you're a fan of the strappy look, then you'll love these heels by Vince Camuto. You can be sure of the amazing quality as the brand is quite reputable worldwide.
9. LK Bennett – Micaela Heel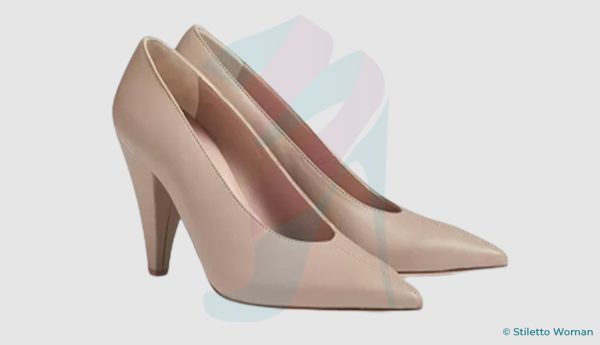 Featuring a timeless classic and one of the most elegant pairs when it comes to cone heels. These heels by LK Bennett ooze finesse and luxury. Though they come with a minimalistic, pump heels look, the gloss on the heels can be eye-catching and these can be useful for office wear and similar formal events. You can add these to your corporate wardrobe.
10. Vince – Anais Strappy Sandals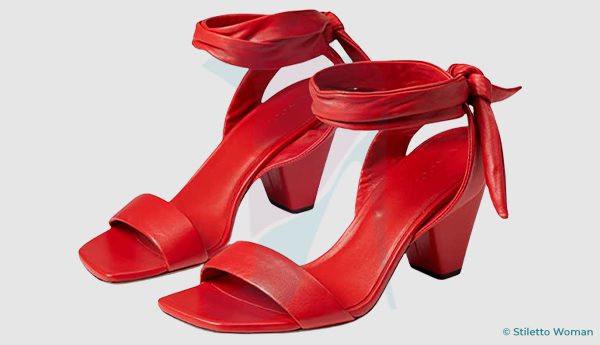 Looking for something unique and striking? Then these upbeat and modern heels by Vince will take your breath away! They come in an electric red color with an ankle tie look and a square-toe design to help you make a statement. The cone shaped heels makes them super comfortable too. Also, the brand promises excellent craftsmanship and quality so you don't have to worry about the durability of the footwear.
11. Saint Laurent – KIKI Slingback Heels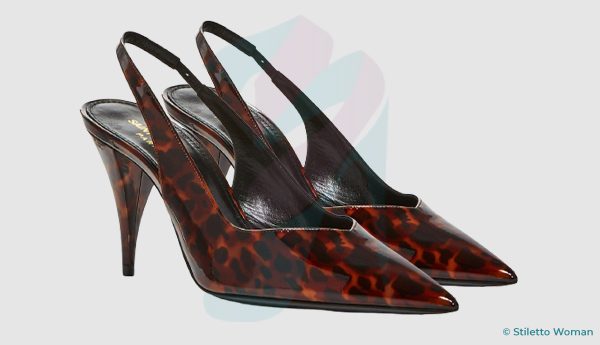 A high-end and luxury option in terms of cone heels would be that of Saint Laurent. These heels exude confidence and boldness. They come with a slingback style with a printed look and a pointy toe to help accentuate your feet in order to make you look super attractive. You won't regret investing in these.
12. Burberry – Tartan Wool Sandals
Burberry – is a brand that's known worldwide for its timeless designs and excellent craftsmanship. These cone heels by Burberry come in a printed look with an ankle strap design along with a t-strap to help you make a strong fashion statement. You'll be making heads turn when you have one of these pairs on!
13. Giuseppe Zanotti – Keziaa Heel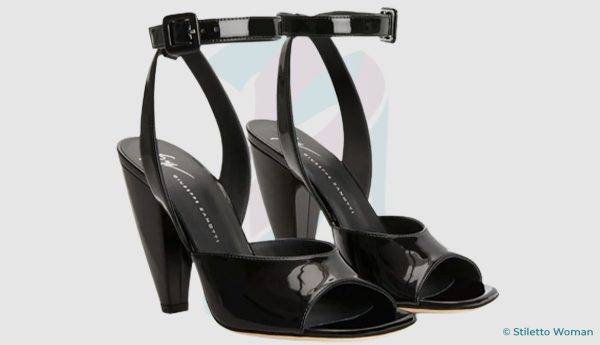 Featuring the best of the best, Giuseppe Zanotti is not just popular amongst celebrities, but also the masses. Though the brand is quite expensive, women crave having at least one pair. These cone heels come with a glossy look and a dazzling ankle strap design which add to the glamorous appeal of the footwear.
14. Bettie Page – Aria Sandal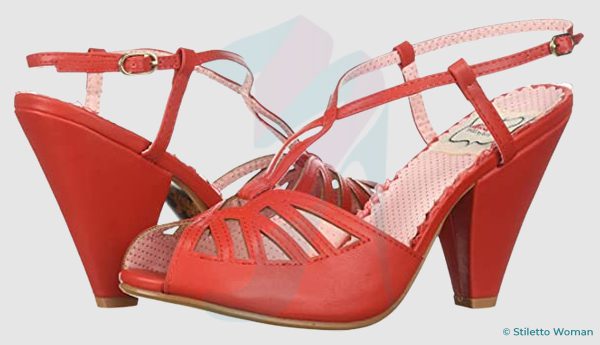 An economical option for you to consider in terms of cone heels would be this one. These heels come with a unique look and a sturdy grip. They feature a peep toe style which makes them breathable and lightweight too. You'll get an additional height boost too.
15. Gianvito Rossi – Odyssey Sandals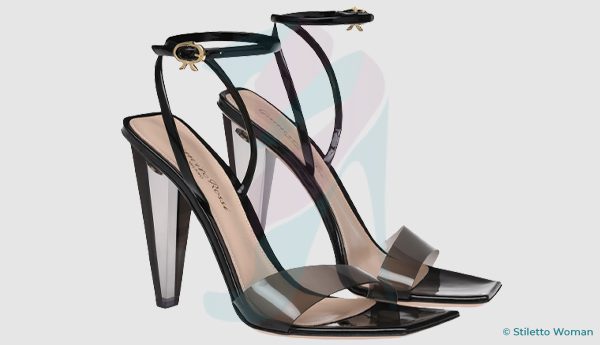 Last, but not least, these heels, yet again, feature an ankle strap design with a square-toe style to give them a modern twist. They come with a transparent red heel and a strap which makes them irresistible. They exude a charm like no other!