After getting used to wearing flats and slippers because of COVID-19 and staying indoors, it is quite natural to experience a sense of dread setting in, as you lay your feet in six-inches long, sharp stiletto heels for events and parties. For that very purpose, we all needed a transitional pair to get us back on track, and that is where kitten heels gained popularity. Characterized by a small platform, the shoe gracefully walks the line between casual and formal, though opinions differ along the way.
The uber-chic, comfortable and completely versatile kitten heels have a long history dating back to the 50s. Nonetheless, these heels make the perfect fit for most occasions. Striking the balance between causal and formal, let's dig into the top picks for The Best Kitten Heels out there, based on the brands, quality, as well as the prices.

Taylor Swift

Lily-Rose Depp

Kendall Jenner
Disclosure: This post contains affiliate links. When you purchase a service or a product through the links, I sometime earn a commission, at no additional cost to you. Read my full disclosure here.
Without further ado, let's head on to our top picks.
Best Kitten Heels In 2023
1. Steve Madden – Karoo Heeled
Making it to the top of our list, one of the most economical and stylish kitten heels by Steve Madden are surely a keeper! Characterized by synthetic rubber sole, heeled dress/short stiletto kitten heel, with furry/feather detailing on the toe strap – they make the cutest pair for any kind of casual or informal event. Oozing cuteness and femininity, these heels feature slide sandal style with an open toe, making it easier to wear them too.
2. Kenneth Cole – Shea Bar Pump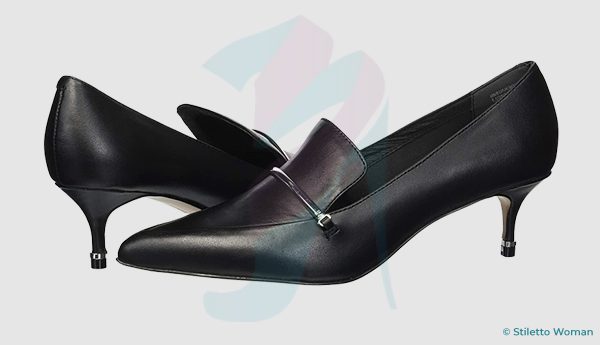 Featuring a minimalistic and classic white color with padded footbed for providing you with superior comfort, Kenneth Cole's kitten heels take one step ahead of the competition by offering a seamless walking experience by wearing these. They are made up of leather and heel size is approximately 2 inches, which makes them appropriate for everyday wear, especially formal occasions.
3. Karl Lagerfeld Paris –  Dextra Strappy Sandal
Characterized by a unique, strappy design in taupe/black color, these kitten heels by Karl Lagerfeld Paris exude elegance and grace. They are made up of leather, as well as textile, and has a rubber sole to give you more support. On top of that, it has a buckle closure and a signature logo brand which you can flaunt whenever you attend gatherings or events.
4. Brinley Co. – Cut-Out Bow Heel Pump

Wrapped in high quality faux leather, with a glossy appeal and a minimalistic bow tie, Brinley Co's kitten heels ooze classiness. They have padded footbed which makes it easier to walk and they consist of a slip-on style which makes it less time consuming to put them on. Besides that, they are appropriate for any occasion owing to their lightweight design and simplistic appeal. Coming in a range of cute and subtle, along with bold colors, they can make the perfect choice for most women.
5. Marc Fisher – Headway Heeled Sandals
If you're someone who prefers strappy kitten heels, then Marc Fisher's kitten heels may be the one for you. Made in USA, promising premium quality, these kitten heels are stylish and trendy. They consist of skinny ankle wrap straps which give you more support, hence you can wear them all day long, without feeling too tired. Moreover, the ankle wraps closure and square open toe, add more to the style and intricate detailing of your overall look.
6. Bandolino – Millie Pump
Yet another great option for kitten heels that is made in USA, Bandolino's kitten heels feature a rubber role, pointed toe and a slip-on closure. They provide you with utmost comfort and safe grip over your feet. These kitten heels are unique as they resemble mule-style heels with pointed toe which add more to the elegance of the shoe. These kitten heels come with a chic band on the upper with a bow on the side to add a feminine touch to it.
7. Anne Klein – Fabulist Ankle Strap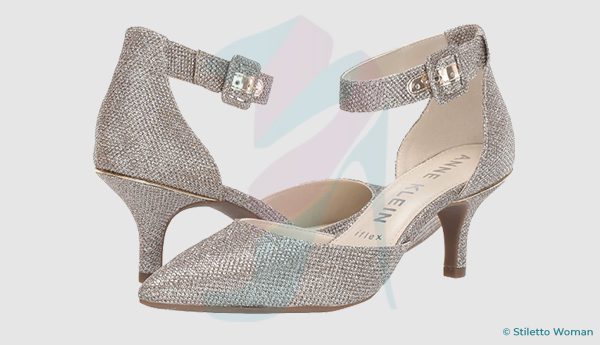 Looking for something classic? Go for Anne Klein's kitten heels which feature a rubber sole and barely 2 inches heels, making it easier to walk all day long. Interestingly, these kitten heels come with dual lightweight foam layers, offering cushioning to your feet, thereby offering superior comfort. Besides that, the rubber sole makes them durable and a stable footwear which you won't regret investing in.
8. NINE WEST – Pina3 Heeled
Featuring another strappy option in terms of kitten heels, Nine West's kitten heels come with a trendy and stylish look, characterized by a rubber sole and open toe. Apart from that, the heels are made in USA, and they feature a low-heel height which makes it easier to walk in them. They come with ankle wrap closure which adds to the overall intricateness and detailing of your entire look.
9. Bella Vita – Quilla Pump
If you're someone who is tilted towards mystery even when it comes to clothing, then Bella Vita's kitten heels might be the ones for you. Made up of 100% suede material, a rubber sole and with heel size of 1.75 inches, they make the perfect pair for a night out, office meetings, breakfast run or meet-up with friends. They feature almond toe and fresh open shank design which accentuates your feet in a classy manner. The best thing about these kitten heels is that they consist of a padded insole which raises the comfort bar too!
10. Trotters – Paulina Pump
Though the glitz and glam of the modern styles of footwear can be appealing, there are still some of us who opt for the traditional, yet classic designs. You can never go wrong with black leather, classic pump style footwear, which is just what Trotter's kitten heels offer you. Made up of high-quality leather, featuring an array of colors, including the classical black color, with a man-made sole, these heels can be your savior in any event! They come with heel size of 2 inches, as well as pointed toe style which just adds more to the sophistication.
11. Vince Camuto – Vinkely Sandal 
Vince Camuto is a renowned brand which is quite popular for its exclusive heels and premium quality. These kitten heels are no exception. They consist of a leather sole and are made up of patent leather material. With a buckle closure, these kitten heels will add more flair to your feet. Rest assured, investment in these kitten heels won't result in a loss, as they are durable and are considered as appropriate for any occasion, parties, work events, etc.
12. Calvin Klein – Gabrianna Pump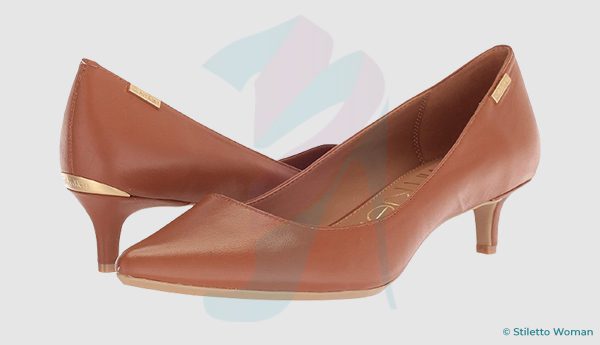 Calvin Klein is a brand that is recognized worldwide for its bold and aesthetically pleasing designs, in terms of footwear and otherwise. These kitten heels by Calvin Klein offer a minimalistic, yet impactful appeal which catches the eye instantly. They come with 1.5 heel inches which makes them easy to wear and they consist of a pointed toe, which adds more to the finesse of the footwear. Besides that, they are easy to carry with a slip-resistance and weatherproof sole design, they can last you for quite a lot of years.
13. Vionic – Minnie 
Vionic's kitten heels are considered as premium. They not only come with high quality leather cover, but they consist of removable microfiber EVA footbed which makes it easy to walk in them. If you are someone who prefers having a plethora of choices when it comes to colors, then Vionic's kitten heels would suit you best as they come in more than 30 unique colors. Besides that, Vionic offers unparalleled support owing to the intricate crafting of the footwear, along with the convenient heel size of 0.4 inches.
14. Loeffler Randall – Millie Pump with Bow
Featuring yet another premium option, that you should have in your closet in terms of kitten heels, Loeffler Randall's kitten heels are characterized by a bold and mysterious black color and a simplistic bow at the toe area. The heel size is approximately 2 inches which makes them very comfortable to wear and carry for longer hours. Besides that, the brand promises superior quality of the sole and the footwear itself, which means that they are durable too. Although these kitten heels are somewhat pricey, they are long-lasting and will be a good investment in the long-term too!
15. Badgley Mischka – Ginny Dress Pump
Last, but not the least, featuring one of the most exquisite and exclusive designs in terms of kitten heels, Badgley Mischka's kitten heels exude luxury at its best. With subtle embellishments all over the heels and a slip-on style, they are super easy to wear and carry. They consist of heel size of about 1.5 inches which makes them perfect for weddings and events that require you to stand for hours. Apart from that, these kitten heels are most appropriate for bridal wear or bridesmaid wear – in other words, they may look odd in casual gatherings, hence if kept for fancy events, they are a keeper!