Dating back to the 40s when they were worn by men and considered as a status symbol of the elites, the stunning and ever stylish kitten heels have surely come a long way. The evolution of kitten heels has surely been like a rollercoaster ride – there have been periods where the trend has declined, and periods where it was the talk of the town. Nonetheless, kitten heels continue to win our hearts even in 2022 as we gush over the magnificence of the low height, stiletto heels which ooze finesse.
What You Need To Know Before Buying Black Kitten Heels:
If you find stiletto heels daunting, a friendlier version of them is kitten heels. Combining the mystery and boldness of the colour black with a nice pair of kitten heels gives you the ultimate combo of perfection. The newer versions of black kitten heels  are suited to many occasions and preferences. Ranging from open toe, black closed toe kitten heels, square toe, block heels, and many others – the choices are limitless. A few things that you need to know before investing in kitten heels include the following:
Your Individual Requirement

Some women want to have a pair of black kitten heels for weddings, while some like to have them for parties. Whatever the individual requirement may be, it is important to note that wearing black kitten heels on a wedding may be a risky move as the colour white and gold are the expected colours to be worn on such occasions. However, there's no harm in standing out from the crowd for the right reasons.

Who Should Buy Black Kitten Heels?

The answer is very simple – women who love to look creative and bold. Those who have sophisticated and extravagant fashion tastes would love to go for a nice pair of black kitten heels. Not just that, but those who love comfort would also love to invest in a pair of black kitten heels.

Features To Look Out For

Black kitten heels can come in the form of black strappy kitten heels or with embellishments, buckles, various textures, heel shapes, heel height and a lot more. You can pick the one that best suits your needs as you browse through the popular designer brands like Giuseppe Zanotti and others.

Angelina Jolie

Selena Gomez

Vika Gazinskaya
Disclosure: This post contains affiliate links. When you purchase a service or a product through the links, I sometime earn a commission, at no additional cost to you. Read my full disclosure here.
Without further Ado, let's head onto our list.
 Stiletto Black Kitten Heels in 2023
1. Open Edit – Jordyn Sandal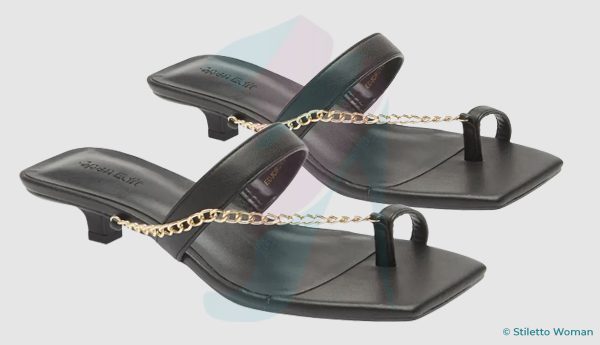 Ranking at the very top, these Uber Chic and effortlessly classy pair of kitten heels by Open Edit are sure to catch your attention. They make an irresistible pair owing to the smart embellishments and the carefully crafted straps to hold your feet. They are not only a comfortable pair, but a multipurpose one which you can pull off at any occasion.
2. J. Renee – Leonelle Low Heel Open Toe Slingback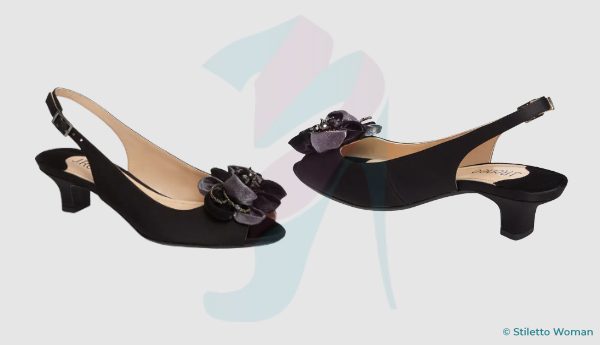 Craving the feminine vibe? Then look no further! These black kitten slingback heels ooze finesse and ladylike vibes with a slingback style that exudes modernity. These black kitten slingback heels consist of a flower embellishment on the toe area which makes you look classy and chic. You can wear these black kitten slingback heels on bridal and formal events too, and you're sure to amaze people.
3. Circus by Sam Edelman Florence Feather Kitten Mule Heel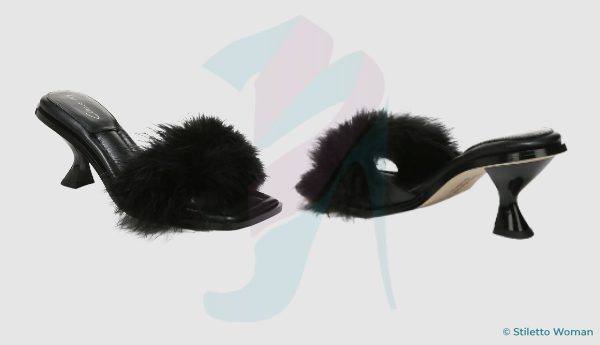 A pair that's surely going to stun you would be that of Sam Edelman. These heels scream extravagance and finesse at its best. Featuring a soft and feathery look, these heels can surely make a strong fashion statement and make the audience amazed at your awe inspiring appeal. These heels are super comfortable and can be appropriate for most occasions as well
4. MICHAEL Michael Kors – Amal Heel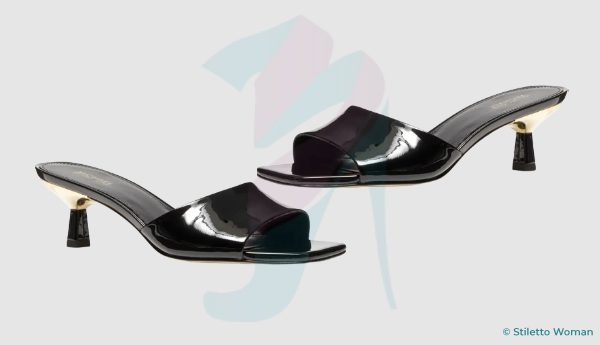 Another really cool pair that you need to have would be that of Michael Kors. Not only do these heels come with the prestigious label of MK, but they ooze easy going and luxury vibes. You can simply slip them on and effortlessly look classy. The seamless design makes these heels desirable and the glossy appeal can uplift any dull looking outfit.
5. Jewel Badgley Mischka Geranium Pump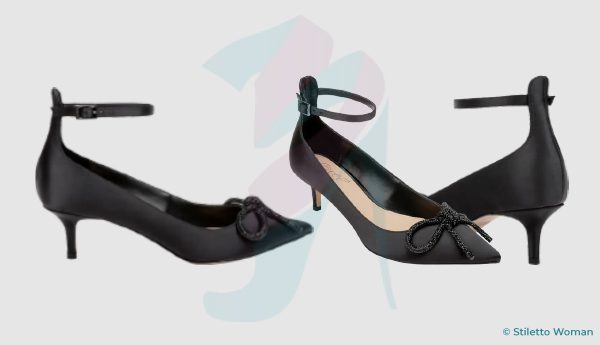 Not a fan of glossy or flashy heels? Then this pair is for you! Featuring a matte finish look with a bow and ankle strap design, you just can't help but admire these stunning black kitten heel pumps by Badgley Mischka. The brand promises excellent quality too, so you don't have to worry about that either. Also, you can make heads turn with these simplistic yet classy pair of black strappy kitten heels.
6. Dear Frances Flo Mule Kitten Heel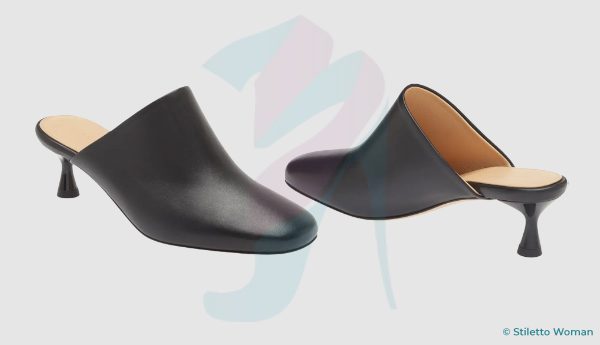 Featuring a unique mule inspired and a closed toe design which can carefully grip your feet, preventing slip offs, these black closed toe kitten heels exude confidence and utmost grace. You can not only use these heels for casual strolls or hangouts, but also for formal occasions like job interviews. These black kitten heels can be a great addition to your heels collection.
7. Santoni – Slingback Heel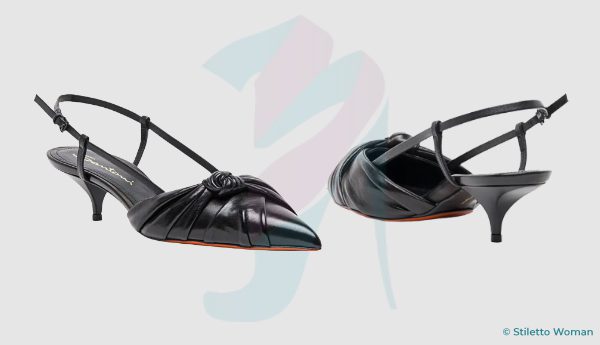 Featuring an exquisite and high-end option in terms of black closed toe kitten heels, these black kitten slingback heels, by Santoni are sure to win your heart. Inspired by Italian styling and detailing, you can be sure that these black closed toe kitten heels will last you a long time, so they will be worth the investment.
8. Jil Sander – T-Strap Heel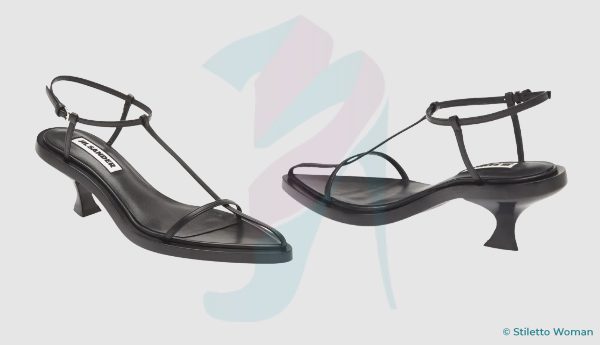 Another high end and a luxury option we have for you would be that of Jil Sander. These T Strap inspired kitten heels can make jaws drop owing to the uniqueness oozing out of them. These black strappy kitten heels make a breathable and lightweight option for you to consider. Also, they'll last you a great time too!
9. Khaite – Lexington Heel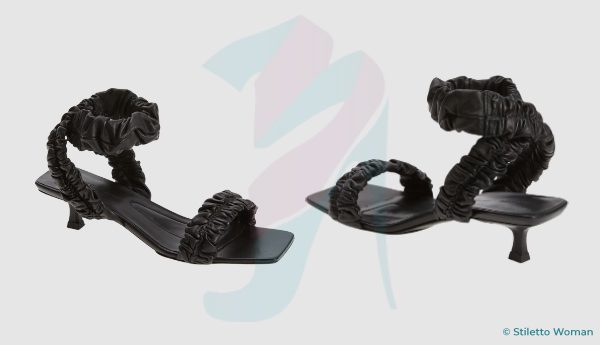 Another ultra-modern option would be of Khaite's black strappy kitten heels. Consisting of a frilly look that exudes a graceful feminine charm, these black open toe kitten heels would be appropriate for anyone who has super modern and ladylike tastes. The heels also consist of an open toe design with an ankle strap to grip your feet well. You can't go wrong with these.
10. Burberry – Eveleigh Sandal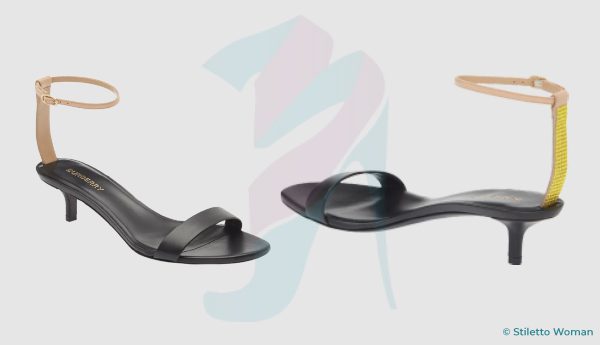 You may have heard of this brand already. The brand that's known for offering luxury at its best – Burberry is known worldwide. Being a prestigious brand that boasts excellent craftsmanship and reputation – these black strappy kitten heels are just a depiction of the claims. Featuring a minimalistic yet classy look with an ankle strap and an open toe design, these black open toe kitten heels can easily make it to the top of your favourites list.
11. Valentino Garavani One Stud Pointed Toe Pump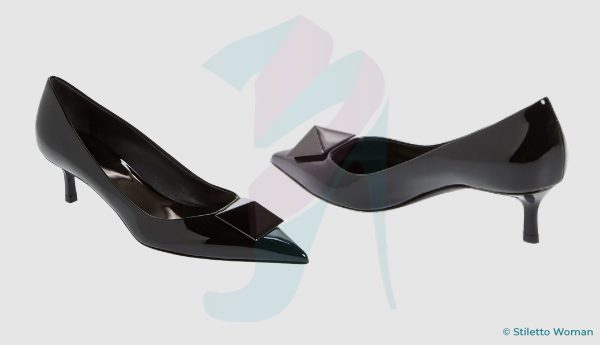 Looks like we're in a series of high-end options for black kitten heel pumps, so let's introduce Valentino Garavani's ultra-modern and opulent black kitten heels which scream class and sophistication at its best. Featuring a glossy look, they can help you make a strong fashion statement wherever you go! Investment in these black kitten heel pumps will prove to be fruitful for you in the long run.
12. Givenchy Kitten Heel Sandal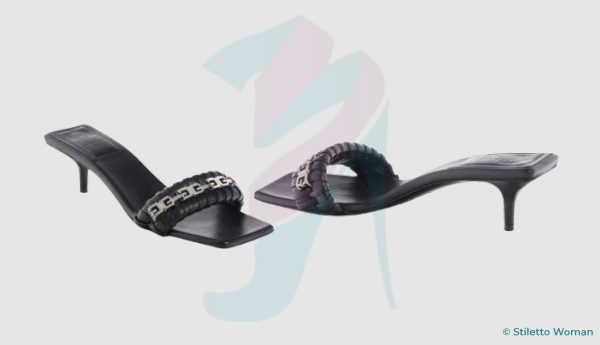 Another chic option for you to explore in terms of black kitten heels would be that of Givenchy. These heels come with a slip on style with some embellishments over the toe strap. These black strappy kitten heels make an easy-going, manageable and lightweight pair that's sure to leave a lasting impression on your audience.
13. Gucci Tom GG Crystal Slingback Pump
These classy and creative pair of black kitten slingback heels by Gucci are sure to leave you awestruck! They consist of a Slingback style with a net-infused look. Having this pair of black kitten heel pumps in your heel collection is no less than a blessing as they can prove to be a multipurpose solution for all your fashion needs.
14. Miu Miu Kitten Heel Slingback Loafer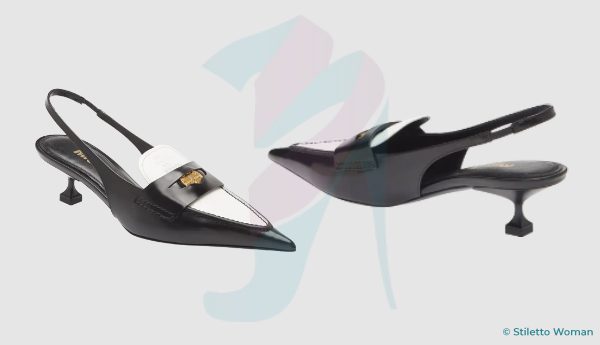 Another high-end and luxury Italian brand, Miu Miu has managed to maintain an excellent brand reputation in the market, these heels come with a Slingback and loafer-inspired design. They feature a pointed-toe style which can help you make a strong statement and make heads turn as you walk into a room filled with fashion conscious individuals.
15. Prada Ankle Strap Pointed Toe Pump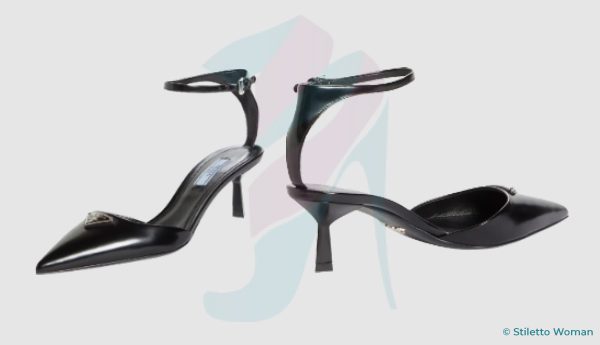 Last, but not least, these black kitten heel pumps by Prada come with a glossy and eye-catching appeal. They come with a pointed-toe design and an ankle strap style which can grip your feet well, allowing you to walk comfortably. You cannot go wrong with these black kitten heel pumps as the brand is known worldwide for the kind of finesse and luxury it offers to its customers.