From being a status symbol and restricted to men's wear only, to today's top trending footwear for women, kitten heels have surely come a long way. Their history date back to the 40s where the designs were quite simplistic. However, the contemporary versions of kitten heels are the talk of the town. Thanks to the convenient heel height, the newbies are welcome to try out the chic pair of heels too, if they're a fan of stiletto heels. Hence, they can act as trainers for the beginners.
What You Need To Know Before Buying White Kitten Heels:
As mentioned above, kitten heels were associated with a status symbol back in the 40s and even now if you wear them, you'll look exquisite. Combing an exquisite pair of heels with the colour that represents purity, luxury and finesse – white, can make a combo to die for! There are so many newer versions of white kitten heels which are suited to many occasions and preferences. Ranging from open toe, closed toe, square toe, block heels, and many others – the choices are limitless. A few things that you need to know before investing in white kitten heels include the following:
Your Individual Requirement

Some women want to have a pair of white kitten heels for weddings, while some like to have them for parties. Whatever the individual requirement may be, it is important to note that wearing white kitten heels in weddings can prove to be a smart and safe choice as you don't need to go for sky high stiletto heels, and instead, opt for these chic ones.

Who Should Buy White Kitten Heels?

The answer is very simple – women who love to look sophisticated and classy. Those who have high end and extravagant fashion tastes would love to go for a nice pair of white kitten heels. Not just that, but those who love comfort would also love to invest in a pair of white kitten heels.

Features To Look Out For

White kitten heels come in the form of white strappy kitten heels or with embellishments, buckles, various textures, heel shapes, heel height and a lot more. You can pick the one that best suits your needs as you browse through the popular designer brands like Giuseppe Zanotti and others.

Ivanka Trump

Kendall Jenner

Gigi Hadid
Disclosure: This post contains affiliate links. When you purchase a service or a product through the links, I sometime earn a commission, at no additional cost to you. Read my full disclosure here.
Without further Ado, let's head onto our list.
 Stiletto White KittenHeels in 2023
1. Open Edit – Jordyn Sandal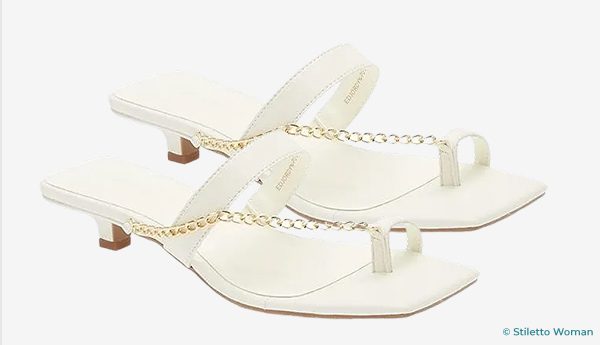 Ranking at the very top, the first pair we have for you would be that of Open Edit. These white kitten heel sandals can help you make a strong fashion statement like no other and that too, at an economical price! These heels come with a convenient heel height and can look great on most occasions. You'll absolutely love buying these.
2. Nina – Neya Pump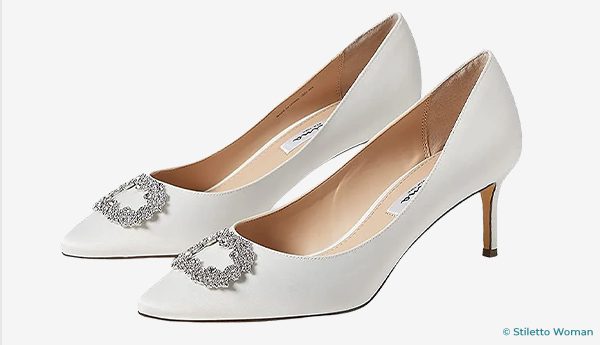 Another really nice and sophisticated pair of white kitten heels would be that of Nina. These pump inspired white kitten heels come with some intelligently crafted embellishments on the toe area. These heels feature a medium heel height which can give you a little height boost too. They can accentuate your feet and make them appear more lady-like too!
3. Sanctuary – A List Mule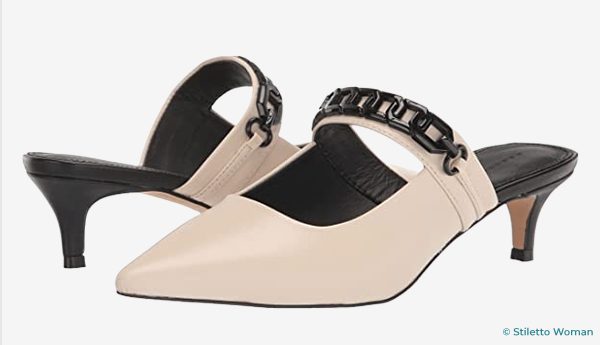 They're classy. They're chic and they're ultra modern – they are Sanctuary's white kitten heels. They come with a pointed toe and a closed toe design to grip your feet well. They make a lightweight pair and can be an excellent addition to your heels collection. Besides that, you can wear them on formal, as well as informal occasions to make a statement.
4. Jon Josef – Carlota Sandal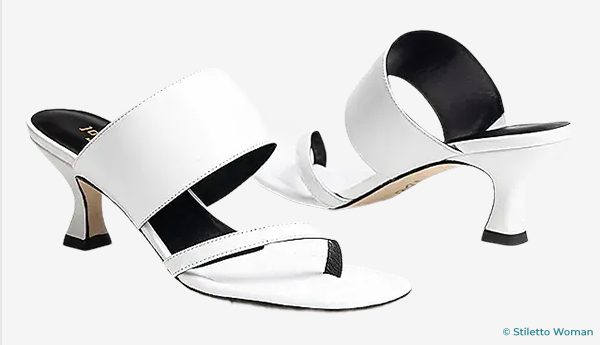 Featuring a two strap style with a slip on design to make it more convenient for you, these white strappy kitten heels by Jon Josef exude confidence and finesse. They not only make a comfortable pair, but they also look super trendy and fashionable too. These white kitten heel sandals help you appear fashion forward and stylish. Thanks to the open toe style, they make a breathable pair too.
5. Valentina Rangoni – Derek Strappy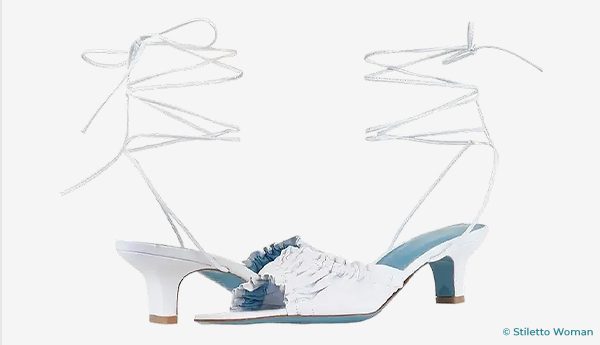 Another nice pair in terms of white strappy kitten heels that you should try would be that of Valentina Rangoni. These heels come with a frilly toe strap and a lace up design that exudes uniqueness at its best. These heels can make you stop scrolling and investigate them further if you saw them online. This pair makes a useful one because you can wear them at many occasions including formal and informal ones.
6. Something Bleu – Sloane Pump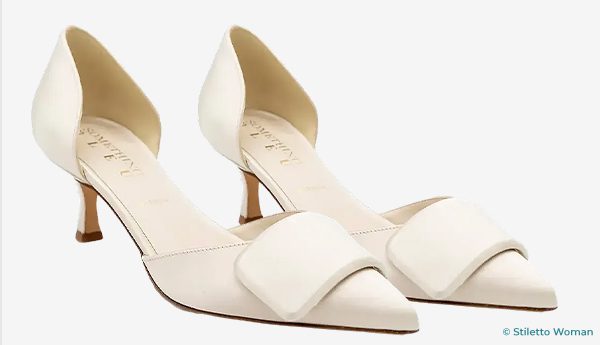 A D'Orsay inspired style with white kitten heels, these heels by Something Bleu exude finesse and ladylike vibes. If you have a finer taste in life and don't mind spending a bit on classy heels, then this is the one for you! They make a convenient and lightweight pair. You can easily leave a lasting impression on your audience while wearing these.
7. Santoni – Slingback Kitten Heel Pump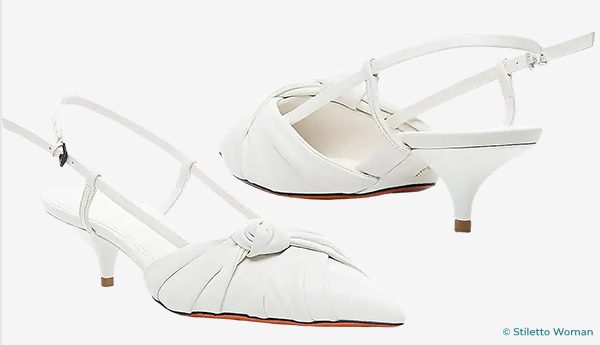 A renowned Italian brand, Santoni promises to deliver excellence in terms of quality and reliability to its customers, these white slingback kitten heels exude timeless elegance and grace. Not just that, but these heels also ooze modernity at its best. Featuring a slingback style, these heels can help you pull off your outfit in the best way possible. You can't go wrong with these white slingback kitten heels.
8. Jil Sander – T-Strap Heel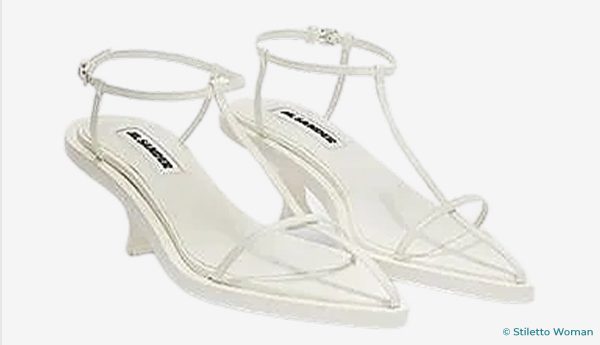 Another high end and a luxury option we have for you would be that of Jil Sander. These T Strap inspired white strappy kitten heels can make jaws drop owing to the uniqueness oozing out of them. They make a breathable and lightweight option for you to consider. Also, they'll last you a great time too!
9. NEOUS – Irena Slingback Heel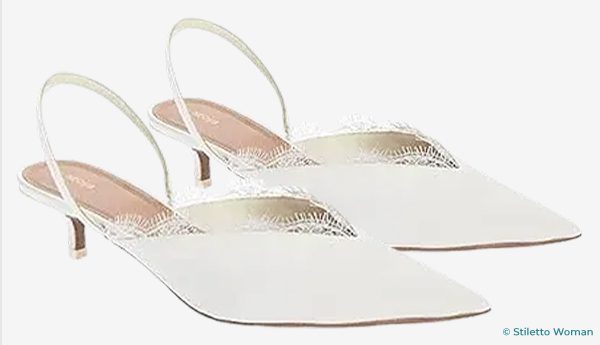 Another innovative option that we have in store for you would be this one! A slingback style with fur embellishments and a pointed-toe style, these white slingback kitten heels make the ideal pair for bridal and formal events. You can make heads turn with these. Simply pair them up with a nice long dress to make sure you look super attractive and ultra-modern.
10. Gianvito Rossi – Kitten Heel Sandal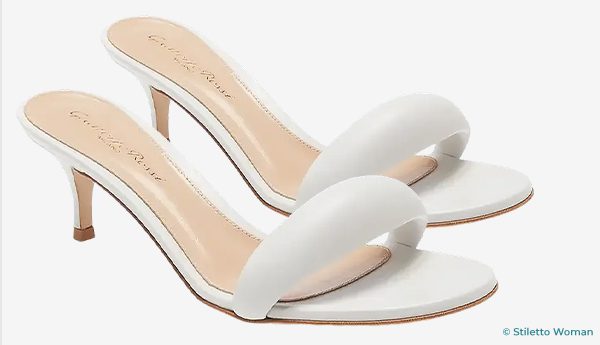 A relatively expensive, yet a timelessly classy pair of white kitten heels that you'll never regret investing in would be that of the high end and luxury, Gianvito Rossi. These white kitten heel sandals consist of a puffy toe strap and a slip on style. These heels exude minimalistic vibes and creativity. The open toe style allows for free movement of your toes which makes them breathable and lightweight too.
11. Tod's – Infradito Sandal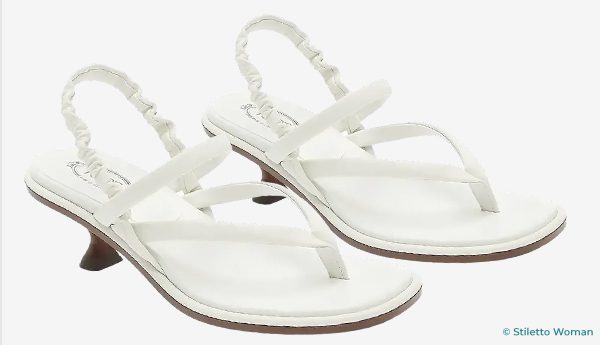 Featuring a thong and slingback-inspired design that looks super classy and has a minimalistic vibe, these white kitten heel sandals are sure to catch your attention. You can walk in these white slingback kitten heels comfortably and they won't put excessive pressure on your feet either. Plus, you can look ultra-stylish while wearing them too.
12. Givenchy – G Woven Heel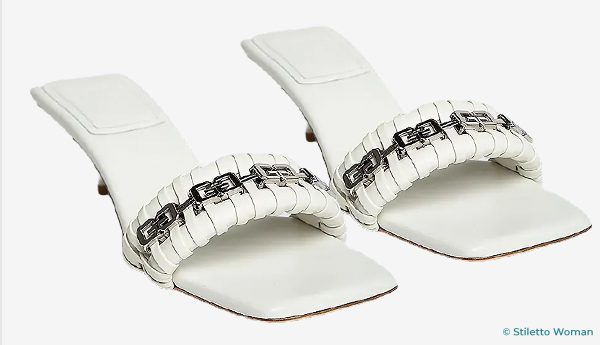 Featuring a slip on style with a little bit of embellishment on the toe strap, these white strappy kitten heels by Givenchy are the definition of luxury and finesse. They come with a minimalistic look, but they surely hold a strong and impactful label of Givenchy which is sure to make heads turn. You can wear them at formal, along with informal events depending on how you colour coordinate them with your outfits.
13. Khaite – Monroe Sandal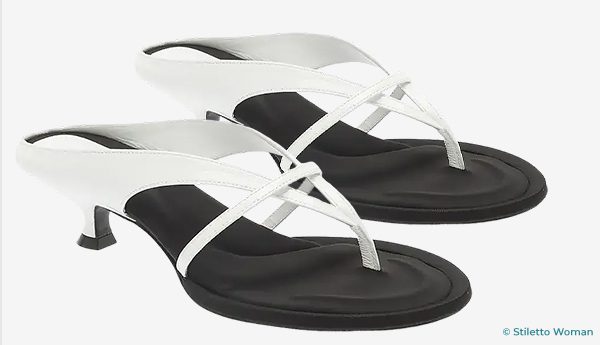 Another really cool and modern pair of white kitten heel sandals which are sure to have you stunned would be Khaite's heels. They consist of a strappy look with a slip on style for added convenience. You can feel the balance in your feet as you walk in them comfortably. They'd make a great pair for casual events.
14. Prada – Logo Sandal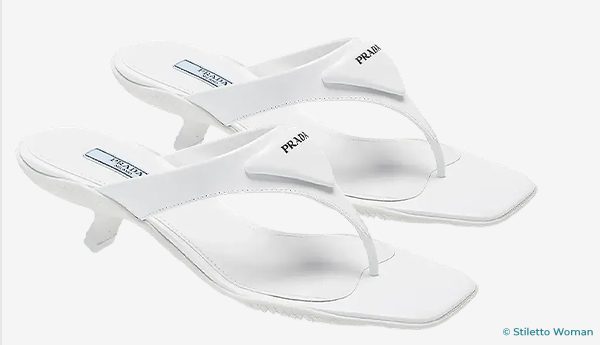 The brand label is enough to have you sold at their products – Prada stands for luxury and extravagance. These thong inspired heels with a slip on style will surely have your eyes glued to the screen until you have them in your wardrobe! The only catch is the price which is quite high and we can't even say it's ridiculous because at the end of the day it is Prada and it can last you a lifetime, so it's rather an investment.
15. Mach & Mach – Double Crystal Kitten Heels With Bow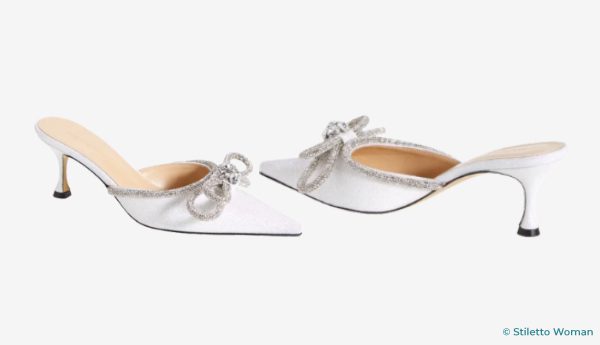 Last, but not least, these glittery white kitten heels with bow are sure to leave you stunned at their beauty. These white kitten heels with bow exude luxury and comfort. They come with a double bow and they don't even look flashy. They'd be ideal for bridal events and other party events like prom or graduation. The best thing about them is that they come with a slip-on style which can make them manageable and less time-consuming too since strappy looks can sometimes be a hassle.