Ages ago, kitten heels were the type of heels that were a status symbol and only elites used to wear them. Ironically, men used to wear them too! However, with time, the heels evolved into contemporary versions which made them more accessible and more manageable. Today, kitten heels are one of the most unique heel types which can be worn on several occasions owing to the utmost comfort offered by the footwear. Given the low heel height, they make the walking process quite breezy.
On the other hand, chunky heels are the newer version of heels which emerged few decades back. Inspired by the wedge heel and platform styles, they consist of a thick and study sole which gives you more support and balance, allowing you to walk without experiencing excessive discomfort. Also, they have a square or cylindrical appearance instead of the thin and pointy stiletto heels which may be dreadful for the newbies out there.
Disclosure: This post contains affiliate links. When you purchase a service or a product through the links, I sometime earn a commission, at no additional cost to you. Read my full disclosure here.
Kitten Heels were introduced in the late 1950s as a formal footwear for young girls as higher heel heights would seem unseemly for them, considering they were only 13. They are low height heels, with a thin heel that usually measures from 1.5-2 inches. It has a uniquely indented placement of the heel at the shoes' sole and subtle, curved shape. This makes you get a more feminine look. Thanks to Audrey Hepburn for popularizing these, kitten heels are more than just a happy medium, they're more like a fashion statement that gives you a more refined, sophisticated and trendy look.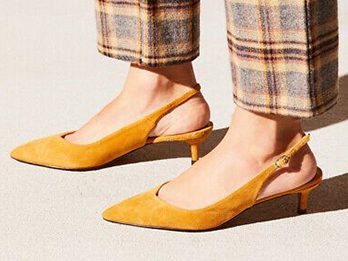 Similar to block heels, chunky heels feature a square shape with a sturdy and thick base which allows for more balance and support. Chunky heels are a great option for newbies and beginners who are training for the narrow and pointy stiletto heels. They can be a convenient and useful option for girls who need to walk around excessively too.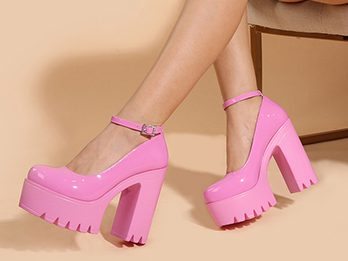 Comparison between Kitten Heels VS Chunky Heels
| | |
| --- | --- |
| Kitten Heels | Chunky Heels |
| Kitten Heels mostly comprise of a low heel height | Chunky Heels may have a higher heel height, but the sole is thick and sturdy |
| Kitten Heels feature a thin and pointy stiletto style heel shape | Chunky Heels feature a wedge heel-platform heel type of heel shape which gives you more support |
| Kitten Heels would be appropriate for formal events like dinner or interviews | Chunky Heels would be great for everyday wear, corporate wear, and even parties |
| Kitten Heels look more sophisticated than chunky heels | Chunky Heels can somewhat seem too informal |
| Kitten Heels can be lightweight | Chunky Heels tend to be heavy owing to the thick sole |
Final Thoughts
Kitten Heels are super comfortable and elegant. No one has the energy to wear high heeled stilettos at work all day, even during hours long of travelling. It can be stressful, both for your back and your feet. Kitten heels give you a refined, put together look to rock the entire day without you having to find chairs to sit down and rest your legs.
On the other hand, since chunky heels comprise of a thick and sturdy sole, you can be sure that you won't trip anywhere. As compared to kitten heels, they keep you grounded and eliminate any chance of you falling down because of lack of support. At the same time, chunky heels can be quite heavy so after a while, you might end up feeling drained and with potential foot sprains too.
On a concluding note, it can be said that given the nature of kitten heels and being a lightweight fashion solution, they'd be a more appropriate choice as you can wear them on any event too. Not only do they make a good addition to your heels collection, but also prove to be a useful pair, lasting you a long time.