A colour that represents royalty, classiness and luxury – the gold colour is the commonly preferred colour for outfits and heels for many occasions. The colour exudes a striking presence and confidence which speaks for itself. Also, it oozes luxury at its best. If gold colour gets combined with the ultra modern platform heel style, then they can be the show stoppers and jaw droppers. For all the fashion enthusiasts out there, this post is for you!
What You Need To Know Before Buying Gold Platform Heels:
Gold platform heels can surely bring zest and energy into any outfit. They can up your ante in terms of fashion like no other. If you want to make a strong fashion statement, especially if it's at a wedding, then look no further and opt for a classy pair of gold platform heels which are super comfortable, easily manageable and the best choice for most events. A few things that you need to know before investing in gold platform heels include the following:
Your Individual Requirement

Some women go for a pair of gold platforms for the sake of comfort combined with finesse, on the other hand, some women go for a pair of gold platforms because they want to add diversity into their heels collection and want to keep a spare pair for a wedding type of an occasion.

Who Should Buy Gold Platform Heels?

Women who love the finer things in life should opt for gold platform heels. Also, the ones who find stiletto heels daunting, may want to get a pair of gold platforms to balance out the pressure on the toes.

Features To Look Out For

Gold platform heels can come in a variety of styles including ankle strap, wedge heel style, braided style and many others. You can browse through the renowned designer brands to make your picks wisely.

Jennifer Lopez

Sarah Jessica Parker

Kate Hudson
Disclosure: This post contains affiliate links. When you purchase a service or a product through the links, I sometime earn a commission, at no additional cost to you. Read my full disclosure here.
Without further Ado, let's head onto our list.
Gold Platform Heels in 2023
1. NINE WEST – Nessie Wedge Sandal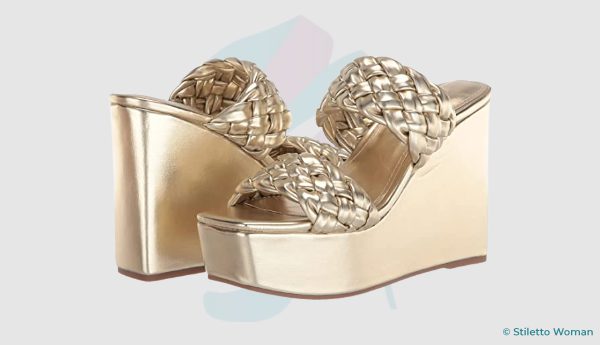 These ultra modern pair of gold platforms by Nine West can leave you stunned. The simplicity of the footwear is such that you can simply slip them on without tying straps. The braided design exudes feminine look and the shimmery appeal of the gold colour adds to the overall attraction of these heels. They're super comfortable too!
2. Jewel Badgley Mischka – Galen Sandal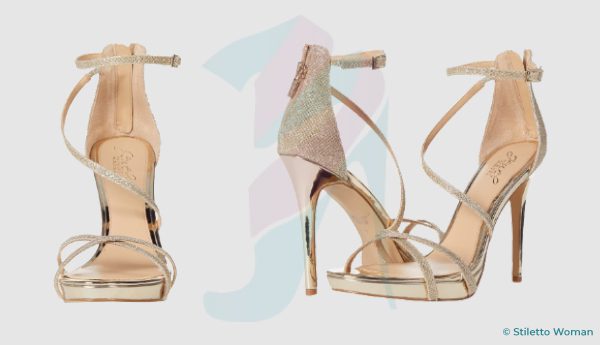 A uniquely designed pair of gold platform heels which consist of a stiletto heel design with a platform sole that can give you good amount of balance, these heels make a great pair. They consist of a strappy look which can help you make a strong fashion statement. They ooze elegance and finesse at its best.
3. Marc Fisher LTD – Frita Heeled
Introducing Marc Fisher's Uber chic and trendy gold platform heels which can add a few inches to your height too, they come with a unique design of three bands and an ankle strap which can secure your feet well, preventing slip offs. Also, the glossy appeal can be striking and make heads turn as you enter the room!
4. Jeffrey Campbell – Prima Donna Sandals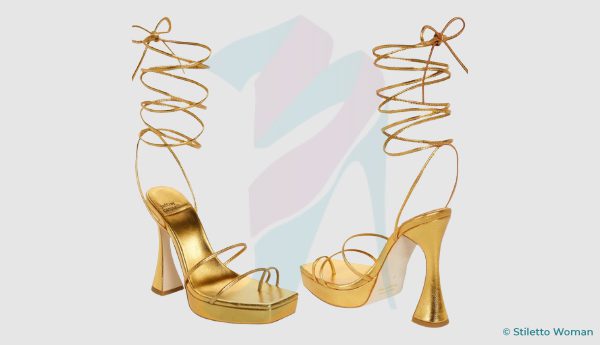 At first glance, these gorgeous heels can be a keeper for many. But if you actually buy them, you'll know that they're super comfortable too. They consist of a tie up style with a flared heel and platform sole that can offer you more support and balance. They can help you make a strong fashion statement and you'll look super attractive wearing these to any event.
5. MICHAEL Michael Kors- Summer Sandal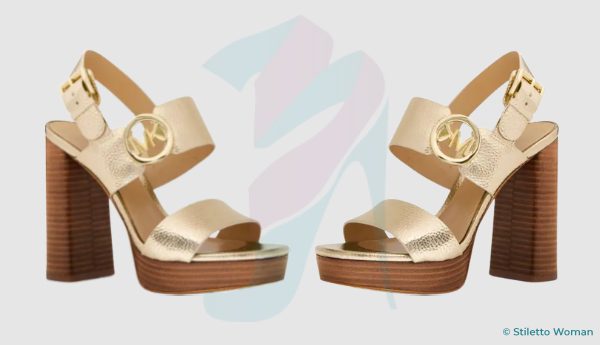 The MK label surely makes everyone purchase a pair of two owing to the brand reputation. These heels by Michael Kors exude confidence and charm. They consist of a wooden heel and sole coupled with a slingback style and a buckle strap to secure your feet well. With an open toe style, they make a breathable and a sturdy pair too. They'll surely last you a long time!
6. Pelle Moda – Patsi Sandal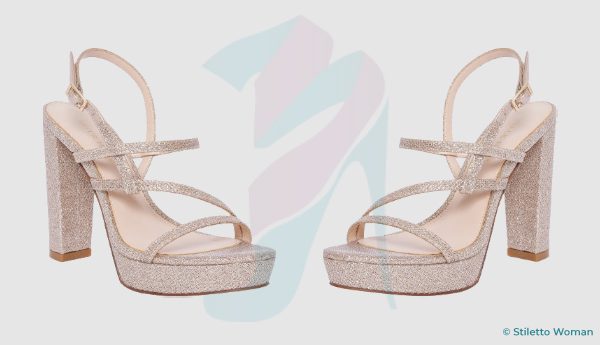 Another great pair in terms of gold platform heels would be this! Consisting of a strappy and a slingback look with an open toe design, these heels tick off all the elements needed in a nice and elegant pair of heels to wear on formal occasions. With a dulled down gold appearance, they can make you look super classy and sophisticated. At the same time, they'd be a comfortable pair too.
7. Cordani Buffy – Sandal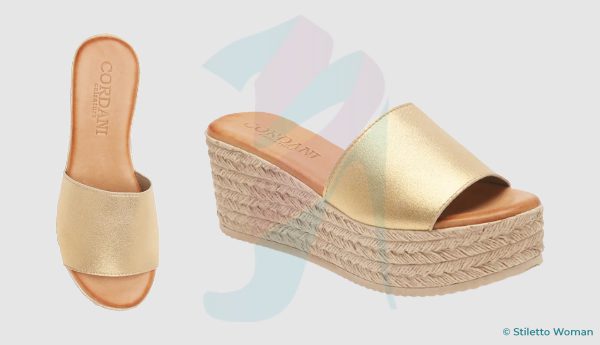 Featuring a classic and seamlessly easy going design, these espadrille and wedge inspired gold heels and surely be a keeper. They exude confidence and breezy vibes so they'd be ideal for casual events. They can make a convenient and useful pair in the long run and would be a good addition to your heels collection too! You won't go wrong with these ultra modern wedge heels.
8. Kurt Geiger – Pierra Sandal
Oozing sophistication and creativity at its best, these gold platform heels by Kurt Geiger comprise of a high stiletto heel with a thick sole inspired by a platform style. That's not it. These heels come with an ankle strap to grip your feet well and an open toe style to make them breathable and lightweight for you. They have a textured appeal which can add to your overall attractiveness.
9. NeroGiardini – Wedge Sandal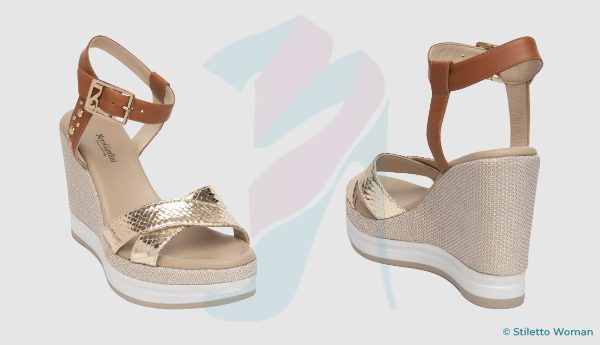 Another convenient pair if you're looking for something causal in terms of gold platform heels, these heels exude finesse and modernity. They come with a wedge heel design with an ankle strap to grip your feet well and an open toe style to make sure you look trendy. You can walk in them for hours without feeling tired. Rest assured, investment in these heels won't make you regret it.
10. Veronica Beard – Dali Stiletto Sandal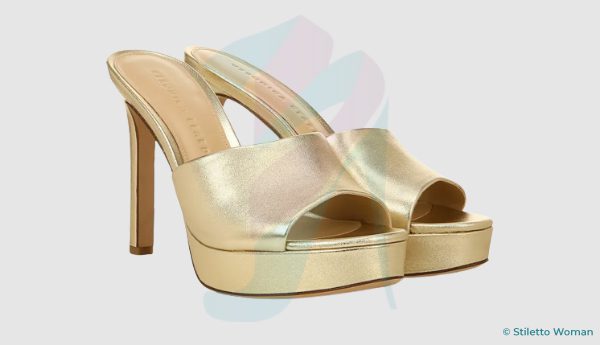 Just by the looks of it, you can tell that it's one of the most minimalistic yet classy pair of gold platform heel comprising of a stiletto heel style and a thick platform sole to give you balance. You can get a height boost by wearing these as well. The best part about these heels is that you can slip them on and not worry about tying up straps, so they're a convenient pair.
11. Ganni – Retro Sandal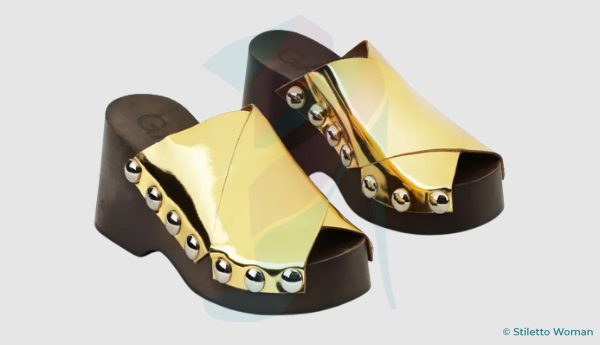 A fan of flashy and glitz and glam stuff? Then these heels are for you! Coming in a striking bright gold colour, these platform sandals make a useful pair that's not only comfortable, but also chic as they consist of many embellishments over the footwear. They come with a peep toe design which makes them look very unique too.
12. Aquazzura – Sinner Sandal
Consisting of an ultra modern and sleek look, these gold platform heels by Aquazzura can win your heart in an instant. They come with a high block heel and a thick platform sole which makes them super comfortable and easy to walk into. They also come with an ankle strap design which makes them appear super chic and classy. They'd make an ideal pair for wedding type of events.
13. Jimmy Choo – Heloise Sandal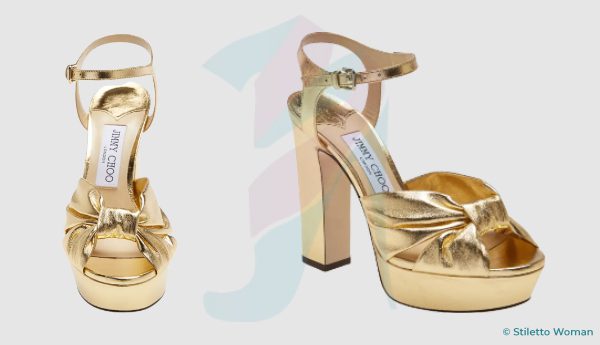 If there's one brand in this world that's sure to not disappoint you, it's be Jimmy Choo. We don't blame the celebrities and influencers along with people in general gushing over a pair of Jimmy Choo heels as the brand has lived up to the standards too. These gold platform heels are just an example of that. These heels come in the classical platform style and exudes feminine charm and confidence. They'll last you a long time too!
14. Valentino Garavani – Block Heel Sandals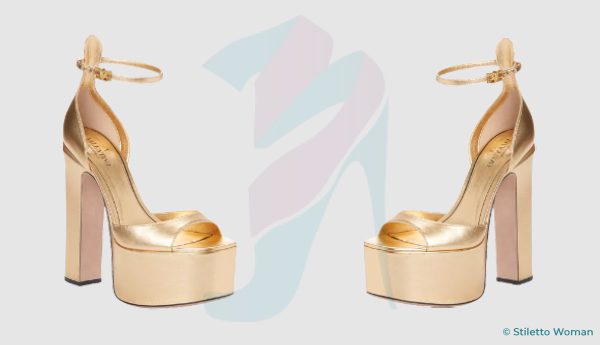 Another great pair which is known for its luxury and high end heels, Valentino Garavani promises excellent quality and craftsmanship of the heels. These gold heels come with a high platform heel height, offering you utmost comfort and finesse. They come with an ankle strap style and an open toe style which makes them breathable too. They're likely make heads turn as you walk into a room.
15. Versace – Medusa Pumps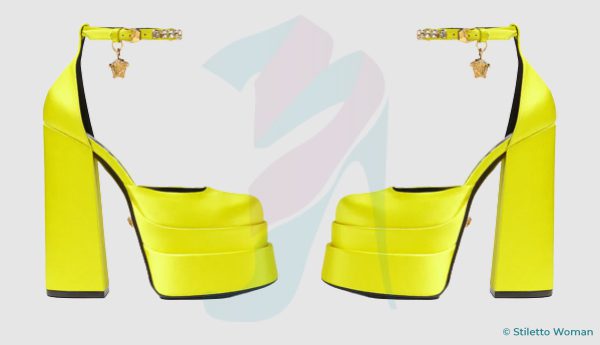 Last, but not the least, this neon yellow and gold inspired platform heels are surely to leave you impressed. They consist of embellishments over the ankle strap which can make a strong fashion statement too. You'd have a sense of pride too, wearing a pair of Versace. They'd be a nice addition to your heels collection for sure! Don't miss out on this one as you won't regret it.