From the stunning scenery to the historical monuments, the Scandinavian countries are known worldwide for being the epitome of perfection. Denmark, which is also a part of that region, thrives in all spheres. Known to be one of the happiest countries in the world, it also boasts a successful fashion industry. You'd be surprised to know that many innovative and high-end fashion brands are essentially Danish. One of the Danish brands which has gained a lot of popularity recently is known as Ganni.
About Ganni
The brand was founded in 1999 and run by the popular husband and wife duo, Nicolaj Reffstrup and Ditte Reffstr. The ready-to-wear fashion brand is based in Copenhagen, Denmark. It has 27 stores across Europe, and the United States, and it is available via 400 wholesalers worldwide.
It has a diverse product portfolio including accessories like wallets, hats and scarves, and clothing along with shoes. The brand targets fashion-forward individuals who are millennials and those who fall in the Gen-Z category. The brand is quite reputable and is considered as high-end too.
The Types of Heels Available at Ganni
Ganni offers a range of stiletto heels for women under the category of heels.
Types of Heels
Pumps
Stiletto Heels
Mules
Boots
Wedges and Espadrilles
Sandals
Disclosure: This post contains affiliate links. When you purchase a service or a product through the links, I sometime earn a commission, at no additional cost to you. Read my full disclosure here.
Who Wears It?
Even though it is a Danish-inspired brand, people wear it across the globe, including Canada, USA, and Australia too. Some of the celebrities who love the brand include the following:
Celebrities Who Wear Ganni :>
Perrie Edwards
Meredith Duxbury
Kendall Jenner
Bella Hadid
Sienna Miller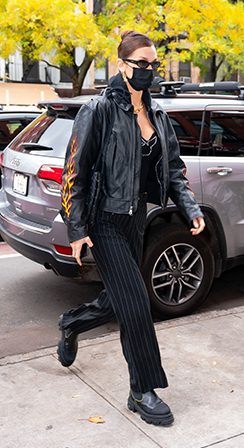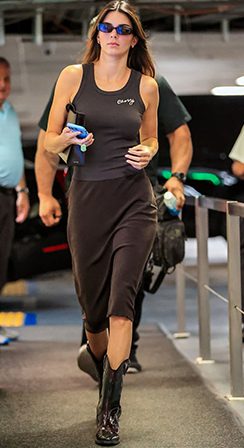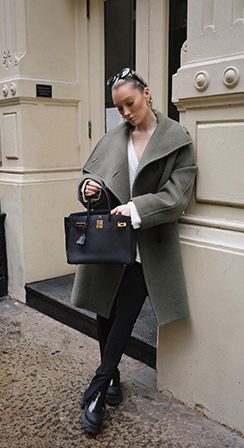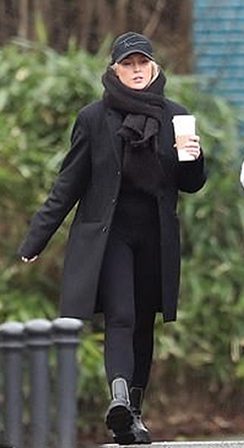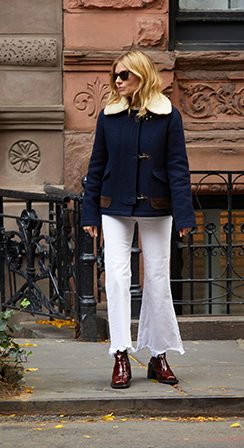 The brand is not only for famous people or celebrities, even you can get yourself a nice pair of stiletto heels which are comfortable and suitable for everyday wear. Even I own a pair of nice heels by Ganni and I love the material!
Is it for me?
Do the words, 'trendy', 'stylish', and 'classy', define your fashion choices? If yes, then Ganni is the brand for you! Ganni's heels ooze easy-going vibes which are suitable for everyday use and those who are always on-the-go will love the heels. Besides that, if you like the finer things in life, then you'll want to invest in the brand as it exudes finesse.
Criteria Based Rating: Ganni
Design & Style
 8.5/10
Ganni has a versatile range of heels available. From casual to formal, it has it all.
Colour Range
7.5/10
Offers a good range of colours which are suited to everyday wear and special occasions.
Affordability
4.5/10
Ganni is a very expensive brand and the prices can go up to $800 or above, so you might want to invest wisely.
Celebrity Preference
8.5/10
Most celebrities love the brand owing to its chic and contemporary heel designs. So, it has a loyal list of celebrity following.
Similar Stiletto Brands like Ganni
Similar to Fendi, Ganni is a high-end luxury brand which prides itself in the versatility of its heels. However, the only downside to both the brands is that they may have ridiculously expensive heels.
Similar to Stuart Weitzman, Ganni offers opulent designs and chic heels which accentuate your figure, featuring ankle strap, lace up and many other ultra-modern styles. They also have a variety of colours available!
Some of the Best Ganni Stiletto Heels!
Where To Buy Ganni
Some of the platforms where you can find Ganni Heels at:
When Do You Wear Ganni Stiletto Heels?
| | |
| --- | --- |
| Types of Heels | Suitability Rating |
| Casual | 8.5/10 |
| Party | 7/10 |
| Formal | 8/10 |
| Bridal | 3.5/10 |
Ganni – Shipping and Return Policy
Countries
Shipping & Return Policy
United States
Shipping: 1-5 working days

Return: within 28 days of the original purchase date.

United Kingdom
Shipping: 5-7 working days

Return: within 28 days of the original purchase date.

Canada
Shipping: 2-3 working days

Return: within 28 days of the original purchase date.

Australia
Shipping: 2-3 working days

Return: within 28 days of the original purchase date.
At A Glimpse: Customer Feedback Regarding Ganni
Based on the customer reviews online, most of them love the dresses and other products offered by the brand, and they even love the heels. However, they claim that the customer service is terrible and unresponsive. It would be advisable to invest in relatively economical pair before heading onto the expensive ones. Better yet, wait for a sales season to kick in before you buy anything just to be safe. Nonetheless, you won't regret investing in this brand as it'll last you a lifetime.