In a world where we have a plethora of options available in shoes to wear, heels are no exception. From Slingback to mules and a lot of other options available, heel enthusiasts have never been on the rise as they are now. This is because of the added convenience offered to them. Whether you like the pointy and narrow stiletto heels, or you prefer a pair of chunky and sturdy heels that allow you more support, wearing heels in today's era is a breezy task. One of the most popular choices includes chunky heels and that too, in black!
What You Need To Know Before Buying  Black Chunky Heels:
You may assume that black chunky heels would look tacky, and very flashy, and lack the finesse and creativity that stiletto heels would otherwise have. However, we have newer versions of black chunky heels which are suited to many occasions and preferences. Ranging from black strappy chunky heels to slingbacks and many others – the choices are limitless. A few things that you need to know before investing in black chunky heels include the following:
Your Individual Requirement

Some women wish to have chunky black heels for casual strolls, while some like to have them for parties, the requirement may vary from individual to individual, but it is important to note that a slip-on style or a strappy look would look great on both above occasions.

Who Should Buy Black Chunky Heels?

The answer is very simple – women who are always on the go. Those who have boisterous and creative fashion tastes would love to go for a nice pair of chunky black heels. Not just that, but those who love comfort would also love to invest in a pair of black chunky heels.

Features To Look Out For

Black chunky heels come with a strappy look, embellishments, buckles, various textures, heel shapes, heel height, and a lot more. You can pick the one that best suits your needs as you browse through popular designer brands like Giuseppe Zanotti and others.

Gigi Hadid

Jacqueline Jossa

Kirsten Dunst
Disclosure: This post contains affiliate links. When you purchase a service or a product through the links, I sometimes earn a commission, at no additional cost to you. Read my full disclosure here.
Without further Ado, let's head onto our list of the best Black Chunky Heels.
Best Black Chunky Heels in 2023
1. Dolce Vita – Paxx Heel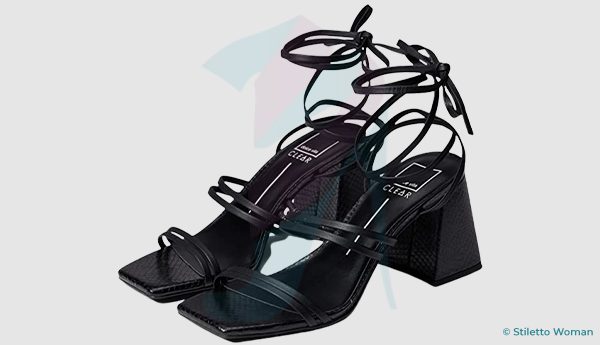 Ranking at the very top, these black strappy chunky heels come in a chic design and a lace-up look. They consist of a textured heel with bands covering your thumb and feet firmly. These heels by Dolce Vita are sure to be the ultimate keepers, especially for events like parties and casual hangouts with friends. They're also relatively more economical than the rest of the chunky black heels.
2. Kenneth Cole – Dolly Heeled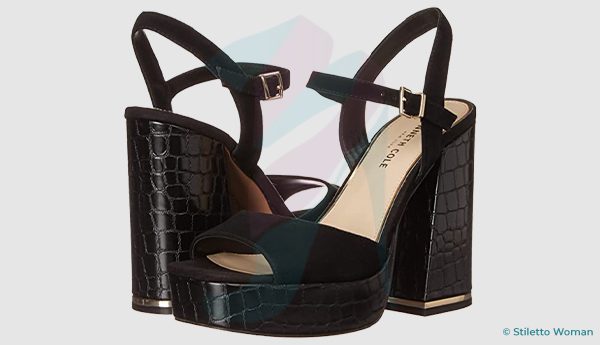 A brand that promises excellent quality and craftsmanship, Kenneth Cole's products are known worldwide. These black chunky platforms looks super chic and can grip your feet well owing to the buckle strap too. You can walk in these chunky high heels comfortably for hours without feeling tired.
3. Jeffrey Campbell – Extendo Platform Sandal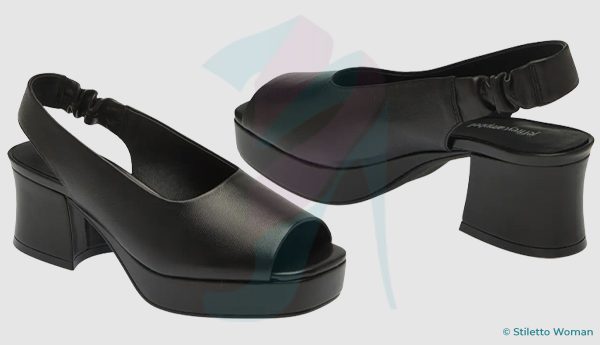 Another cool option that you should explore in terms of chunky heels black would be that of Jeffrey Campbell. These heels come with a Slingback style with a peep toe design which can make you appear super modern and unique. They come with a thick sole too, which improves the comfort level of these heels as well.
4. SCHUTZ – Callie Glam (Black Chunky Platforms)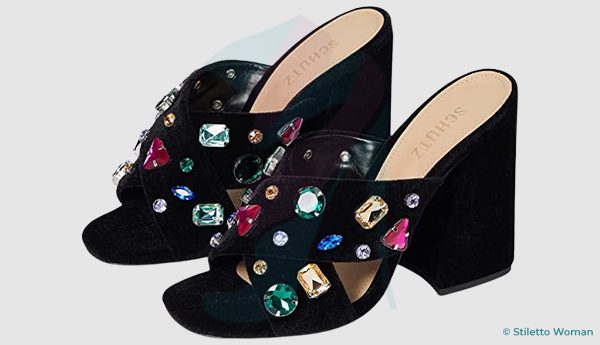 Schutz is a brand that's preferred by many fashion-forward women who like to tap into their inner creativity when it comes to heels. These black rhinestone chunky heels exude confidence and finesse. They consist of embellishments over the strap and come in a slip-on style which is easy to manage. Also, the slingback design facilitates the walking process too!
5. Michael Kors – Vero Lug Sandal (Black Chunky Platforms)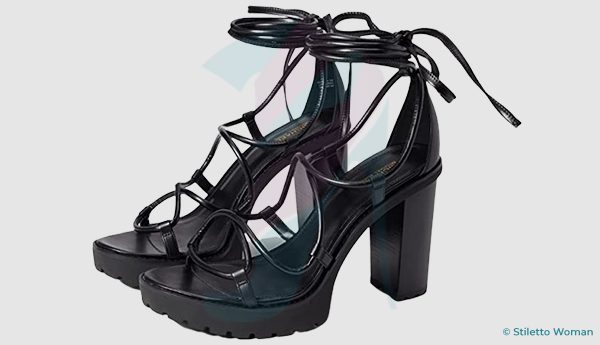 If you're looking for something super comfortable and upbeat, then look no further as these black chunky platforms by Michael Kors is sure to have you awe-struck. They consist of a strappy look and a lug sole which gives you a firmer grip over your steps. You can get an additional height boost with these black strappy chunky heels. So, these heels can be a multipurpose solution for all your fashion problems.
6. Charles David – Trulli Chunky High Heels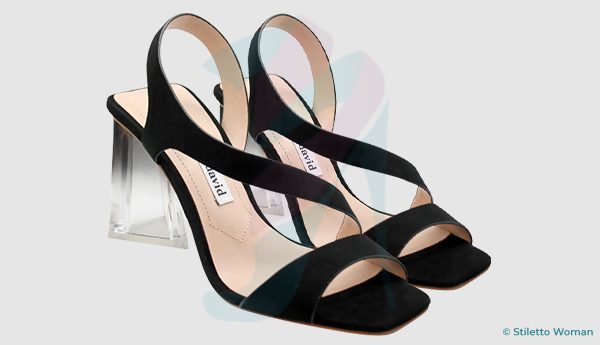 Another renowned brand, Charles David, has been around in the market for many decades. Owing to the excellent brand reputation, many customers are seen gushing over it. These chunky black heels by Charles David exude confidence and creativity. They have a feminine charm like no other, thanks to the uniquely shaped straps which can make your feet appear more attractive and ladylike.
7. Donald Pliner – Suzette Pump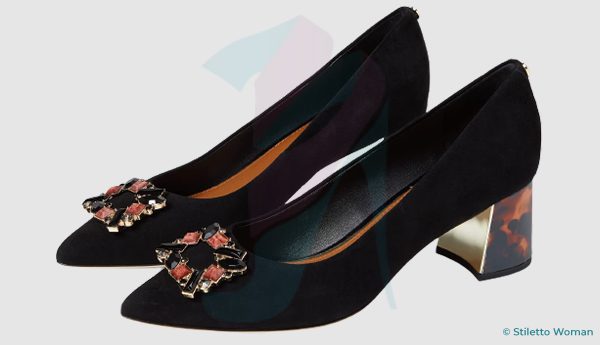 If you're looking for something classic with a contemporary touch, then these chunky black heels closed toe might be ideal for you! These heels by Donald Pliner are sure to leave you impressed owing to the timeless pump heel design with an alluring charm of glossy heel and embellished buckle over the toe area. They can help you make a strong fashion statement wherever you go!
8. See by Chloé – Lyna Heel (Black Chunky Platforms)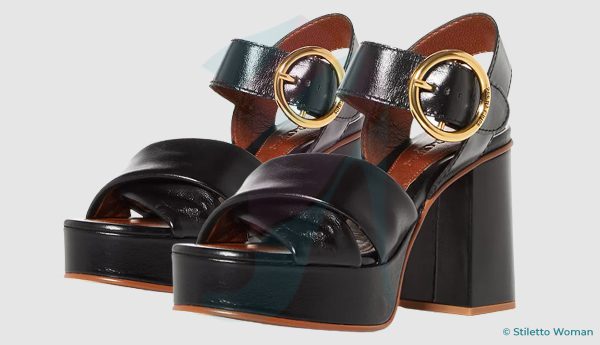 A pair that's sure to make heads turn would be that of Chloe. These black chunky platforms with a big buckle strap surely make a statement, and that too, an influential one. They look ultra-modern and upbeat; hence they make an irresistible pair. Also, they're very comfortable owing to the platform style. You can't go wrong with these as they'll be your savior in most events.
9. Simon Miller – Rink Chunky Heel Sandals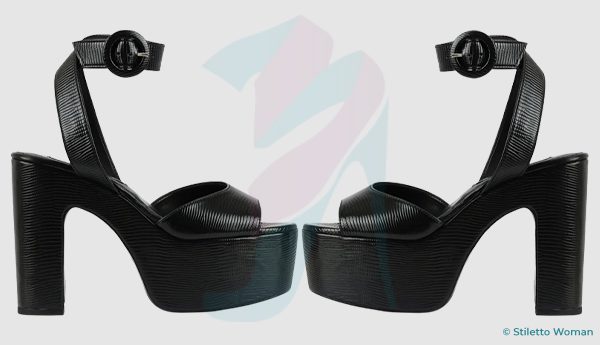 Looking for something glamorous and upbeat? The glitz and glam can surely catch anyone's attention and these black chunky sandals by Simon Miller exude the same. They consist of an everlasting charm that can make jaws drop. Ideal for parties, they're the pair that can make you look fashion-forward yet exquisite at the same time. The ankle strap can grip your feet well too!
10. Gucci – Cut Interlocking G Chunky Heel Sandals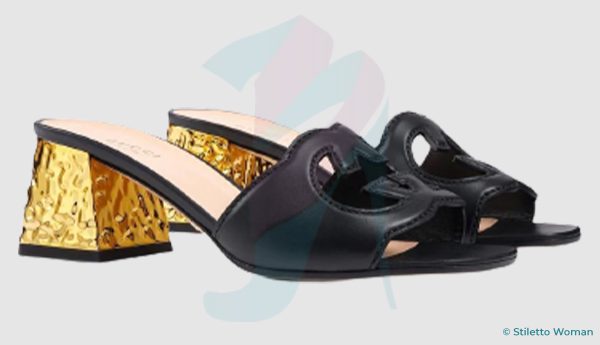 A slip-on style by the ultra-modern and high-end brand, Gucci, is sure to not disappoint you. They come with a textured gold heel and a convenient design. They're not only useful but also an exquisite pair of heels that would be an excellent addition to your heels collection. Besides that, they can make a strong fashion statement about your choices for important events. You could wear these black chunky sandals on formal as well as informal occasions.
11. Burberry – Logo-plaque Chunky Heel Sandals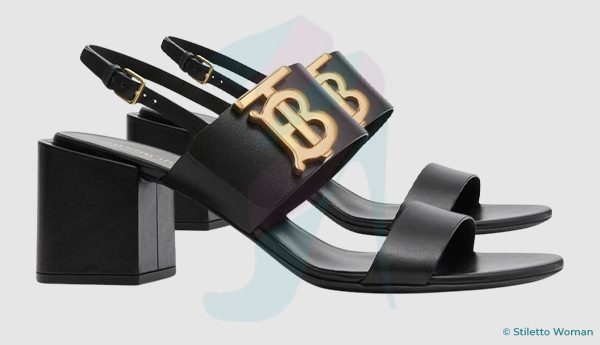 A pair that's going to leave a lasting impression on your audience would be these black chunky sandals by Burberry. The brand is known for offering excellence in terms of quality and services, so these black chunky sandals won't disappoint you. They come with a slingback style to grip your feet well and a chunky heel to give you sufficient support to be able to walk without experiencing discomfort. You can't go wrong with these black chunky sandals.
12. Valentino Garavani – Maxi Stud Heel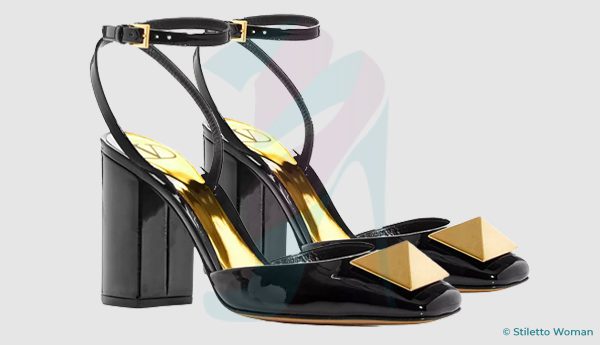 A great pair in terms of chunky black heels would be that of Valentino Garavani. These ultra-modern and high-end heels have an exquisite look with a stunning design which makes them stand out from the rest. It can easily make heads turn as you walk into a room filled with fashion-conscious people.
13. Bottega Veneta – Chunky High Heels Platform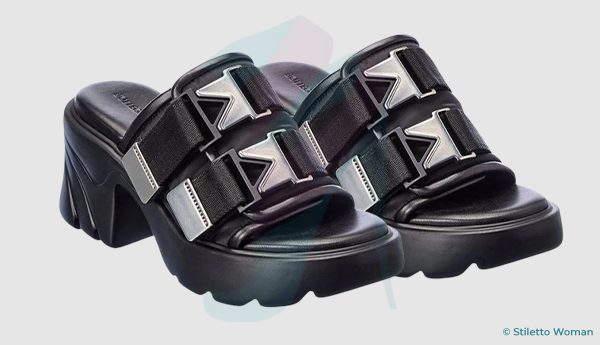 If you're looking for something casual wrapped in comfort and finesse, then look no further as these black chunky heels by Bottega Venetta are sure to amaze you. They consist of a lug sole which gives you a firm and sturdy grip. They will last you a long time too, so they will be an investment that you will not regret.
14. Miu Miu – Chunky High Heels Platforms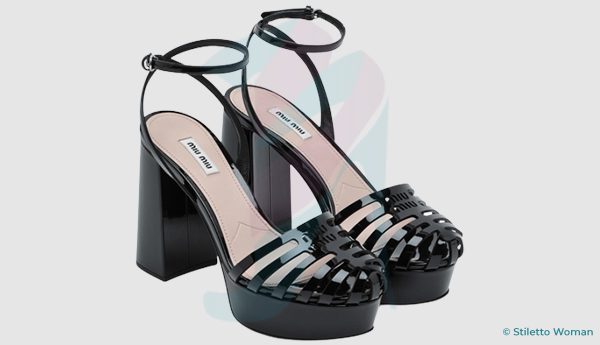 Featuring an uber-modern option in terms of chunky black heels, these black strappy chunky heels by Miu Miu exude grace and charm like no other! They come with a maroon hue which uplifts the entire look of the heels. They also come with an ankle strap design and a thick sole which makes it easier for you to walk in them without experiencing a lot of discomfort. All in all, these heels are for the bold, adventurous, and creative types!
15. Versace –  Medusa Aevitas Platform Pump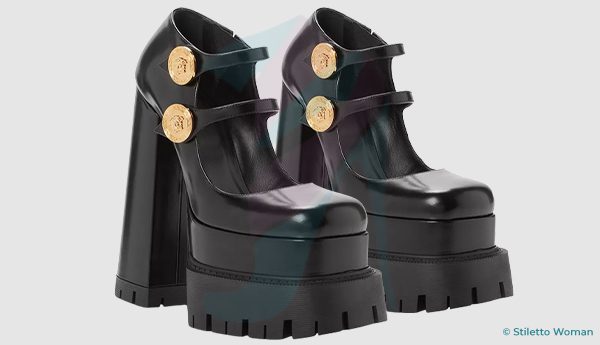 These ultra-modern and glamorous loafer-inspired chunky heel black boots are sure to win your heart in an instant. These chunky high heels come with a lug sole and an exquisite design that oozes luxury at its best. The brand's label Versace is enough to have you sold on these gorgeous pair of heels!