We've all heard about square toe heels, but what's more common is square heels. Similar to block heels, chunky heels feature a square shape with a sturdy and thick base which allows for more balance and support. Chunky heels are a great option for newbies and beginners who are training for the narrow and pointy stiletto heels. They can be a convenient and useful option for girls who need to walk around excessively too. They look chic and stylish, especially considering the new styling and designing the brand's are coming up with.
What You Need To Know Before Buying Chunky Heels:
Anyone who cares about fashion and knows how to style will definitely have chunky heels in their wardrobe. This is partially because of having a diverse heels collection and mostly because of the convenience that they have to offer. Besides that, these heels look great on all occasions which makes them the perfect fit for most outfits too. But before investing in such heels, here's what you should consider:
Your Individual Requirement

All of us have our own reasons to wear chunky heels. If the reasons include wearing them for a casual night-out, then any type of chunky heels would be  appropriate. On the other hand, if you are the one who prioritizes fashion above societal norms and would love to wear chunky heels on formal occasions too, then you can go for the silver embellishments on chunky heels. Whatever the case may be, make your picks wisely.

Who Should Buy Chunky Heels?

Women who are upbeat and bold, those who have prioritize convenience over excessive styling, should buy chunky heels as they exude confidence, femininity, and an alluring charm.

Features To Look Out For

Chunky heels can come with a strappy look, embellishments, buckles, various textures, heel shapes, heel height and a lot more. You can pick the one that best suits your needs as you browse through the popular designer brands like SJP, Ted Baker, and others.

Gigi Hadid

Jacqueline Jossa

Lauren Conrad
Disclosure: This post contains affiliate links. When you purchase a service or a product through the links, I sometime earn a commission, at no additional cost to you. Read my full disclosure here.
Without further Ado, let's head onto our list.
Best Chunky Heels in 2023
1. Calvin Klein – Qeelin Heel
Featuring an Uber modern design with chunky heels, these heels by CK are sure to leave you stunned. The convenient heel height facilitates the walking process too. Also, it features an open toe style which makes these heels breathable and they're lightweight too!
2. Jeffrey Campbell – Pop Star Sandal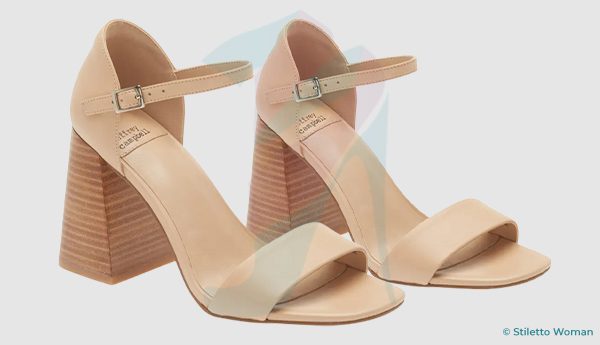 Similar to CK, but this time with one band only, these chunky heels by Jeffrey Campbell are a keeper. They can grip your feet well, preventing slip offs. Also, they are super comfortable to walk in. Besides that, they can help you make a strong fashion statement as well!
3. Steve Madden – Heeled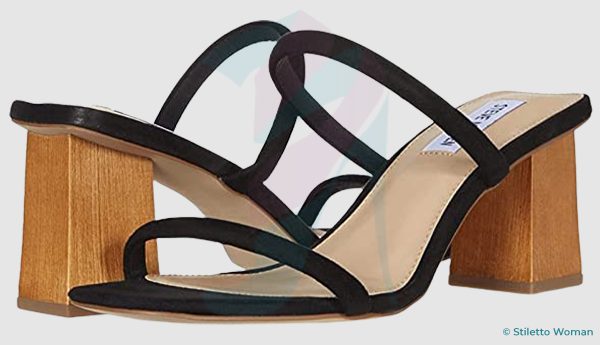 Steve Madden never fails to disappoint all the heel enthusiasts. In terms of chunky heels, it seems to be selling the deal and winning the bet with these ultra-modern chunky heels featuring a wooden squared heel base. These heels comprise of a timeless design which looks great on casual events as well as parties too. They come as a simple slip-on style which makes them convenient too.
4. Golo – Vogue Sandal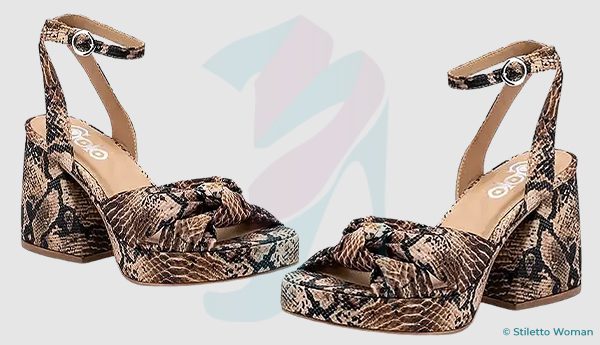 The platform heels style with an ankle strap design, these printed chunky heels by Golo can make heads turn. They not only look super glamorous, but these heels ooze finesse and luxury at its best. These heels will last you a long time as they're made up of high quality materials as well, so it'll be a good investment in the long run.
5. Ted Baker – Deltino Platform Sandal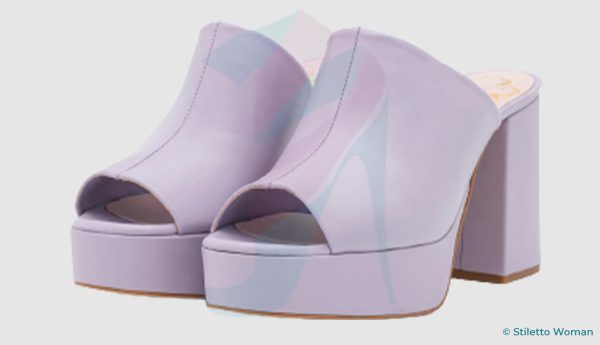 Ted Baker, the brand known worldwide for offering the best quality and designing in terms of heels, bags and a lot more – these heels by Ted Baker reflect the brands' excellent reputation. These heels can cover and secure your feet well so you can walk around in them for hours without feeling tired. It'll be an investment that you'll never regret.
6. White Mountain – Astonish Heeled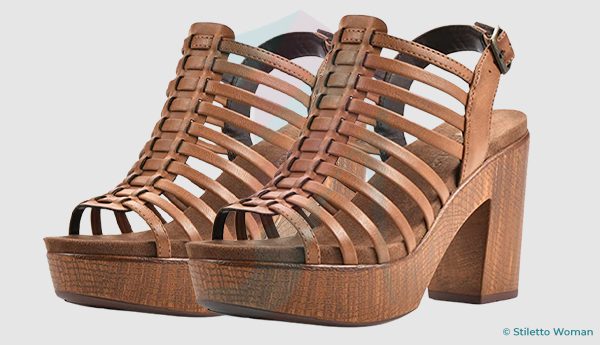 Bored of the slip on styles? Then we have a slingback style for you. The strappy look never goes out of fashion. These chunky heels by White Mountain ooze finesse and modernity. Also, the brown colour will look great on most outfits and will be appropriate for most occasions. They'd be a useful pair too.
7. Vince – Elizabeth Block Heel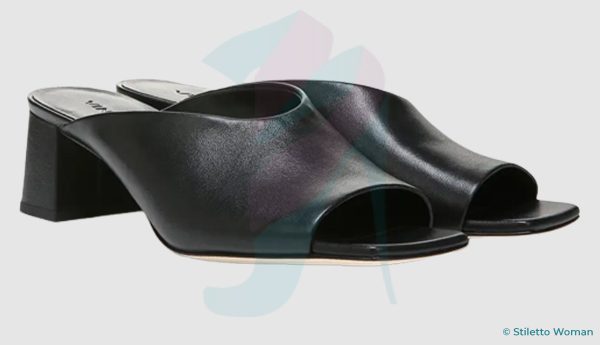 A slip on style with a square toe style, these heels by Vince make the best pair for causal events. They can be a great addition to your heels collection too. The brand promises excellent quality and flexibility too, so walking can feel like a breezy process. Also, they'd be a useful pair for everyday strolls.
8. Tory Burch – Multilogo Sandal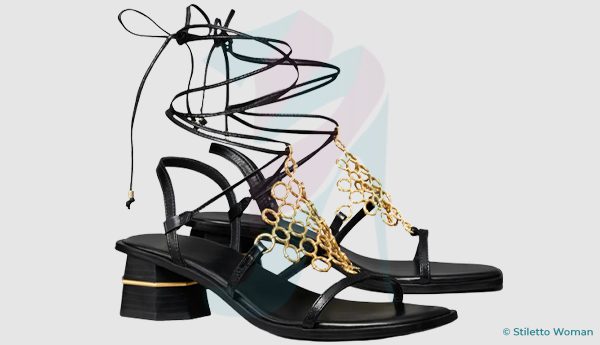 A uniquely crafted strappy look, these chunky heels by Tory Burch are a keeper. Not only do they ooze modernity and creativity at its best, but they're also study and comfortable. You can say goodbye to embarrassing slip offs if you invest in these gorgeous pair of heels, owing to the tie up laces which can secure your feet well.
9. Chie Mihara – Gaura Platform Sandal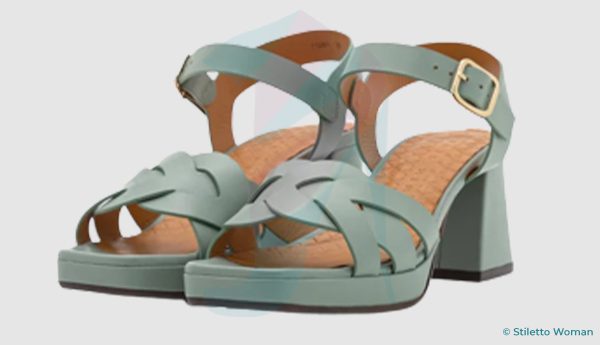 These chunky heels by Chie Mihaea feature an ankle strap and sandal heel style which consists of an easy going vibe. They do not consist of extra embellishments and rather feature a simplistic and minimalistic look which makes them appear super classy and sophisticated. They'd be perfect for formal and informal occasions.
10. Christian Louboutin – Miss Sabina Sandal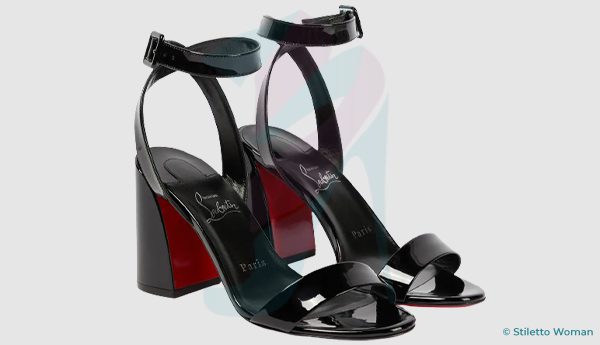 If you want to make a strong fashion statement, then look no further. These chunky heels by Christian Louboutin are sure to be the heartthrob of many. These super chic heels by the brand feature an open toe and a ankle strap style which makes them super easy to carry and they'd be great for most occasions too. Be it bridal or an informal event like a party, you can flaunt these beauties to leave a lasting impression on your audience.
11. Franco Sarto – L-katraclog Mules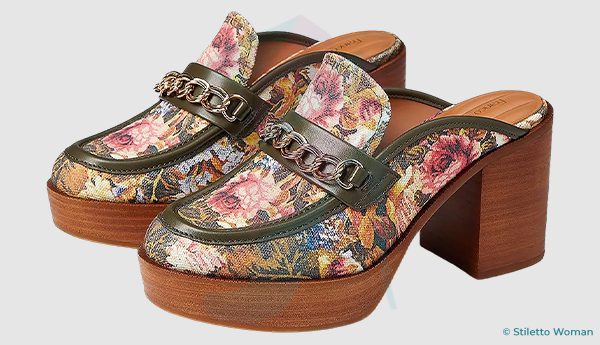 Another great pair of chunky heels by Franco Sarto ooze artistic yet modern vibes. They consist of a printed upper design with a strapless back. The chunky heels offer you more balance and support that can help you walk while exuding the ladylike charm and grace.
12. Aerosoles – Emmex Heeled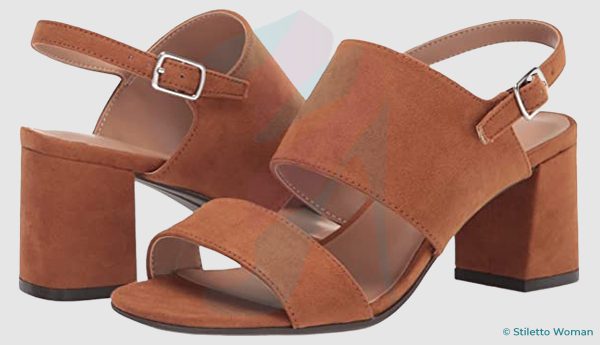 Another great pair of chunky heels featuring a rust colour which is quite the talk of the town in 2023. These heels by Aerosols are not only stylish, but also super comfortable. They are sturdy and long lasting. Investment in these heels won't make you regret it even for a second.
13. Gucci – Ketty Slingback Sandal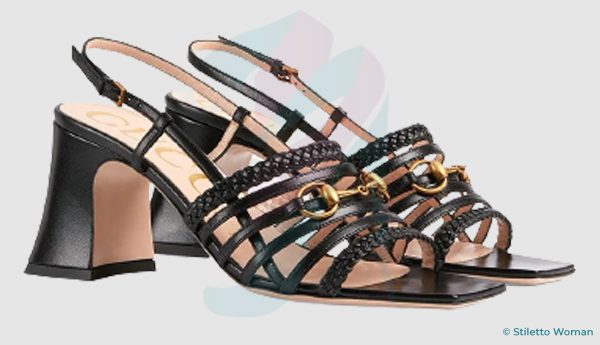 Another sophisticated option in terms of chunky heels would be that of Gucci. These slingback style chunky heels grip your feet well and prevent you from slipping or tripping. They make a comfy pair with an elegant vibe. The heels consist of a buckle strap which secures your feet carefully too. Moreover, it comes in an open toe style, which again is quite hard to resist.
14. Dolce Vita – Ashby Heeled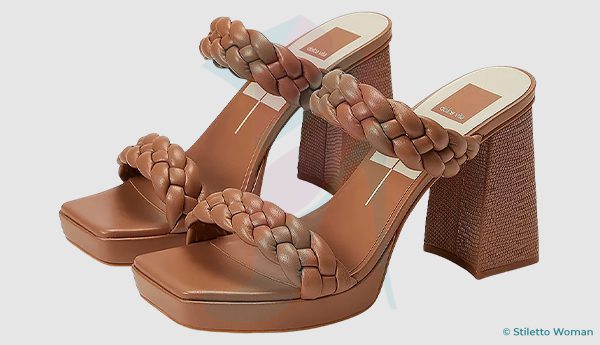 Another one of Dolce Vita's Chunky heels which are sure to leave you stunned. These simplistic yet super stylish heels feature a slip on style with a range of colours being available for you to experiment. They make a great, useful pair. The two braided straps can also uplift your entire look and make you seem fashion forward.
15. Valentino Garavani – One Stud Sandal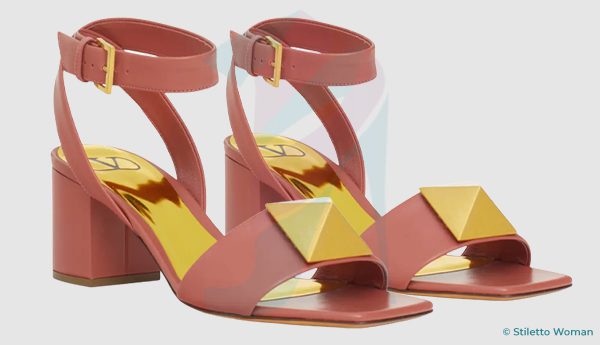 Chunky heels with a square toe design, a combination that's a must have in 2023. These heels by Valentino Garavani shouldn't be missed and should be added to your heels collection. Consisting of a timeless buckle strap style and an alluring appeal, these are sure to win hearts of all women out there.