Even in the era of feminism where the hype is all about reinforcing the idea of equality between both genders, exuding a feminine charm and ladylike vibes have a supremacy of their own. No matter how bold or modern you try to look, there's nothing like a nice pair of floral shoes heels to look super elegant and attractive.
What You Need To Know Before Buying Floral Printed Heels:
You may feel like floral printed heels may look too girly or overly cheesy, but fortunately for you, we have newer versions of such heels that are suited to many occasions and preferences. Ranging from open-toe, closed-toe, square-toe, floral block heels, floral wedge heels, and many others – the choices are limitless. A few things that you need to know before investing in floral high heels include the following:
Your Individual Requirement


Whether it's a beach party, graduation ceremony, or the desire to have floral high heels, know that there are many variations out there. So make your picks wisely according to the occasion and your preference.

Who Should Buy Floral Printed Heels?


Women who love to look ladylike and feminine. Those who have extremely subtle and girly fashion tastes would love to go for a nice pair of floral high heels. Not just that, but those who attend lots of pool parties or beach events would also love to invest in such a pair of heels.

Features To Look Out For


Floral printed heels come in the form of floral strappy heels, or with embellishments, buckles, various textures, heel shapes, heel height, and a lot more. You can pick the one that best suits your needs as you browse through popular designer brands like Ted Baker Floral Heels, Jeffrey Campbell, Jessica Simpson floral heels, and others.

Kerry Washington

Melania Trump

Kim Kardashian
Disclosure: This post contains affiliate links. When you purchase a service or a product through the links, I sometimes earn a commission, at no additional cost to you. Read my full disclosure here.
Without further Ado, let's head onto our list.
 Stiletto Floral Printed Heels in 2023
1. Dolce Vita – Vinita Floral Wedge Heels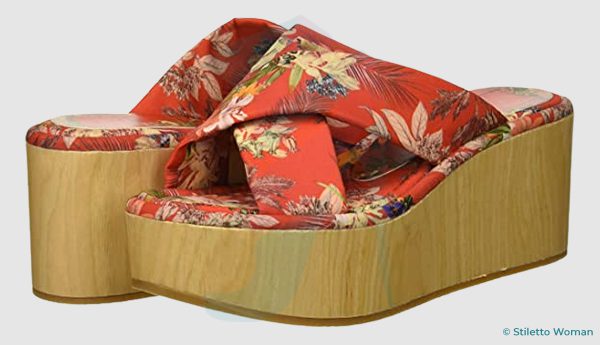 Another great pair of floral print heels that is sure to leave you stunned would be that of Dolce Vita. These floral wedge heels come in a convenient slip-on style which saves your time and makes them ideal for casual events.
2. Bandolino – Armory Heeled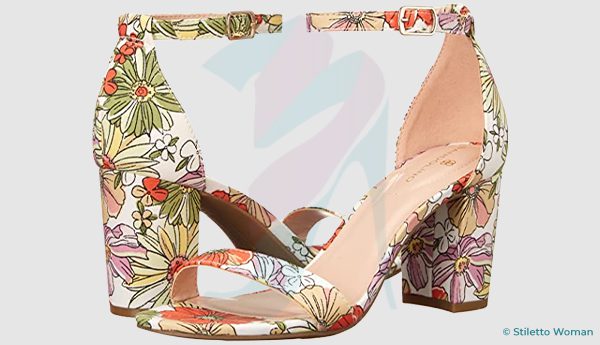 First and foremost, we have one of the most economical yet chic pairs of floral block heels to gush over! These heels come with an ankle strap and an open-toe style which is sure to make a statement. Also, the block heels design makes them super comfortable too.
3. Franco Sarto – Oma Sandal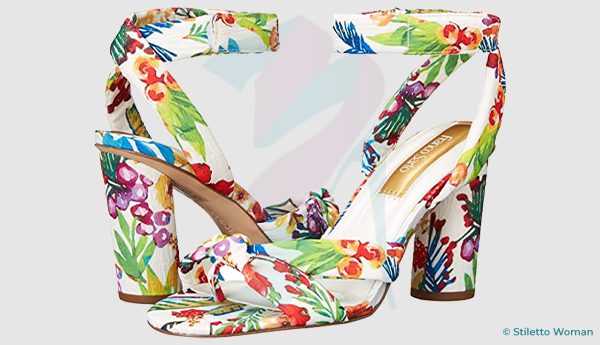 These heels come with a striking appearance and an ankle strap design, along with the convenient block heels. With these floral strappy heels, you can nail any outfit, especially if you're going to a beach or a pool party, you're going to make heads turn with this pair of floral block heels.
4. Kenneth Cole – Lex Heeled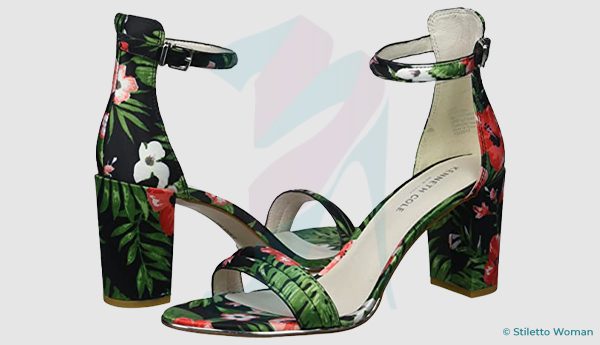 Kenneth Cole, a brand known for its excellent craftsmanship and reputation around the world. These floral print heels by the brand come with a sophisticated and creative look. They are not as flashy as the ones mentioned above, so they'd be ideal for formal events too.
5. ALDO – Adreran Heeled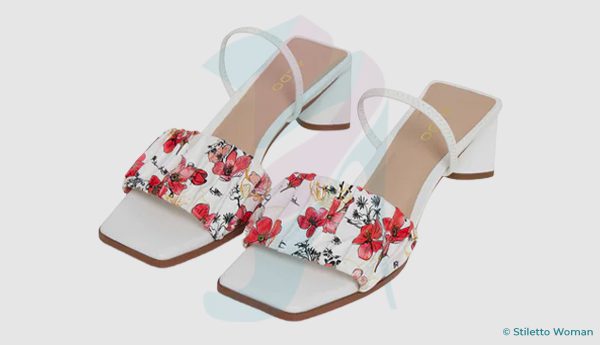 Heels that are sure to make a statement and make jaws drop would be that of ALDO. These floral print heels come with a two-bands style which is organized in a unique way. They not only grip your feel well but owing to the utter simplicity and sophistication of the heels, you can wear them to evening events too!
6. Jessica Simpson – Delirah Wedge Sandals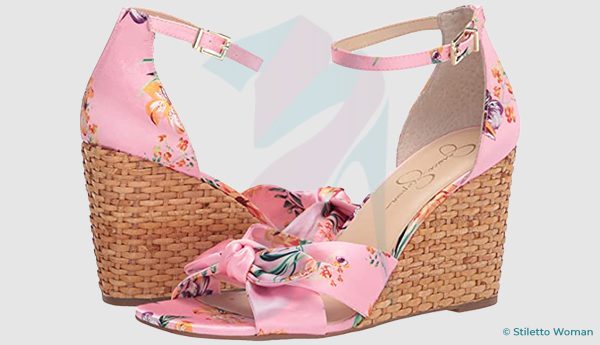 Featuring a convenient and easygoing pair that exudes a feminine charm like no other, these Jessica Simpson floral heels will surely leave you amazed. They come with an ankle strap style with an espadrille-inspired design to add a contemporary appeal to the footwear. With Jessica Simpson floral heels you will surely leave everyone awestruck.
7. Katy Perry – The Meadow Classic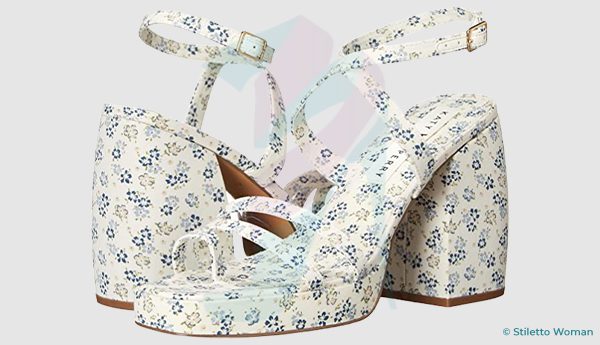 These awe-inspiring heels by Katy Perry feature a strappy look with an ankle tie and chunky heels design. These floral strappy heels make a comfortable pair as they come with a platform sole as well. You can walk in them for hours without feeling too tired.
8. GUESS – Venda Heeled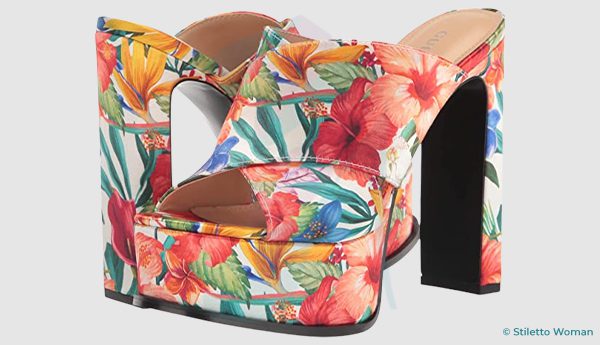 Featuring a bold and striking appearance, these floral stilettos are upbeat, creative, and ooze modernity. They come with a peep toe design and a platform style which offers you more comfort and balance. At the same time, they give you a height boost as well.
9. Karl Lagerfeld Paris – Cariza Wedge Sandal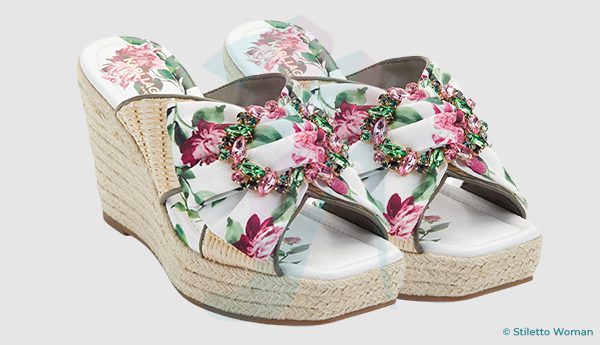 Presenting you one of the most elegant and beautiful pairs of floral print heels, these floral wedge heels by Karl Lagerfeld Paris are sure to catch your attention. They come with a wedge and espadrille-inspired design which makes them super comfortable.
10. Nine West – Kelsie Heeled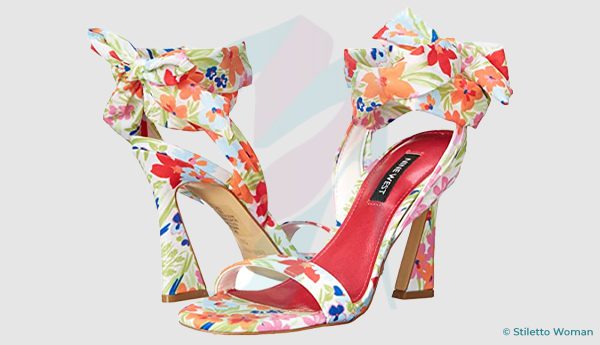 Want to stand out from the crowd? Nine West will help you achieve that. These floral stilettos come with a striking and upbeat appearance. They feature an open-toe style which makes them breathable and lightweight too.
11. Badgley Mischka – Tarika Heeled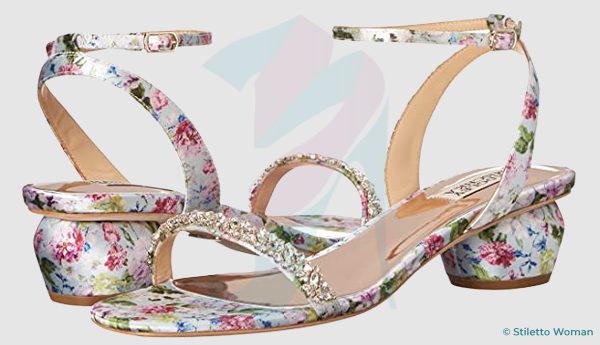 Another convenient and classy pair of floral print heels to wear would be that of Badgley Mischka, featuring an ankle strap and an open-toe design. These heels come with an embellished toe strap which can make a strong fashion statement even if you're attending a wedding.
12. LifeStride – X-Felicity Boot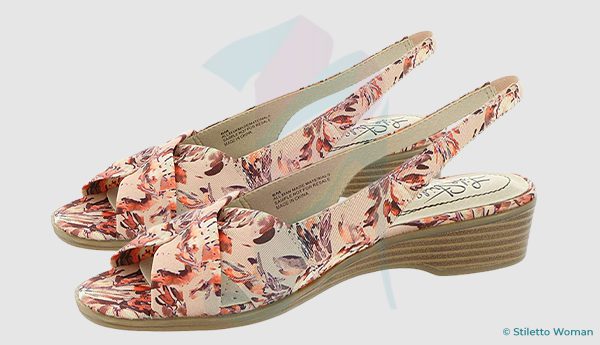 Featuring a minimalistic and sleek pair of floral print heels, these heels come with a Slingback style and a convenient heel height to ensure that walking is a breezy process for you. Besides that, the heels come with a peep toe design which can also add to the finesse of the heels.
13. Loeffler Randall – Peri Pleated Wedge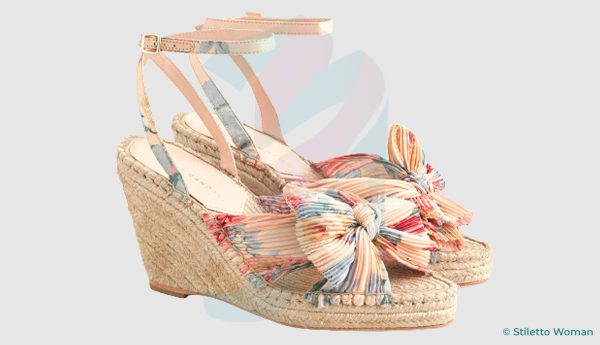 A high-end and premium option to consider would be that of Loeffler Randall. These floral strappy heels come with an espadrille-inspired wedge heel design with an ankle strap. They ooze timeless elegance and grace. These floral wedge heels can be the safest option for casual strolls, parties, and many events.
14. Sam Edelman – Yaro Sandals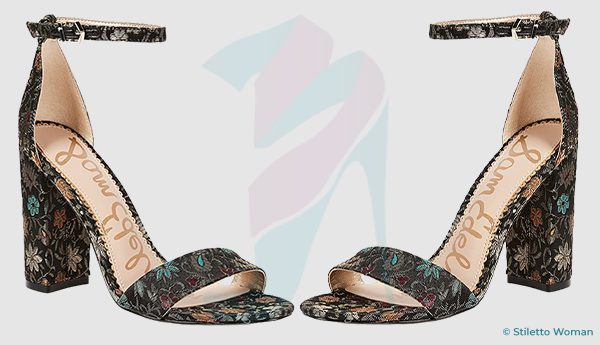 Another high-end option to consider would be that of Sam Edelman. Their heels come with a black floral print with colorful elements that are dulled down.They exude confidence and creativity. The ankle strap design can add to the feminine charm of the heels.
15. Ted Baker – Rozie Heeled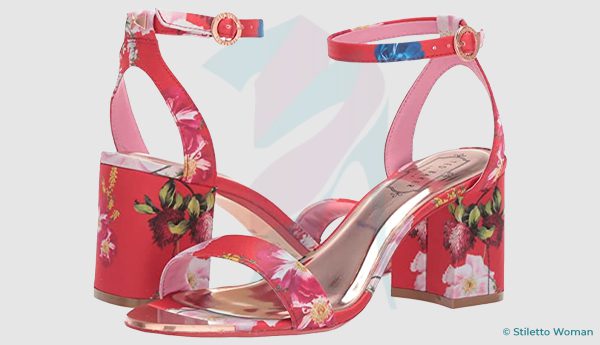 Last, but not least, these Ted Baker floral heels are one of the most excellent options you could consider in terms of floral print heels. These floral block heels come with an ankle strap and an open-toe design to help you look fashion forward and the block heel design facilitates walking too. One cannot go wrong with this pair of ted baker floral heels.
Why Should You Buy Floral Printed Heels?
It's nice to have a diverse heel collection, so an ultra-feminine pair should be lying around in your closet too. Besides, these heels not only tell a lot about your fashion choices but convey a strong message about your elite tastes in fashion. Since these types of heels consist of an everlasting charm, they can never go out of fashion so they're a must-have!
What To Wear With Floral Printed Heels?
You can pair up a nice long dress with such heels to give off girly vibes. They'd look best on dresses of any kind, whether they're long or short. Typically, long dresses and floral print heels can make heads turn without a fail, especially at the beach and pool parties.
On Which Occasions To Wear Floral Printed Heels?
You can wear these heels on occasions like parties, outdoor and evening events, casual events like meet up with friends, and even a casual stroll out at the beach. They'd also be a great choice for balls and beauty pageants.
Rare Styling Tips For Floral Printed Heels
Here are some of the coolest ideas to make sure your heels stand out from the rest.
Look for high-height heels to exude a feminine charm
Make sure your foot nails are groomed and you have appropriate nail paint on if you're going for open-toe heels
Floral print heels look best with an espadrille look, so keep an eye out for that
Get floral strappy heels, or a slingback style, or pump inspired look to exude confidence
Pair up a gorgeous tote bag to go with your dress and heels
A striking and bold colored dress like neon pink or red can be paired with such heels to make a strong statement.
A beach hat can go well with floral print heels too!