You take care of your skin by using an appropriate moisturizer and you take care of your hair using various masks and conditioners, but have you ever given a thought to your nail health? We assumed not. Though there's hype about manicures everywhere, only a few women are aware of the proper nail care strategies to avoid the repercussions of excessive nail grooming like acrylics and gel manicures.
Cuticle oil for acrylic nails is one of the telltale ways to take care of your nails. This oil is like a moisturizer developed specifically for your cuticles and nail beds. It is made up of essential oils which help in keeping your nails healthy by nourishing them with the vitamins required to keep them shiny.
Here's  how you can do it at home or get it done by a nail technician:
Soften your cuticles by soaking them in warm water for 10 minutes and then use a cuticle pusher to push back the cuticle
Use a dropper or a cotton bud
Apply the cuticle oil to the nail beds and cuticles gently
Keep massaging so make sure the moisture is locked
Stroke the nail polish brush a few times
Repeat the process every 2-3 hours
Disclosure: This post contains affiliate links. When you purchase a service or a product through the links, I sometimes earn a commission, at no additional cost to you. Read my full disclosure here.
Why Should You Use Cuticle Oil?
We do understand that you may be ambiguous as to why we are suggesting only cuticle oil and not others. The thing is, when you do not take care of your nails on a daily basis, your cuticles can end up damaged, dry, and even cracked. In that case, cuticle oil can come in as a savior and the ultimate go-to product to keep your nails healthy.
The oil consists of Vitamin-E extracts as well as Jojoba Oil to nourish your nails, allowing better organic growth and everlasting shine. Vitamin E and Jojoba Oil are long-known as wonder ingredients that not only hydrate but also lock in moisture while keeping your nails flexible which prevents them from breaking. By stroking cuticle oil daily onto your nails, you can improve the blood flow to the root of your nails which results in longer and stronger nails as time goes by.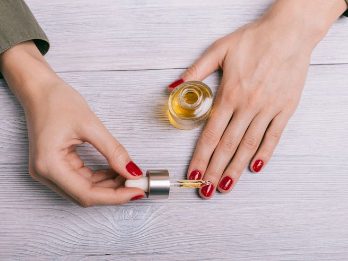 How To Use Cuticle Oil For Shiny Nails:
You'd be surprised to know that even without glossy nail polish or a clear manicure, you can still get the shiniest nails ever! Generally, women skip cuticle oil for nail growth in their nail care routine but have no idea how beneficial it is. Cuticle oil helps in locking moisture in your nails which prevents them from becoming brittle and dry. You can also use baby oil to do the same, but cuticle oil is a tailor-made solution for all your nail care concerns. Here's how you can achieve the shine:
Using a cuticle oil pen, dropper, or cotton bud
Applying it to the cuticles gently, working all the way from the tips to the cuticle ends
Giving your nails a nice massage using one finger
Stroke the nail brush gently over your nails to set the tone
Let your nails dry and enjoy the shine!
What Are The Benefits Of Cuticle Oil For Nails?
Some of the benefits of cuticle oil are summarised:
Moisturises and nourishes the skin, nails, and cuticle
Protecting the skin, nails, and cuticle against potential damage because of extreme weather conditions or any other situations
Prevents chipping for gel manicures
Improves the health of your nails and makes your nails look younger & healthier!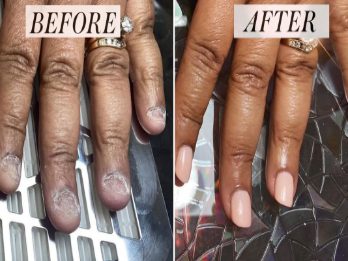 Final Thought
That having said, you should get your bottle of cuticle nail growth oil and stock up on a few spares too, to repeatedly use it. This will be beneficial in the long run for your nails and you won't even need to go for artificial options which are rather a hassle and pricier option to consider.