Similar to how heels are a woman's best friend, so nails, and that too, well-groomed nails are. The easiest way to leave a bad impression would be to show up with chapped, dry, or brittle nails at an important event. Gone are the days when such details used to get ignored, but in today's era, everyone pays attention to them.
With celebrities like Kylie Jenner, Kim Kardashian, Taylor Swift, and even Selena Gomez hyping up the manicure trend with the most exotic and unique nail styles, we shouldn't ever forget about the ones that have come a long way – the French Manicure Nails. The history of french manicure nails dates back to the 1970s when only models used to have them.
Disclosure: This post contains affiliate links. When you purchase a service or a product through the links, I sometimes earn a commission, at no additional cost to you. Read my full disclosure here.
Before heading on to the specifics, let's first discuss the manicure meaning:
Definition Of Manicure:
A manicure is a hand and fingernail aesthetic beauty procedure that can be done at home or at a nail salon. It entails the shaping and filing of the free edges of the nails with the pressing and trimming of the non-living tissue ( but only just the hangnails and the cuticle), treatment with different liquids, hand massages, and the application of the fingernail lacquer.
What Is French Tip Nails?
French nails consist of a pale pink or nude base with a solid white tip. It can be done on natural nails, but sometimes people prefer acrylics and gel in case they have very short nails or their nails are brittle. Though the length of the nail in a French manicure may vary including short french tip nails, long french tip nails, or medium lengths. Based on personal preferences, you should opt for a medium-length one that won't disrupt your daily routine.
History of French Manicure Nails
The trend started in the 1970s in Hollywood when the founder of the nail polish company, Jeff Pink got credited with coining the name. He created this look for the fashion-forward women of Paris, hence he named it 'French', to place a strong emphasis on European culture. It was he, who created the first French manicure kit and then the trend became viral.
Since the Parisian style mostly comprised minimalistic, casual, and classy fashion trends, French tip nails exhibited the same. Nonetheless, the trend diffused off to other countries like the United States and then so on and so forth.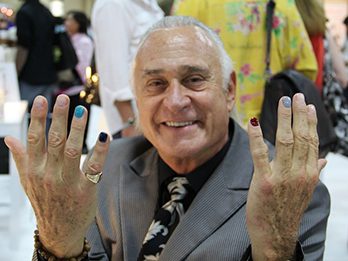 How Long Do French Manicure Nails Last?
You might be wondering how long these french manicure nails last. You'd be surprised to know that their last depends on how your french manicure nails were initially created. For example, on natural nails with a standard polish and proper care, it will last around a week. On the other hand, a gel manicure can last for up to three weeks. Moreover, with an acrylic manicure, it can last for up to six weeks, given that you take proper care of them and maintain them well.
Why Choose French Manicure Nails?
There are many reasons why you should be picking these french tip nails. Firstly, it gives the illusion of slim fingers, and that too, combined with immaculate nails. This makes you appear as a high-profile lady.
Also, the French manicure nails retain a touch of sophistication and exude a feminine charm like no other manicure style. It is suitable for all kinds of events, unlike tacky and flashy nails, that are only suitable for parties. You can leave a strong impression while wearing them, whether you're giving an interview or going to a party.
Protecting and Maintaining The French Nails
When investing in a set of French nails, you should be mindful of the factors mentioned below. These can help your natural-looking french manicure nails to last for a long time.
Apply a thin top coat of french nail gel polish to the french manicure nails regularly to keep them shiny.
French nail gel polish top coat prevents air bubbles which can combat the issue of chipping.
Only apply a new coat, once the old one has dried completely.
Protect your french manicure nails from creams or contact with any other everyday item.
Protect your french manicure nails from all the excessive dishwashing as well. Try using gloves when you have to do it to make sure your nails don't lose their charm easily
Keep your fingers away from your eyes, so that you do not end up poking them or your skin
Be sure to file your french tip nails and use a nail shiner to retain that glossy touch for a longer period of time
Final Thought
French tip nails are the all-time classic and every woman's favorite type of manicure. It's the go-to manicure style for women who prefer classy and sophisticated styles, and those who are always on the go. French manicure nails are so versatile, yet they can also be made funky and highly elegant, depending upon the occasion and personal preferences too.
You can throw in a bit of glitter or pearls to uplift their look at a wedding, or keep a V shape to ooze modernity and chicness. Nonetheless, it is guaranteed that these french manicure nails will give you lots of compliments from others. It is recommended to get French tip nails on your natural nails, only if your natural nails are long and healthy. If they are not and you're a nail biter, then you should go for gel-based or acrylics which will also you a long time too.