If you are someone who has the habit of nail biting, you'd know what a mess it creates for you. You always dream of having the perfect nails, but then the nail biting habit kicks in. To break free from the torturous nail biting habit, you can opt for nail extensions, in the form of gel extensions or acrylics. Soon as you have them on, each time you get the temptation to bit your nails, you won't be able to. Asides the fact that your nails will look gorgeous, with acrylics and gel extensions on your nails, you won't be able to chew on your nails.
Disclosure: This post contains affiliate links. When you purchase a service or a product through the links, I sometime earn a commission, at no additional cost to you. Read my full disclosure here.
Before digging into the specifics, let's first discuss what gel extensions and acrylic tips are.
What Are Gel Extensions?
Gel extensions are made up of hard gel which is sculpted and then shaped to add length and sturdiness to the existing nails. They make a great and a healthier alternative to acrylic nails. With the hard gel, you can shape your nails into a coffin-like, almond-like and other shapes. But with soft gels – they are easily soaked off with acetone, but can't be made into extensions. Taking off the hard gel can be a huge struggle and cannot be done without professional help though.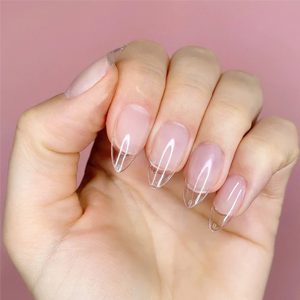 What are Acrylic Tips?
As compared to gel extensions which are made up of hard or soft gel which is then shaped, acrylic tips are made up of plastic and required a monomer liquid and polymer powder to create a sculpted nail. Substances are mixed to form a paste which is applied on the top of the nail. The paste is then smoothened by a professional to make them as natural as possible. When the resin is completely dry, the nails become strong and durable. They then last for a month or so if maintained well.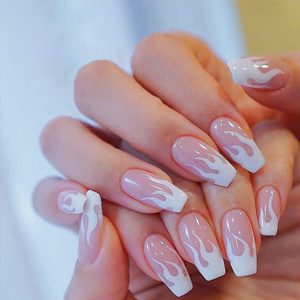 Pros and Cons of Gel Extensions
| | |
| --- | --- |
| Pros | Cons |
| Easy to apply and quick removal | May make your nails weaker and rugged |
| Durable and versatile | Persistent exposure to sun rays may be harmful for nail skin |
| A healthier alternate to acrylics | Not appropriate for short nails |
| Gel nail extensions help to extends up the length of your natural nails | Lasts up to 2-3 weeks only |
| More attractive and appealing | Requires patience and can be time consuming to shape them |
| Great for everyday wear or special occasions | |
| Can be personalized into different modern shapes like coffin, stiletto nails, almond, etc. | |
Pros and Cons of Acrylic Tips
| | |
| --- | --- |
| Pros | Cons |
| Excellent solution for nail bitters – the hard material of acrylic tips make it impossible to chew on them, thus breaking the habit as a whole | Can damage your natural nails by limiting growth and leading to potential bacterial infections |
| Perfect for women who have weak and brittle nails | The application of acrylics require strong chemicals to which some women may be allergic |
| They last longer than gel extensions | Refilling required every month so can be costly |
| They can be repaired easily if you end up leaving a crack on them | Can make your nails feel heavy |
Final Thoughts
That having said, though it is safe to use both of the nail types every now and then, it can be rather disadvantageous if you are using these fake nails for everyday wear, all the time. Your nails need time off to breathe, so as long as you are taking care of that, you are good to go with any sort. Also, it depends on the occasion too. If you're going for a vacation for more than a month, then acrylics would be great for you as they last longer. But on the other hand, gel extensions would be better for week long or two weeks long wedding events as they can wear off after 2 weeks.