In the 21st century, especially post-COVID-19 pandemic, the hype of stiletto heels has suddenly risen as women got used to wearing flats and comfortable shoes at home while going out only for important chores. The daunting part arises when they have to take the transition from flats to stiletto heels. Though most women took the transition well, others are still struggling.
Nonetheless, designers of the stiletto heels keep coming up with newer and more comfortable versions of the heels with footbed cushioning, insole gels, etc. Fortunately, we can now avoid the health hazards of wearing stiletto heels. Talking about stiletto heels, the color counts a lot in which black heels, white heels, and red heels are the most classic colors present, but this opinion may vary from country to country and person to person.
Why Wear Red Stiletto Heels?
The red color makes you look more attractive – this is backed up by psychological research evidence.
Stiletto heels combined with red color produce an irresistible combo making you look extra glamorous.
They make a strong fashion statement and can say a lot about your personality too as the red color oozes boldness and confidence, especially in women.
Below are some pictures of famous celebrities using strappy high heels:

Gigi Hadid

Belleza Japonesa

Victoria Beckham
Disclosure: This post contains affiliate links. When you purchase a service or a product through the links, I sometimes earn a commission, at no additional cost to you. Read my full disclosure here.
Without further Ado, let's head onto our list of classic red high heels:
Best Red Stiletto Heels To Buy In 2023
1. Kenneth Cole – Red Pumps Heels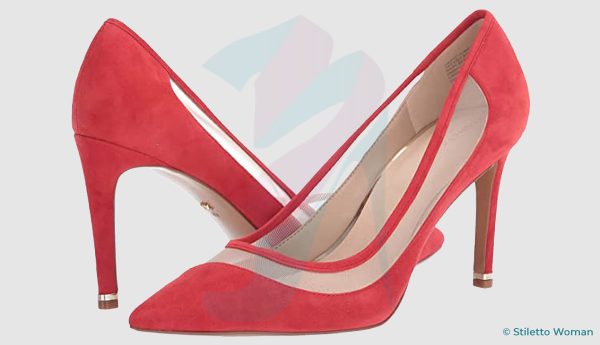 Kenneth Cole – a brand known worldwide for its premium and fashion-forward designs in terms of footwear, is no less than a blessing for all the women out there. Thanks to the versatility and convenience it offers. Also being economical, it makes it one of the favorite brands of all stiletto heels enthusiasts. These red pumps heels by Kenneth Cole consist of a classic stiletto heel design with a long heel size and a closed-toe design. These red pointed toe heels can be worn on any casual occasion.
2. Sam Edelman – Harpar Red Pumps Heels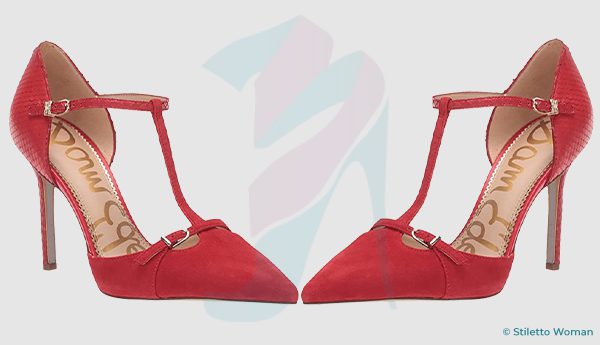 Yet another fashion-forward brand that insists on keeping excellent quality footwear regardless of the circumstances, Sam Edelman is a go-to for most women. This classic red pointed toe heels ooze stylishness and finesse. It comes with a strappy look which makes it different from the rest. Also, they're comfortable even though they come in long inches heels. These red pumps heels should be in your closet for a rainy day. You can wear them on formal or even casual occasions.
3. Jewel Badgley Mischka – Galen Red Heeled Sandals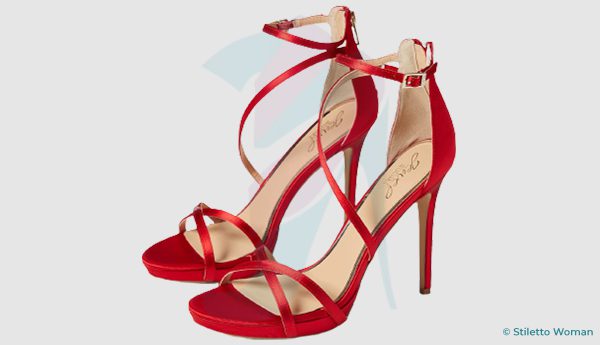 This brand excels at offering luxury at its best to its customers, especially in the domain of stiletto heels. Defined by gems and jewels, along with embellishments on most of its stiletto heels, Bagley Mischka makes the ideal brand for bridal wear along with formal wear. These red heeled sandals feature a strappy look with an open-toe design. The red color is not dulled down in these heels, instead, it pops out. You can pair these red strappy heels with dull dress to make your look appealing.
4. Steve Madden – Bali Red Strappy Heels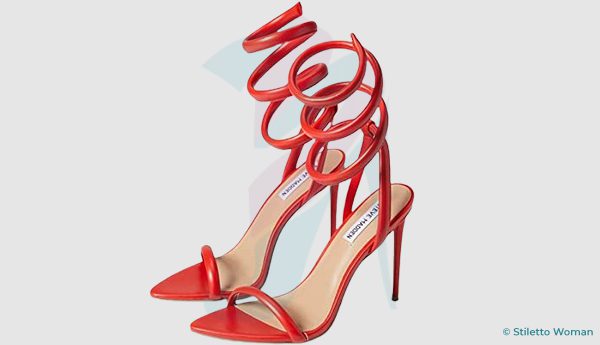 Steve Madden's heels are classy and Uber-Chic. Having such a reputation within the market, all the girls are fans of Steve Madden. These red strappy heels by Steve Madden are ultra-bold and fashion-forward. With a loophole strappy design over the ankle and bright red color, they'd be perfect for women who love to try new fashion trends instead of opting for the same old ones. Besides that, you could get a few more inches added to your height too.
5. Marc Fisher – Danria Red Heeled Sandals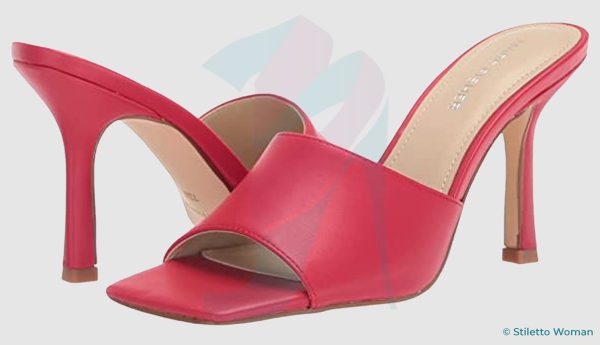 Opposite Steve Madden's ultra-bold red high heels, Marc Fisher's red heeled sandals are rather simplistic in design. They come in an open-toe design with no ankle straps or slingback. You can simply slip them on and go about your day. They are as convenient as they look. Besides that, they're sure to look great for casual as well as party wear. They can add a cool color pop to your glittery dress or anything of the sort.
6. Jessica Simpson – Jessin Floral Red Heeled Sandals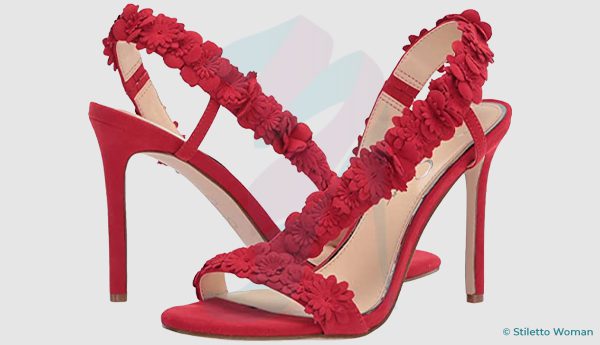 Nothing says femininity like Jessica Simpson's red heeled sandals. The brand promises excellent quality footwear, on top of amazing designs. These red heeled sandals by Jessica Simpson contain frills and detailing which make them more ladylike and girly. Carrying a cute and stylish aura, these red high heels can be worn at parties and even for casual events. They're sure to be the show-stoppers and jaw-droppers once you put them on and go about your day/event.
7. Michael Kors – Kadence Slingback Red Pumps Heels
Speaking of slingbacks earlier, you may be wanting one yourself. If you're a fan of the classy Slingback style heels, then Michael Kors offers just that for you. These red pumps heels by Michael Kors offer luxury at its best with a closed-toe design that is covered in gold color and the heels feature a dull red color. The slingback style makes them more comfortable preventing any kind of slip offs which is very likely with slip-on stiletto heels.
8. Jeffrey Campbell – Bow Down Red Open Toe Heels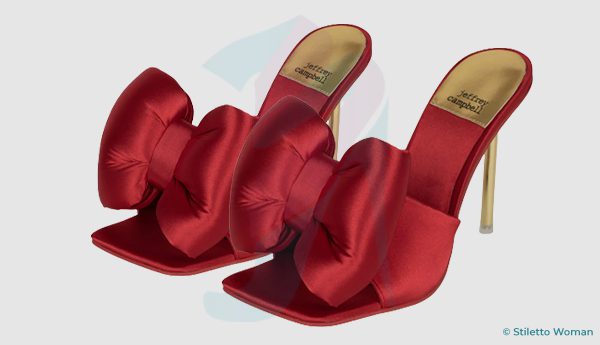 Featuring a glossy and Uber classy appeal, Jeffrey Campbell has the red open toe heels of your dreams. These red heels come with a red bowtie at the toe area and they exude femininity and luxury at their best. If you ever want to flaunt a bit of cuteness and style then go for these classic red high heels which are sure to leave a lasting impression and add a few inches to your height too. Fortunately, they come in the convenient slip-on style too!
9.  Schutz – Embellished Ankle Strap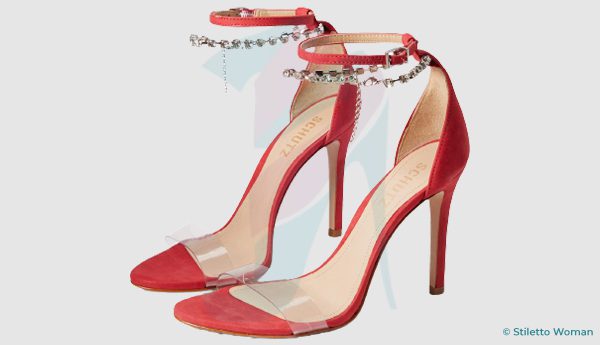 Looking for some red high heels that you could wear to your close friend's wedding? Then these red open toe heels may suit you well. Coming in some embellishments on the ankle area, these red high heels by Schultz come in ankle straps along with bright red color and a long-inch heel. They have a transparent strap at the toe area which makes your feet appear long too. These are a great pair for formal events, especially if your dress is simplistic and you want to add a bit of fashion zest to it.
10. Nine West – Parise Red Heeled Sandals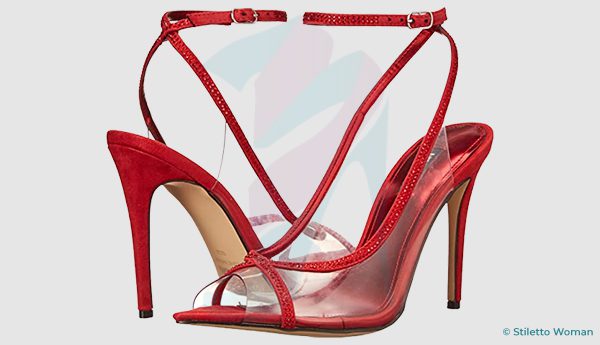 Nine West is a brand whose heels are synonymous with boldness and character. Heels by Nine West ooze finesse, modernity, and creativity. They stand out from the crowd owing to their exciting appearance. These red pointed toe high heels by Nine West do the same. Coming in bright red color with an ankle strap and peep toe design, they're sure to make you look great. Investment in these red high heels won't disappoint you as these can come in handy at so many events.
11. Calvin Klein – Gayle Red Pumps Heels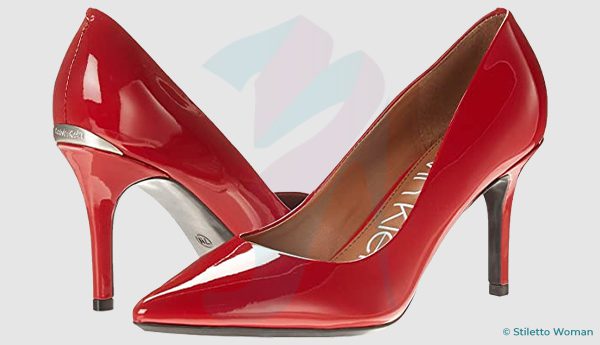 Nothing says uniqueness and simplicity like a pair of good pump-style stiletto heels. This duo makes the perfect pair of heels that you can wear on any occasion, be it a wedding or a night out. Calvin Klein's red pumps heels come with a closed-toe, and a glossy appeal. Owing to their shiny appeal, they are eye-catching and look like luxury. You can walk in these red pointed toe heels easily because they offer great support to your feet. They are also durable and long-lasting which can be great for you in the long run.
12. Jessica Rich – Gold Chain Red Strappy Heels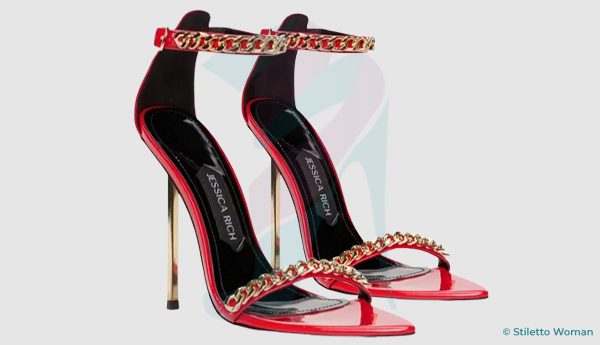 Are you a fan of sky-high heels with ankle straps and embellishments? Then Jessica Rich serves just that! These luxurious and glamorous red strappy heels by Jessica Rich exude confidence and style at their best. They have embellishments over the ankle strap and the toe area which accentuate your feet and make your feet more appealing. On top of that, they feature red high heels that not only add to your height but also make you feel confident and your legs appear elongated.
13. Stuart Weitzman – Soiree Red Lace Up Heels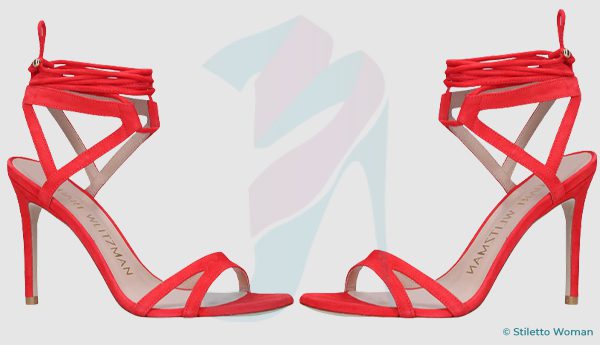 If there's one brand whose founder was obsessed with design and contemporary fashion coupled with luxury, it is Stuart Weitzman. A brand that's been in the fashion industry for decades now, has managed to be every woman's top pick even now. These red lace up heels by Stuart Weitzman exude modernity owing to the strappy style over the ankle and bright red color. They make a unique pair and would be excellent for a night out for similar party events. These red high heels make a strong fashion statement and many famous celebrities using strappy high heels by Stuart Weitzman are spotted too.
14. Christian Louboutin heels- Loubi Queen Sandal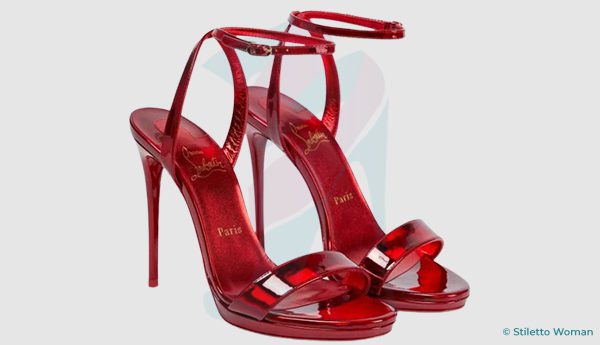 There's a charm in deep colors which the bright colors just don't have. This pair of deep-colored stiletto Christian Louboutin heels are the definition of glamour and utmost femininity. They feature a deep red color with an open-toe and ankle strap design to secure your foot perfectly. These Louboutin heels are very sturdy and come in very high inches of heels which will be your favorite aspect if you are a pro at wearing stiletto heels.
15. Manolo Blahnik – Hangisi Red Pumps Heels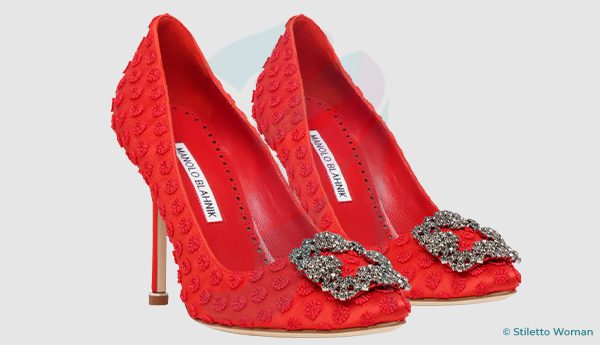 A brand that was practically advertised throughout the popular American show Sex and the city, Manolo Blahnik is considered a high-end, luxury brand. Marked by their ridiculously high prices and breathtaking designs, these red pumps heels by Manolo Blahnik feature an embellished buckle on the toe area and a pump heel design. They have a unique texture on the outside of footwear too!