Over the years, the trend of uniquely shaped nails has become increasingly common. Manicures are not just restricted to nail art and rhinestones, with hues of Matt or glossy touch. Best manicures are defined by unique shapes as well. These include coffin and stiletto nails. The former may sound creepy and the latter sound more like heels. Nonetheless, both have managed to take over the manicure trends and the nail-art industry in general. In this article, let's dig in deeper to discover the specifics of the trending nail shapes.
What Are Stiletto Nails?
Stiletto nails are considered as the type of nails available through ages, so they have a long history, evolving from the most bizarre length and pointiness to more socially acceptable versions of today. They resemble the characteristics of stiletto heels – sharp, long, and pointy towards the edges.
With celebrities paying more attention to their nails, they have too, jumped on the bandwagon of getting freshly manicured set of stiletto nails. The fierce and bold – stiletto nails have been the choice of many popular celebrities, including Demi Lovato, Dua Lipa, Khloe Kardashian, Jessie J, Ariana Grande and many others. Here's a picture of Rihanna showing off her exciting and alluring stiletto nails.
What Are Coffin Nails?
While that was the discussion for stiletto nails, coffin nails, on the other hand, are considered as a modern and contemporary trend, gaining popularity mostly because of celebrities, their elegance, along with the elucidating feminine charm. Coffin nails, though, are long just like stiletto nails, they aren't pointy towards the edges and instead, form an angular shape towards the end, becoming a coffin-like shape, in a non creepy way! In fact, they're considered far more elegant than traditional stiletto nails.
Similar to how stiletto nails has a great celebrity following, coffin nails are too, quite the talk of the town, owing to the edgy and mysterious charm. Kylie Jenner's signature look comprises of the Uber-chic coffin nails. Her Instagram feed is filled with her love for fashion and zest for contemporary nail styles, in which coffin nails seem to be the major highlight. Here's a picture of Kylie in her freshly manicured coffin nails with a Matt finish look!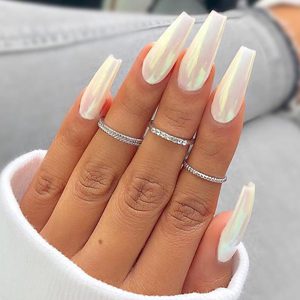 Which Shape Will Work For You? Stiletto or Coffin?
If you're someone who does not have to do house chores or a lot of work with your hands – then stiletto nails would be best for you. Also, if you're someone who is extra cautious, then stiletto nails can work for you, otherwise you may end up poking your eye. It is even harder to type or fix a typing error with your stiletto nails. Many tasks can become difficult, hence if you're opting for long or XXL size, then say goodbye to all such tasks. They can only do you good for a few days. The shape is appropriate for women who are bold and creative. These type of nails are what for the daring types – Lady Gaga is the perfect example for this case.
On the other hand, coffin nails/ballerina nails are ideal for women who like to follow the latest trends, are younger, trendy and chic. They add flare to your nails even with a plain nail colour with no embellishments, whatsoever. Coffin nails effortlessly glam you up. They can last longer for about 4 weeks without any hassles or disruptions in your daily life. You'll still be able to do most tasks with your hands, unlike stiletto nails.
However, it depends on the occasion too. Stiletto Nails would look more appropriate on events like costume day or Halloween. On the other hand, coffin nails will be ideal for parties, weddings and even casual outings or a vacation. When we talk about convenience and safety, coffin nails definitely win the bet. Notably, the bolder types may still opt for stiletto nails (including teenagers who are boisterous and daring).
Final Thoughts
Bringing an end to our discussion, while both, Coffin and Stiletto nails are feminine and have their own charm, they're both worth a try for all the nail enthusiasts. Getting both in clear colour can help you experiment exquisite nail art to polish your skills and use your creativity to add to the charm of the nail shapes.
Bringing an end to our discussion, it is quite normal to have heels-fear, but there are many preventive measures you can take to have a comfortable experience. If you are tired of the same old flats, then go for pumps, and after some time when you feel confident enough, try heels. The more you practice, the better you'll get at pulling these off – just remember – practice makes perfect!