One of the most important aspects of our looks is our nails. You'd be surprised to know that experts have revealed that people tend to notice our hands and feet when they first meet us. This aids in impression building too. It's all fun and games to know this, but if we have poorly groomed fingernails or toenails, then it can leave a bad impression.
If you want to make sure that you leave a lasting impression anywhere you go, get a manicure and a pedicure. We do know that there are many options out there. One of the most popular choices these days for nail biters and lazy people who can't maintain long nails would be Acrylic Nails. In this article, we will be digging deeper into the subject.
Disclosure: This post contains affiliate links. When you purchase a service or a product through the links, I sometimes earn a commission, at no additional cost to you. Read my full disclosure here.
What Are Acrylic Nails?
Acrylic nails are fake nails that are made up of a mixture that is glued onto your natural nails and held in place with a thick, durable coating that can be customized with any nail shape, color, or art that you want. Since it's a growing trend these days to get some natural acrylic nails, you can even get them trimmed or buffed to form your desired shape which can be an almond shape, coffin, stiletto, short acrylic nails, and long acrylic nails.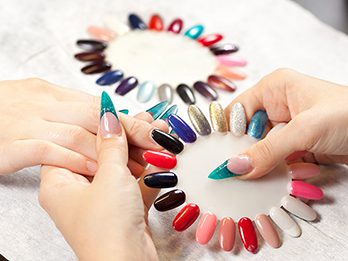 How Long Do Acrylics Nails Last?
Acrylic nails are known to be one of the most long-lasting types of fake nails. They can last anywhere from a week or two months, depending on the material that's used which can range from a highly expensive one giving the look of natural acrylic nails to a relatively cheaper one. Durability also depends on how well you take care of your natural acrylic nails extensions.
Additionally, nail technicians need to be careful while putting on the nail tips as this also affects the lasting of these acrylic artificial nails. Other preventive measures should be undertaken with these long acrylic nails extensions and the short acrylic nails extensions, such as wearing gloves with the long acrylic nails can make your fake nails go back and forth. Also, avoid blunt forces, take a break from house chores and it is recommended that you get these artificial nails before going on a vacation.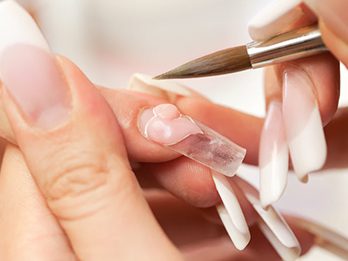 The Benefits of Acrylic Fake Nails
Acrylic artificial nails can last a really long time so they'd be ideal for vacations and important events where you want your nails to look perfect. They can be a great investment owing to their durability. Since these fake nails are sturdy and hard, they're more resistant to damage so they'll look good as new even after weeks.
Besides that, you can completely customize them too in any color as white acrylic nails or black acrylic nails as they come with a smooth surface for applying nail art and you can choose the length of your nail too such as the long acrylic nails or the short acrylic nails. You can go for the trendiest nail shapes to the chicest nail art designs to look great. From coffin nails to glitter and glam, you can get it all according to the event and your own personal preferences.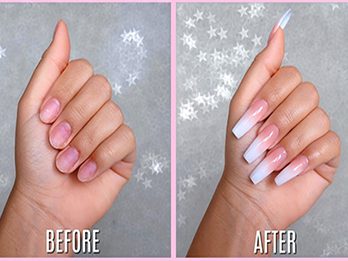 Drawbacks of Acrylic Artificial Nails
One of the most commonly experienced side effects of acrylic fake nails is that it has reportedly caused damage to natural nail beds and cuticles. This can hinder their organic growth which restricts the scope for natural, healthy nails. Also, at times, since they're very hard and feel heavy, they can look less natural than gel nails too, which can be quite off-putting.
Additionally, the procedure of getting acrylic artificial nails is unpleasant, with lots of chemicals and fumes, and unlike regular manicures where nail polish can easily be removed, removing acrylic nails is a bit difficult. Acrylic nails have to be soaked in potentially harmful acetone which can further aggravate the situation by damaging your nails more. Removing acrylic nails at home cannot be done easily. It's only after it has been several weeks that you can pull them out, but it may be painful too.
Another problem is that if you've got long acrylic nails then it'll be hard for you to do your everyday tasks as well. From washing dishes to going to the toilet and opening drink cans, these easygoing tasks can be hard nuts to crack with these long acrylic nails. With the long acrylic nails, you may even end up damaging your eyes and skin if you accidentally poke them. Life becomes so much a problem if you get these long acrylic nails.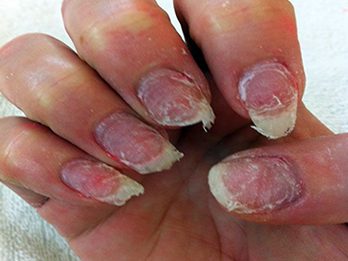 Final Thoughts…
If you're a nail biter or someone who has weak and brittle nails, then it is highly recommended that you opt for acrylic artificial nails. However, there are many alternatives too like gel nails. Since it's a hyped-up trend you should go for it, but make sure to incorporate cuticle oil in your nail care regime too, to prevent any damage to your nails. As long as you take precautions, don't overdo the acrylic nails look all the time, and take care of your nail health, you'll be good to go!