Whether you struggle with nail biting or you have weak nails in general, growing your nails can be like a farfetched dream for you. Getting acrylics and other artificial nail options must always be your go-to! However, thanks to the modern era and contemporary solutions for every problems, you can grow your nails using the most smart techniques.
Gel manicures have been growing in trend and they're almost like an armor for your nails. They are quite hard to get off and since they last a long time, you're stuck with the same look for as long as you are able to tolerate it. However, the good thing is that if you get a clear gel manicure, you can always paint it or customize it the way you want so that you can ignore the hardness of the nails unless your natural nails grow out.
What Are Gel Manicures?
You may be wondering what gel manicures are to begin with. A gel manicure uses a gel based polish and requires an LED light to cure the polish and lock it onto your nails. This will not only give your nails an extra push that makes them durable, but it's also helps them grow. From vitamin infused base coat to an LED light for curing – there's everything available.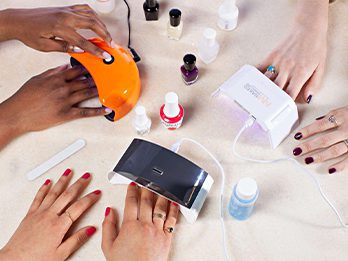 How Long Do They Last?
Gel Manicures last two to four weeks, depending on how quickly your nails grow out. A great thing about it is that natural nails can eventually become sturdier while using the gel polish as the layer of the polish helps to protect the natural nail and promote healthy growth. Whether it's healthy growth or not, is debatable according to many dermatologists.
Disclosure: This post contains affiliate links. When you purchase a service or a product through the links, I sometime earn a commission, at no additional cost to you. Read my full disclosure here.
How To Grow Your Nails With Gel Manicures?
Without further ado, heading straight to the point, below are the simple techniques using which you can grow your nails with gel manicures.
Going For A Hard Gel Overlay
If you want something stronger than gel polish, go for the sturdiest gel overlay. The clear builder gel will look like gel polish, but once cured under the light, they'll become hard as a glass. This is what nail technicians also use when they out on gel extensions.
Going All Clear Gel
The classic and regular gel manicure, but with added finesse of clear gel UV polish. A great thing about this type of a gel manicure is that you can do it yourself at home too, using clear UV topcoat and UV light. Alternatively, you can always go to the salon to get it done by a professional too.
A Good Base Coat With Colour
Want to prevent your nails from breaking and cracking? Go for clear nails with added finesse of a pop of colours a topcoat on your nails can stick well to them and the gel will ensure sturdiness. Once you have a good Base coat on top of your gel, you're set to explore fun nail art for your nails. You design them however you want!
Maintenance of Nails
It is crucial that you look after your nails after getting a gel manicure. Using an effective hand cream, along with cuticle oil can help in keeping your nails healthy. You can either do the maintenance at home, or go to a nail technician for it which can be beneficial in the long run.
Using Glitter to Fill the Space
We understand how it can leave a bad impression when you have a physical space in your gel manicure after some time. This is because your natural nails are growing. So, to cover that up, simply use glitter as it sticks well to the grown out nails. It also prevents bumps from showing on the nails when it's applied. Hence, your nails will be good to go!
Final Thought
That having said, gel manicures can be a smart way to grow your nails, although there are many alternative options to grow your nails too, like maintaining a healthy diet, proper nail care and some home remedies may sometimes be helpful too. All in all, this will be a method that you'll love as in the process of growing your natural nails, you still get to flaunt the perfect set of nails.