Pump heels – the kind of footwear that's elegant, chic, stylish and a combination of all the nice adjectives which tend to be associated with multipurpose heels. Pump heels can either be worn at workplaces as part of your corporate wear, or you can wear them at parties and similar events too. Most people keep a pair for casual strolls too. So whether it is Kim Kardashian bowling in a pair of platform pumps or Meghan Markle playing netball game wearing some black leather pumps by designer brands like Cole Haan and Schutz, it can be safely said that pump heels are hyped up by celebrities the most.
What You Need To Know Before Buying Leather Pump Heels:
You may assume that leather pump heels would look tacky or very traditional. However, we have newer versions of leather pump heels which are suited to many occasions and preferences. Ranging from ankle strap leather pump heels to slingbacks and many others – the choices are limitless. A few things that you need to know before investing in leather pump heels include the following:
Your Individual Requirement

Some women want to have a pair of suede heels for casual outings or formal events like interviews or dinners, while some like to have them to add them to their heels collection. Whatever the individual requirement may be, it is important to note that a more formal version of suede heels may take the form of pump heel style with pastel or nude colours, while informal versions with a strappy look may come in bold and neon colours which would be better for party-type events.

Who Should Buy Leather Pump Heels?

Women who enjoy trying new designs and go for the timeless classics should buy leather pump heels. They are a convenient pair which can be used on many occasions. You can't go wrong with them.

Features To Look Out For

Leather pump heels can come with a strappy look, embellishments, buckles, various textures, heel shapes, heel height and a lot more. You can pick the one that best suits your needs as you browse through the popular designer brands like Manolo Blahnik and others.

Kim Kardashian

Meghan Markle

Jennifer Lawrence
Disclosure: This post contains affiliate links. When you purchase a service or a product through the links, I sometime earn a commission, at no additional cost to you. Read my full disclosure here.
Without further ado, let's head on to our top picks.
 Stiletto Leather Pump Heels in 2023
1. Bandolino – Zeffer Pump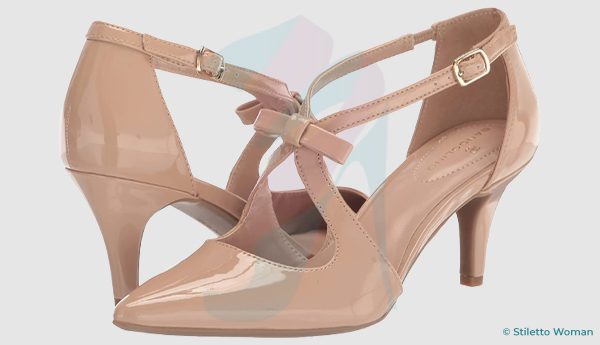 Coming with a patent leather heels, these heels by Bandolino are a keeper and make a great option for beginners, as well as people who love leather material in general, these patent leather heels come with a striking glossy appearance. They make an ultra-modern pair which oozes chicness and can make you appear fashion forward too. Besides that, the low heel height allow you to walk comfortably too.
2. NINE WEST – Tabita Pump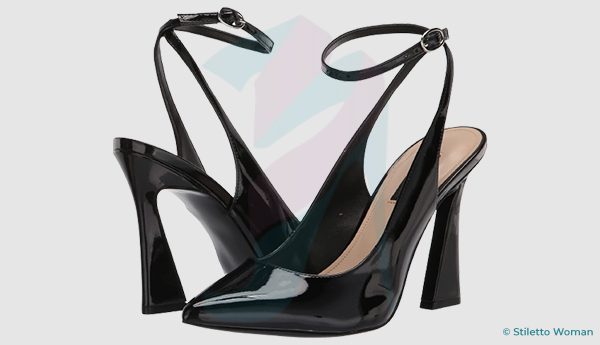 A slingback and ankle strap infused design with the classic black colour, these black leather pumps exude confidence and modernity at its best. The glossy touch can uplift any dull outfit and the heel height can make you appear taller with elongated legs too. Getting the best of both worlds from these black leather pumps, you don't want to miss them.
3. Calvin Klein – Gloria Pump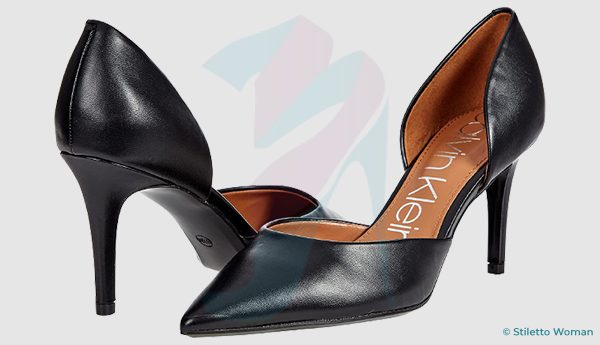 Ensure that you make a strong fashion statement by getting your hands on one of the pairs of Calvin Klein's black leather pumps. The exquisite black color can complement any outfit so they can be a useful pair too. Besides that, you'll get an additional height boost and the cutout style will make you appear fashionable too.
4. Lauren Ralph Lauren – Lanette Pump
Featuring a unique textured design, these leather pump heels by Ralph Lauren are a keeper. They'd be perfect for any occasion owing to the multipurpose color and design. The textured appeal makes them super modern and classy. They will improve your posture and accentuate your figure, thereby making you look attractive.
5. SCHUTZ – S-Lou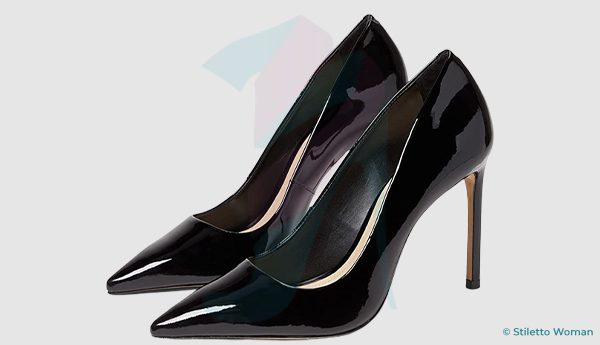 A cool pair by Schutz that you should consider in terms of leather pump heels would be these wood stilettos which feature a classical pump style with an exquisite look to add to the uniqueness of the footwear. They can make your feet appear ladylike and feminine. On top of that, they are sure to leave a lasting impression on your audience too.
6. Anne Klein – Fabulist Pump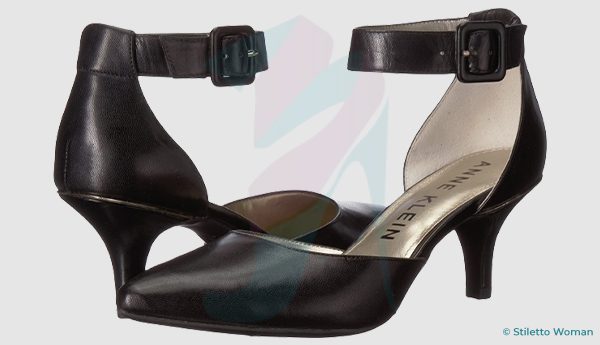 Featuring a timeless classic indeed, these leather pump heels are sure to catch your attention. They come with an ankle strap design and a closed toe style which is typical in pump heels. They make an ideal pair for events where you need to walk around a lot as these heels come in a convenient heel height too.
7. Marc Fisher – Hadya Pump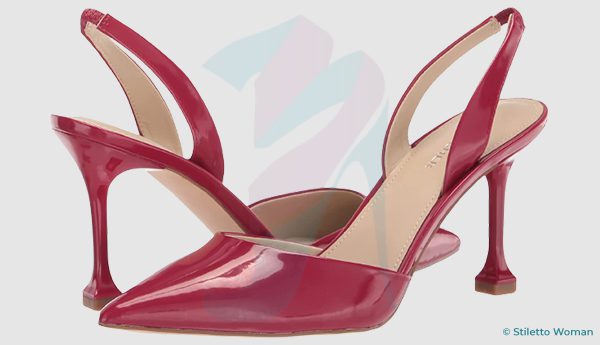 A brand that's loved by most celebrities, Marc Fisher's leather pump heels are the perfect definition of luxury and elegance. They come in a subtle colour which can go well with any outfit and the glossy appeal can also make heads turn. Tilting more towards the sophisticated element of heels, you can make a strong fashion statement with this pair.
8. Linea Paolo – Belle Heel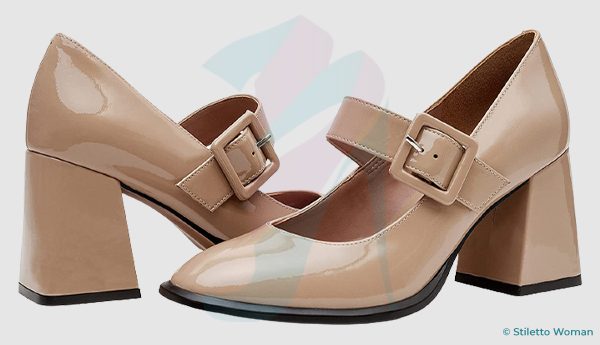 A uniquely designed and a meticulously crafted footwear by Linea Paola is something that you should try. These leather pump heels consist of a buckle strap – almost like Mary Jane style pumps which allows more support and balance to your feet unlike the thin and pointy stiletto heels or slip on heels. You can wear them with any outfit and you're sure to look great.
9. Franco Sarto – Milano Pump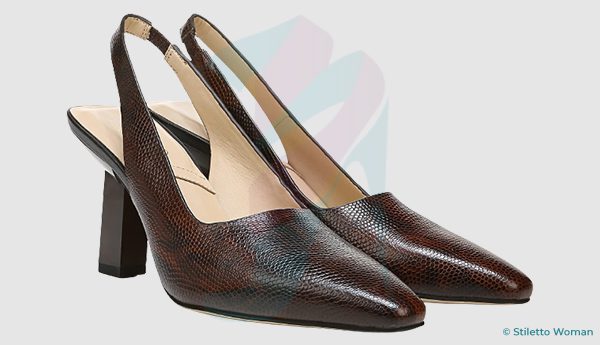 An option that you do not want to miss, these brown leather pumps by Franco Sarto are a keeper. They ooze modernity and finesse at their best. They'd be an excellent addition to your heels collection and not just that, but they grip your feet well, owing to the Slingback design. These brown leather pumps would make a comfortable and sturdy pair.
10. Vince Camuto – Ezerna Stacked Heel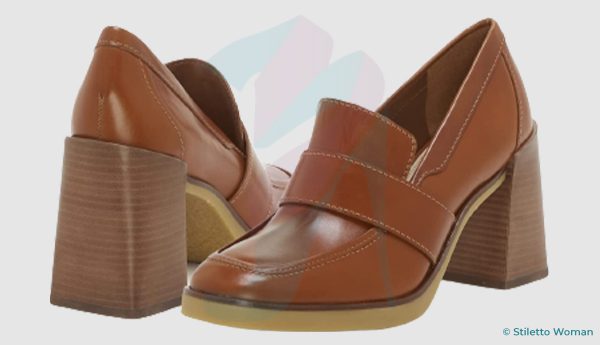 You'll never regret investing in a pair of Vince Camuto heels. These leather pump heels come with a loafer style and a block heel design which can make jaws drop and heads turn! Ideal for causal and formal sort of events, you can pair them up with a nice outfit and you'll be sorted for the day. They make a convenient and stylish pair, so get your grabs at prompt!
11. Sam Edelman – Jildie Heels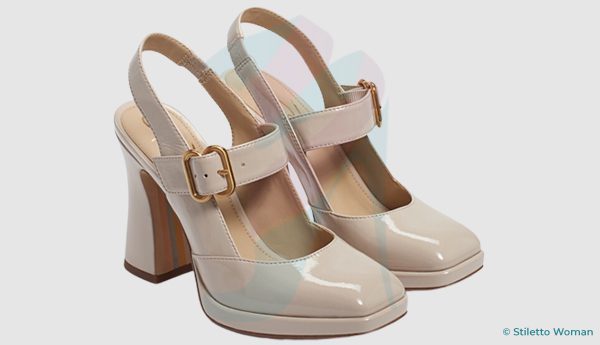 Another Mary Jane inspired heels with leather pump heel design and a slingback touch too, these heels by Sam Edelman are sure to last you a really long time. Thanks to the excellent brand quality, these heels will be the most comfortable and useful pair that you've laid your feet in. Besides that, they'd be great for casual and even formal events where you don't want to risk your first impression.
12. COACH – Skyler Pump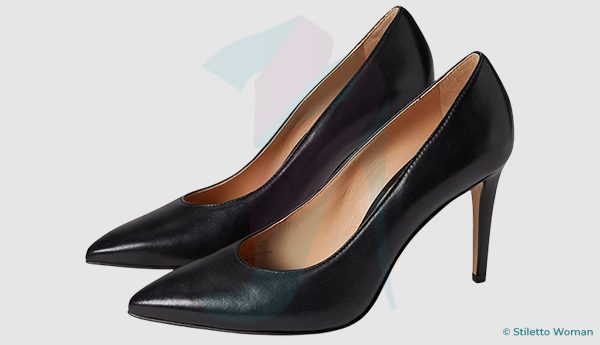 If you're the kind of person who loves classical and elegant designs, then these patent leather high heels by Coach are for you! Featuring an irresistible glossy leather look, with a simplistic design and a closed-toe style, they can accentuate your feet like no other! Though these patent leather high heels are a bit pricey, they can be a good investment in the long run!
13. Stuart Weitzman – Avenue Pump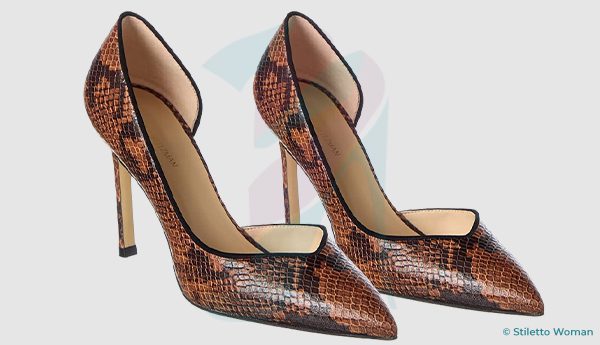 Looking for something upbeat and unique? Then Stuart Weitzman might suit you well. The brand has perfected the idea of luxury and glamorous heels for women. These brown leather pumps exude confidence and finesse with the printed leather design. Featuring a pump-heel style, they're sure to make you appear chic and trendy. They can look great on most outfits and occasions so they'll be a useful pair.
14. SJP by Sarah Jessica Parker – Nirvana Pump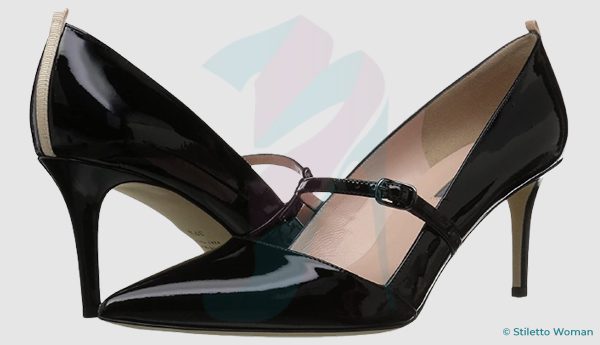 A brand that is a creation of the one and only, and sensational American actress, Sarah Jessica Parker, never disappoints. These patent leather high heels by SJP make a sturdy and useful pair. The medium heel height also caters to the masses as most are daunted by the idea of sky-high heels. Wearing these patent leather high heels will make you feel like royalty too, thanks to the brand positioning. Also, they are lightweight and breathable too.
15. Manolo Blahnik – Maysli Slingback Pump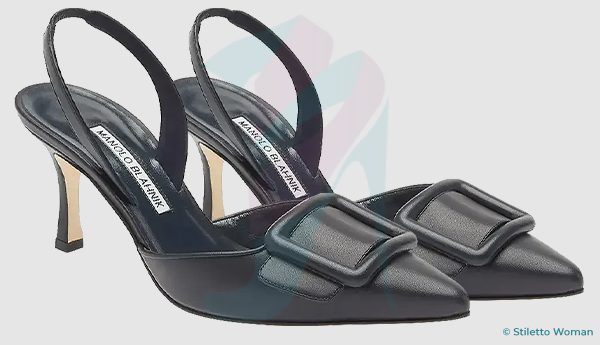 Last, but not least, featuring a buckle at the toe area with a slingback thin strap, these patent leather high heels by Manolo Blahnik are a keeper. The brand promises excellent quality footwear along with timelessly chic designs when it comes to heels and these are just a representation of that. Moreover, they'd be appropriate for all kinds of events including formal and informal, thanks to the classic black color and sophisticated appeal.