The COVID-19 pandemic actually ended up spoiling us. We all got used to the easy way of life. From hybrid work models to online shopping and staying in slippers and slides, we all got used to the comfort to a fault. However, as we transition into the post pandemic times, we need comfortable alternatives to slippers and slides and that is there the slip on style heels kick in.
What You Need To Know Before Buying Slip On Heels:
Slip on style heels can be one of the most convenient pair of footwear that you can have in your closet. In fact, your closet would be incomplete without a pair of these. Suitable for on the go type of girls and the ones who prefer ease over excessively strappy looks, slip on style can be quite useful. A few things that you need to know before investing in winter boots include the following:
Your Individual Requirement

Some women choose slip on style for their causal wear, while some want them for formal events too. While there are many variations available, customers can make their picks accordingly and browse through the renowned brands to see what suits them best.

Who Should Buy Slip On Heels?

The answer is very simple – women who are always on the go. The easy going types and the ones who travel a lot will certainly love slip on style heels and would keep them as a savior in their closet at all times. 

Features To Look Out For

Slip on style heels can come with embellishments, puffy slip on strappy heels, two band straps, and a lot of other options ranging from a low heel height option to a sky heel height option as well. You can browse through popular brands like Giuseppe Zanotti and Fendi to make sure you select the right one for yourself.

Hailey Bieber

Kim Kardashian

Rebecca Romijn
Disclosure: This post contains affiliate links. When you purchase a service or a product through the links, I sometimes earn a commission, at no additional cost to you. Read my full disclosure here.
Without further ado, let's head on to our top picks for the best Slip On Heels:
 Stiletto Slip On Heels in 2023
1. Cecelia – Vicki Sandal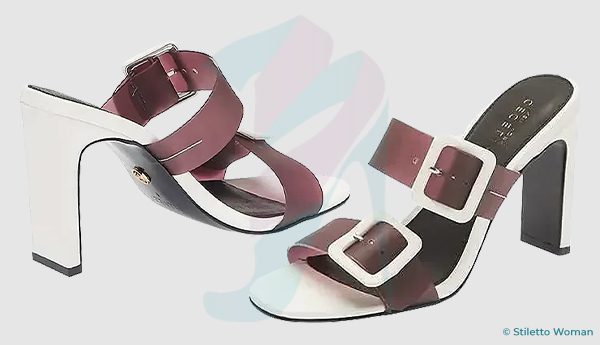 These Uber chic and ultra-modern slip on heel sandals by Cecelia New York are sure to be the ultimate attention grabbers. They come with a two-band style with buckle straps, along with a tapered block heel design. The open-toe style makes these slip on heel sandals breathable too. So, it's a good option to consider these slip on block heels for casual events.
2. MICHAEL Michael Kors – Scarlett Platform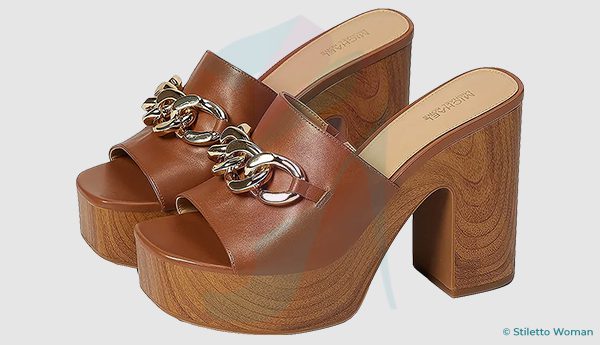 Michael Kors – a brand known worldwide for its timeless classics and just the label of MK is enough to have any customer sold – these platform-inspired heels with embellishment on toe strap are sure to be the ultimate keepers. They should be the go-to option for all those who love comfort and styling. They will offer you more comfort and balance too! A great thing about these slip on strappy heels is that they're suitable for newbies too, the ones who want away from stiletto heels, can go for this convenient pair.
3. Vince – Zoey Sandal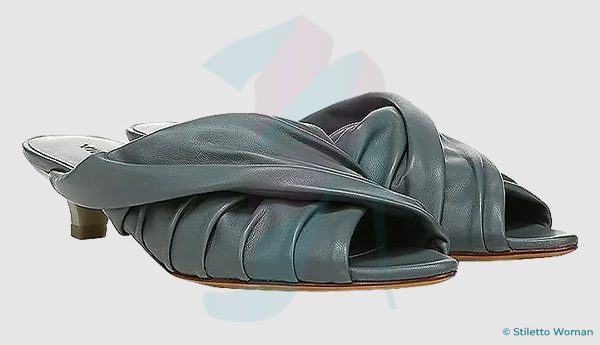 Featuring a sleek and ultra-modern design with a low heel design, these slip on heel sandals by Vince are sure to last you a long time and help you make a fashion statement wherever you go! They come with a peep toe design which creates a mysterious aura about them too. These slip on heel sandals make a convenient pair.
4. Gia Borghini – Perni Mule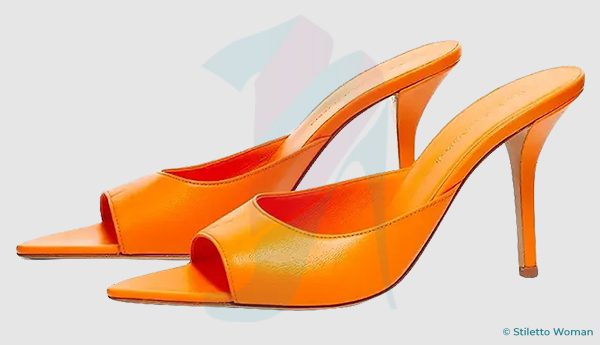 Looking for a pair which can add a few inches to your height? Then look no further! These slip on heels by Gia Borghini can catch anyone's attention, especially those who are brand conscious and prefer high end heels. These heels ooze modernity and creativity along with a striking appeal. They come with an open toe style which makes them breathable too.
5. Veronica Beard – Giles Clog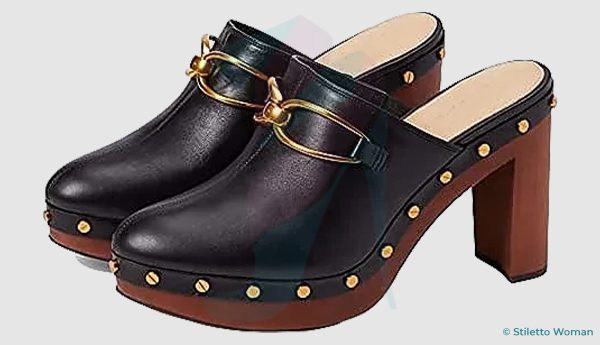 A clog inspired slip on heel style by Veronica Beard can surely be anyone's favourite. The comfort provided by the brand is second to none and the styling along with embellishments over the footwear can make them irresistible too. The closed toe design can accentuate your feet, making them appear more feminine.
6. Saint Laurent – La Mule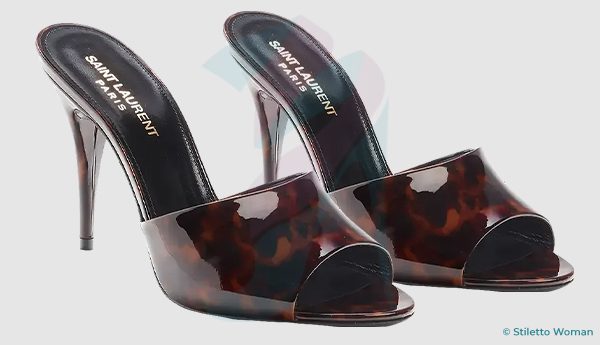 Another cool option to consider in terms of high-end heels would be that of Saint Laurent. The glamorous brand is a favorite of many celebrities, thanks to the stunning heel designs. Exhibiting just that, these slip on high heels come with a high heel height and an open-toe style. They can make you look super attractive and chic at the same time! These slip on high heels are perfect for any kind of occasion.
7. Jil Sander – Croc Mules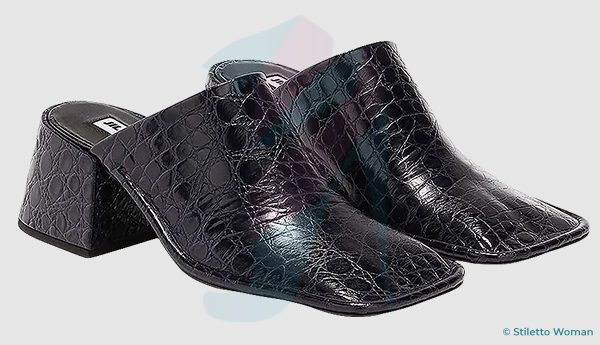 Featuring a square-toe design that is in closed-toe style at the same time, these slip on block heels by Jil Sander exude creativity and modernity. These unique pair of slip on block heels can make heads turn and make you look sleek as well. You can include these slip on block heels in your corporate wardrobe as well, so it is multipurpose that way!
8. Santoni – Faxing Loafer Mule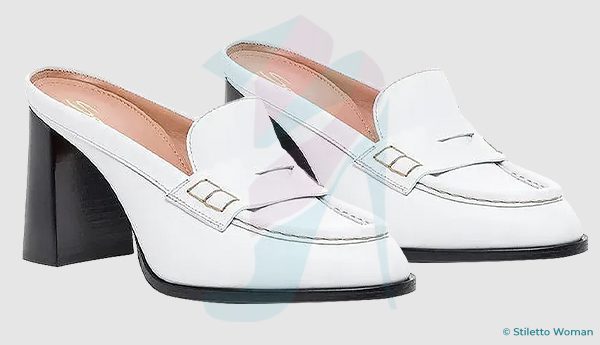 Another pair to consider for your corporate wardrobe would be that of Santoni. These loafer inspired slip on heels come with a convenient heel shape and a closed toe design which can make them manageable and appropriate for most events. The while and black combination can be ideal for formal events!
9. Valentino Garavani – Rockstud Alcove Mule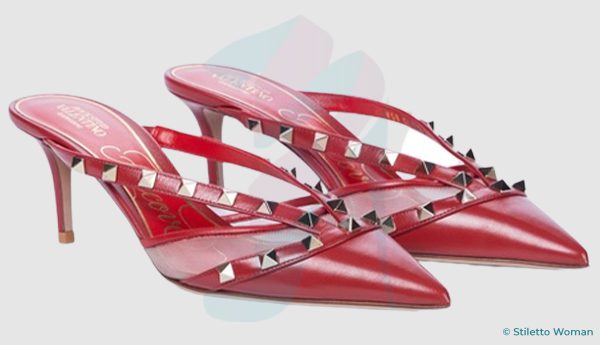 Bored of all the professional looking heels? Go for these ultra bold and glamorous heels by Valentino Garavani which feature a slip on style with rockstud design. These heels come with a medium height and a closed toe style which can facilitate the walking and make you appear super attractive too!
10. Loewe – Ripped Denim Mule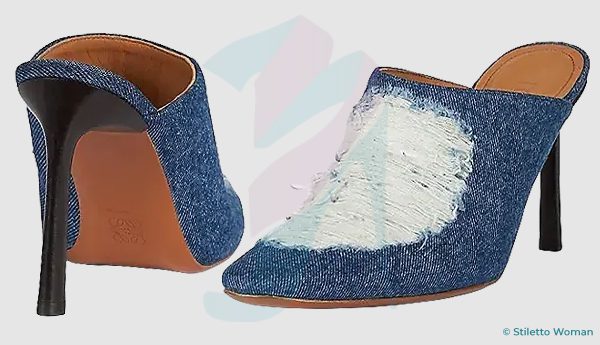 A pair that you'd definitely want if you have a thing for uniqueness. These denim inspired slip on heels by Loewe feature an ultra modern look that exudes confidence and finesse. Made with utmost precision and excellent craftsmanship, they'll last you a long time too. The best thing about these heels is that you can wear them to most events and they'd be an excellent addition to your heels collection.
11. Alexander McQueen – Punk Mule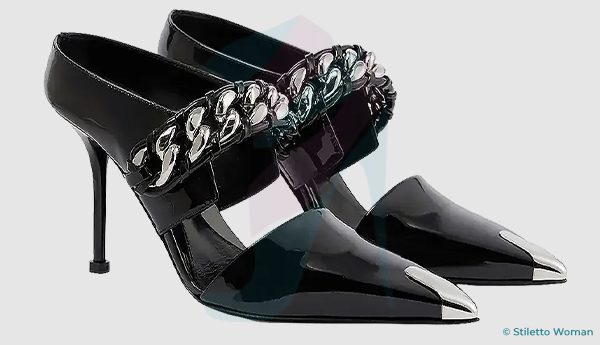 In terms of uniqueness and exquisiteness, nothing beats Alexander McQueen. The brand is popular amongst celebrities and there would probably be no one in this world who'd not be aware of the brand. These heels exude timeless grace and modernity which is suited to contemporary fashion tastes which are quite bold rather than subtle. For all the boisterous girls, this one's for you!
12. Gianvito Rossi – Trapst Mule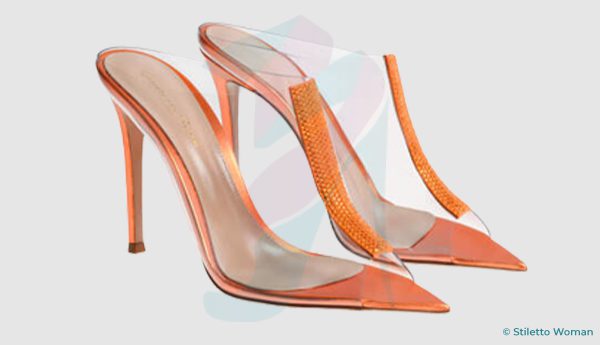 Lining up all the high-end heel brands, these slip on strappy heels by Gianvito Rossi are absolute stunners. They come with a transparent strap covering all of your feet, except the back. They come with a peep toe design with a high heel style which can give you a height boost as well! These slip on high heels are a must buy.
13. Gucci – Studded Horsebit Clog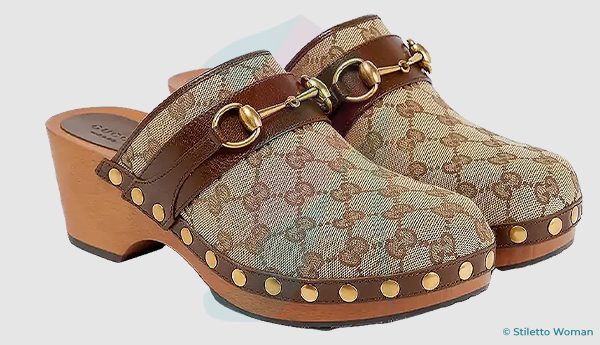 Another clog-inspired slip-on style that is sure to amaze you would be that of Gucci. These studded heels consist of embellishments over the strap and come with a closed toe design. They can provide you with utmost comfort and they'll likely last you a really long time owing to the excellent craftsmanship and the quality of all Gucci footwear and products. Rest assured, this slip on strappy heels will be an investment that you'll never regret.
14. Prada – Modellerie Mule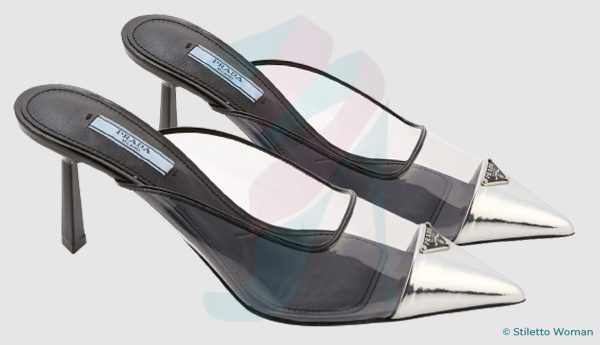 The Italian brands surely have maintained an excellent reputation in terms of quality and reliability, which leaves Prada as no exception. Being one of the market leaders in terms of footwear, these slip on heels consist of an ultra modern look with a little bit of transparent strap and silver closure at the tip. They come with medium heel height so they make a convenient pair too. They'd be an excellent choice for causal and formal events.
15. Manolo Blahnik – Lurum Jewel Mule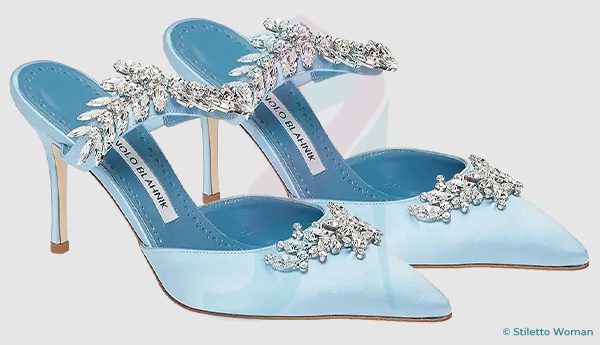 Last, but not least, these exquisite slip on pumps heels by Manolo Blahnik are sure to make heads turn. They come with a pump-inspired design with two bands that are filled with embellishments, so they make an ideal pair for bridal events. If you want to make a strong fashion statement and a lasting impression, then look no further and opt for these chic and sophisticated Manolo Blahnik slip on pumps heels.