We all know what is summer's footwear – Wedge Shoes.  We've all seen them in various shapes and sizes on literally everyone. It's safe to claim that it's one of the most popular footwear amongst women, owing to the comfort of walking. They're also known as wedgies or lifties and may take the form of wedge pumps and at times, high heel wedge boots too.
Suitable for all kinds of seasons, the hit summer wear wedge shoes can range from casual to sophisticated which makes them perfect for any event – be it an office meeting, a party, or a wedding. Even if you need to go for a walk on the street, wedge heel shoes are the way to go. Being the safest and best for women, they can provide them with an instant confidence boost along with a few more inches to make them look taller without feeling any discomfort at all!
Gone are the days when heels were painful and torturous for women – those thin and long stilettos may have been a savior in making you appear taller and attractive, but they completely failed at providing you with the comfort of walking and you may even have to go through the post-heel pain in your ankle – since most ankle pains are a result of that. Fortunately, all of that goes away when you opt for wedge heel shoes, that's how resourceful they are.
What Is A Wedge Heel?
Wedge heels are the type of footwear that firms a wedge on the bottom of the shoe extending from the front till the back with a raised heel which acts as both, the sole and heel, making them comfortable to carry. Owing to their versatility, wedge heel shoes can be worn all year round with any ensemble.
History of Wedge Heels
The first classic wedge shoes were designed in the 1930s by an Italian designer, Salvatore Ferragamo. The wedges back then has steals to secure the foot and didn't comprise any distinct heel as such. Owing to the shortage of leather and rubber during WW2, wood and cork were the materials used to create the heel. These were one of the first shoes to have gained immense popularity by the early 1940s.
With added height and comfort, the thin, skinny heels soon fell short of demand as compared to the wedge heel shoes. Wedges were worn with shoulder pads by women to enhance their silhouette, back in those times. These heels were back in style in the 1970s when feminism soared and there were more working women who needed comfortable wear. Not just that, but the media also hyped up wedge heel shoes in videos and movies.
Disclosure: This post contains affiliate links. When you purchase a service or a product through the links, I sometimes earn a commission, at no additional cost to you. Read my full disclosure here.
Advantages Of Choosing Wedge Heels Over Other High Heels
Talking about heels vs wedges, Wedge heels provide extra support and comfort without compromising on elegance. They have a cushioned sole that makes them perfect for standing or walking for extended periods of time, as opposed to stilettos or pumps which may quickly lead to discomfort and damage.
The easiest heels to walk in – and that should be a reason enough. We have all at some point in time, stumbled or fallen down because of high heels and embarrassed ourselves to the core. With wedge heels – you're much safer and unlikely to trip.
Are wedges comfortable – since wedge heels allow your foot to touch more surface area, they can take off the pressure from the ball of your foot, and not just that, but also with better arch support, you're sure to have happier comfortable feet.
Types of Wedge Heels That You Should Know About
When it comes to the types of wedge heels that are accessible, each variety has advantages of its own and is suitable for different occasions. Open toe wedge heels are ideal for the summer since they keep your feet cool and let you flaunt your manicure. Winter is a perfect time to wear women's wedge booties since they keep your feet warm and add some elegance to any ensemble. A versatile choice, wedge pumps go well with both informal and formal attire. For daily usage, low wedge heels are more comfortable, while high heel wedge boots can lend a bit of glitz to any special event. Women who want to heighten their stature without sacrificing ease frequently opt for platform wedge heels. Closed toe wedge heels are a fantastic choice for formal or business settings.
Espadrille Wedges – If you want to keep things casual, put on some espadrille wedges. Be sure to rock these in the spring and summer seasons in which they'll most appropriate. These simple yet chic wedge heel shoes are sure to stun your audience and help you make a strong fashion statement.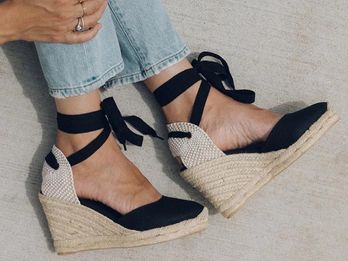 Professional, Fashion-Forward – Oxford Heels – Aiming to look sophisticated while being able to walk with confidence? Oxford wedge heels are the way to go. With the low wedge heels, you're sure to make your meeting or formal party an event to remember for yourself as well as for others by making yourself stand out from the crowd.
Mysterious look – Peep Toe Heels – Another very sophisticated piece of footwear that leaves a lasting impression includes peep toe wedge heels. Perfect for most occasions, it shows just a glance of your toes, leaving behind some mystery. It makes stylish, sleek, and chic footwear for women. Pair these up with office wear or party wear attire and you'll be doing great.

Winter Galore – Women's Wedge Booties– Winter wear can be classy, but one wrong move and you're out of the fashion game. This is where footwear becomes essential. You can pair up your trench coat with high heel wedge boots to make sure you look stunning, whenever you get confused about what to wear. This minimalistic and classy shoe wear can have you walking comfortably and looking elegant at the same time.

Final Thoughts
On a concluding note, wedge heels are the superheroes for women. In a world where women have unlimited choices in terms of heels fashion, it can be a hassle to choose the perfect type of shoes from the lot. This is where wedges heels come to save you – they can be worn at any time around the year! With so many different types of Wedge Heel Shoes, we hope our article helped you pick out the best one for yourself the next time you shop. Happy browsing!