The color silver symbolizes wealth and success. It is a refined and unique color which is best known for its dazzling sheen and metallic charm. It's a huge like no other. From jewelry to sculptures and having great monetary value – silver marks its dominance by its association with wealth, sophistication, glamor and timeless elegance. In terms of heels, silver is mostly associated with formal and informal events. Women opt for silver heels for parties and bridal events too.
What You Need To Know Before Buying Silver Heels:
You may assume that silver heels would look tacky or very traditional. However, we have newer versions of Silver heels which are suited to many occasions and preferences. Ranging from ankle strap silver heels to slingbacks and many others – the choices are limitless. A few things that you need to know before investing in Silver heels include the following:
Your Individual Requirement


Some women want to have a pair of silver heels for Bridal events, while some like to have them for parties. Whatever the individual requirement may be, it is important to note that a more formal version of silver heels would be appropriate for wedding sort of events, while informal versions with a strappy look would be better for party type events.

Who Should Buy Silver Heels?


Simply put, women who love to look classy and fabulous. Silver color is associated with wealth and luxury, hence it should be bought by women who love to experience both the things and who love attending formal and informal events.

Features To Look Out For


Silver Heels can come with a strappy look, embellishments, buckles, various textures, heel shapes, heel height and a lot more. You can pick the one that best suits your needs as you browse through the popular designer brands like Stuart Weitzman and others.

Gigi Hadid

Tessa Thompson

Kendall Jenner
Disclosure: This post contains affiliate links. When you purchase a service or a product through the links, I sometime earn a commission, at no additional cost to you. Read my full disclosure here.
Best Stiletto Silver Heels in 2023
1. NINE WEST – Aves3 Heeled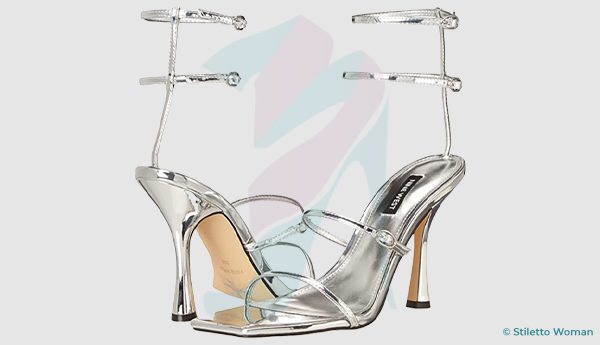 Coming up with a pair of heels that would be irresistible for women can only be rightly done by Nine West. The brand knows just what piques the interest of women in terms of heels. These silver heels ooze modernity and finesse. You could were them to a party and you're sure to make heads turn. With the strappy look and the glossy silver-metallic appeal, you're sure to leave a long lasting impression.
2. Marc Fisher – Acres Heeled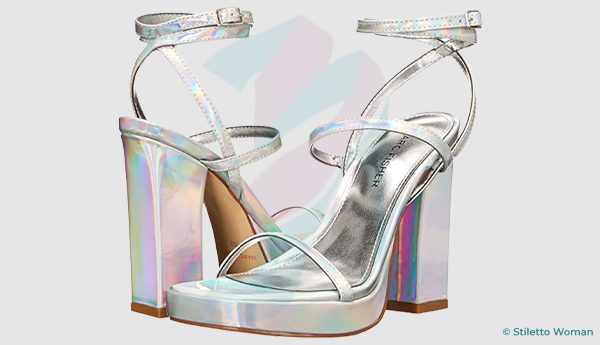 Not a fan of stiletto heels? Not to worry. Marc Fisher's silver heels have you covered. Featuring a platform heel design, with an intensely strappy look, these heels are sure to be a stunner. They'd be perfect for night outs and similar parties. You could pair them up with net leggings with a dress to achieve the most alluring look you could think of. You can never go wrong with these.
3. NINE WEST – Slingback Heeled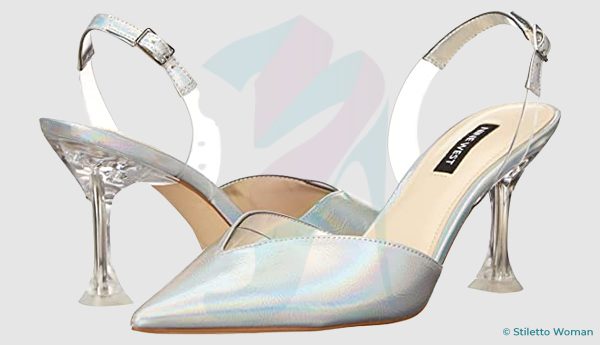 Featuring an uber-chic and classy closed toe design with a slingback style, these heels by Nine West are a keeper. The medium heel height makes it convenient to walk in them even for hours. They're comfortable and sturdy. They'll mostly last you a really long time so they'll be worth the investment as well. Besides that, you could wear these on formal events as well!
4. Vince Camuto – Brinela Woven Mule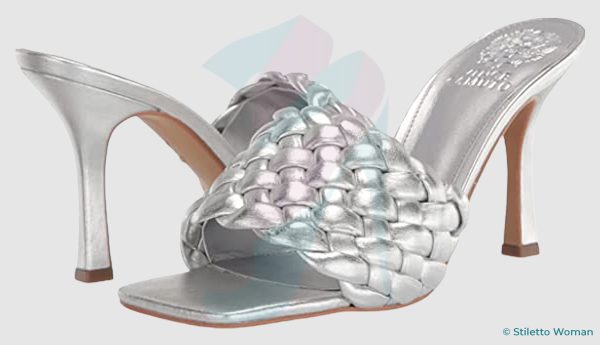 These silver heels by Vince Camuto will surely catch your attention and be able to sustain it owing to the amazing quality. They come as a slip on style footwear with a braided toe strap. They grip your feet well and these heels are sturdy too. Besides that, you'll be able to get some additional inches in your height too. They're super comfortable and chic pair of heels which are suited to most occasions!
5. Jessica Simpson – Stassey Heel Sandal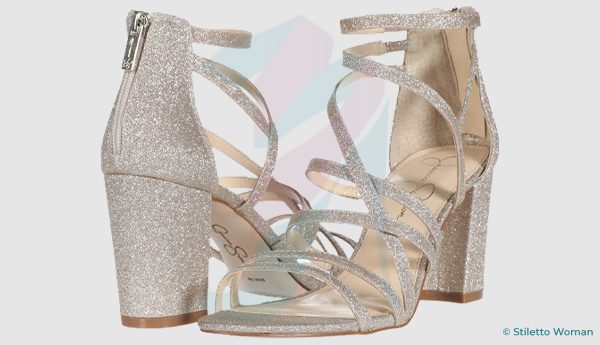 Another really great option for the ones who love the strappy look would be these silver heels by Jessica Simpson. Featuring a block heel design, they are very convenient and easy to walk into. You can carry them well as they offer you utmost comfort. Besides that, the shiny look can complement a dull outfit and bring some kind of excitement into it.
6. NINA – Genaya Dress Sandal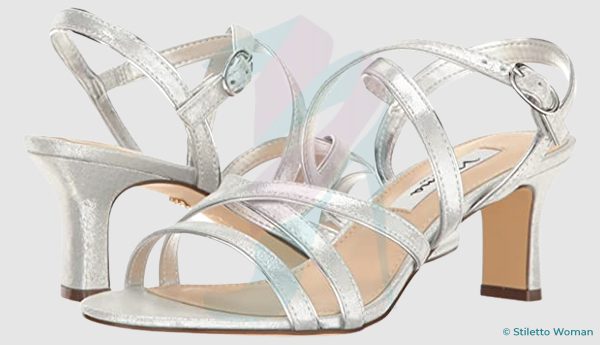 Looks like the strappy look is the most trending one in 2023 – these heels by Nina feature an intensely strappy look with a timeless graceful design which catches attention in an instant. Besides that, they'll be a multipurpose solution for all kinds of fashion problems. Also, they would be a good additional to your heels collection if you do invest in these heels.
7. Anne Klein – Fabulist Ankle Strap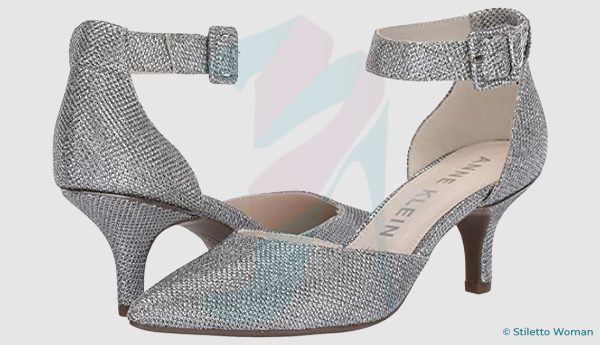 Anna Klein's silver heels come in a dull and toned town silver color with embellishments and stones all over the footwear. They feature an ankle strap design with a low heel height resembling the shape of kitten heels. They are comfortable and easily manageable. You can wear these heels to any kind of event ranging from bridal to party – you're sure to not go wrong with these.
8. DKNY – Fashion Open Toe Heel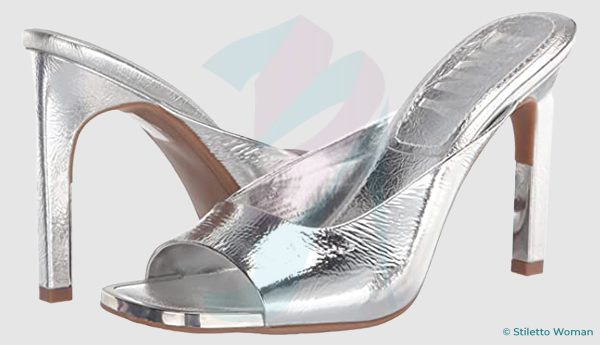 Let's admit it – majority of us are always on the go. We don't have time to time up ankle straps or manage buckle straps. It feels like too much work. Hence DKNY'S Silver heels feature a slip on style with an open toe style which makes them breathable and lightweight. They are not only convenient as they save your time, but they are also fashion forward.
9. Bella Vita – JES-Italy Sandal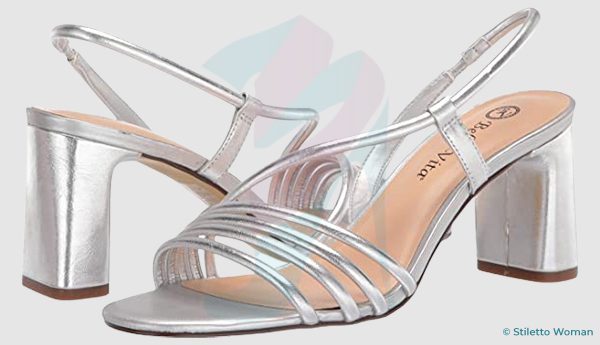 If you really hate the idea of stiletto heels, then these silver heels by Bella Vita are for you. Featuring a convenient heel height and an uber-chic look, they can help you make a strong fashion statement. The open toe style makes them breathable and lightweight. They would look great with any outfit, thanks to the versatile design. Investment in these heels won't disappoint you.
10. Calvin Klein – Gayle Pump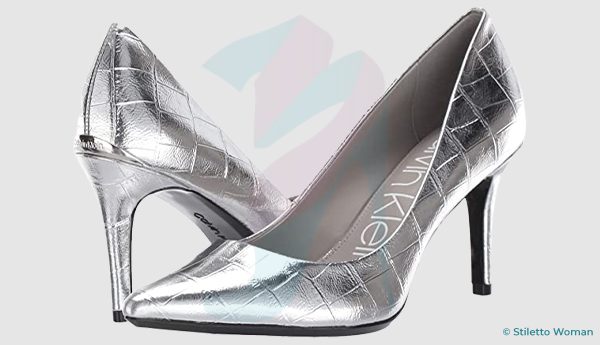 Featuring a pump heel style with an exciting metallic look, these pump heels are sure to uplift any one of your full outfits. They can make a strong fashion statement and they're sure to make jaws drop. Another great thing about them is that they can add a few inches to your height too. Besides that, the brand promises amazing quality of the footwear. Rest assured, these heels will last you a really long time.
11. Calvin Klein – Halena Sandal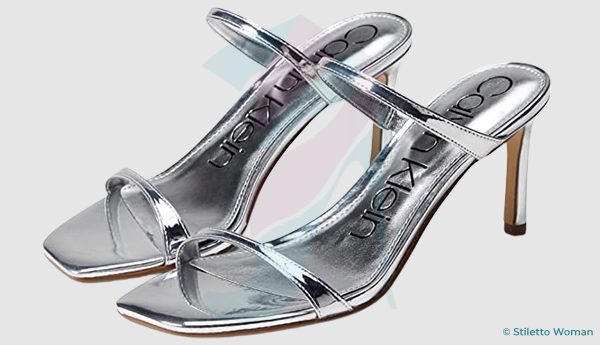 If you find pump heel style very boring, then go for these ultra modern stiletto heels which come in a glossy silver color which is very appealing and eye catching. They come in an open toe style which makes them comfortable and breathable. Besides that, they comprise of a unique look which caters to the contemporary fashion demands too.
12. Naturalizer – Banks Pump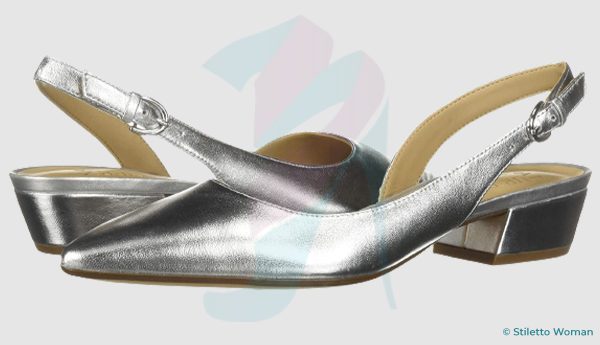 Here's another great option for all the ones who prefer silver heels that are low maintenance and stylish at the same time. Consisting of a glamorous silver color, these heels feature a low height block heel design with a Slingback style, these heels are sure to win your heart. It'd be pretty hard to resist buying them owing to the convenience, support and comfort that they offer.
13. Betsey Johnson – SB-Mel Heeled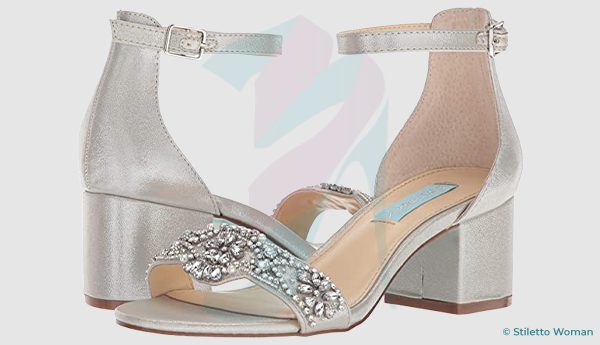 If you're looking for something glamorous and luxurious which stands out in a crowd, then go for Betsey Johnson's heels. The brand's marks its uniqueness by the use of rhinestones in most of the heels and these silver heels are no exception. They come with an ankle strap with embellishments on the toe strap. They'd look great on bridal events and even other formal events. The convenient heel height makes them super comfortable and chic too.
14. Sam Edelman – Yaro Sandals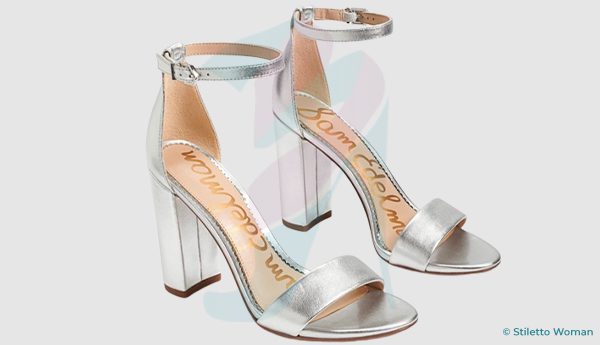 A great pair by Sam Edelman which oozes elegance and sophistication should be in your bucket list. These heels comprise of timeless grace and they come with an ankle strap and an open toe style which makes them super easy to carry. Thanks to the ankle strap design, your feet won't slip off easily, hence you can say goodbye to that anxiety. With these silver heels by Sam Edelman, you're sure to make a long lasting impression on your audience.
15. Sam Edelman – Kia Heeled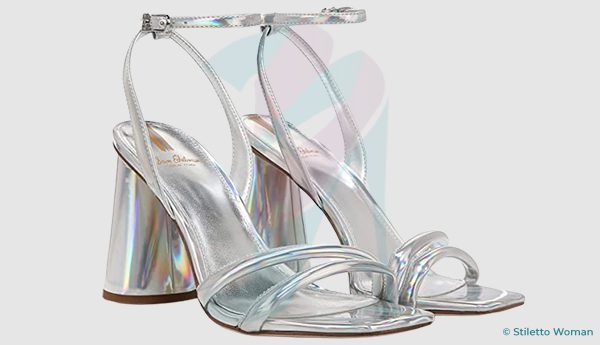 Last, but not the least, these thick, silver heels, feature an ultra modern and unique design which can appeal to anyone. They're eye catching and look extremely fashion forward. They can go well with any outfit and on most occasions ranging from bridal events, prom or graduation events or any other similar event. Besides that, they come in a glossy silver color which can catch your attention in an instant. Also, they can add a few inches to your height too, so they're a good option that you can consider.