In a world where court shoes are considered to be sophisticated, classic and conservative shoes, peep toe heels are considered to be its rebellious sibling. Though the similarities are there in terms of design and structure, they're same yet different – almost like fraternal twins. Both these twins are always seen in any woman's shoe closet as they're like a saviour for any occasion, much like freshly done nails which can decorate every outfit perfectly!
The right pair of shoes can induce instant confidence and give you a self esteem boost. Not only do heels make your legs appear longer and accentuate your figure, they also raise your overall sense of confidence and independence. The love for peep toe heels is rooted in its flexibility and versatility. From workplaces to parties, they can go well with everything by making a bold fashion statement.
Initially though, these rebellious siblings were restricted to summer wear only, however ever since the fashion police relaxed a bit, you can now see women wearing peep toe heels even in winter with trench coats. Metaphorically speaking, peep toe heels are like apples – they're there to save your day the entire year without abandoning you. The all-season heels make one of women's favourite shoe wear.
Having said that, let's discuss what peep toe heels actually are.
History of Peep Toe Heels
The trend of wedge shoes was taken over by peep toe heels between 1946-1950. This is where showing off toes became not only stylish, but also fun. Before 1946, the trend of closed toed heels was adopted readily by everyone, but with the idea of open toed heels, most considered it impractical, while others considered it to be fun.
In 1951, the trend of Peep toe heels was taken over my ankle strap heels and later on, many others came about. However, it seems like peep toe shoes never returned back after 1950s. It is only the relaxed fashion trends which make it possible to wear it, not only in summer, but also in winter using various stockings and according to one's own preferences.
So, why exactly should you buy them? The reasons are mentioned below.
What Are Peep Toe Heels?
Peep toe heels feature a slingback, pumps type style with an opening of toe box which enables the toes to reveal. This creates a mysterious, yet a bold look, while simultaneously making you give sophisticated vibes. Though according to research, peep toe heels are out of style, you can still tweak them up a bit by getting yourself kitten heel open toe to rock the peep toe heels look.
Now that we know what they are, lets dig into the timeline of Peep toe heels.
Reasons Why You Should Buy Peep Toe Heels
Increases your height – You can look 5-7 inches taller by wearing these heels. Even the women who are already tall enough can wear peep toe heels with low heels.
Adds Confidence – Wearing peep toe heels can give a psychological self esteem boost as you tend to appear taller. Moreover, wearing these heels can improve your posture too, which in turn, results in added confidence boost.
Draws attention –Wearing new things can really attract some attention, specifically that which are not in trend anymore, so wearing peep toe heels and revealing your toes can throw off a stylish vibe.
Hard to choose which one would be the best for each season? Here are some tips given below!
The Two Main Types
Here are the main two types of Peep toe heels which you can incorporate into your everyday look based on the season:
The Summer Statement – Pair up bow tied, peep toe heels with a cute midi, floral dress and you're sure to give the best summer vibes. However, note that summer colors are tan, so choose nude colors or neutral ones. For a street style, put on a printed skirt with a tropical design and pair that with tan heels. Nonetheless, if you want to make a strong fashion statement this summer, make sure to get yourself some bright colored heels with summer dresses.

The Winter Galore – It's time to break the myth that wearing peep toe heels is a sin in winter season, at least according to the fashion Bible. Say hi to tights which not only battle the cool winds, but also make a cute fashion statement. Fishnet stockings, opaque tights, denim – you name it and it's there. When you pair such tights with peep toe heels, they make you stand out in a crowd. Though normally, black or brown tights are worn with peep toe heels, you can make sure to stun everyone while wearing them.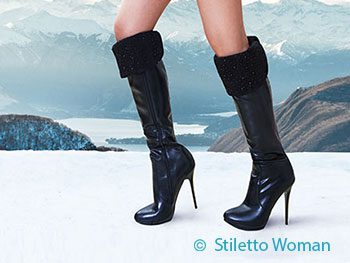 On a concluding note, peep toe heels are feminine and stylish, and a suitable footwear for all types of gatherings. The idea of revealing toes can let you show off your freshly done manicure too. So what's the wait? Go and get yourselves a pair of Peep toe heels from your nearest outlet or head onto online websites to order them. Grab the best pair pronto!