The color that's upbeat and is one of the most commonly preferred one – purple. This color represents luxury, ambition and power. The color has an alluring charm like no other. It can come in various forms from light to neon to dull purple and in many designs when we talk about heels. From ankle strap purple heels to slip on styles, designers have made sure to not miss out on this popular color when it comes to designing the heels.
What You Need To Know Before Buying Purple Heels:
You may assume that purple heels would look a bit extra or won't go with most outfits unless you color coordinate them well. Though that is true to some extent, most of the purple shades can be a multipurpose solution for your fashion problems. Though it is a risky pick that may look good on some outfits only, you can be sure to make a strong fashion statement. A few things that you need to know before investing in purple heels include the following:
Your Individual Requirement
Some women want to have a pair of purple heels to color coordinate with their outfits, while some like to have them for parties or heel collection. Whatever the individual requirement may be, there is a plethora of options that you can choose from based on your individual requirement.
Who Should Buy Purple Heels?
Women who love to look modern, creative and upbeat. Purple color is associated with royalty and luxury, hence it should be bought by women who love to experience both the things and who love attending formal and informal events.
Features To Look Out For
Purple Heels can come with a strappy look, embellishments, buckles, various textures, heel shapes, heel height and a lot more. You can pick the one that best suits your needs as you browse through the popular designer brands like Giuseppe Zanotti and others.

Taylor Swift

Gigi Hadid

Jennifer Lopez
Disclosure: This post contains affiliate links. When you purchase a service or a product through the links, I sometime earn a commission, at no additional cost to you. Read my full disclosure here.
Without further ado, let's head on to our top picks.
Stiletto Purple Heels in 2023
1. GUESS – Tarena
Wrapped in an ankle strap design with stiletto heels and a pastel purple color, these heels by Guess are a stunner. They consist of a simplistic, yet a timelessly classy design which can help you stand out in the crowd. These heels are sure to make heads turn as you walk by. Also, these heels are not even flashy, so you can be sure that you will make a strong fashion statement.
2. Cape Robbin – Swag Sexy Chunky Heels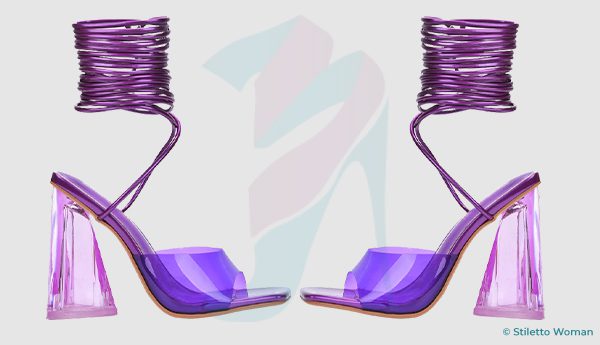 This one's for all those women who are boisterous and love wearing creative and bold looks in terms of heels. These heels consist of lace up style which can accentuate your legs, making them appear more attractive. Also, these heels come in purple transparent straps which makes them look quite unique and elegant. These are surely a keeper.
3. Steve Madden – Brigitte Heeled
Featuring a moderately strappy look with a timelessly sophisticated design and a block heel style, these heels by Steve Madden are sure to win your heart if you hate wearing pointy heels. You can walk in these for hours without experiencing discomfort. Also, given the brand's name and reputation, you can trust your money with it.
4. Circus NY – Michelle Pump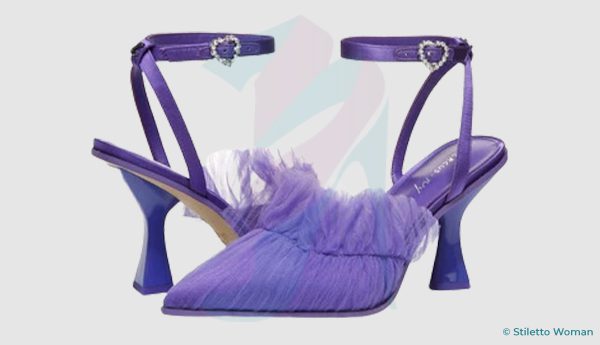 An utterly feminine and Uber Chic design that is sure to stun your audience, these heels feature a pump style which grips your feet well, allowing you to walk freely. These heels exude ladylike charm like no other. Thanks to the low heel height, they are easily manageable and easy to carry too.
5. ALDO – Amilia Heeled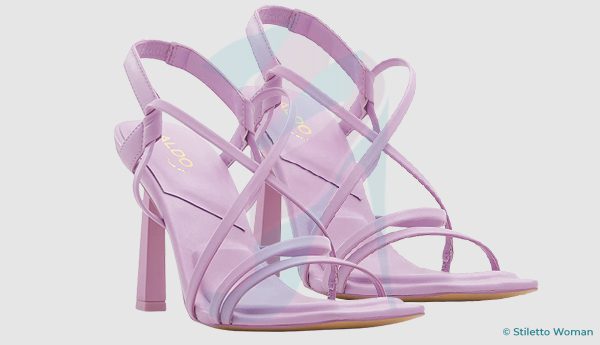 Another really cool pair of purple heels that you should invest in would be that of Aldo. These heels consist of an intensely strappy look with a pastel purple color that exudes feminine grace and finesse. They can add a few inches to your height too. Also, these heels are lightweight and super comfortable as the brand promises excellent quality too.
6. Jessica Simpson – Krissta Slingback Heel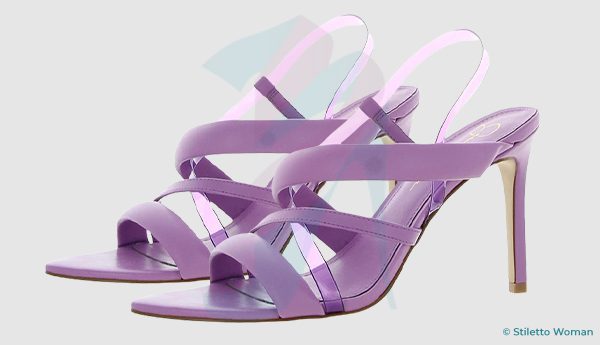 Similar to Aldo's heels, Jessica Simpson's purple heels are somewhat similar though the latter comprises of puffy straps which makes them more modern and suitable for contemporary fashion trends. These heels can give you an additional height boost along with confidence as you walk in them.
7. Anne Klein – Jelyssa Heeled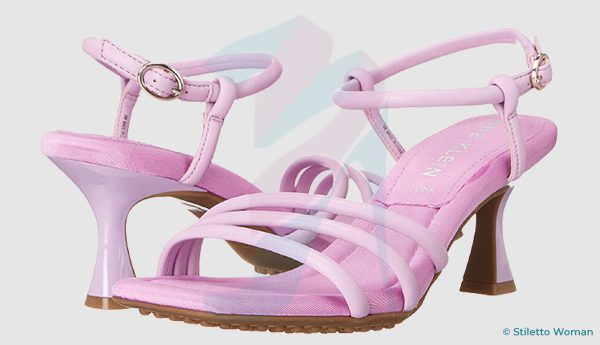 A brand that oozes chic vibes – Anne Klein's purple heels are a keeper owing to the kitten heel design with a strappy look which can grip your feet well. They make a comfortable and easy going pair. They're sure to be the jaw droppers if you wear them to a party. Fortunately, these heels can look great on formal and informal events.
8. NINE WEST – Mindful3 Heeled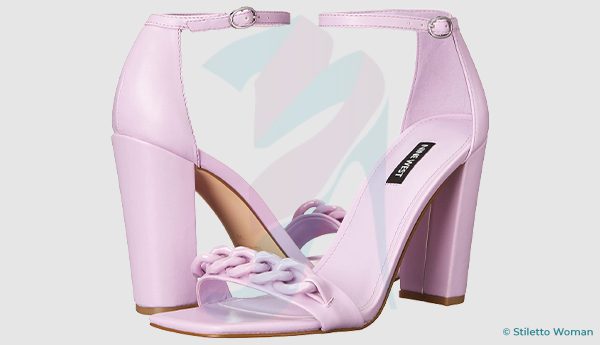 Featuring a classic ankle strap design with embellishments on the toe strap, these heels by Nine West are minimalistic yet significant. They can make sure that you look fashion forward, attractive and ultra modern. They're sure to not disappoint you as Nine West promises excellent craftsmanship, along with bold looks which is a combination that every girl dreams of.
9. Franco Sarto – Clemens Wedge Sandal
The timelessly graceful and stylish, espadrille inspired purple heels by Franco Sarto are sure to sell the deal in an instant. No one can take their eyes off of these owing to the innovative and opulent appeal of the footwear. They can look great during spring and summer seasons and can be quite easy to walk in as well.
10. COACH – Margot Sandal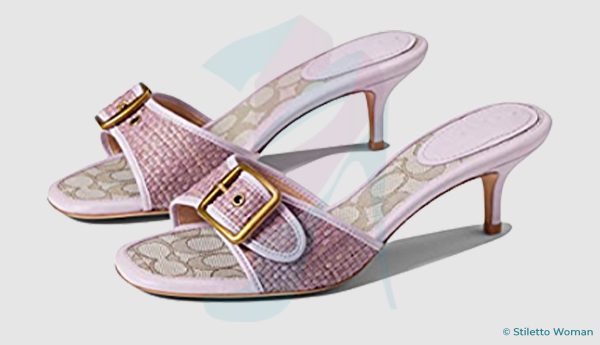 Not a fan of ankle straps? Not to worry. These slip on style sandals by Coach are sure to leave you mesmerized. They exude class and luxury at its best. The brand perfects the idea of chic detailing along with the famous Coach label making it stand out from the rest, you won't go wrong with these!
11. Jessica Rich – Platform Sandal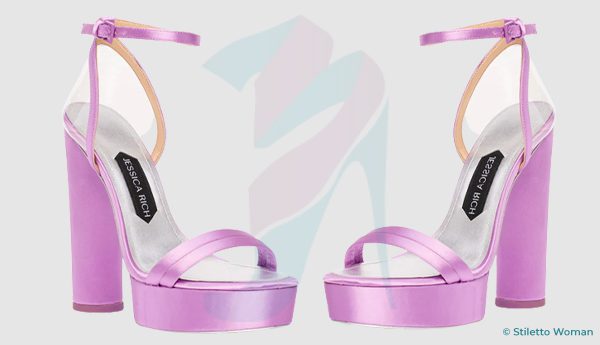 If you want more balance and support, additional heel height along with an ankle strap design, then look no further. Jessica Rich brings you the ultimate combo which can have you hooked. These heels exude confidence and boldness. You can easily make heads turn as you walk by in them.
12. Stuart Weitzman – Mondrian Sandal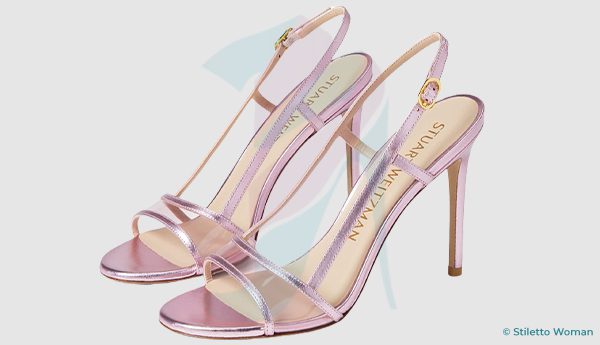 A unique, yet a timelessly sophisticated design by the renowned and luxury brand – Stuart Weitzman. The designer focused on coming up with heels which stand out from the crowd and these purple heels are a representation of that. They feature a light purple color which is not tacky or flashy either. You won't regret investing in these.
13. Gianvito Rossi – Slingback Sandal
Another really cool slingback style heels which exude confidence and boldness at its best. Gianvito Rossi is a high end brand and most women dream of having at least one pair of the luxurious brand. These heels ooze finesse and utmost grace. They consist of stiletto heels which can add a few inches to your height too
14. Gucci – Baby Horsebit Slide
If you're looking for a convenient pair of heels, then these are it! Gucci has been long associated with royalty and luxury. The brand is considered as premium and high end so having even one pair of Gucci can be enough to show off to people. These heels consist of a slip on style and a block heel design which can make it easy for you to walk in them too.
15. Bottega Veneta – BV Lido Slide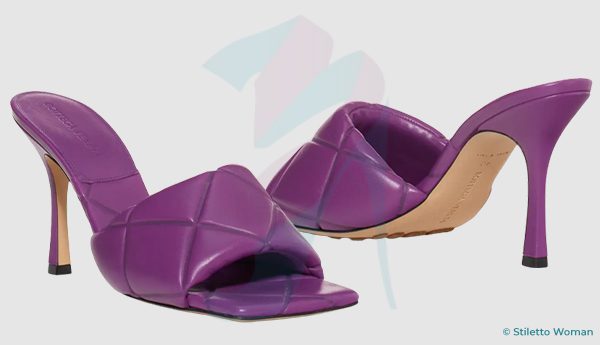 Just by the looks of it, you can tell that it oozes luxury and comfort. A combination to die for – these heels can be your savior. Though they can be quite heavy on your pocket, they're sure to last you a very long time. They consist of the easygoing slip on style with medium heel height so that makes them a convenient pair suitable for everyday use too.