Are they heels or are they flats? Many are torn apart in trying to figure out the kitten heel definition. In reality, shoe of low height, thin heel, and a heel size of 1.5-2 inches is the real kitten heel definition. It has a uniquely indented placement of the heel at the shoe's sole and a subtle, curved shape. This makes you get a more feminine look.
Gone are the days when you had to wear sky-high heels to appear more stylish. Today, the more low heels, the bigger the impact. This is what we see on the fashion ramp walk too. Renowned brands like Dior and Charles and Keith have too, come up with some modernized look of kitten heels in the form of boots and mules.
Thanks to Audrey Hepburn for popularizing these, kitten heels are more than just a happy medium, they're more like a fashion statement that gives you a more refined, sophisticated, and trendy look. However, the traditional silhouette of kitten heels has been greatly challenged by designers over the past decades. Now we see kitten heels in the form of mules, flip-flops, boots as well as sandals.
Before we dissect other aspects of kitten heels, let's dig into the history of kitten heels.
Disclosure: This post contains affiliate links. When you purchase a service or a product through the links, I sometimes earn a commission, at no additional cost to you. Read my full disclosure here.
History of Kitten Heels
The term kitten heel was coined in the 1950s and the concept is often credited to Christian Louboutin. The fashion style though has been in and out of vogue historically. King Louis XIV used to wear these to make himself appear taller, more powerful, and more royal. His red-heeled shoes were thought to have inspired Christian Louboutin, which became his trademark later on.
It is said that the name 'kitten' was given to these heels because traditionally, these were used as training heels for young girls (aka kittens) who were not ready to wear the high-heeled stilettos.
Why Wear Kitten Heels?
The reason is obvious if one has a pair of comfortable kitten heels which is elegant too, then no one has the energy to wear high-heeled stilettos at work all day, even during long hours of traveling. It can be stressful, both for your back and your feet. Kitten heels give you a refined, put-together look to rock the entire day without you having to find chairs to sit down and rest your legs.
Another reason to wear them is that most celebrities are pulling them off incredibly well. So, why should you stand second in this trend? Be it a casual day out or a formal get-together, you're sure to leave a great impression with a pair of super stylish and classy kitten heels.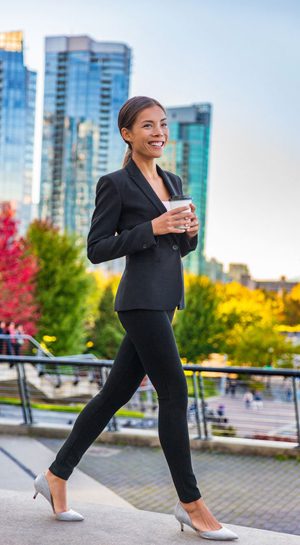 What Type of Kitten Heels Should You Pick?
Since we've already mentioned how designers have challenged traditional kitten heels to look, let's dive into the diversified versions of kitten heels that you can wear based on your fashion preference or occasion.
Mules Kitten Heels – The very popular, mid-season shoe that goes well on any outfit. It is an open-back, 2-inch low heel mule which is ideal for mild temperatures. In addition to that, a mule's pointed toe allows for an elongated leg look, besides instantly uplifting the look of your outfit. Summer season brought dreamy hues like lilac and platinum for you to flaunt off your subtle and pastel look. However, you know what they say, when in doubt, go for black. So, you can go for the All-time sleek black mules kitten heels too.
Kitten Heels Pumps– Modernize your everyday look with a pair of stylish kitten heels pumps. You can never go wrong with these – office, party, day out, or a walk in the street, kitten heels pumps go well on all occasions. Though preferably, the mid-fall season is considered to be the most popular to wear these, they can go well with just a simple pair of jeans or oversized sweaters too. With a minimalistic, yet sophisticated look, you can experience comfort all day long with these kitten heels pumps too. You can opt for a pastel look or even neon colors for a bold and more defining look.

Kitten Heel Boots – The brisk days surely make us all confused as to what we should put on – especially on our feet! It's quite difficult to choose something that is a combination of all three: comfortable, protective, and stylish. Kitten heel boots are the perfect choice for such days since you can go for a lace look, long-heeled boots, or even simple ones. They are comfortable to wear and make you look super classy. They can perfectly complement a trench coat on such days. These kitten heel boots are sure to give you those New York vibes, whenever you put them on with a long coat.

Slingback kitten heels – They have evolved from the open-end low heel mules to a streamlined look with a heel strap to secure your foot meticulously. They are very comfortable to wear throughout the day and won't stress out your feet. You can try a bright violet suede slingback along with many others that are trending these days. You can also never go wrong with pulling off black slingback kitten heels for a causal day out.
On a concluding note…
Hands down, from a health and fashion perspective, kitten heels are your safest bet. Modernized with many new styles and prints today, you can grab your pair from the nearest store as these are readily available and up for grabs. Below are some of the summarised benefits of kitten heels.
Purely aesthetic – accentuates your figure.
No typing or buckling is required with mules – saves time and effort.
Easy to put on.
Greater walkability – owing to the low heel size.
You won't get terrible heel blisters with these.