Did you know that some of the heels that are widely worn by females were once a men's only footwear? We thought not! Heels like kitten, French and even Cuban heels were once worn by men decades ago.
All the forms of heels represented an elite culture, hence today they've evolved into one of the most popular choices of females in terms of heels and designers too, are working relentlessly to come up with newer designs. Without dragging it further, let's get into the specifics of Cuban heels; what they are and the origins.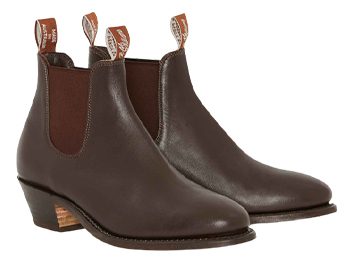 What Are They?
Cuban heels are the types of heels in which the shoe bottom gets more narrow at the bottom portion of the heel. They are straight with flat edge along the front facing portion of the heel. They're similar to cowboy heels, but Cuban heels offer extra flair and make a suitable pair for both, dress shoes and work boots. So, they'd be appropriate for formal as well as informal events.
Disclosure: This post contains affiliate links. When you purchase a service or a product through the links, I sometime earn a commission, at no additional cost to you. Read my full disclosure here.
Origin of The Cuban Heels
Cuban heels date back to the 19th century when the Persian soldiers used to wear them with rounded heel for riding horses as they offered more stability and comfort to them. In 17th century, France, they became a popular choice amongst males so gradually they became a part of men's fashion. It was not until the 20th century that a shorter version of Cuban heels came about in England that formed the basis for Cuban heels of today.
The history of Cuban heels is quite rich and can be originated from the Latin heritage too. The flamenco dancers used to wear such shoes as they offered them more support. Besides that, the footwear offered people quick and intricate foot movements. The 70s have played a crucial role for Cuban heels to emerge as a fashion trend when the rock singers like The Beatles wore low ankle boots with a Cuban heel. They became a trend for all rock musicians.
How To Style Your Cuban Heels Well
Cuban heels can be a traditional, yet a versatile shoe style so here are some of the outfit ideas that you can try for yourself.
Leather Jacket with Cuban Heels
Since Cuban heels look good with fashion boots, they can help you achieve the ultimate dapper look. Statement pieces like a stunning leather jacket or perhaps a vintage one may match the natural flair of Cuban heels and make you look fashion forward. You can also wear an oversized jacket, but it would be recommended to wear the best fit. The look can be coupled with straight leg pants to show off the heels in a chic way.
Mommy Jeans Or Flared Jeans With Cuban Heels
If you combine the look of the dramatic Cuban heels with the classy denim jeans and that too, with a flair, you're sure to make heads turn. Not only will you look super feminine, but owing to the masculine look of the Cuban heels, you'll look adventurous, bold and light-hearted too. You can also style your jeans with a button down shirt and a cowboy hat to top it off with a charm.
A Long Dress And Cuban Heels
Go for the classic look of a long dress with some nice Cuban heels to stand out from the crowd. This will look great in the fall and winter season. You can pair up some beige tights so that your Cuban Heels look more defined and pronounced under a dress. Make sure that the dress is not overly fancy as it wouldn't look so appropriate with Cuban heels.
A Formal Look!
When in doubt, go for the formal way and get yourself a pair of suede ankle boots with a pair of dress pants to go with them. Your legs can be elongated with the heel size of Cuban heels and there will be added elegance to your overall appeal too. Plus, they'll be super comfortable too, so you won't be dreading internally.
Interestingly, this classical look was the signature performance look for the famous and renowned rock band, The Beatles, as they were often seen pairing suits with cuban heel chealsea boots which made the audience amazed.

Final Thoughts
That having said, it brings us to an end to our article and we hope it you enjoyed reading about these Uber Chic, vintage and super cool cuban heels. You'd be missing out on a lot if you don't plan to buy them any time soon as they can become a fashion fad soon. Thanks to the era of short attention spans, people hardly stay consistent with one particular type of heels and keep on changing. So do join the bandwagon once it becomes the hype or be the one who creates it – and that too, with lots of finesse and perfection when it comes to styling.