Do you also picture yourself, like celebrities pulling off high heels with jeans without breaking a sweat, whether they're strolling around town or attending fancy events? If so, then you have landed at the right place!
Their chic blend of fashion and comfort has caught on among fans worldwide, inspiring all sorts of unique pairings between denim and heels. And this is why; today we are going to take you through all types of casual heels for jeans.
From the classic look of pointed pumps with skinny jeans to the laidback vibe of ankle boots worn with baggy "boyfriend" style denim, there's no limit to the ways that you can rock this trend just like your favorite stars.
Take center stage as a fashionista by confidently pairing your own dazzling set of heels with your go-to pair of jeans – prepare for some amazing compliments that how effortlessly elegant you appear in such trendy attire!
Disclosure: This post contains affiliate links. When you purchase a service or a product through the links, I sometime earn a commission, at no additional cost to you. Read my full disclosure here.
Different Types of Jeans with Heels
Skinny Jeans
Stilettos:
From Gigi to Kendall, you might have spotted almost every other celebrity rocking skinny jeans and heels. So, why not you?
Elevate your style with these chic high-heeled shoes that blend perfectly with slim-fit jeans, providing you with a graceful appeal along with added inches to your height.
Block Heels:
The Block heels are the most casual heels for jeans! Strike the right balance between comfort and fashion by wearing colorful blocky pumps when pairing them up with your skinny denims! Skinny jeans and heels especially when it's block heels can bring the right amount of stability and modernity to your overall look.
Bootcut Jeans
Platform Heels: Bootcut jeans with vintage platform heels bring a fun and retro vibe to your attire. Platform heels to wear with jeans are a funky way to keep your outfit low-key yet stylish!
Wedges: Opt for laid-back sophistication by pairing wedge heels with your bootcut jeans, as they offer comfort and elegance suitable for both relaxed and fashionable occasions.
Chunky-Heeled Ankle Boots: For a bold and adaptable look when wearing bootcut jeans, match them up with chunky-heeled ankle boots showcasing distinctive touches such as strap embellishments or statement animal print soles.
Straight-Leg Jeans
Black/ White Block Heels: You can create a classic and adaptable look by selecting ageless black or white block casual heels for jeans that blend in harmoniously with the simple cut of straight-leg jeans.
Kitten Heels: To add some feminine touch to your ensemble pair up straight leg jeans and heels with kitten heels for an exquisite flair to your costume.
Mules: Lift up your 2023 fashion game without any hassle by introducing modern mules to your heels collection. Straight leg jeans and heels, particularly mules provide a comfort-forward and cool touch to your apparel.
Boyfriend Jeans
Ankle Boots: Boyfriend jeans are the most trendy jeans out there. By teaming them up with ankle boot heels to wear with jeans, you will be all ready for a formal event. You can either wear vibrant ankle boots or ones that have unique embellishments to add a fashionable and relaxed vibe. The choice is yours!
Espadrilles: In order to bring more interest in outfit coordination during summer, add some charm through strap heels or animal print espadrilles heels to wear with jeans. Espadrilles heels along with boyfriend jeans are the ultimate way to bring off an air of relaxation to your modern attire.
Flared Jeans
Bold Color Platform Heels: The retro-inspired vibe of flared jeans can be enhanced by pairing them up with bold-colored or attention-grabbing patterned platform heels. Be ready to make a fashion statement when selecting platform heels to wear with jeans.
Strappy Sandals: Going for an effortless bohemian and '70s look? Well, then style your flared denim with strappy heels to wear with jeans featuring exceptional details like strap accents or animal print heels. This adds individuality and character while complementing your friendly nature.
High-Waisted Jeans
Block Heels: Straight leg jeans and heels, and high-waisted jeans with block heels, is no doubt the best pairing considering the jeans with heels combo.
Accentuate your waistline and achieve an elegant shape by wearing black or white block heels that flawlessly complement high-waisted jeans.
Kitten Heels: Match the classic appeal of kitten heels with jeans for a feminine touch. High-waisted jeans with charmingly feminine kitten heels are certainly a guaranteed hit. Its eye-catching designs infuse retro vibes into your appearance for a pleasant effect.
Mom Jeans
Ankle boots: Give your mom jeans an edgier twist by pairing them with funky ankle boots. Whether the block casual heels for jeans are plain or printed, they can produce a chic and relaxed vibe that exudes modernity.
Espadrilles: Espadrilles are the ideal heels to wear with jeans for creating a fashion-forward yet effortless summertime ensemble. Moreover, espadrilles with animal prints perfectly match the laid-back ambiance of mom jeans.
Cargo Jeans with Pockets
Bold And Chunky Black Heels: Black heels to wear with jeans are always a safe bet, whether it is cargo jeans, two-toned jeans, or mom jeans. These high-heeled shoes offer a striking counterbalance to the aesthetic of pocket cargo jeans, yielding a trendsetting appearance.
Nude Sandals With Straps: The natural color scheme of these strappy sandals suitably accompanies the rustic hues found in cargo jeans with pockets. Therefore, whether you are dressing up for a friend's hangout or preparing up for an event,  introduce style into your outfit with nude sandals and cargo jeans.
Ripped Jeans
Chunky-Heeled Sandals: If you want to improve the look of your hip ripped jeans, try wearing it with the ultimate white chunky-heeled sandals for an up-to-date look. Almost, everyone is seen wearing these fashionably ripped jeans and chunky heels, they certainly make an amazing combination!
Ankle Boots: On the other hand, if an edgy style is more of your preference, opt for ankle boots featuring features such as strap accents or animal print heels. The versatility of these boots will create an edgier feel on top of adding flair to any outfit when worn with distressed jeans.
Black Denim Jeans
White Platform Heels: The clean and bright hue of these shoes provides a cool contrast to dark denim, giving off an on-trend yet relaxed urban vibe.
Shiny Black Ankle Boots With Metallic Details: When matched with black jeans, they create a contemporary and chic look. Meanwhile, the metal embellishments offer some glamor and elegance to your outfit. Hence, ensuring that skinny jeans and heels are a well-matched pairing!
Crinkled Cargo Jeans
Brown leather Ankle boots: The brown hue of the boots complement the tough texture of the crinkled cargo jeans. It's the perfect kind of casual heels for jeans giving the outfit a bohemian and adventurous feel.
Funky Animal-Printed Heels: These striking and eye-catching heels make a fashion statement by adding an informal and vibrant touch to the distinctive feel of crinkled cargo jeans.
Split Hem Jeans
Pointed-Toe Black Heels: The smooth and refined outline of these heels to wear with jeans enhances the modish and fashionable appearance of split hems. It results in a graceful and well-groomed ensemble, which is a winner every time!
Metallic Silver Strapped Sandals: The metallic shade infuses a hint of modern charm into the bold design of jeans with split hems. These casual heels for jeans produce an assertive yet trendy expression.
Grey Jeans
Silver Ankle Strap Heels: Grey jeans can be dressed up with sleek silver ankle strap heels, which give a cool and modern vibe to the simplicity of grey denim.
White Block Heels: Alternatively, chunky white block heels provide a perfect contrast and offer versatility for different events.
Two-tone Jeans
Strappy Black Sandals:  You can never go wrong with strappy black sandals when it comes to casual heels for jeans. To give your casual attire an elegant, classy edge, you can wear strappy black sandals to blend in perfectly with your two-tone denim pants for a sophisticated and adaptable ensemble.
Wide-Leg Ombre Jeans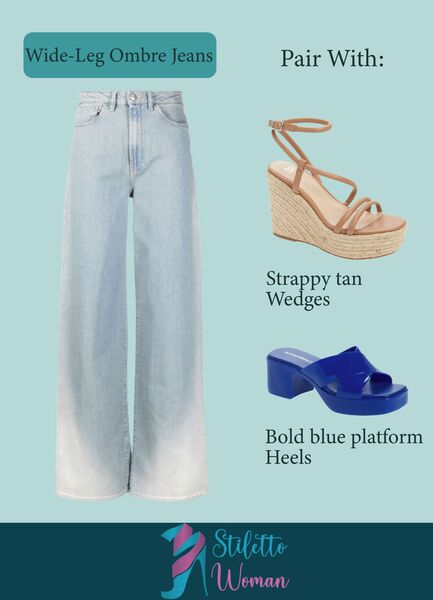 Strappy Tan Wedges:  Be it straight leg jeans and heels or wide-leg ombre jeans and heels, both combinations are meant to offer unique looks and are truly a solid pick! The ombre wide-leg jeans' gradient effect is complemented by the neutral tan color of the wedges, resulting in a unified look with a bohemian flair.
Bold Blue Platform Heels: The striking blue color makes a statement with each step while bringing an exciting element to the distinctive ombre design of the wide-leg jeans.
Tips for Achieving the Perfect Combination
Select Appropriate Footwear Based On The Occasion:
Formal/Casual events: Every time you are heading out, consider the type of event before choosing heels to wear with jeans. Go for stiletto heels for formal events, whereas sneakers or block heels are perfect for casual outings.
Coordinate your overall outfit: Apart from straight leg jeans and heels, wear pointed-toe pumps to pair with skinny jeans if you're aiming for a smart yet chic look. Meanwhile, ripped jeans can match well with ankle boots that give off a laid-back vibe.
Matching Colors & Textures of Heels And Denim:
Neutral shades: like black or nude offer versatility but it's also great to try bold hues or animal prints.
About the texture: if you are wearing smooth leather high-heels choose slim-fit stunning skinny jeans as skinny jeans and heels complement each other. On the other hand, textured heels pairs perfectly with flared + ripped cut-off style of denim!
Considering The Right Proportions:
You can counterbalance the wider leg openings of flared jeans using platform heels or wedges that will give you a friendly look.
To create an elongated illusion on legs, use skinny jeans and heels, specifically stiletto heels in combination with skinny jeans. Also, think about matching high-waisted jeans with heels so that your waist is highlighted.
Final Thoughts
To sum up, the combination of jeans and heels offers a plethora of fashionable options. By taking into account the event you're attending, color schemes, and sizes, and being open to experimentation; you can create remarkable ensembles that reflect your fashion sense.
Enjoy accessorizing with clothing items that reflect who you are as an individual. Fashion is all about exhibiting originality so don't hesitate to try new pairings outside of straight leg jeans and heels that you wear every day.
Therefore, stroll out confidently while cherishing casual heels for jeans; and unleash your stylish side with pride!