Though different hues can appealing, there is something so utterly classy and vibrant about metallic colors that most women want to have at least one pair of them. Be it a gold metallic or a silver metallic hue, it can make a strong fashion statement and speak volumes about your fashion tastes too. Tilting slightly towards the bolder outlook, women who are outgoing and creative generally love to wear metallic heels. Thanks to the fashion designers who keep coming up with newer and contemporary versions, we now have a plethora of options to choose from, some of them are highlighted in this article.
What You Need To Know Before Buying Metallic Heels:
Anyone who is fashion forward will have a diverse range of heels in their closet. Styling metallic heels can be a task itself. From an array of choices ranging from f shaped heels to ultra modern ankle strap and tie up heels, designers have upped their ante in terms of coming up with unique heels. If you wear metallic heels on an outing or to a party, there are high chances that people will not be wearing it because of the common fear of looking "too much". Hence, you have a great chance of rocking metallic heels with a beautiful dress on such occasions. But before investing in such heels, here's what you should consider:
Your Individual Requirement

All of us have our own reasons to wear metallic heels. If the reasons include wearing them for a casual night-out, then any type of metallic heels would be more appropriate. On the other hand, if you are the one who prioritizes fashion above societal norms and would love wearing metallic heels to formal occasions too, then you can go for the ones with embellishments on them too. Whatever the case may be, make your picks wisely.

Who Should Buy Metallic Heels?

Women who are upbeat and bold, those who have adventurous and creative fashion tastes, should buy metallic heels as they exude confidence, femininity, and an alluring charm.

Features To Look Out For

Metallic heels come in the form of metallic strappy heels or with embellishments, buckles, various textures, heel shapes, heel height and a lot more. You can pick the one that best suits your needs as you browse through the popular designer brands like Prada, Versace, and others.

Angelina Jolie

Olivia Wilde

Rosie Huntington
Disclosure: This post contains affiliate links. When you purchase a service or a product through the links, I sometime earn a commission, at no additional cost to you. Read my full disclosure here.
Without further Ado, let's head onto our list.
 Stiletto Metallic Heels in 2023
1. Vince Camuto – Molisana Wedge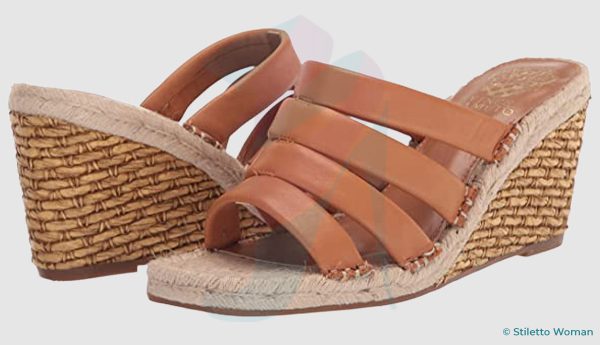 Consisting of a minimalistic, yet a striking look, these heels by Vince Camuto comprise of metallic color straps with espadrille infused design which facilitates the walking experience. Besides that, the heels are lightweight and super comfy. With a slide on style and no back straps, they are easy to manage and carry. You can use these for everyday wear too.
2. Schutz – Cheslie Half D'Orsay Pump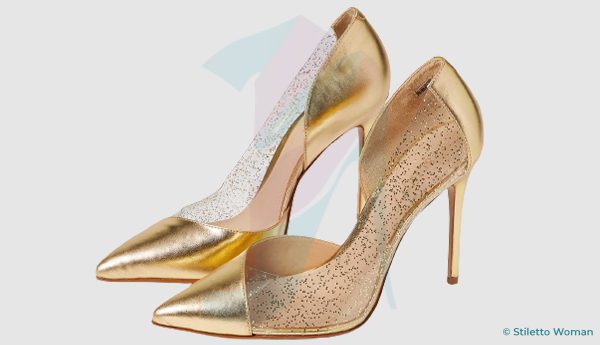 A pump style by Schutz, featuring metallic gold heels that looks upbeat and modern, these metallic pumps heels are sure to have you sold. You can get additional few inches in your height and it features a pointed-toe design that can accentuate your feet, making them look super attractive. These metallic pumps heels will elongate your legs and make heads turn.
3. Jeffrey Campbell – Vipera Sandal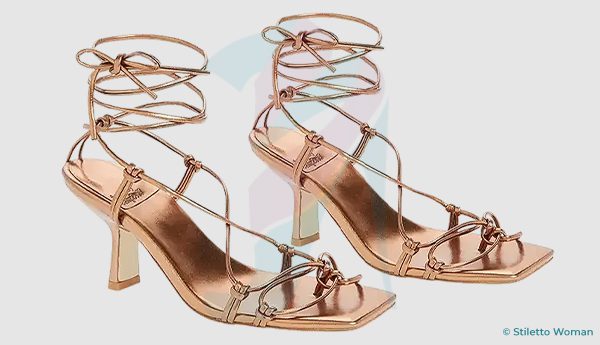 An incredibly irresistible design by Jeffrey Campbell, these tie up metallic heeled sandals come in a rose gold metallic color and is sure to win your heart. They come with a convenient heel height which makes it easy for you to walk in them. Also, these metallic heeled sandals feature an open toe style which makes them breathable and lightweight. These metallic strappy heels can be great for casual as well as formal events too.
4. MICHAEL Michael Kors – Amelia Sandal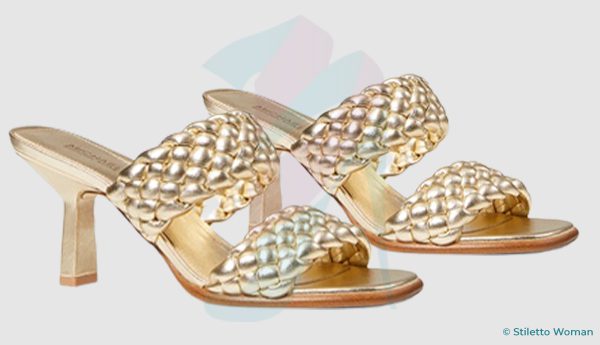 Featuring a braided look with two bands and a convenient heel height along with the striking metallic gold color, these metallic heeled sandals by Michael Kors are a keeper. They are comfortable, lightweight, and breathable. Besides that, the label MK is enough to have customers sold at their heels. The brand promises brilliant craftsmanship and quality which makes these metallic heeled sandals last long too!
5. Paige – Camryn Platform Sandal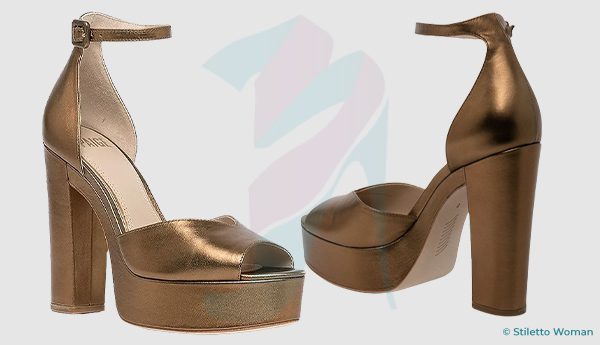 Paige is another great option if you want great metallic platform heels. Featuring a rust gold color that can look super attractive and bold, these metallic gold heels feature a platform style with ankle straps – a combination to die for. These metallic platform heels can not only offer you the utmost balance and support but also make sure that you leave a lasting impression on your audience.
6. Alexandre Birman – Clarita Woven Heel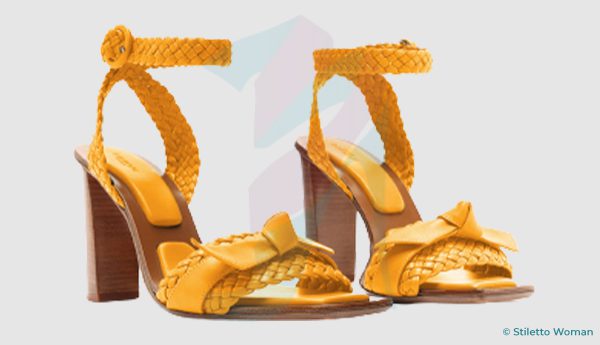 We've all heard of the brand before owing to the high end brand positioning and excellent reputation in the fashion industry, Alexandre Birman features a braided look with a cute how on the toe strap. These heels come with a block heel design which gives you more balance and you can walk easily. Moreover, the braided look can make you achieve that ultimate ladylike appeal too.
7. Gianvito Rossi – Spice Ribbon Sandal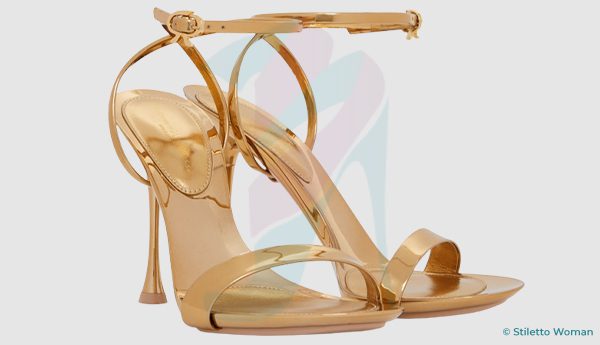 An open-toe, with a round-toe design, featuring a timelessly classy ankle strap style, these gold metallic heels by Gianvito Rossi are a keeper! They come with a stiletto heels design which can give you an additional height boost as well. Besides that, the brand is high-end and considered a luxury at its best, so just owning a pair of Gianvito Rossi can be a huge deal.
8. Christian Louboutin – Jenlove Lizard Sandal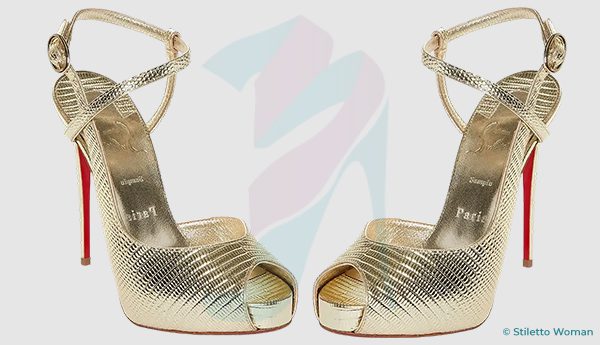 Another high-end luxury brand, Christian Louboutin has been the favorite of many celebrities. With a long list of celeb following, these ultra-glamorous metallic heeled sandals are sure to leave you stunned. The metallic gold heels ooze the magnificent glory of the gold metallic color with a platform style and a slingback design. The textured look also makes these metallic platform heels appear more attractive. These metallic gold heels are the definition of opulence.
9. Prada – Logo Clear Sandal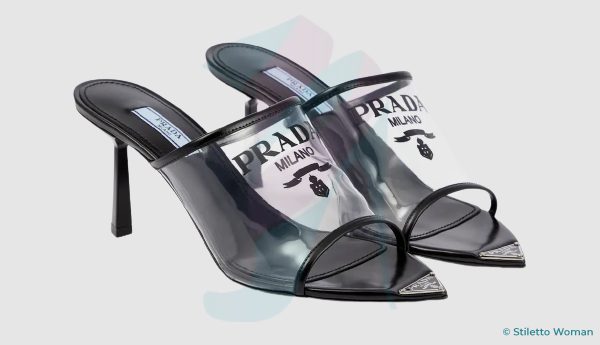 The brand not only sells for its timelessly classic and chic designs, but also for its brand name. Prada is one of the most renowned Italian brands which many women dream of having. From celebrities wearing the brand and enforcing it to fashion models too, spotted wearing them, Prada heels can make a strong fashion statement. These simple, slide on style can save your time and can be great for casual and formal events too.
10. Jimmy Choo – Bing Crystal Mule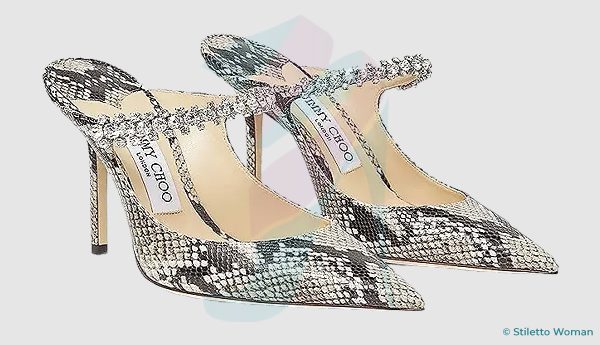 Just by the looks of it, you can tell that these are a keeper. A woman's dream, Jimmy Choo's products have been the favorites of many. With embellishments over a strap and a printed look with dulled-down metallic colors, these heels look super sophisticated and elegant. They come in a mule heel design which is easy to wear and carry.
11. MIU MIU – Crystal Embellished Sandal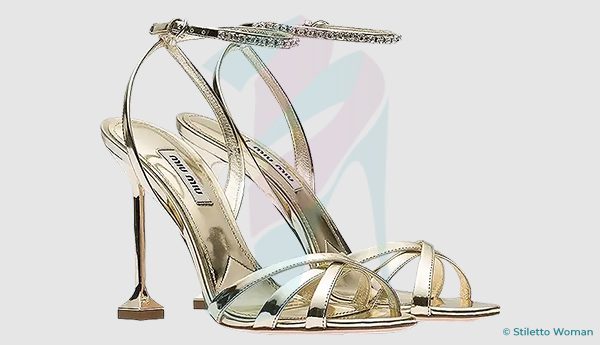 A fan of embellishments and bling? Then these metallic gold heels by Miu Miu are for you! They come in a bright gold metallic color with a crisscross toe strap and an ankle strap design with sculptural heels. They can not only give you an additional height boost, but they can help you appear fashion-forward and brand aware too. Surely, these crystal embellished heels are to make heads turn!
12. Versace – Greek Key Cage Sandal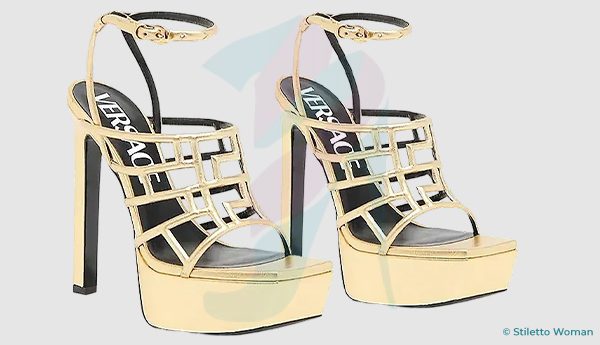 A uniquely designed square toe style with a cage style and an ankle strap, these metallic strappy heels by Versace are the all-in-one solution for all your heel concerns. The chunky platform heels facilitate the whole walking process and give you more support. Also, the metallic platform heels are lightweight and will last you a very long time too. Moreover, these metallic strappy heels by Versace may be pricey, but they're worth the price.
13. Fendi – First Sandal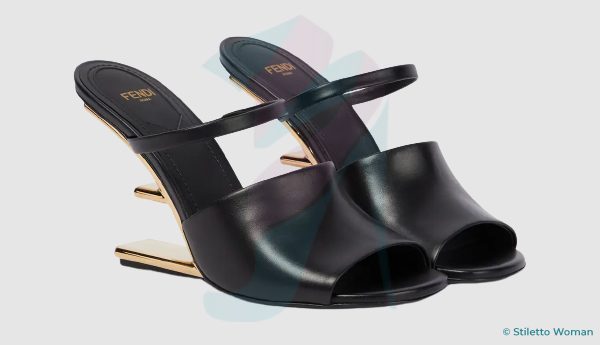 Another high-end and classy Italian brand, Fendi has managed to maintain an excellent reputation within the fashion industry. These heels cover your feet well and consist of a unique F-shaped heel shape which can again, make a strong fashion statement about your preferences. These heels should be bought by women who are creative and fashion-conscious.
14. Alaïa – Perforate Sandal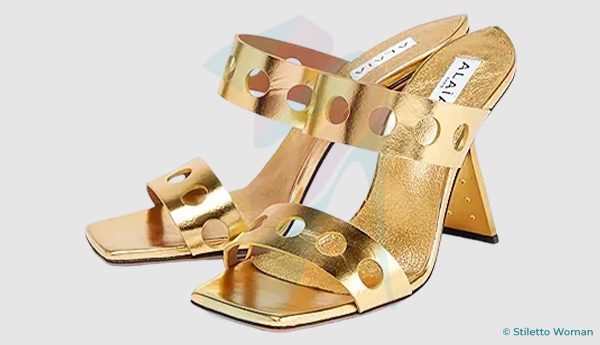 Featuring a square toe design with innovatively designed two bands, these heels can make jaws drop. Owing to the premium brand reputation, most celebrities love the it and so do the influencers. The medium heel height ensures that you can walk around easily. Also, you can uplift any dull outfit with these heels.
15. Valentino Garavani – Rockstud Pump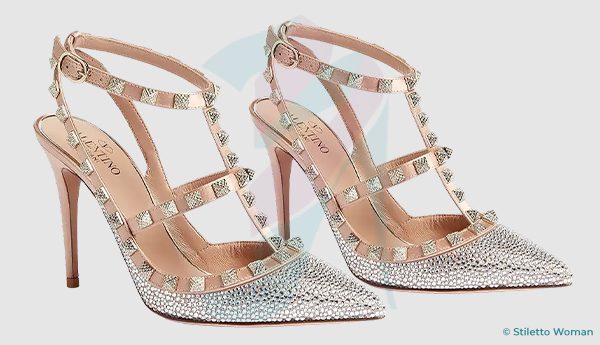 Last, but not least, the most high-end and glamorous option if you like the finer things in life, these metallic pumps heels by Valentino Garavani are a stunner. They feature a rock stud design over the straps with a closed-toe style and stiletto heels shape. These metallic pumps heels give you a height boost and they can go well with most outfits too! One can never go wrong with this pair of metallic strappy heels.