While it may sound like fun and games to you, but travelling can require a whole lot of effort and work. From packing to planning the entire trip, it can be a hassle to adjust to the prolonged flights and journeys. For that very purpose, nowadays we have airport fashion on the rise. Airport outfits have become comfier as many celebrities are seen endorsing loose trousers and sweatshirts to emphasize on convenience while traveling. Thanks to the ongoing trend of prioritizing comfort, we have convenient pair of travel heels available too! These consist of cushioned footbeds, optimized for comfort and travel friendly designs which can make travelling less of a hectic task.
What You Need To Know Before Buying Travel Heels:
While travel heels can be optimized for comfort to offer you with altmost ease, it's important to note that many designers have paired up with brands like Nike to make stiletto heels comfortable too! Today we have many versions of travel heels ranging from open toe, closed toe, square toe, block heels, and many others – the choices are limitless. A few things that you need to know before investing in travel heels include the following:
Your Individual Requirement

Some women want to have a pair of travel heels as they are always on the go. The consist thirst for adventure makes them book flights every now and then, so they may require wedge style heels. On the other hand, some have to travel for business meetings for which formal versions would look better. So make your picks wisely!

Who Should Buy Travel Heels?

The answer is very simple – women who are easy going, casual and always on the go. Those who have adventurous and extravagant fashion tastes would love to go for a nice pair of travel heels too. Not just that, but those who love comfort would also love to invest in a pair of travel heels.

Features To Look Out For

Travel heels can come with a strappy look, embellishments, buckles, various textures, heel shapes, heel height and a lot more. You can pick the one that best suits your needs as you browse through the popular designer brands like Giuseppe Zanotti and others.

Amal Clooney

Anna Heinrich

Selena Gomez
Disclosure: This post contains affiliate links. When you purchase a service or a product through the links, I sometime earn a commission, at no additional cost to you. Read my full disclosure here.
Without further ado, let's head on to our top picks.
 StilettoTravel Heels in 2023
1. Cole Haan – Grove Sandal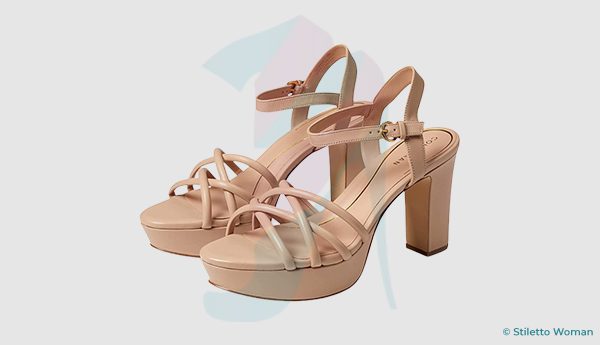 The brand which has paired up with Nike to optimize the comfort level in the heels, Cole Haan offers its customers unparalleled quality and superior comfort. These platform inspired heels show the same. They consist of a printed design with a strappy toe area and a thick sole to give you enough support so that you can walk around comfortably.
2. Chocolat Blu – Platform Wedge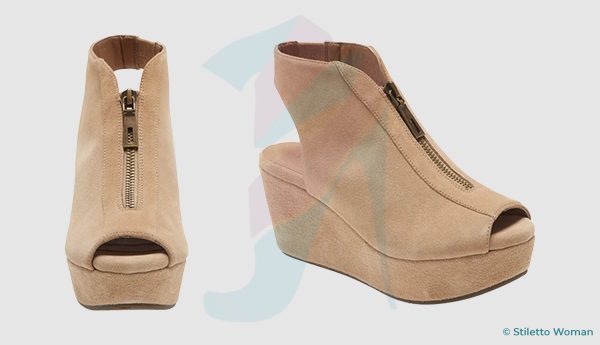 Another convenient pair of travel heels would be these wedge inspired heels by Chocolat Blu. They consist of a zipper and a peep toe design which oozes chicness and modernity. These travel heels come in a suede material which gives these heels a luxurious and exquisite look. They'd be appropriate for corporate events too!
3. FLY London – Yefa Sandal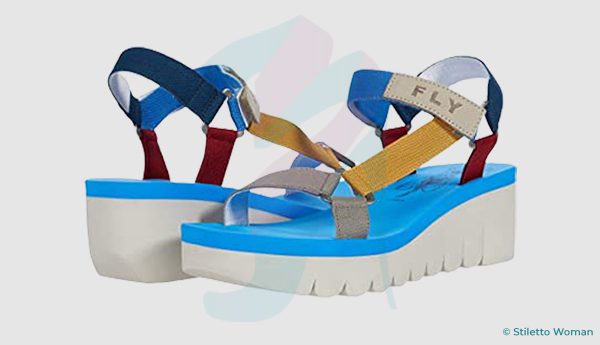 These travel heels by Fly London are the ideal example of modernity wrapped in decency. These heels make the best pair for adventurous travellers as they take the form of wedge heel. You can walk in them for hours without feeling tired. Also, they can grip your feet well and allow adjustable owing to the flexible straps.
4. Cordani – Yvonne Sandal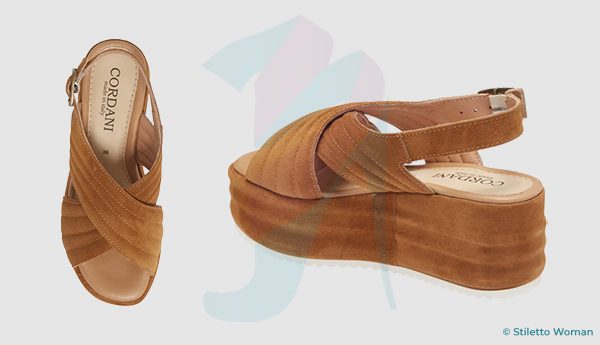 Another great pair in terms of travel heels that you should invest in would be these wedge inspired heels by Cordani. These heels feature a crisscross strap that covers your feet well, preventing slip offs, and has a slingback style. These heels can offer you superior comfort and balance as they won't put a lot of pressure on your feet.
5. Ron White – Ellary Quilted Napa Sandals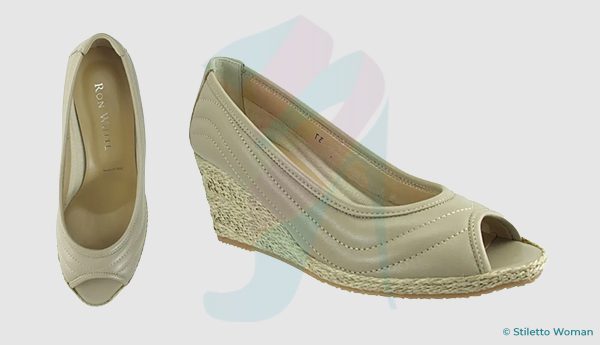 Speaking of corporate events, these espadrille infused travel heels are sure to leave you stunned. They come with a glossy leather look with a pump and peep toe style which oozes finesse and luxury. These can make one of the most sophisticated pairs as they do not consist of anything flashy. Also, they can accentuate your feet and allow smooth movements. You can't go wrong with these!
6. Paul Green – Cayanne Sandal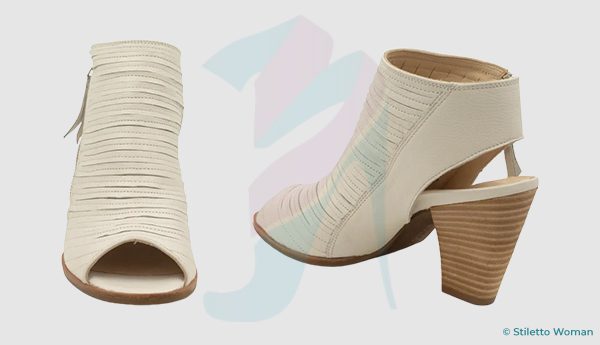 Not a fan of pumps? Not a problem! These block heel inspired heels by Paul Green are sure to catch your attention and retain it! These heels make the best pair for corporate events and even for casual traveling. They not only grip your feet well, but with a peep toe design, you can flaunt a bit of your toenails and skin too. They ooze confidence and boldness.
7. Aquatalia – Calley Croc Sandal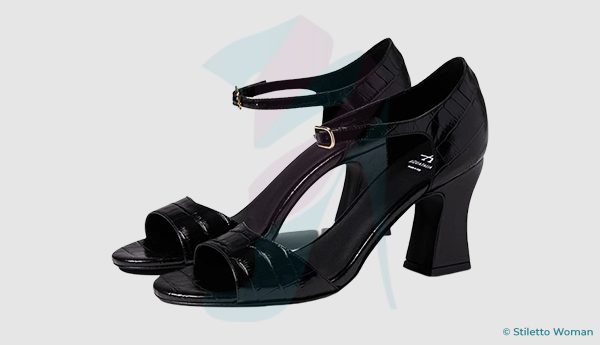 A pair that's bound to have you stunned would be that of Aquatalia. These travel heels consist of a convenient block heel design with an open toe style which makes them breathable. You won't get blisters if you wear them even for prolonged hours. They also consist of a buckle strap to grip your feet well. The brand is considered as a luxury, so you won't regret investing in these.
8. Chloé – Meril Platform Sandals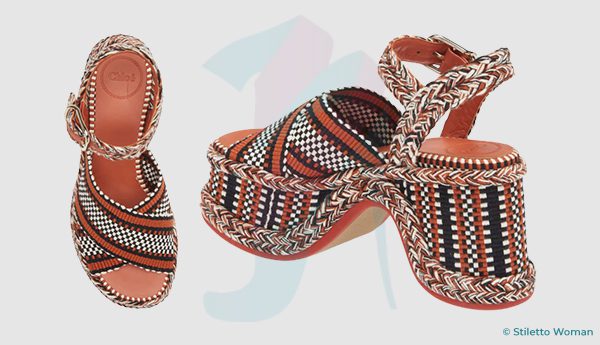 These travel heels by Chloe can be excellent attention grabbers. Owing to the printed look and a crisscross strap securing your feet well with a buckle strap towards the end, these heels make the best pair for traveling for a vacation. You can color coordinate them with your outfit, but rest assured, with the platform style, your feet will be thanking you all day long!
9. Valentino Garavani – Rockstud Torchon Sandal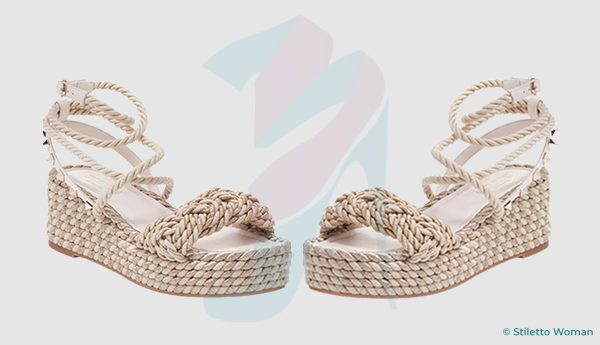 A uniquely crafted pair of travel heels which are sure to amaze you. These convenient pair of heels feature a wedge heel design that offers you more balance and support. Walking can feel like a breezy process in these heels, so these would be ideal for your country tours. Owing to the brand reputation, you can always depend on these heels to be your savior!
10. Gianvito Rossi – Clear Sandal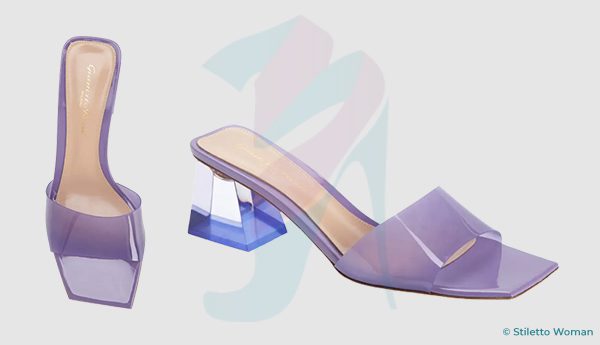 Presenting you a super elegant and timelessly classic pair of travel heels which you can simply slip on and go about your vacation. These heels by the high end and luxury brand, Gianvito Rossi exude grace and finesse. The block heel and open toe design makes them a lightweight and breathable pair in which you can walk in easily.
11. Jil Sander – Bulb Genuine Pump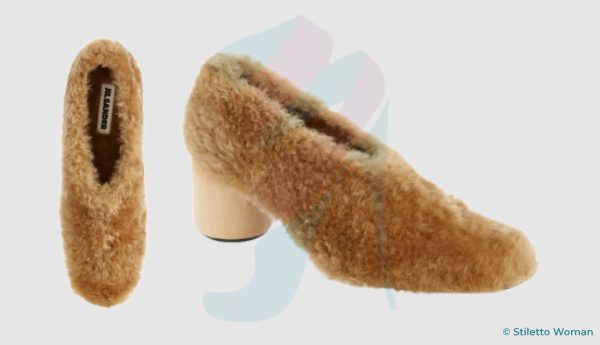 Just by the looks of it, you can tell that these pump inspired travel heels should be your go to pair of heels for a vacation. The comfort that these heels will offer you will be second to none. Besides that, they can help you make a strong fashion statement and that too, effortlessly. The block heel style will also make the walking process easier.
12. Saint Laurent – Bianca Sandal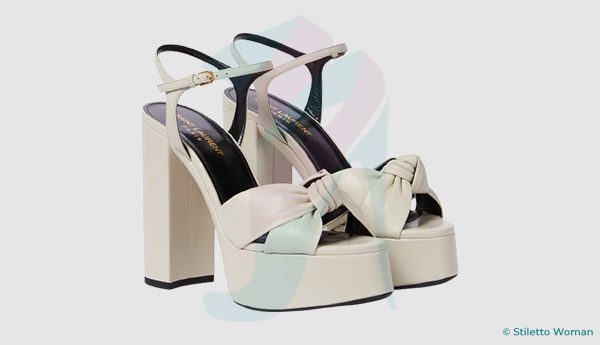 The jaw droppers and the show stoppers – these travel heels by Saint Laurent are the ideal pair of heels for formal and informal events. They come with a platform style and an ankle strap design which adds to the comfort. Also, they're sturdy so they'll last you a really long time. Although this one is a pricier option, your investment won't be wasted that's for sure!
13. Stella McCartney – Crystal Mesh Sandal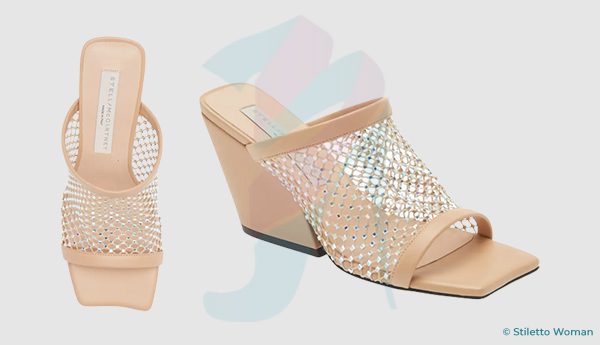 We do understand that comfort should be combined with finesse otherwise, you can end up looking like a fashion disaster while you're traveling so for that reason, we present to you Stella McCartney's wedge inspired heels which comes with embellishments and a square toe style. They make a breathable, chic and trendy pair. They can also serve as a multipurpose solution for all your fashion needs.
14. Prada – Crisscross Platform Sandal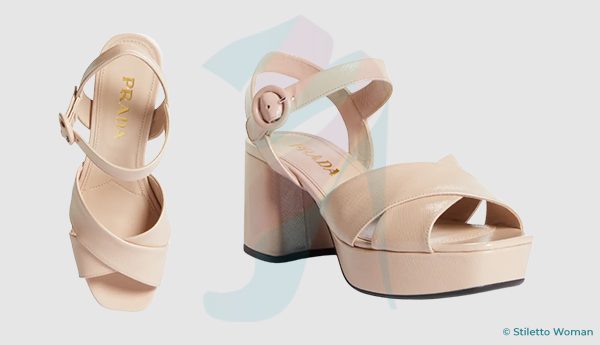 Another great pair by the exquisite and luxury brand, Prada, is sure to be the show stopper. These heels feature a crisscross strap with a buckle strap securing your feet well. They come with a thick sole and a block heel because of which you can walk in them for hours without experiencing any discomfort.
15. Gucci – Angelina GG Logo Eyelet Sandal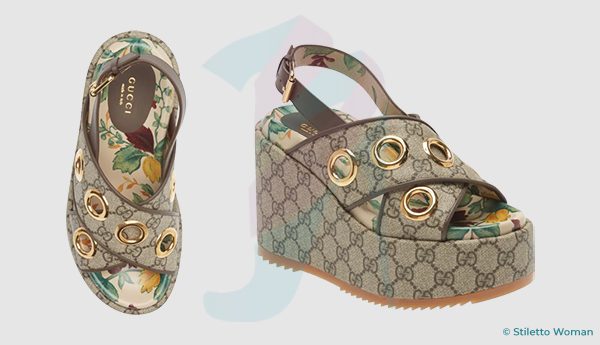 Last, but not the least, these wedge heels by Gucci come with a high heel height and a slingback style. Say goodbye to the worries of tripping or slip offs with these heels. Thanks to the brand reputation, these heels will likely last you a long time too. All in all, they'll make a multipurpose pair of travel heels which can be a great addition to your heels collection.