The power of velvet has been known for decades. Not only has the material been associated with fuzzy blankets and excellent warm apparel, but it has also been linked with accessories and heels. In terms of heels, if you want to stand out from the crowd, then it can be easily suggested to go for the ultra modern, mysterious and classy velvet heels. Though there's a common misconception that you can only wear them in winter season, if you style them well, they'll look great in fall and spring too!
What You Need To Know Before Buying Velvet Heels:
You must be thinking that velvet heels are more appropriate for the cooler seasons, however there is a plethora of contemporary designs which consist of velvet bands/straps or velvet heel cover and similar detailing which can ensure that the velvet heels look amazing in all seasons. A few things that you need to know before investing in such heels include the following:
Your Individual Requirement

For some women, fashion holds immense value, so they will opt for the velvet heels which are most stylish and have several embellishments over them, while on the other hand, some women don't mind the design if the purpose is served of looking classy even with a minimalist look, so make your picks wisely.

Who Should Buy Velvet Heels?

Women who have creative and boisterous fashion tastes should go for the traditional, yet very modern velvet heels. They're suitable for the types who love variety and prefer diversity in the range of heels that they wear, so velvet heels can be something new for them too. 

Features To Look Out For

Velvet heels can come in an array of designs including ankle straps, slip on style, platform heels and many others, so you can browse through the designer websites to look for the ones that suit you best.

Emma Stones

Hilary Duff

Jennifer Lawrence
Disclosure: This post contains affiliate links. When you purchase a service or a product through the links, I sometime earn a commission, at no additional cost to you. Read my full disclosure here.
Without further Ado, let's head onto our list.
 Stiletto Velvet Heels in 2023
1. Circus by Sam Edelman – Audrea Platform
Looking for a stellar pair of velvet heels with a platform styled heel base? It doesn't get any better than the Circus by Sam Edelman. Velvet heels are all about making a statement and there's no better statement made than putting these on to your next party or event.
2. Jeffrey Campbell – Viona Pump
Bejewelled buckle glams up a pointed-toe pump lifted by a polished, orb-shaped heel. Velvet with aesthetics, here are the Jeffrey Campbell Vionas for you. Grab these, put them on, and shine from the crowd with sheer velvet class with a hint of flashy on top.
3. Kurt Geiger – Shoreditch Platform Heeled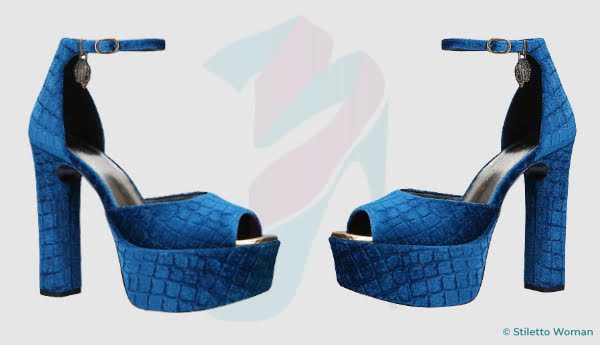 Peep toe, buckled ankle strap, croc-embossed velvet upper, signature eagle head charm at ankle. These are some of the striking and prominent features of Kurt Geiger London Women's Shoreditch velvet-based heels. These heels are one of a kind and give the others a run for its money.
4. Ted Baker – Porline Bow Pump
Exaggerated bow amplifies the contemporary appeal of a pointy-toe pump fashioned in luxe velvet and set on a charming kitten heel. Ted Baker London Porline's elegant design is as promising as it looks. Minimalistic design with that beautiful velvet touch, these are the perfect fair to throw on, at almost any occasion, especially one where you'd want to stand out.
5. Loeffler Randal – Rivka Platform Sandal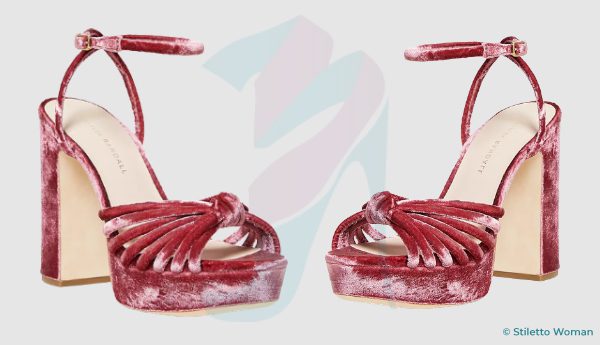 Open toe, buckled ankle strap, knotted detail at strap, heel of 1" platform, feels like a 3.52″ heel, coupled with, viscose/cupro upper, leather lining and beautifully administered velvet that has a little extra shimmery to it. The perfect pair to throw on parties. These are the Loffler Randall Women's Rivkas for you. As good as they look, they're quite the stealer in all other aspects too.
6. Alexander Wang – Julie Scrunchie Sandal
These pair of velvet heels are not for the ordinary. It's for someone looking to go bold and dangerous. A design that'll turn heads, the Julie's by Alexander Wang are stylish and bold pair of heels, designed for the special ladies out there. Grab these and shine along with your outfit
7. Alexandre Birman – Sally Tie-Up
Elegant pointed toe pumps finished with a velvet overlay and ankle ties. Featuring velvet upper, point toe, tie closure, leather-based lining and sole, the Sally's are glorious and classy pair of velvet heels. Alexandre Birman set the bar with these striking velvet heels designed to look and feel good.
8. Aquazzura – Bow Tie Pump
Velvet upper, side cutout details, knot detail at heel, pointed toe, leather lining and insole are some of the features of striking Velvet Pumps by Aquazzura. The design is inspired by true creative and is made in Italy. The perfection is also unparalleled of these velvet heels, staying true to size with accurate and comfortable fit.
9. Saint Laurent – Dream Slingback Sandal
Square-toe slingback sandal covered in crushed velvet grounds your ensembles in sumptuous texture. What more do you need out of velvet heels? This and a tremendously gracious design that'll turn heads. Put the Dream Velvets by Saint Laurent on and see the reaction of the person sitting next to you.
10. Giuseppe Zanotti – High Heel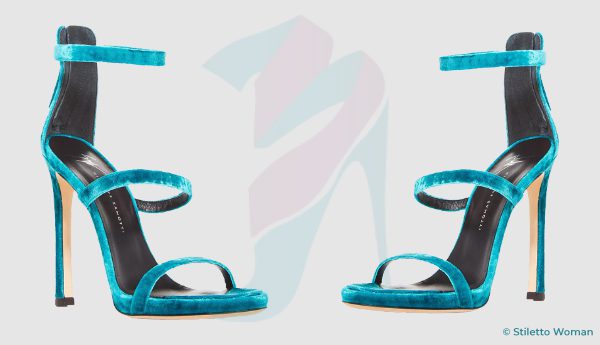 Giuseppe Zanotti womens high heels are an excellent option when it comes to bold velvet heels. Featuring an open toe design with a functional back zip closure, and velvet upper, these heels are excellent for you to look the part in your parties and events.
11. Dolce & Gabbana – Pump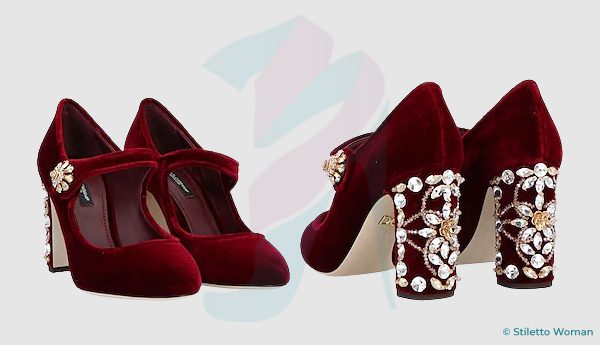 Fan of covered stiletto heels? Look no further and get D&G's Pumps in all its glory. With velvet upper, leather lining and sole, these heels are designed to perfection. Being designed and made in Italy, you can expect D&Gs iconic use of materials and unmatched comfort.
12. Christian Louboutin – Dolly Alta Pump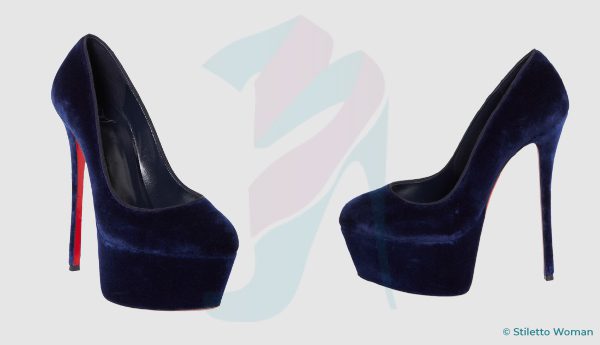 Fabulous is the word that comes to mind when we gaze upon the Dolly Altas by Christian Louboutin. A design that slightly protrudes than other heels, reminiscing a slender back/ top part, falling in line with the chiseled heel and a chunkier heel face. All that, with that use of velvet, these heels are fabulous indeed.
13. Fendi – First Wedge Sandal
Very unique, very creative, very stand apart, that's the Fendi First Velvet Wedges for you. A design that is stand apart and extremely unique to the brand, blends in so well with the overall aesthetics, that these heels are head turners. If you want an amazingly unique pair of velvet heels, don't think twice about these.
14. Roger Vivier – Cube Mule
These are stellar pair of velvet heels. Enter the Roger Vivier Embellished. If you're looking something out of the ordinary, you won't go wrong with this striking pair of velvet heals. The heel base extends as a flashy cube that evokes the brand's unique selling proposition designed to make a statement.
15. Tom Ford – Chain-trimmed Pumps
Tom Ford' Chain Trimmed velvet heels are striking to say the least. Visually evoking the classic Tom ford design language, this pair of velvet heels combine aesthetics with elegance in a vivid and striking manner. You won't go wrong with this pair.