In a world filled with numerous uncomfortable heels, go for the ones which offer you chicness and comfort at the same time! Wedges, platforms, clogs – all can be the ultimate go-to for the ones who love comfortable heels. Another type of comfort heel is a Cork Heel. Featuring a coal oak tree material, they make a comfortable and convenient pair which may vary when it comes to design and heel height.
What You Need To Know Before Buying Cork Heels:
Cork heels may resemble Clog heels when it comes to wooden soles and heels, but the styling is completely different and even the wood material has some kind of patterns drawn. In the modern era, we have newer versions of cork heels which are suited to many occasions and preferences. Ranging from open-toe, closed-toe, square-toe, block heels, and many others – the choices are limitless. A few things that you need to know before investing in cork heels include the following:
Your Individual Requirement

Cork heels may look great on casual events. In fact, you could wear them to parties as well, but for that, you need to dress up in a flashy look rather than a simple one. So make your picks wisely according to the occasion and your preference.

Who Should Buy Cork Heels?

Women who love to look casual, easy-going, and feminine. Those who have chic and trendy fashion tastes would love to go for a nice pair of cork high heels.

Features To Look Out For

Cork Heels come with a strappy look, embellishments, buckles, various textures, heel shapes, heel height, and a lot more. You can pick the one that best suits your needs as you browse through popular designer brands like Stuart Weitzman, Michael Kors, and others.

Fabiola Sciabbarrasi

Kate Middleton

Jessica Heap
Disclosure: This post contains affiliate links. When you purchase a service or a product through the links, I sometimes earn a commission, at no additional cost to you. Read my full disclosure here.
Without further ado, let's head on to our top picks of the best Cork Heels:
 Stiletto Best Cork Heels To Buy in 2023
1. Skechers, Beverlee – Casual Outing Sandal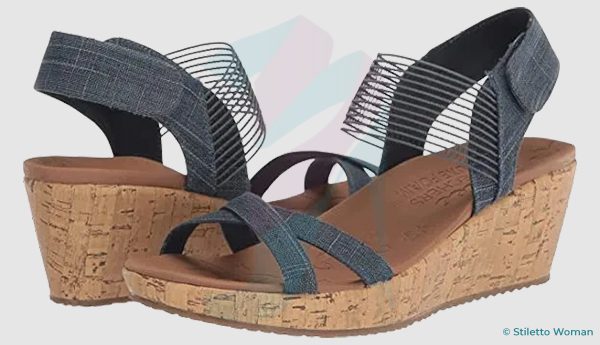 Ranking at the very top and the most economical option for you to try in terms of cork heels would be that of Sketchers. These cork wedge sandals have a slingback style which makes them lightweight, easily manageable, and super classy.
2. Anne Klein – Shantell Pump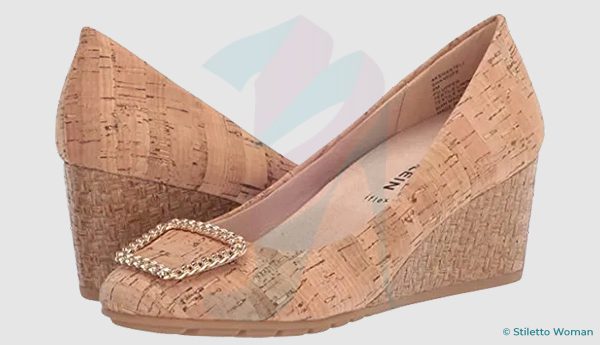 Up next is the pair by none other than the classy brand, Anne Klein! Women's favorite. These cork wedge heels come with an ultra-feminine pump look with an embellished buckle over the toe area which makes them super comfortable.
3. Dolce Vita – Linda Wedge sandals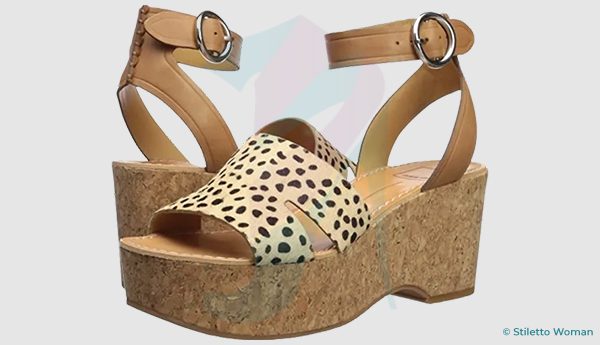 Featuring a unique, yet timelessly trendy look, these cork wedge heels by Dolce Vita consist of a printed toe strap, an open-toe style, and an ankle strap to grip your feet well and make you a statement wherever you go.
4. Steve Madden – Defuse Espadrille Wedge Sandals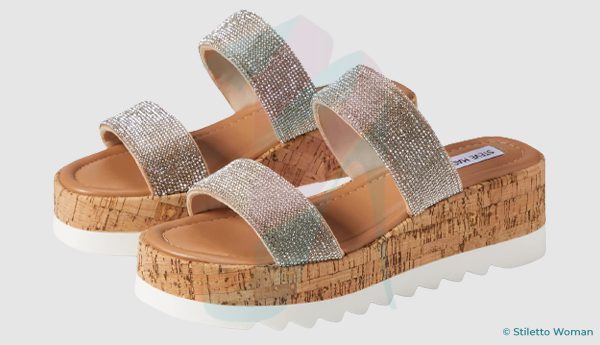 These cork wedge sandals by Steve Madden come with transparent straps and a lugged sole to give you more grip over your steps. These summer wedge sandals offer superior comfort and are great for casual strolls too.
5. GUESS – Deedra Wedge Sandals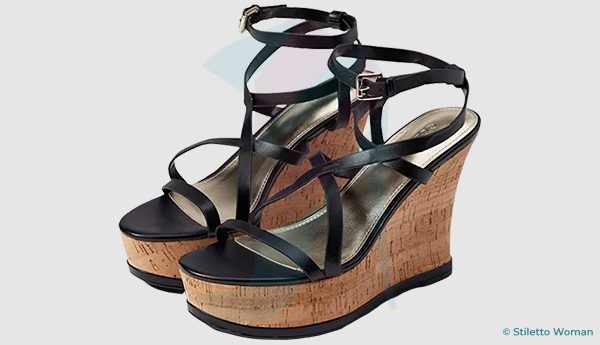 Another great pair of cork wedge heels by Guess is sure to leave you stunned. They come with an intense strappy look, defined by their glossy and sleek appeal which can be breathtaking. These cork wedge heels are super comfortable to walk around for hours easily.
6. Franco Sarto – Ozio Wedge Sandals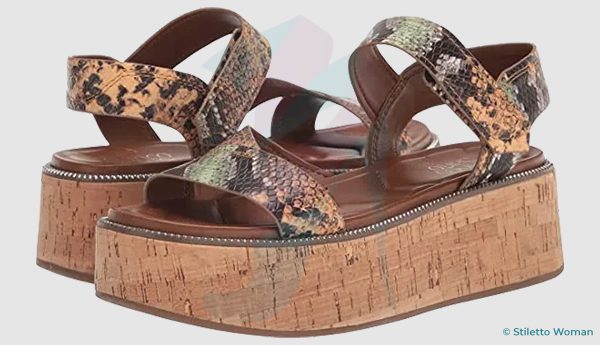 Featuring a pair that's sure to catch your attention. These cork wedge sandals exude confidence and boldness along with easy-going vibes at their best. They come with an easy-wear style and offer you balance and support. These cork wedge heels make the ideal pair for any casual event too.
7. Gentle Souls by Kenneth Cole – Cole Gisele Wedge Sandals
Kenneth Cole is the ultimate go-to brand for all fashion-forward women. These cork wedge sandals have an open-toe style helping to walk with comfort and finesses. You can be sure that these wedge sandals will last you a long time as Kenneth Cole has quite a good reputation in the fashion industry.
8. CHARLES BY CHARLES DAVID – Loved Platform Cork Heels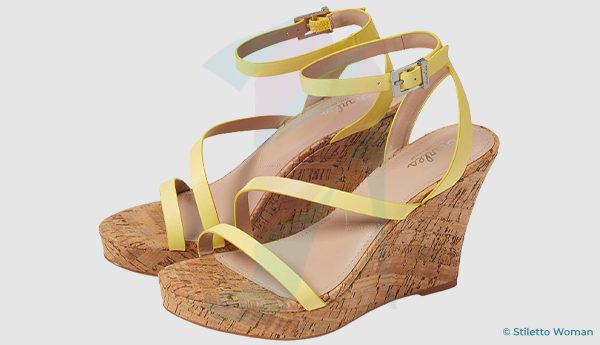 Marked by a timelessly classy and seamlessly stylish design, these platform cork heels are sure to be the ultimate keepers. They come with striking yellow straps and an open-toe style. When you enter the room wearing these platform cork heels by CHARLES you will make every head turn.
9. Clarks – Giselle Sea Wedge Sandal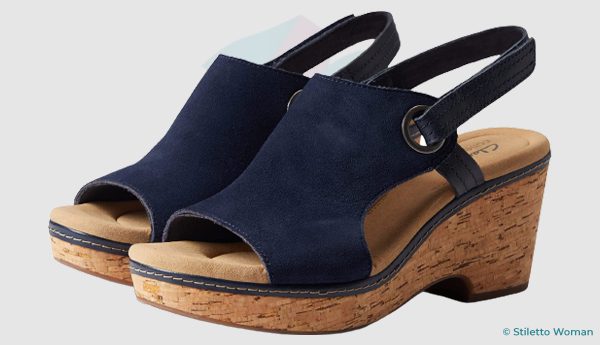 The all-time favorite and the go-to brand for most women – Clarks continues to thrive especially when it comes to comfort heels. These cork wedge sandals come with a Slingback style which helps you to walk comfortably without experiencing any pain.
10. Sam Edelman – Yaro Block Cork Heels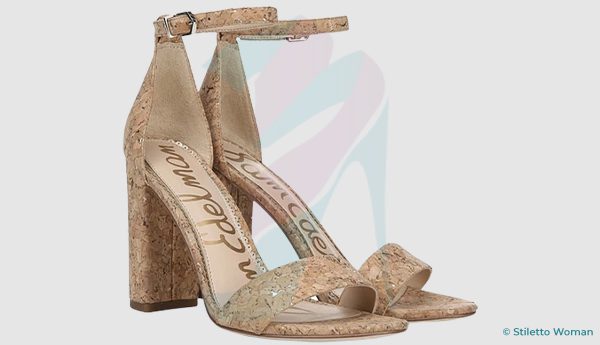 Featuring the classic ankle strap design, these Block cork heels by Sam Edelman are sure to be show-stoppers. They exude simplicity and classiness. You can wear them on several occasions and even on casual strolls. They'd be a good addition to your heels collection.
11. Michael Kors – Odette Platform Cork Heels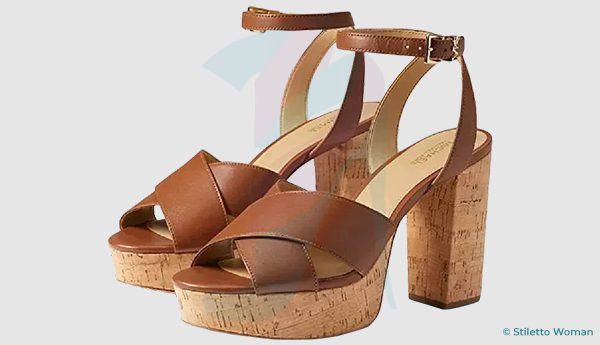 Bored with the old futile designs? Go for something upbeat and more creative instead. These platform cork heels by the prestigious brand, Michael Kors, are sure to leave you stunned. They are hard to resist owing to the eye-catching appeal that facilitates walking.
12. SCHUTZ – Eduarda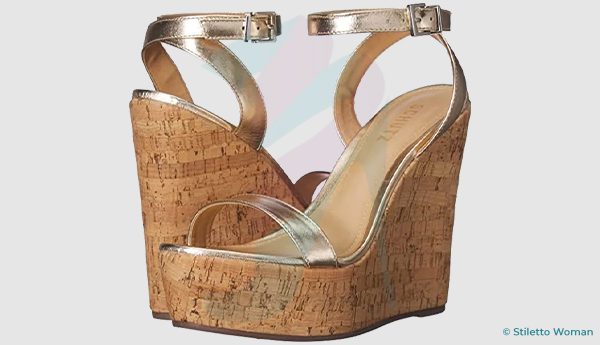 If you're looking for cork heels for parties, then these should be it. These summer wedge sandals come with a gold-metallic look to exude luxury, confidence, and boldness. These summer wedge sandals along with giving a height boost would compliment any outfit too.
13. COACH – Isla Metallic Wedges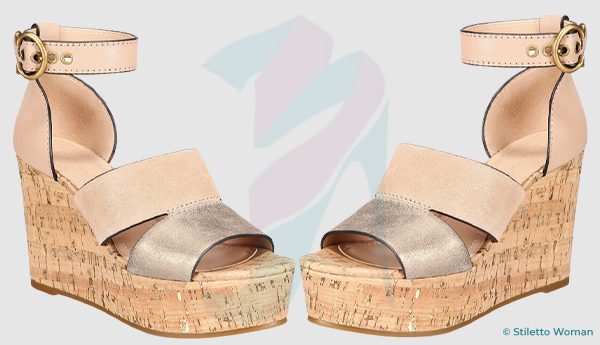 Uniquely crafted with utmost precision, these cork wedge heels by Coach are a keeper. They come with an ankle strap design and they give you full coverage over your feet. They can be the safest bet for casual events, so you can't go wrong with these.
14. Kate Spade – Daelynn Wedge Sandal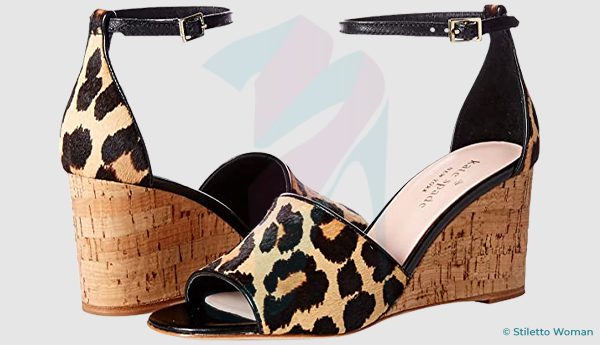 Featuring a bold, glamorous, and ultra-modern look, these cheetah print Kate Spade cork heels can surely make heads turn. They are designed with utmost precision and dedication which shows in the looks. The kate spade cork heels come with an ankle strap and an open-toe style which makes them all the more modern and suitable for most events.
15. Stuart Weitzman – Jean Slingback Sandals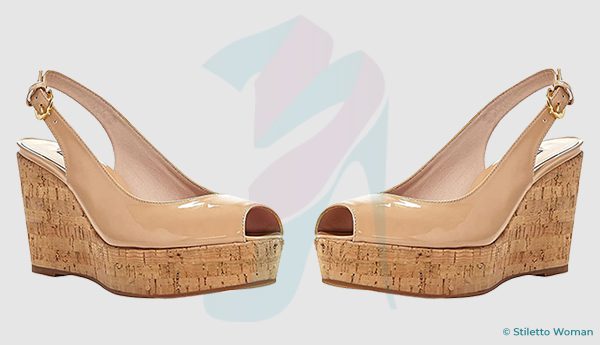 Last, but not least, these summer wedge sandals come in a peep toe design and a Slingback style with a gleaming look. They ooze modernity and finesse. They are super comfortable and a convenient pair for most events. Even though they are pricey, you won't regret investing in them as they hold the label of Stuart Weitzman.