Heels are a woman's best friend!     As quoted by Marilyn Monroe.
If we get into the depths of the shoe world specifically heels, then you will come across tons of different styles of heels; from basic block heel to French heel but nothing can match the classiness and sexiness that, of black stiletto heels! The first high heel originated in France in 1533 but regained popularity after WWII due to consumer spending and the availability of designs produced.
Stiletto heels were introduced in the 1950s, named after 'narrow-bladed knives'. These spindly heels with a height ranging from three to four inches are not for inexperienced walkers. Black stiletto heels were brought back in trend in the early 2000's thanks to fashion icons like Britney Spears and Christina Aguilera.
Why You Should Buy Black Stiletto Heels:

Black stiletto heels are a must-have as they can go with any outfit or occasion, from casual wear to business wear, from formal to informal. You can literally style them with a shirt and jeans, suit and pants, cocktail dress, or a body con dress, you name it. They can make your outfit go from dull to glam real quick and make yourself look like a fashion diva! 

Rare pictures of Celebs styling with black stiletto's:

Black stiletto heels are a must-have for every woman's wardrobe and every celeb love sporting them! From a street style look to the red carpet; this style of shoe can work for so many occasions.

Dua Lipa

Emma Stone

Meghan Markle
Disclosure: This post contains affiliate links. When you purchase a service or a product through the links, I sometime earn a commission, at no additional cost to you. Read my full disclosure here.
Black Stiletto Heels in 2023
1. Sam Edelman – Sawyer Heeled Sandal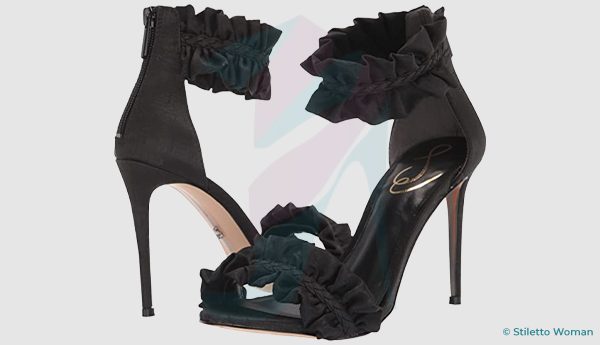 Sam Edelman, the classic American designer known for its premium quality footwear, makes sure to not disappoint its customers each time they come up with a heel design and these black stiletto heels are no exception. They come with a feminine, intricate frill design over the toe and ankle strap area, making them unique and elegant.
2. FSJ – Formal Pointed Toe High Heel Stilettos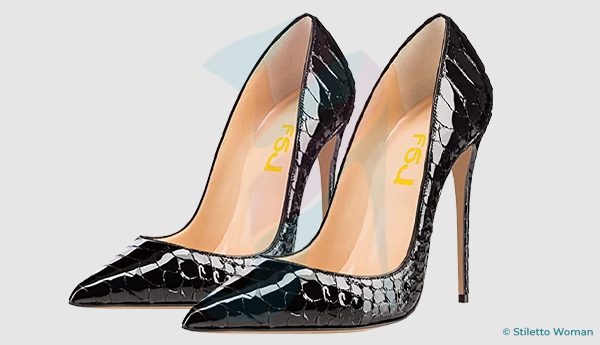 FSJ has been in the business of footwear for over 20 years, so you can expect quality pieces from them. The FSJ Women Formal Pointed Toe Pumps High Heel Stilettos are no exception as they come with a unique and trendy snakeskin pattern all over.
This is your chance to elevate the wardrobe and go for something that is easy to style yet a bit different than just any regular pair of shoes. A 4.75-inch heel is the perfect height that is not too tall and not too small. The design is extremely versatile and feature a pointy toe and slip-on feature. Just like any other FSJ footwear, these black stiletto heels are also handmade to perfection.
3. Steve Madden – Fizzed Heeled Sandal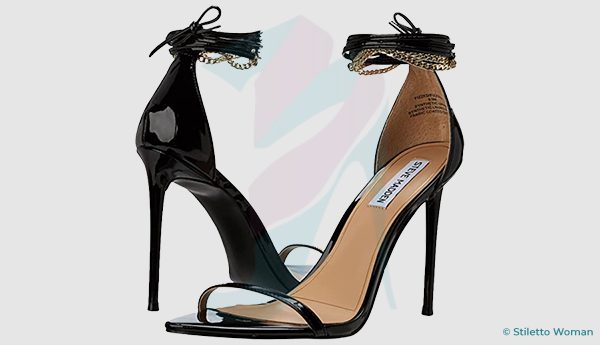 Nothing says timeless fashion style like Steve Madden's stiletto heels. These black stiletto heels by Steve Madden ooze boldness and grace. Coming with high inches of heels and an open toe design with a fancy ankle strap, they can grip your feet well, making them look super sophisticated and attractive. The best part is that they can go well with any outfit.
4. Jessica Simpson – Pointesta Pump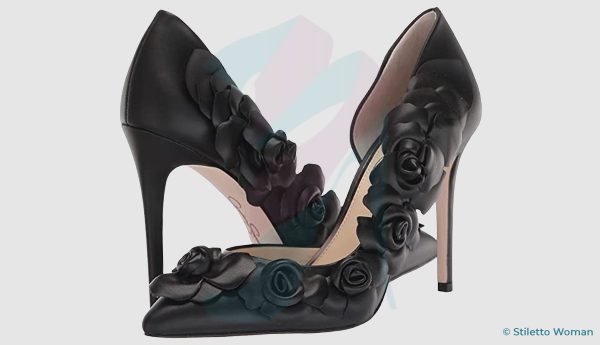 Dress up any plain outfit and take it to the next level with the Jessica Simpson's Pointesta Women's Flower Embellished D'Orsay Stiletto Pumps! This fashion forward and uber-chic pair of stiletto heels are 100% synthetic and imported: promising you the best quality out there. It's a super popular style among women all over the world because of its simple and elegant design with flower embellishment.
Featuring a suede sole, this pair also has 3.9" inches, along with slip-on closure. The sweetheart shaped vamp with the pointed toe, flowery embellishment and an easy slip-on closure style are details we know every woman will enjoy.
5.Ted Baker – Ulanii Heeled Sandal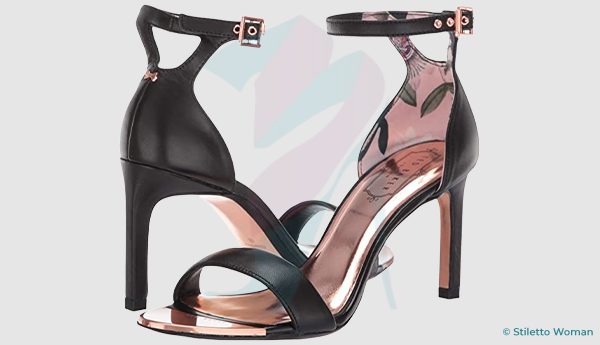 Another great pair featuring an open toe design coming from Ted Baker offers no less than a luxury wrapped in comfort. Ted Baker is known for its glossy appeal in many of the products including handbags and stiletto heels, hence even these heels feature a glossy glow with an ankle strap that accentuates the shape of your feet, making them appear more feminine and ladylike.
6. Betsey Johnson – Sb-Adde Heeled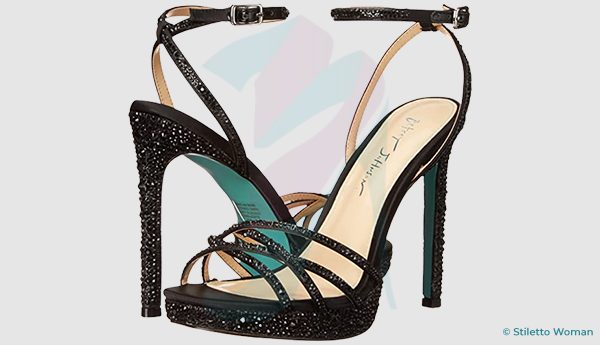 This one's for all the women who love glitz and glam. Betsey Johnson known as the brand of embellishments and sheer luxury, these black heels consist of a glittery glow with an ankle strap and open toe design. These heels feature the classic stiletto heels design which can elongate your legs, making them appear more attractive. They'd be the perfect pair for formal occasions and parties.
7. NINE WEST – Tilas3 Heeled 
The brand the exudes boldness and adventure along with timeless elegance, Nine West is known to be one of the favorite brands of every girl who is a stiletto heels enthusiast. These heels come in a glossy leather straps design which make your feet stand out and more appealing. These heels are sure to be show stoppers owing to the chic design.
8. Calvin Klein – Tegin Heeled Sandal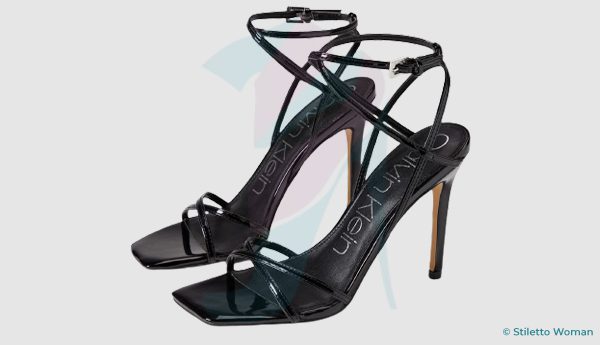 Featuring a thin, strappy design with an ankle strap, these heels by Calvin Klein ooze finesse and utmost grace. They not only make your legs appear more attractive, but also add a few inches to your height. You can flaunt them around for a few hours at any event, but prolonged hours may cause you discomfort. Nonetheless, CK's brand reputation is excellent, hence you should go for these.
9. CHARLES DAVID – Celestial Pump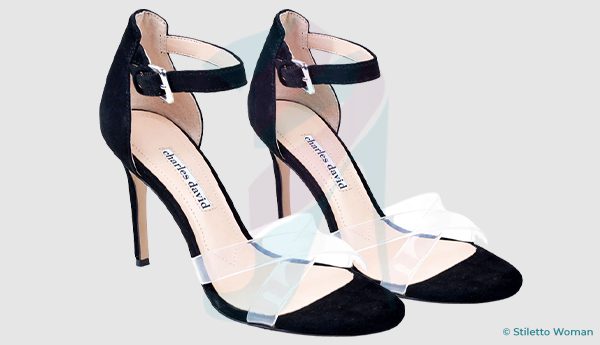 Another really great brand that you should look up would be Charles David. Known for its high quality materials and stylish designs, Charles David has been in the fashion industry for quite some time now. These heels feature transparent straps around the toe area and an ankle strap to secure your feet, allowing you to walk confidently without fearing slip offs.
10. Kenneth Cole – Brooke Ankle Strap Heeled Sandal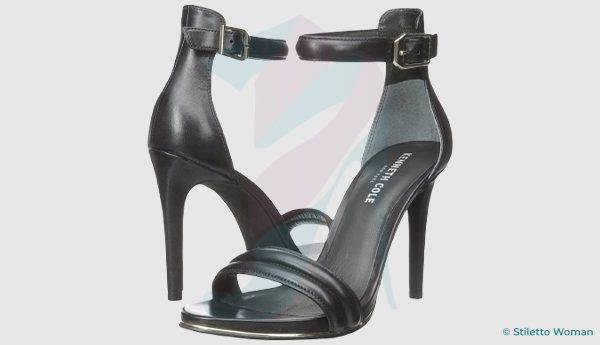 You know someone has a great fashion sense when they wear a pair of Kenneth Cole stiletto heels in front of you. Having known about the excellent reputation of the brand, these heels exude timeless elegance and sophistication. They come in a simplistic ankle strap design with an open toe style like the others in this list. The difference is that Kenneth Cole's footwear quality is remarkable.
11. Vince Camuto – Saprenda Heeled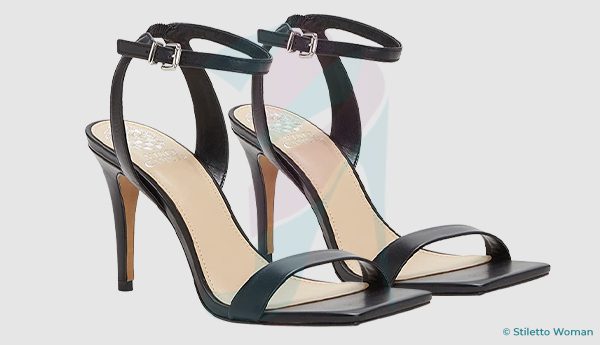 Similar to Kenneth Cole, Vince Camuto is also a reputable brand that excels in the fashion industry. These heels feature thin straps design with an overall minimalistic look which will look great with any outfit. You can wear these heels to casual, formal or even bridal events owing to the simplicity. They are a great investment as they make a useful pair which can be appropriate for most occasions, and can be color coordinated with your outfit with ease.
12. Stuart Weitzman – Stardust Sandals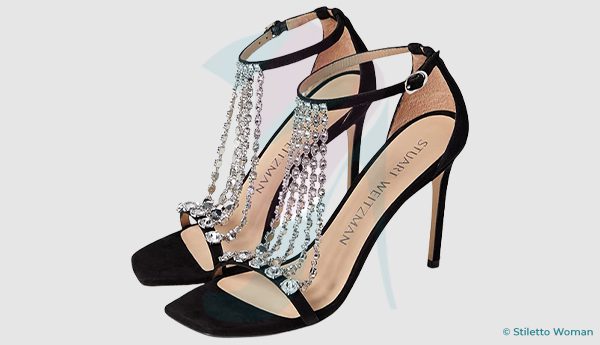 Stuart Weitzman, the American brand which is known for gems and jewels on its heels. The luxury and premium brand always comes up with something different and elegant. These heels by Stuart Weitzman ooze luxury at its best. Most suitable for informal occasions, these heels would prove to be jaw droppers and make people inspired enough to ask you where you got them from. They have an appealing look which catches the eye instantly, thanks to the embellishments in the middle.
13. SJP by Sarah Jessica Parker – Carrie Dress Pump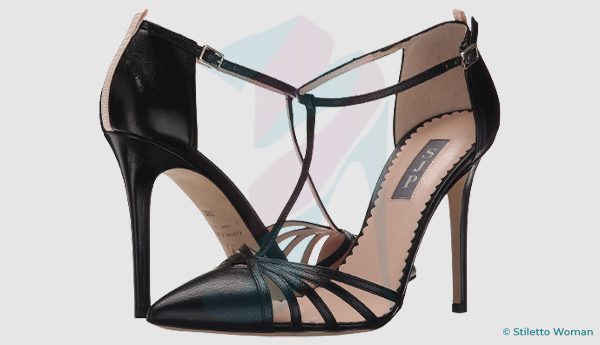 SJP gained popularity quicker than the rest owing to the celebrity's existing fame. Most customers trusted her with her fashion sense and heels taste. All of those reflect in her own brand of heels whereby these black heels consist of a closed toe design and a bit of a strappy look to make the heels exciting.
14. Badgley Mischka – Cher Pump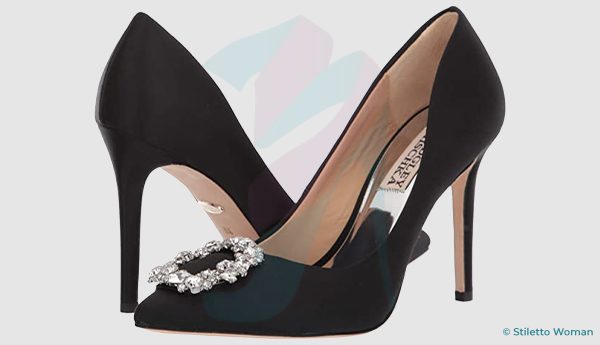 Badsley Mischka is known as a luxury brand for a reason – not just the gems and stones, but the intricate and trained craftsmanship is evident in each of the heels of the brand. These heels by Badsley Mischka feature a pump stiletto heels design which can be appropriate for all occasions including casual, formal and bridal, making them resourceful and they're durable too!
15. Giuseppe Zanotti – Crystal Embellished High Heel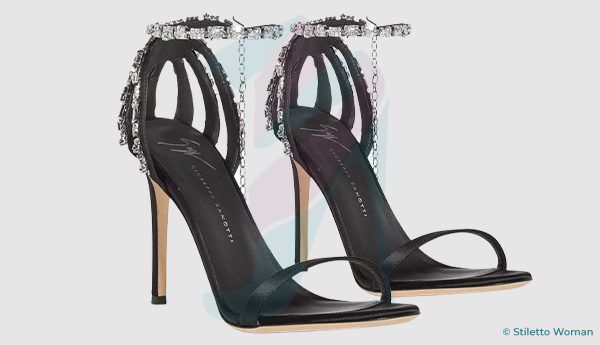 When we talk about ladylike styles, Giuseppe Zanotti takes the lead and that too with utmost finesse and luxury. These heels by Giuseppe Zanotti are embellished with crystals which makes them look exquisite. They consist of an adjustable chain and hook ankle strap which can make your feet appear more lady-like and put together, especially if you're going to a graduation ceremony, wedding, bridal shower, birthday party, etc.