You put high heels on and you change Manolo Blahnik
Pink is the symbol of femininity; it represents love, tenderness and playfulness. In 1700s, aristocrats wore pink clothes and accessories to reflect class and luxury. Even today, the paparazzi has caught many high-profile ladies in pink dresses and stilettos. Elite women like Kate Hudson, Keri Russell and many fashion models have often tried to convince us that pink sandals are a "must buy" as they exaggerate the colors in their outfits, help them look bold and, most importantly, shed light upon feminism.
The article aims to highlight the importance of pink tints in our daily lives, by suggesting a number of pink stilettos to all the ladies out there. Since it is the right of every woman to look stunning, the heels are listed in the order of affordability to cater to women from all income groups. Interestingly, a styling guide is also provided alongside each product to help readers doll-up in the most extraordinary manner.
Disclosure: This post contains affiliate links. When you purchase a service or a product through the links, I sometime earn a commission, at no additional cost to you. Read my full disclosure here.
Pink Stiletto Heels in 2023
1. Cole Haan – Vesta Pump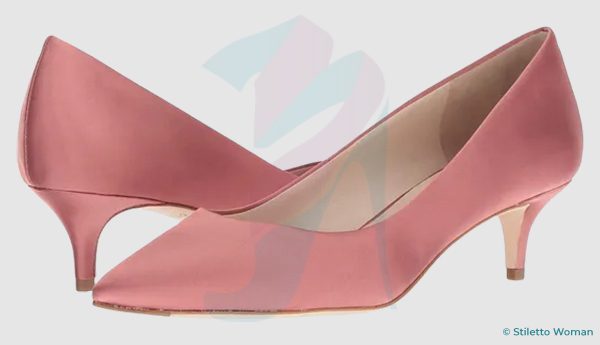 A simple, yet a timeless classic by Cole Haan, these light pink heels exude grace and femininity at its best. You could wear them to any event without any confusions. They consist of pink hue which isn't flashy, instead it is super classy and appropriate for office wear too. The best thing about these heels is that they have a low heel height too!
2. Steve Madden – Alessi Pump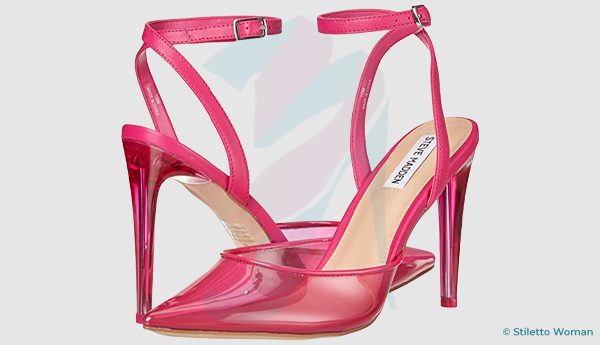 Featuring an ankle strap design and a closed toe style with transparent toe cover, these heels by Steve Madden ooze chicness. They'd be perfect for parties and similar events. They consist of high heel size which means you will get a boost in your height too! This pink color is sure to catch the attention of the crowd in an instant!
3. Betsey Johnson – Sb-Cole Heeled Sandal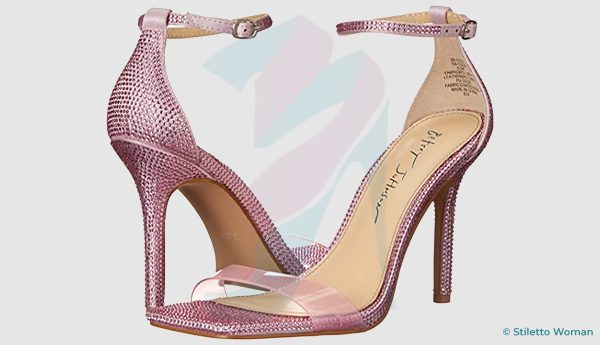 Square toes are officially back in the fashion industry. Featuring these stylish square toe heels by Betsey Johnson, these pink heels ooze finesse and luxury. They come with a transparent toe strap with an open toe style and an ankle strap design. They also feature really high heels which makes them a keeper.
4. Nine West – Zooza Heeled Sandal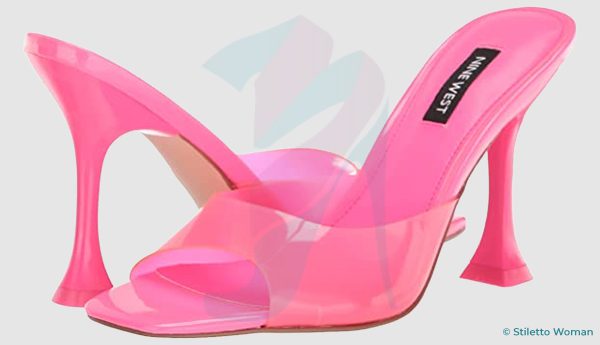 Featuring a simple slip on style design with a classic neon pink color which acts as an excellent attention grabber, these pink heels by Nine West are super fashionable and comfortable. They have a reasonable heel height which makes them ideal to wear on occasions which require you to walk a lot. You'll look effortlessly chic in these!
5. Schutz – Cendi Pump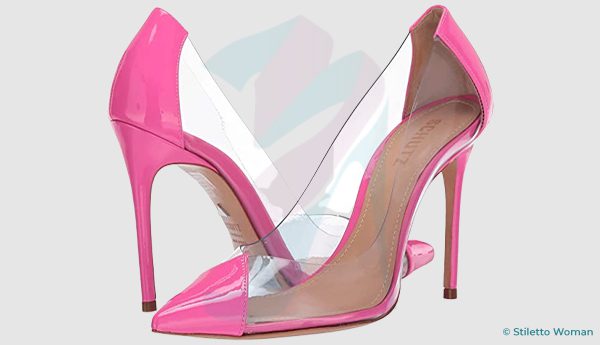 In the 21st century, we want the most unique and stylish designs of heels and Schutz tends to offer just that. These pump inspired pink stiletto heels by Schutz can win the heart of any woman, thanks to the excellent styling of transparent touch along with a neon pink color.
6. Jessica Simpson – Pirrie Pump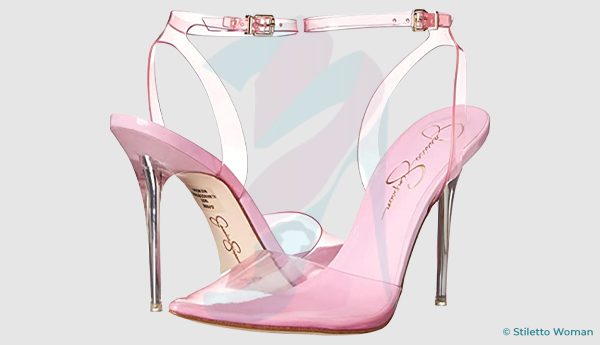 These heels by Jessica Simpson ooze modernity and sophistication. They come with a closed toe design and a transparent toe cover. They feature a stiletto heels design which makes them perfect for all the heel enthusiasts. Best of all, they're sturdy and lightweight.
7. Marc Fisher – Christa Pump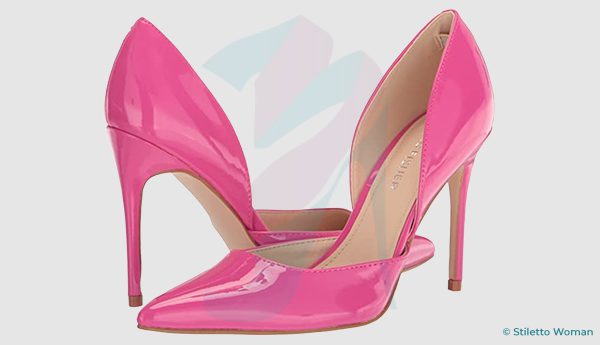 Tired of all the excessive styling and would rather opt for something timelessly classic? Then go for these pink stiletto heels by Marc Fisher. They come in a traditional pump heel design with a modern pink touch, making them ideal for women who prefer simplicity the most.
8. Clarks – Aubrie Sun Pump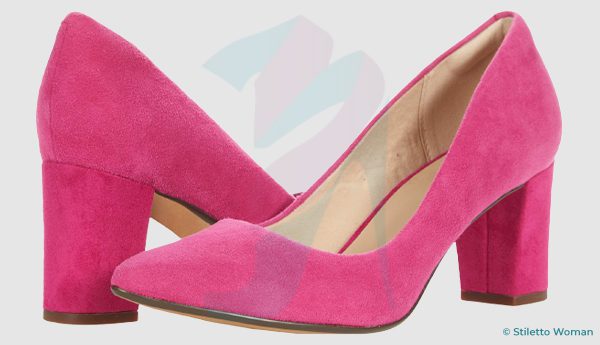 There is nothing quite like Clark's heels. They excel in offering comfort and style. These pink heels come in a convenient design which makes them very useful as you could walk in them for hours without feeling very tired. They come in a closed toe design with a slip on style
9. Sam Edelman – Antonia Heels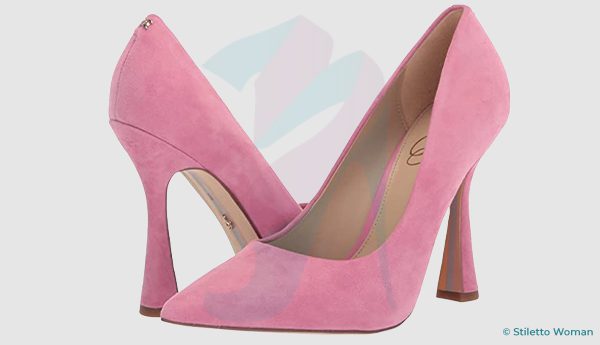 Similar to Clark's heels, Sam Edelman also has a similar style but the heel shape is quite different. Nonetheless, it features a lighter version of pink than that of Clarks. Sam Edelman's pink stiletto heels exude confidence and boldness. They look super elegant and classy too.
10. Calvin Klein – Gayle Pump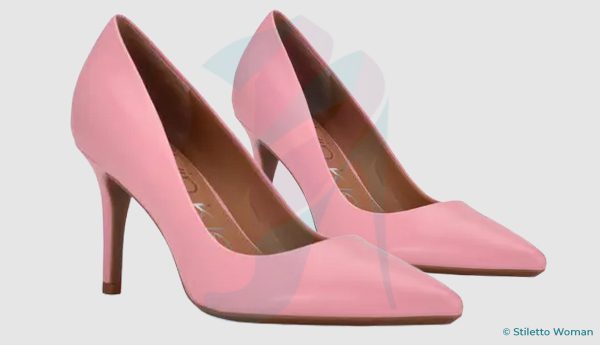 Featuring yet another classic pump heel design with high stiletto heels which can add a few inches to your height. They come in a closed toe design with a slip on style, making them convenient and useful. Since CK manufactures the heels, you can be sure that you're investing at the right place.
11. Ted Baker – Malikaa Pump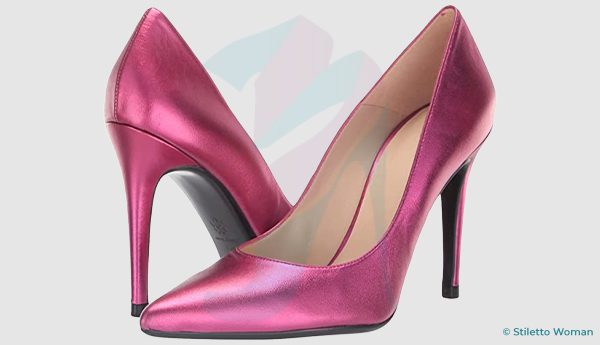 Ted Baker's pink stiletto heels exude an innovative charm which includes a glossy and metallic touch on the footwear. They can literally make heads turn if you wear them at a party. These heels are sure to last you for a long time as they're durable and made up of high quality materials.
12. COACH – Waverly Pump with Beadchain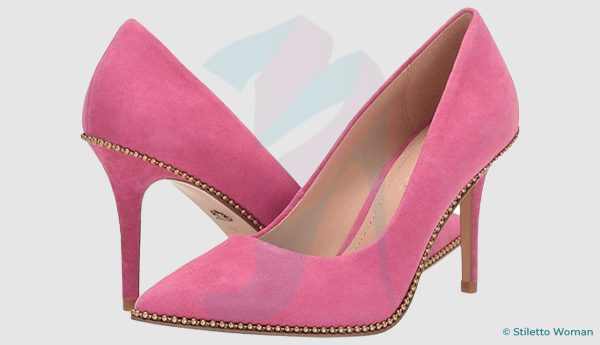 The Waverly pumps by COACH are one of their kind as they have a beadchain outline along the footbed. Also, its insole and lining is made of leather which makes the shoes super comfortable. The stiletto is slip-on in nature and has a covered post heel. They are available in many colors like bright tulip, tan coated canvas, mignight navy, black, black leather and beechwood leather. You may choose to wear the pink heels with plain white knee-length skirts or white skirts with a pink flowery print and a pink blouse. Other colors may be worn with rolled up denim pants. The product features are:
13. SJP by Sarah Jessica Parker – Fawn Pump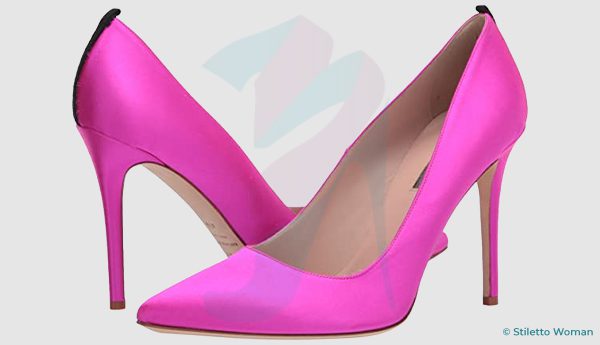 The Fawn category of SJP by Sarah Jessica Parker is extremely adorable and is available in a large number of shades like candy, donna, godspell, teal, blue stripe, glitter, nude, taupe hologram, SJP hearts, habana mesh and so many more. The heel is grosgrain trimmed and the insole and lining are made of leather. With so many different colors and designs, the heels can be worn over almost any outfit. Taylor Swift was spotted wearing SJP by Sarah Jessica Parker's Fawn footwear in teal color with a white romper and a neutral-toned purse. Many-a-times Sarah herself has been found wearing her Fawn collection with drop waist dresses. The product features are:
14. Badgley Mischka – Cher Pump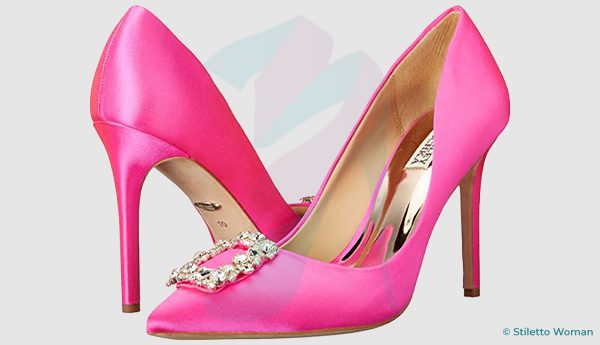 A brand known for its glitz and glam – Badsley Mischka offers stunning pink stiletto heels which have an embellished buckle on the toe area. It is silver colored, hence making the heels appear very glamorous and fabulous. They can also add a few inches to your height, so it's a win-win situation for you in any case.
15. Sergio Rossi – Godiva Pump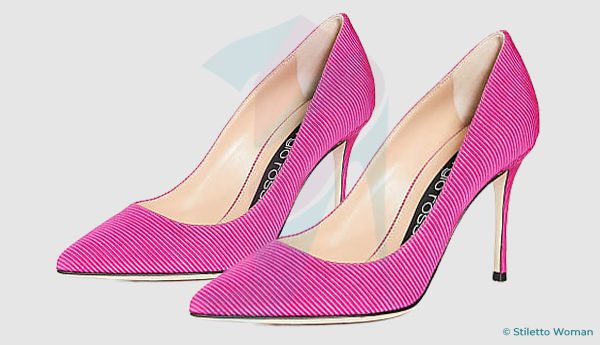 All the heels enthusiasts are aware of Sergio Rossi, a designer who was known worldwide for coming up with amazing designs. Later the company set up by the owner focused on enhancing the quality of the footwear along with styling. These heels are simple with no high maintenance features, so they're very useful.
Why should you buy Pink Stilettos?
Pink stilettos are chic! There can be no other reason to buy a pink pair of heels. Anyone who cares about fashion and knows how to style will definitely have pink sandals in their wardrobe. Pink is not a childish color, instead, it is very ladylike and unique. If you wear pink on an outing or to a party, there are high chances that people will not be wearing it because of the common fear of looking "too much". Hence, you have a great chance of rocking pink heels with a beautiful dress on such occasions.
What to wear with Pink Stilettos?
As seen in pictures and speaking from experiences, it is preferable to wear white, black, mauve or pink itself with pink heels, the reason being simplicity. If you wear equally loud clothes then your heels with dim and your overall appearance will be effected. Also, on a black or white dress, you may choose to wear a pink coat to match your pink heels, and in case you don't have a pink coat then you may wear pink accessories to verify your heel color.
On which Occasions to wear Pink Stilettos?
Pink stilettos are for every occasion, but care should be taken whether we are wearing the right tint of pink to the right place. For example, when going at a:
Date – wear a black body con dress, or one with dropped shoulders with a bright pink pair of sandals. Wear pink earrings too, if you can.
Wedding – try to keep the theme serene at a wedding. Wear a light pink shade with a light pink gown and wear silver accessories.
Meeting – choose a very light tone of pink for office gatherings. Light pink heels look fabulous on a black suit. You may wear a light pink dress shirt under your suit.
Party – wear a shimmery pink pair of heels with a pink lipstick to the parties to reveal your carefree yet beautiful side.
Rare styling tips for pink stilettos
Let me share some very handy tips with you for looking good in pink stilettos. Make sure your make-up (lipstick and blush-on inclusive) is looks natural with light pink heels; avoid putting extra color on your skin. Only try to wear a dark lipstick with dark heels when going to an extremely informal occasion. Also, when you cannot wear pink accessories, carry a pink purse to correspond your pink stilettos.