Mule stilettos are essentially backless high heels. Long ago, mule shoes and slippers were worn by people only in private settings, mostly in the bedroom. However, as fashion evolved, mules took the shape of stilettos and became commonplace. Today, every fashion model, movie star and high-profile individual may be seen in mule sandals. The heels have won many hearts because of their elegance. The article lists down several mules that are currently trending so that you do not miss out on any valuable styling technique.
What You Need To Know Before Buying Mule Stilettos:
Mules are the ultra-modern version of heels that you must try! They are appropriate for all occasions and serve as a multipurpose solution for all kinds of fashion problems. Some things that you need to look out for before buying mule stilettos include the following:
Your Individual Requirement

Some women love to follow fashion trends and invest in things just for the sake of being a trend-follower. While on the other hand, some invest wisely. Mule stilettos are the fashion fad which is non-negotiable for all women. Everyone loves to look chic and stylish. The best thing about mules is that they cater to everyone's requirement. They can come in neon or bold colors, as well as subtle colors too, so choose the ones that suit your preferences best.

Who Should Buy Mule Heels?

Women who prefer high height heels and love to wear minimalistic, yet contemporary heels should buy mule stilettos.

Olivia Palermo

Alesha Dixon

Millie Bobby Brown
Disclosure: This post contains affiliate links. When you purchase a service or a product through the links, I sometime earn a commission, at no additional cost to you. Read my full disclosure here.
Without further ado, let's head on to our top picks.
Best Mule Stilettos in 2023
1. Steve Madden – Michelle Heeled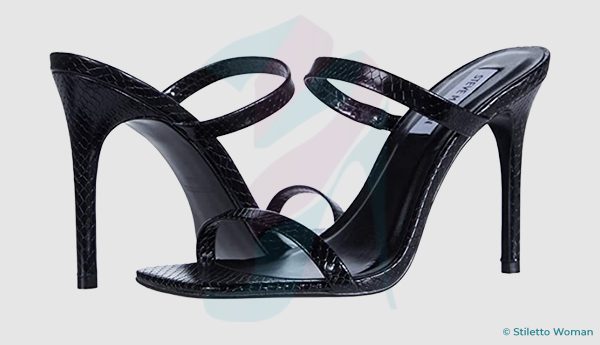 Steve Madden's Michelle heeled sandals are available in two colors: black snake and multi snake. The black mules look lovely with black body con dresses and the multi snake version looks spot on with a multi-colored long or short skirt. These heels look fabulous with denim pants too. The heels are completely made up of synthetic material, even the insole and lining are of man-made material. The slip-on open-toe heels are exactly what energetic girls need for parties.
2. Sam Edelman – Harlee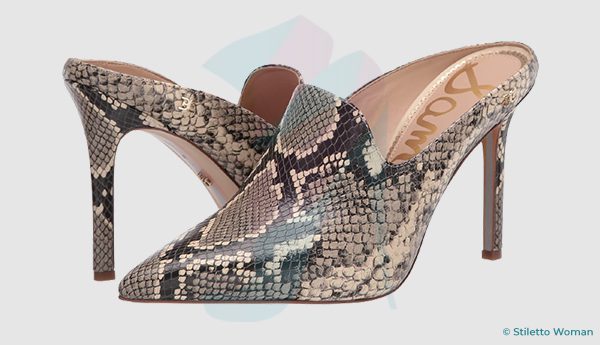 These stunning mule stilettos by Sam Edelman are luxury at its best. They come in a closed toe design with a long stiletto heel. They feature a jet black color and a dull appearance which makes them more sophisticated and classy. You can wear these mule stilettos with any kind of outfit, thanks to the classic black color.
3. SCHUTZ – Tassel Stiletto Heel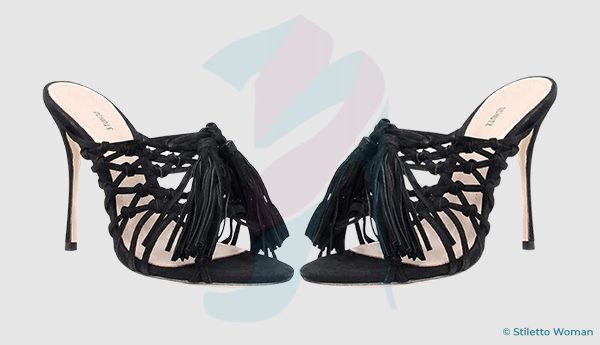 Featuring a strappy look with an open toe design and a really high stiletto heel size, these mule stilettos by Schutz ooze creativity and modernity at its best. You can wear them to a party or any kind of informal event without having to worry about your look. These can pump up your overall appeal making you seem more attractive!
4. Vince Camuto – Brelanie Woven Strap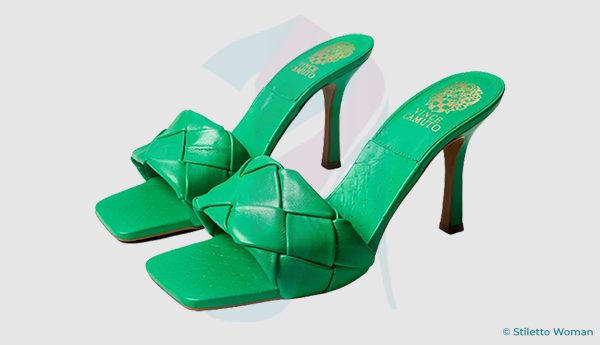 Coming in a simplistic and minimalistic design, Vince Camuto's mule stilettos are a keeper. They have a convenient slip on style and have textured toe strap. These heels will be durable as Vince Camuto promises excellent quality footwear when it comes to women's stiletto heels. You can invest in these without any doubts!
5. Calvin Klein – Luc Heeled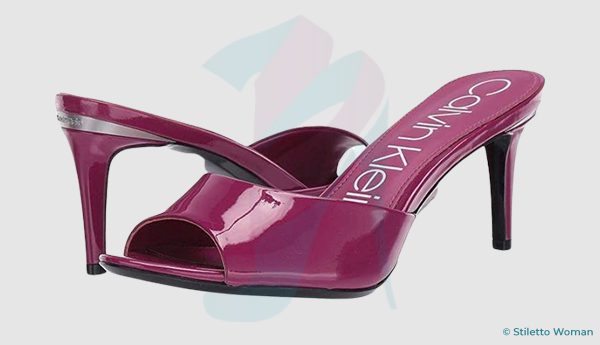 Calvin Klein is a well-reputed brand; the good news is that its heels are as great as its other products. Its Luc mule stilettos are available in so many bright colors like processed red, desert sand, black, white, hibiscus pink, magenta patents and more! The heels are perfect for girls who like wearing bright and fancy dresses. Luc stilettos are ideal for semi-formal and informal looks. The shoe is glossy, has a soft padding on the inside and a slip-on construction. The lining is made of man-made material.
6. Louise et Cie – Joykiss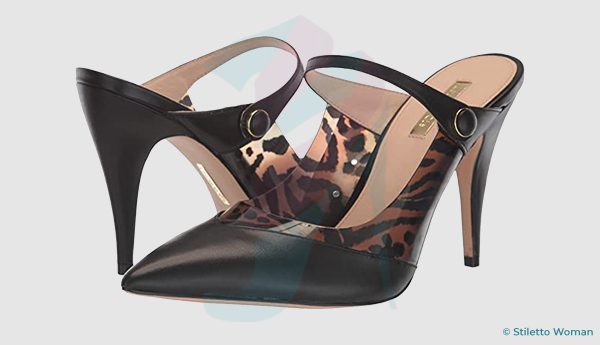 Joykiss are an animal print, pointed-toe mules by Louise et Cie. The leopard print on the vinyl part of the stilettos is very eye-catchy. The high heels look amazing on georgette, skin-fitted dresses of black or brown shades. The shoe may also be worn over semi-formal suits as the black touch in the shoe makes it look super graceful. Joykiss has a synthetic lining and its foot-bed is lightly padded to give ease while walking. Also, the black strap gives Joykiss a wrapped appearance.
7. DKNY – Open Toe Heeled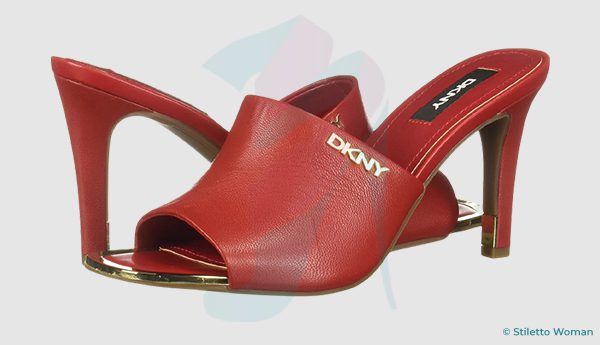 Nothing says modernity and classiness like the color maroon. These mule stilettos by DKNY exude confidence, zest and sophistication. You can make a strong fashion statement while wearing these mule stilettos. They can add value to any of your outfits (if you color coordinate), making you appear elegant yet Uber chic.
8. Jessica Simpson – Oniela Sandal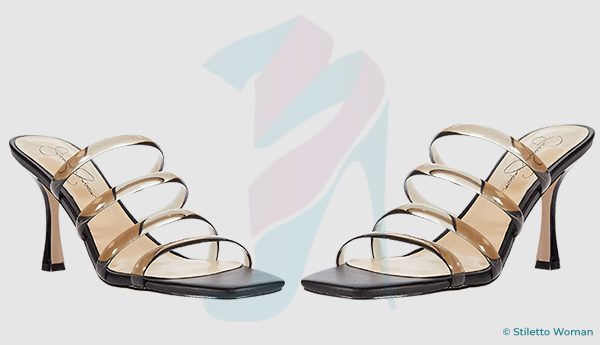 The Oniela mule stilettos by Jessica Simpson are designed specifically for summer looks. The heels have four beautiful vinyl straps, a synthetic lining and a cushioned insole. The product is available in two colors that are summer pink and smoke. Summer pink may be worn with summer dresses of loud colors, however, the smoky sandals need to be paired with light-colored dresses and trousers.
9. Loeffler Randall – Flora Bow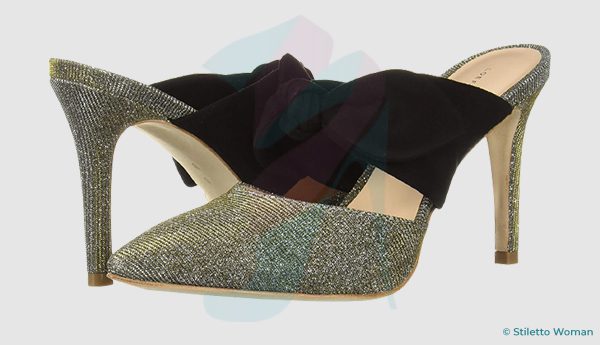 The Flora Bow series by Loeffler Randall is an elegant sandal. The sparkly fabric with a stylish black bow gives the shoe a unique finish. The shoe has a slip-on style, leather lining and a soft foot-bed which is also made of leather. Flora Bow looks good on trousers of different kinds, for example, palazzo pants, culottes, capris and more. The trousers may be of any color as all colors look equally great on Flora Bow sandals. The shoe is available in pewter sparkle metallic color.
10. Marc Fisher – Draya Heeled
Another great pair to consider would be Marc Fisher's mule stilettos. Similar to DKNY's mule stilettos, these also come as a slip on style with textured toe strap. They feature an open toe design and the color is unique. Though there are many colours available in these, you can pair them up with any outfit that you like.
11. Stuart Weitzman – Aleena Sandal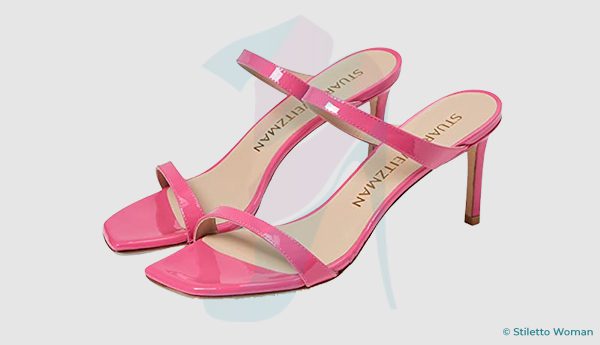 Stuart Weitzman is a brand that is loved by celebrities, its Aleena has been very popular among Hollywood stars lately. Kim Kardashian was spotted wearing a blush-colored leg slit midi skirt and a turtleneck shirt of the same color with her Aleena sandals. Also, Clare Crawley wore a shimmery, single-sleeved, and silver dress with a metallic silver pair of Aleena. The shoe is available in more colors like white smooth calf, peonia patent, chile patent, black smooth calf and black patent. The heels are comfortable as they are lined with leather and have a cushioned insole.
12. Tabitha Simmons – Jude Iridescent Croc-Embossed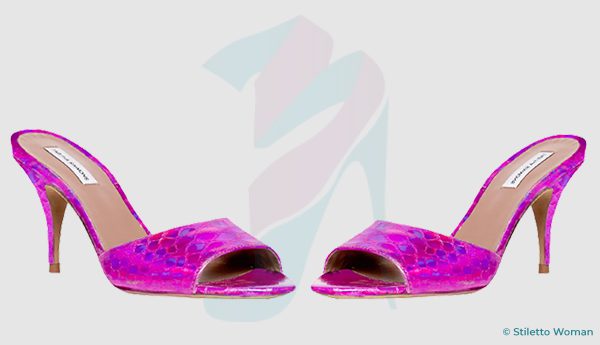 The Jude collection by Tabitha Simmons is the choice of fashionable ladies. The fuchsia embossed iridescent python shade of the shoe is just what a lady needs to look great on a big event. The mules are comfortable and have a well-cushioned foot-bed and lining, both made of leather. The stilettos also have a heel patch for greater stability. The look of the sandals is inspired from animals and the glossy finish of the heel gives it an elite look. The pair may be worn with a cute pink or purple halter dress.
13. Giuseppe Zanotti – Julianne sandals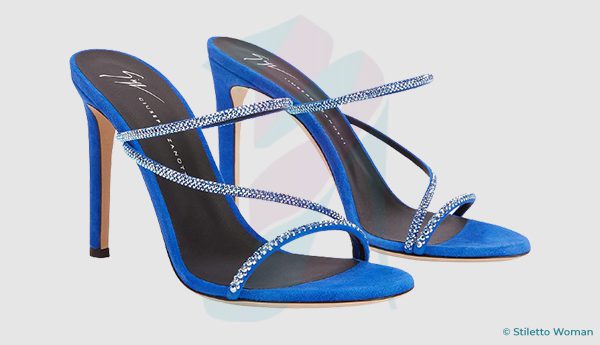 Guiseppe Zanotti is known for manufacturing gorgeous high heels. These embellished, uniquely designed, open toe heels with a long stiletto heel makes them a stunner. These premium heels may be worn on many occasions ranging from formal, as well as informal and they are likely to look cool and help you make a fashion statement.
14. Jimmy Choo – Anise Strappy Heel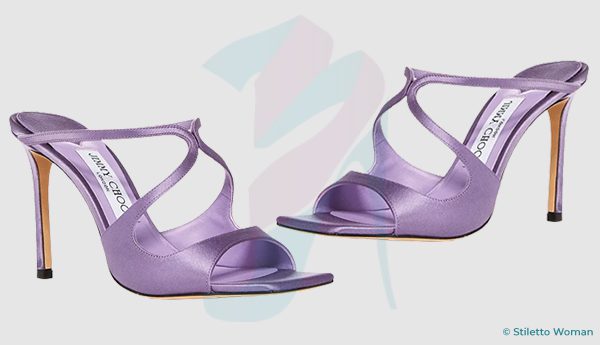 A stunning pair with a sleek outsole and an asymmetrical design featuring an exquisite glossy look, these are the key features of the masterpiece by Jimmy Choo. The lining, insole and outsole are all made of premium leather. These heels look very appealing when worn with a party dress and a cross party bag. They can even be worn with an asymmetrical dress, or a leg slit dress of any color.
15. NINE WEST -Tamara Pump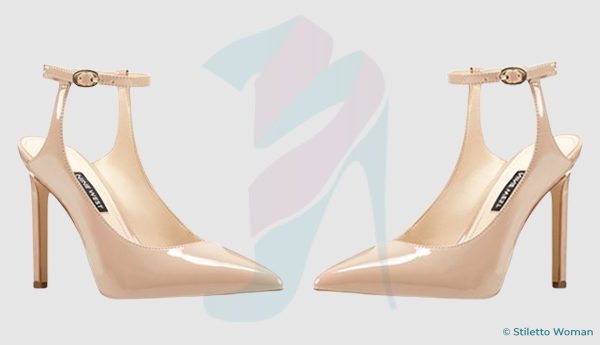 If you want to wear a very classy shoe but you have a limited amount to spend then Nine West Tamara is the shoe that you must buy. These pointy-toe mule heels have an adjustable halo strap for a good grip across the ankle. The stiletto is available in taupe, black and dark bordo colors. The insole and outsole of the sandal are made from a durable material, which means that the shoe gives good value for money. Plus, the base is well-cushioned for added comfort. The heels can be worn with a blouson. Moreover, all three colors of sandals look good if matched with the outfits.