Scrolling through your Instagram only to come across thousands of influencers wearing platform heels is not a new thing anymore. It seems like platform heels are growing as a trend, which is a strange choice as we are still navigating between a pandemic and non pandemic situation. Nonetheless, during such uncertain times, fashion choices can get bold and adventurous too.
People have had it with the flats and slippers, staying indoors and the monotonous routine. We are now transitioning back to the normal ways of living whereby stiletto heels are a top priority of every woman. Designers all over the world have put in extensive efforts into manufacturing comfortable, yet trendy platform heels to cater to the massive demand.
Before we head on to discussing which platform heels are the best, let's first briefly understand what is the purpose of wearing them.
The bold and alluring platform heels consist of not only chunky heels, but also a chunky and thick sole which complements the heels. This makes it super easy to walk in them.

Hailey Bieber

Lady Gaga

Zendaya
Disclosure: This post contains affiliate links. When you purchase a service or a product through the links, I sometime earn a commission, at no additional cost to you. Read my full disclosure here.
Without further Ado, let's head onto our list.
Platform Heels in 2023
1. Calvin Klein – Dottie Heeled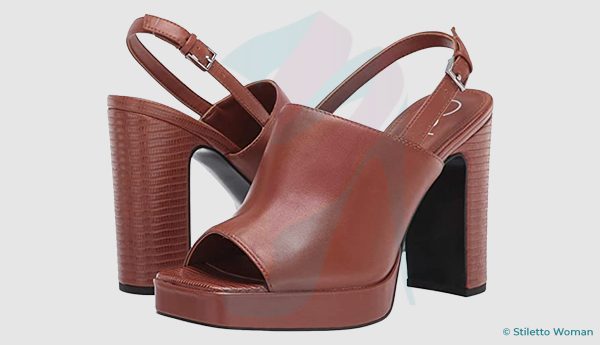 There's nothing like a pair of classy black platform heels with an open toe design and an ankle strap design. Such features coming from the renowned company, CK has always promised its customers nothing less than luxury. These heels are no exception. Not only do you get high heels, but also super chic and trendy ones which you can use for every day wear. These are definitely worth it.
2. Sam Edelman – Rosalind Platform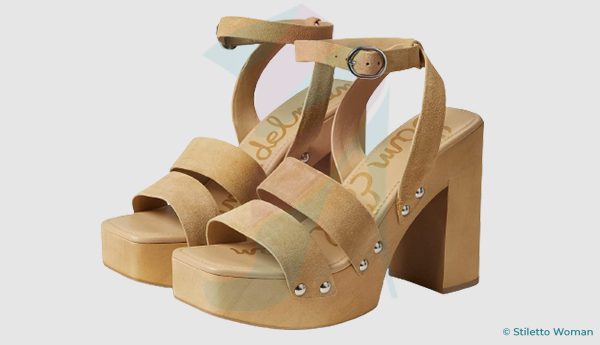 A brand that is known for its stunning design and economical prices, yet making you get a taste of luxury simultaneously. These ankle strap platform heels by Sam Edelman ooze sophistication and finesse. These consist of many straps, open toe design, along with an ankle strap that can intricately grip your feet, preventing slip-offs. These ankle strap platform heels are must-haves.
3. Kenneth Cole – Jules Simple Sandals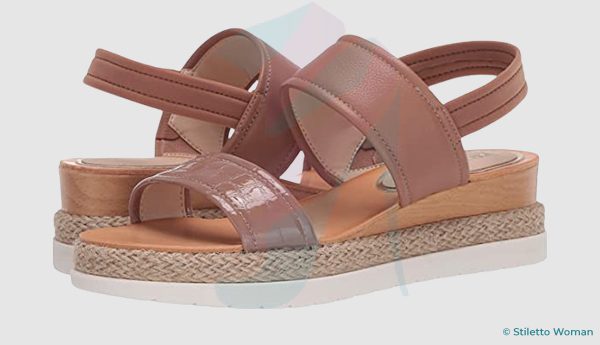 Another really great pair of platform sandals heels that are not quite bold as the others, yet a very convenient option if you are looking for something casual – Kenneth Cole's platform heels are not very high in terms of size, they feature a simple sandal design with a few blend of colors, making them ideal for casual and everyday wear.
4. Jessica Simpson – Shelbie Heel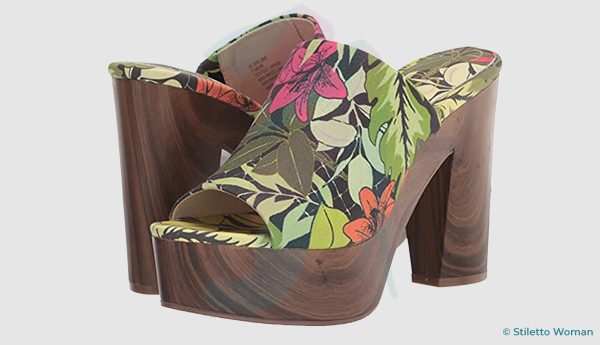 Whenever we come across a heels post, Jessica Simpson's heels never seem to miss a position. Similarly, these heels by the brand offer utmost class and elegance. They feature a thick sole and heel, characterized by a natural colour, making them perfect for casual wear. They have an open toe design and you can simply slip them on as they come without ankle straps.
5. Franco Sarto – Willow Sandal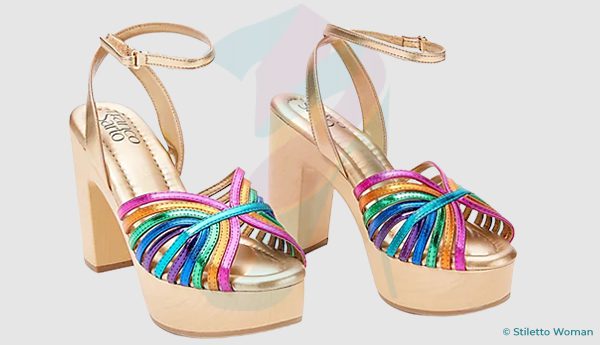 Featuring the ever-stylish rust color and soft footbeds, Franco Sarto's platform sandals heels ooze comfort and modernity at the same time. They come with ankle straps that grip your feet well to prevent slip-offs, plus they have a high heel size which can add a few inches to your height too! Investment in these platform sandals heels won't disappoint you.
6. Betsey Johnson – Sb-Beth Heeled
Are you tired of hearing about casual and everyday wear heels? Here is one option that'll make your eyes pop open. These gorgeous Betsey Johnson's ankle strap platform heels feature a rainbow color with all the glitz and glam that you could think of. They have an open-toe design with an ankle strap to secure your feet. These ankle strap platform heels make a great options for parties and similar events.
7. Seychelles – Platform Sandal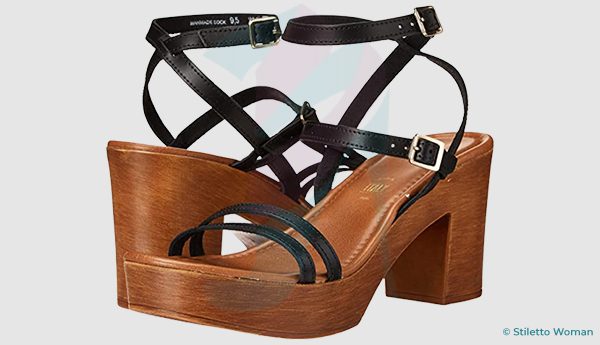 Nothing screams style and trendiness like a pair of heels with a thong style. Seychelles offers just that, in the form of platform sandals heels. They come in classic black colored straps with a brown sole. They would be perfect for casual as well as party wear. You can even pair these platform sandals heels with an outfit for a formal event. These ankle strap platform heels make a useful and long-lasting pair.
8. Marc Fisher – Dercy Heeled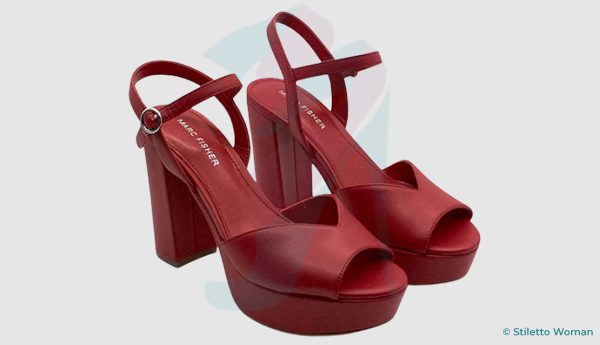 Featuring a peep toe design, with a unique pink colour, these platform heels by Marc Fisher are a keeper. They have ankle straps and a long heel size which are best if you want to elongate your legs or add a few inches to your height. These platform heels stand out because of the vibe they give off owing to the excellent styling. These should be in your bucket list for sure!
9. GUESS – Gabeli Heeled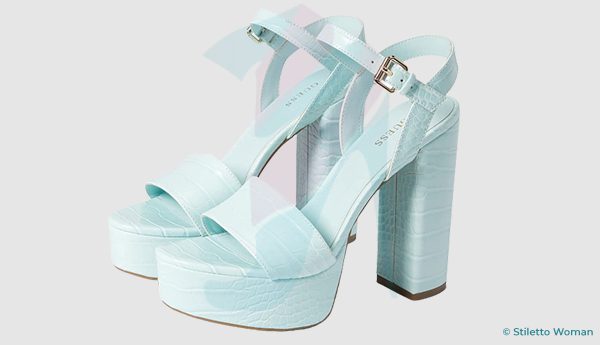 Another really great option for the ones who prefer grace and sophistication above all, GUESS's platform heels exude confidence, elegance and sass at the same time. They come in a unique pastel blue color with a buckle strap to secure your feet. They also feature a long heel size to add a few inches to your height. A great option for causal as well as formal events!
10. Steve Madden – Lessa Heeled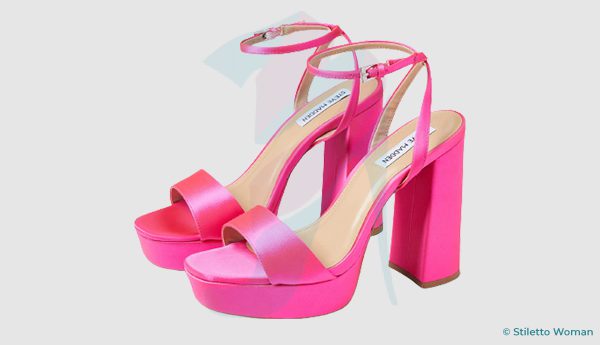 Diamonds are indeed a woman's best friend. Steve Madden took this adage way too seriously and came up with a replica that includes rhinestones on platform heels. Any woman would fall for these heels, owing to the luxury exuding from them. They have an ankle strap and an open toe design which makes it convenient to walk in them too. These heels would be the most appropriate for bridal wear or weddings.
11. Vince Camuto – Pendry Heel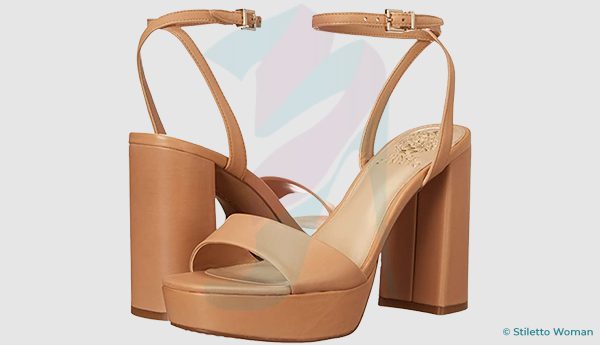 Similar to Steve Madden platform heels, just without the glitz and glamour, Vince Camuto offers a more graceful version of the heels in the classic black colour with leather material. Owing to the glossiness, these black platform heels ooze modernity and finesse. These heels can be very useful if you want to wear them every day as they won't cause you a lot of pain either.
12. Dolce Vita – Wallis Heeled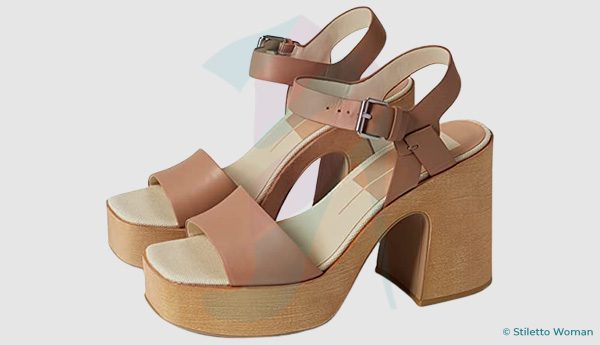 Coming in a gold colour with a thicker version of platform heels, Dolce Vita's platform heels exude luxury at its best. They offer superior comfort than the rest and they're made up of premium materials which makes them long lasting too. Besides that, they can be worn at parties or formal occasions too.
13. Katy Perry – The Meadow Classic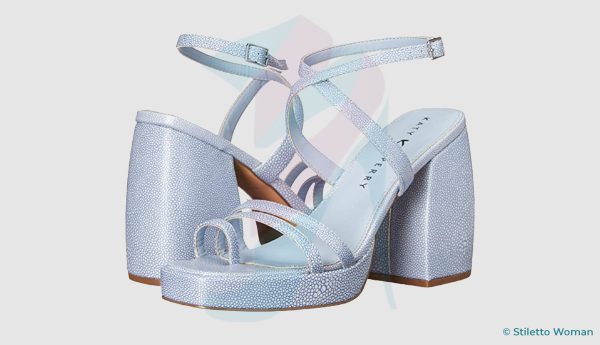 We all know Katy Perry's daring fashion choices, hence the heels are no exception. These platform heels by Katy Perry exude an alluring charm owing to the thong design. They come in a classic black color, which makes them useful as they can be worn with any outfit. Every girl needs a pair of black platform heels to go with every outfit – then these black platform heels would be the best ones!
14. NINA – Saralyn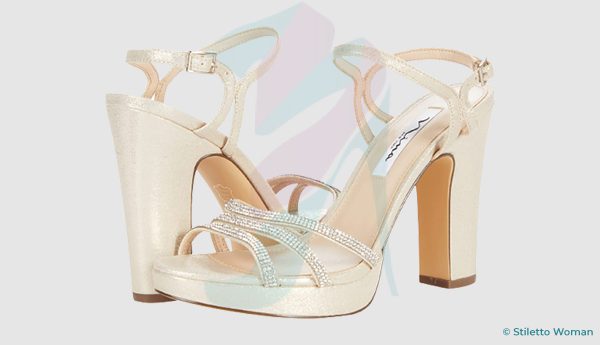 A fan of embellishments? Then look no further. NINA's platform heels offer the right amount of embellishments, wrapped in utmost comfort and sophistication. These heels should be in your bucket list as they are appropriate for wedding events, and can be worn to parties too. They feature a long heel size which means you can look taller too. The all natural vibe combined with some glittery touch and strappy look can add more to your overall appeal.
15. Michael Michael Kors – Becker T Strap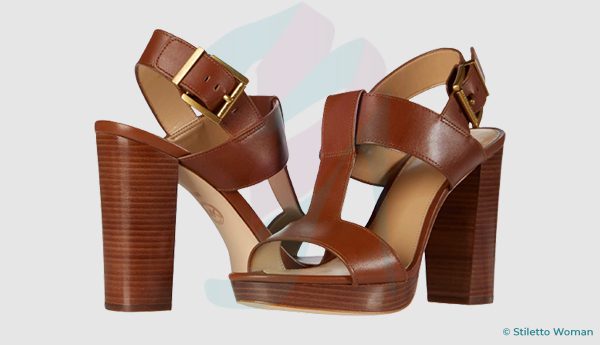 Featuring the ultra classic and Uber fancy Michael Kors platform heels which exude luxury, should be in your must have list. Though they are pricey, but they are suitable for casual events that require you to look your best. These heels are sure to be show stoppers and make heads turn owing to the magnetic vibe that they have. On top of that, coming from a reputable company, you can be sure that your investment won't be wasted.