To add an extra uplift to your outfit, you know heels are your go-to. Thanks to the alluring and irresistible charm of wearing heels, no woman can ever resist from pulling off a pair of stilettos, platforms or even as simple as mule heels! We don't blame them as heels accentuates the legs, making them appear elongated, and hence you end up looking more attractive.
For beginners, the idea of heels may be dreadful. You have to sacrifice your comfort, along with the balance to wear those 6 inches high heels. You may also end up wearing them the wrong way which leads to added discomfort. Fashion malfunctions are very common and we see that happening even in the most iconic events like Met Gala and other fashion runways.
Sure, some ladies are very much talented, but they don't seem to be well versed in the art of walking down the red carpet. All it takes is one twist of an ankle and they go down. Even as professionals who are expected to be in stiletto heels all the time, they are prone to such mishaps. Here are some examples of celebrities who ended up tripping in high heels:
Jennifer Lawrence
One of the most talented actresses who blessed our eyes with her superb acting skills in The Hunger Games, Jennifer Lawrence exudes grace when she walks the red carpet. However, she's been known for tripping down as she walks up the stairs to accept her award. Nothing more embarrassing than that.
Taylor Swift
Even someone as cool as Taylor Swift made a misstep which resulted in a misfortune for her. She tripped, but she tended to shake it off. As busy as we know she is, we're all bound to make the wrong moves which results in a huge embarrassment.
Disclosure: This post contains affiliate links. When you purchase a service or a product through the links, I sometime earn a commission, at no additional cost to you. Read my full disclosure here.
Having said that, let's head on to our guide about how to wear heels in a proper way to avoid such tripping incidents.
Step 1: Let's say you got yourself a pair of stiletto heels of 6 inches or above. The first thing that you need to do is, to see if they are a slip on style or consist of a strappy look. In other words, study the footwear.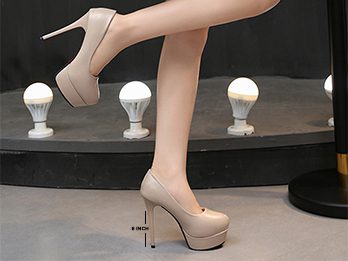 Step 2: Once you've done that, slide in your feet into the pair of heels if they are slip on style and make sure they fit well to avoid slip offs. In case they have a buckle strap or an ankle strap, carefully insert your feet into the footwear and tie your straps well. This ensures a sturdy grip which allows you to walk comfortably.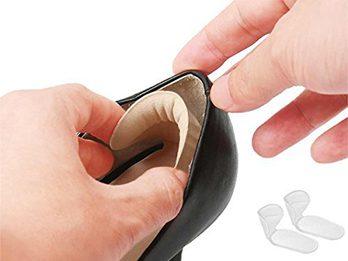 Step 3: Start walking Heel to Toe, and NOT Toe to Heel. This ensures that your body maintains a good balance, as well as a good posture. There's nothing like a bad, hunched posture when you're wearing stiletto heels.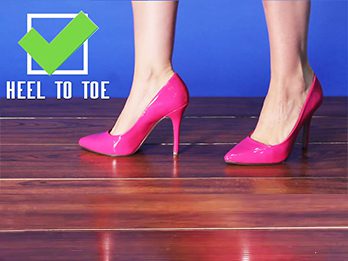 Step 4: Lean back and take small steps. As we mentioned that there's nothing like a bad posture when you're in heels, so make sure you lean back and stand straight. Take small steps instead of rushing around to avoid any embarrassments as a beginner.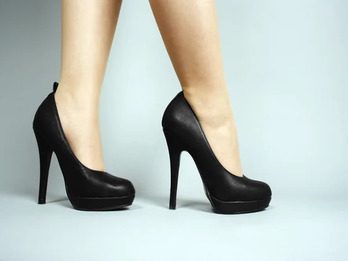 Step 5: Keep your spares! Consider this a tip as well. You could carry a pair of slippers with you when you feel like you're done with the heels. Also, try using heel gel inserts as a beginner to avoid any blisters or discomfort in your feet.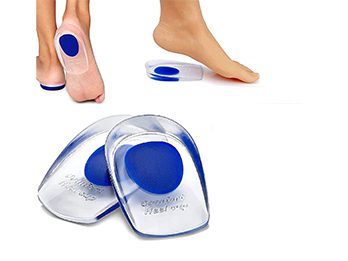 Final Thought
That was all for how to wear heels. There is a whole list of tips and tricks to wear heels gracefully on the internet, so feel free to explore that element as well. Besides that, the more confident you are, the better you'll look and walk. As they say, fake it till you make it – use that as your motivation to mask your dear and nail the 6 inches high stiletto heels look! Good luck with the adventure and don't forget to try all the types of heels. Start off with mules, wedges or kitten heels and then progress onto the scarier ones.