Red is the symbol of femininity and ever lasting charm; it represents love, boldness, and confidence. In 1700s, women who wore Red clothes and accessories to reflected an alluring charm and luxury. Even today, the paparazzi has caught many high-profile ladies in Red dresses and stilettos. Elite women like Selena Gomez, Kylie Jenner and many fashion models have often tried to convince us that Red sandals are a "must buy" as they exaggerate the colors in their outfits, help them look bold and, most importantly, shed light upon feminism.
The article aims to highlight the importance of Red tints in our daily lives, by suggesting several Red mules to all the ladies out there.
What You Need To Know Before Buying Red Mule Heels:
Anyone who cares about fashion and knows how to style will definitely have Red Mules in their wardrobe. Red is the colour that can attract people's attention in an instant. Psychologically, it's been associated with enhancing your beauty too. If you wear Red on an outing or to a party, there are high chances that people will not be wearing it because of the common fear of looking "too much". Hence, you have a great chance of rocking Red heels with a beautiful dress on such occasions. But before investing in such heels, here's what you should consider:
Your Individual Requirement

All of us have our own reasons to wear Red mule heels. If the reasons include wearing them for a casual night-out, then any type of Red Mule heels would be more appropriate. On the other hand, if you are the one who prioritizes fashion above societal norms and would love wearing Red Mule heels to formal occasions too, then you can go for the silver embellishments on Red mule heels. Whatever the case may be, make your picks wisely.

Who Should Buy Red Mule Heels?

Women who are upbeat and bold, those who have adventurous and creative fashion tastes, should buy Red mule heels as they exude confidence, femininity, and an alluring charm.

Selena Gomez

Mary Kate

Kylie Jenner
Disclosure: This post contains affiliate links. When you purchase a service or a product through the links, I sometime earn a commission, at no additional cost to you. Read my full disclosure here.
Without further Ado, let's head onto our list.
 Stiletto Red Mule Heels in 2022
1. Franco Sarto – Tamera Crimson
Red Mule Heels are worn to look out of the ordinary. To stand out. And with the Franco Sarto Tamera, you'll be amazed how these red beauties complement your dress. You'd be turning heads with this one. We'd recommend you to put these on om your next party or event. The velvet red is simply the cherry on top.
2. NINE WEST – Watchit Pump
Another excellent Mule Heels. This time, in red velvet glory. Sporting a striking design, these classics by Nine West Women are designed to make your feet look good and feel special at the same time. The Watchit red velvet Mule Heels will stand out when worn in public and would do justice to your overall attire.
3. NINE WEST – Ciao Pump
If you were looking for a striking design, with high heel length, then the Ciao Mule Heels by Nine West would serve your purpose well. Majestic red color, that too, in velvet, are designed to look effortless. Bold and beautiful, that's what you're trying to convey with these.
4. J. Renee – Mianna
These Mule Heels would look lovely on any dress you wear, especially if you're trying to give away an all-red look. Another bold red Mule heel pair to be worn and displayed up front. The J. Reneé Mianna are class apart and are a must buy, if you're looking for classy, elegant, and bold Mule Heels.
5. J. Renee – Randa
Crimson red and Mule heel format? That's a recipe for success. Randas by J. Reneé are stellar looking Mule Heels with elegance that is unmatched. A beautifully packaged Mule heel pair that will effortlessly compliment your dress and would be the ideal party or event wear.
6. Linea Paolo – Zadie
Elegance + class matched together in Mule Heels, coupled with fabulous red color, you're looking at the Linea Paolo Zadies. These red colored Mule Heels provide you with the right amount of comfort, balance, and design that edges the competition. Your next event's outfit would be incomplete with these beautiful Mule Heels.
7. DKNY- Bronx Sandal
If you're looking for something that are classy and elegant, coupled with a touch of flashy, then the Bronx are meant to impress. Dkny's Bronx Mule Heels are effortlessly designed to impress. Featuring a lighter tone of red with golden accents, these Mule Heels wouldn't go unnoticed, that's for sure.
8. Chocolat Blu – Brix
Here's something more traditional and vintage, if you like to play it old school. These Mule Heels by Chocolat are a must have for women who want to keep it simple and comfy. These would be the ideal casual Mule heel pairs, that too, in red color. The Blu Brix are very comfortable and look the part when it comes to mule Heels.
9. Natori – Tonic Wedge
Striking is the word that comes to mind when we witness the Natori Tonics. These beautiful and aesthetic Mule Heels are designed to wow the other person. The blazing red color cladded in velvet and a design that emulsifies into the overall design aesthetics.
10. Cole Haan – Jodie Heel
The are something extra special when it comes to mule Heels. The Women's Jodie by Cole Haan are designed to look the part with bold design elements coupled with a slightly light tone of red. The end result are splendid, stylish, and above all comfortable mule heels.
11. Veronica Beard – Pump
Excellent mule heels are not out of the equation with Veronica Beard. These heels feature a prominent design with point styled heel that is perfect for parties and events where you want to look the part. The balance of these Mule Heels are also amazing. The red color blends in nicely with the overall look and feel of these heels.
12. Vince – Elizabeth heel
Beauty personified is the right word to put together for Vince Elizabeth mule heels. The right choice of materials with that bright and striking red color, these Mule Heels are amazing, to say the least. The perfect blend of style, comfort, and color.
13. Tory Burch – Perrine Mule
Do you like wearing mule heels to work, but not able to find the right ones? Here's an option that would make you reconsider buying mule heels for work. The Tory Burch Perrines are classy and excellent, featuring a toned down shade of red with closed front, all that in a mule heel format. You won't go wrong with these.
14. Valentino Garavani – Rockstud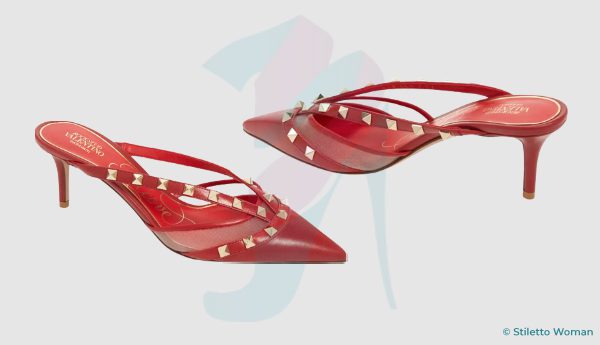 Another stand out pair of mule heels with a touch of flashy for someone who likes to go out of box and be creative with their Footwear. The Rockstud by Valentino Garavani are an excellent pair of mule heels, featuring majestic red color with golden accents in top, blending in perfectly with the overall design. These Mule Heels would look the part in parties and events.
15. Gianvito Rossi -Nova
Perhaps one of the boldest and most creative looking mule heels with shimmery red color coupled with a long pin type heel, suited perfectly for parties. The Rossie Novas by Gianvito aren't for the faint hearted. They're for those who love to dare and take it up a notch. These stellar mule heels would definitely turn heads.