Though fashion trends can be fleeting, but some are here to stay and have passed some crucial markers owing to the necessity. Winter boots are one of them. Most footwear brands focus so much on the style and design, that they end up overlooking comfort. Winter boots, on the other hand, offer comfort and warmth in the season when you freeze – so these are especially handy in fall/winter seasons. Not only giving you the classy New York vibes, but also temperature friendly, winter boots can be seen in every woman's closet.
What You Need To Know Before Buying Winter Boots:
For obvious reasons, we all need winter boots. Especially if you're someone living in extreme climatic regions like Canada where temperature can drop all time low, winter boots can be your savior. They come in various styling, but it's important to note that in the pursuit of styling, you may not want to leave out on the comfort and end up neglecting whether they serve the purpose right or not. Winter boots should keep your feet warm, yet making you look chic at the same time. A few things that you need to know before investing in winter boots include the following:
Your Individual Requirement

For some women, fashion holds immense value, so they will opt for the winter boots which are most stylish and offer comfort too, while on the other hand, some women don't mind the design if the purpose is served, so make your picks wisely.

Who Should Buy Winter Boots?

The answer is very simple – women live in extremely cold climatic regions. Women who are cold intolerant should also get a pair of winter boots to avoid any discrepancies if they walk out in the winter season.  

Features To Look Out For

Winter Boots should be durable, and they should be made up of high-quality material. Preferably fur which can keep your feet warm and ooze chic vibes as well. Besides that, they are also available in comfortable heel styles like wedges, so you can keep an eye out for that.

Kate Hudson

Katie Holmes

Selena Gomez
Disclosure: This post contains affiliate links. When you purchase a service or a product through the links, I sometime earn a commission, at no additional cost to you. Read my full disclosure here.
Without further ado, let's head on to our top picks.
 Stiletto Winter Boots in 2023
1. Bella Vita – Diaz Bootie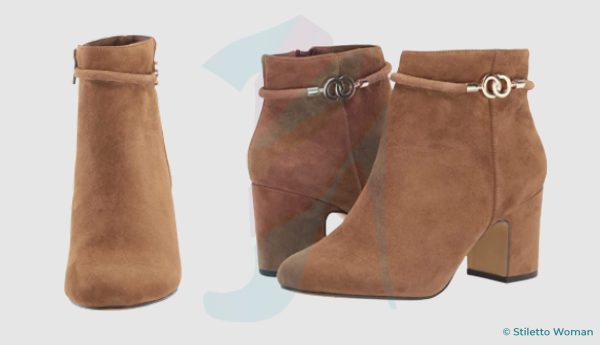 Ranking at the very top and the most economical option in terms of winter boots, these stunners by Bella Vita are a keeper. They feature a decorative strap with gleaming hardware that has a striking appearance and can catch anyone's attention in an instant! Another great thing about them is that they not only keep your feet warm, but they are also comfortable owing to the block heel design with a roomy toe box along with convenient cushioning.
2. Dolce Vita – Celtic Bootie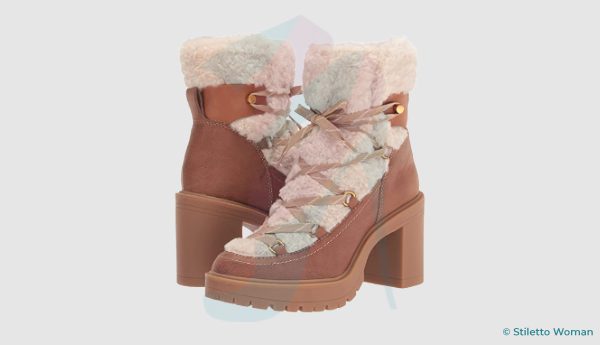 If you're looking for something different, then go for these winter boots by Dolce Vita. These boots are inspired by hiking boots, and they come as a platform style featuring a lacey look which adds to the finesse of the footwear. Also, these boots come with a soft faux-shearling trim which exudes winter vibes and can give you maximum warmth.
3. Calvin Klein – Anissa Ankle Bootie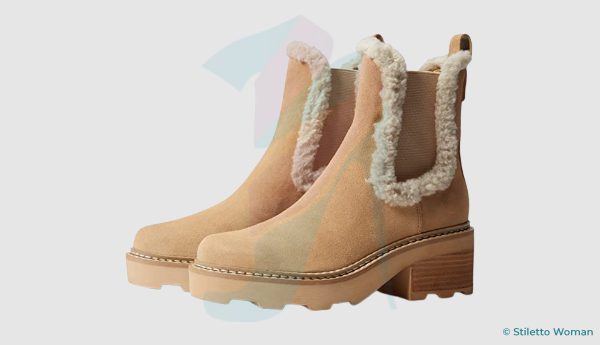 Another great option in terms of winter would be that of Calvin Klein. The brand is known for decades as we see people and even celebrities gushing over it. These warm and fuzzy winter boots by CK are grounded with a chunky lug sole which can give you a nice grip. Also, they consist of a cozy faux shearling to add more to the warmth and comfort. They'd be great for the winter season.
4. Naked Feet – Avail Wedge Bootie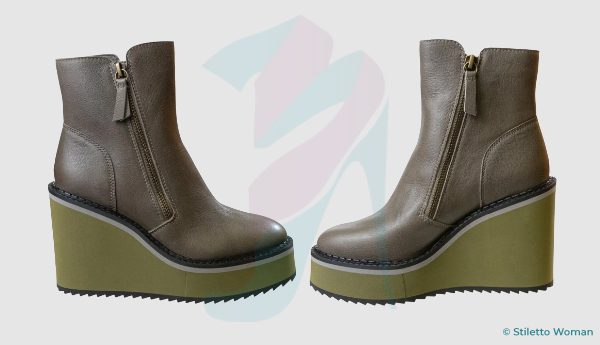 These uniquely designed pair of winter boots are sure to make you buy them in an instant. They consist of a sturdy wedge and platform on a serrated sole to give you a nice grip over the steps that you take. It consists of dual side zippers too, to easily take them off or put them on. You can't go wrong with these.
5. Cecelia – Trekker Ankle Boot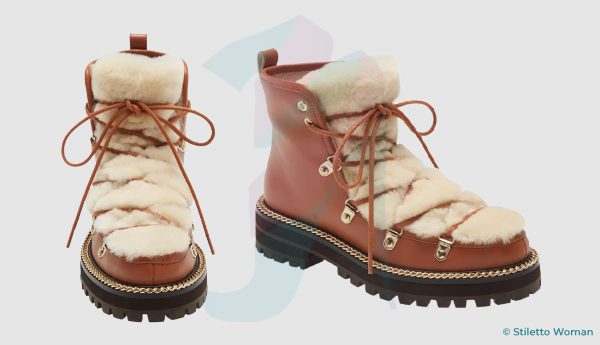 A fan of pom-poms or the glitz and glam? These winter boots by Cecelia don't necessarily give you the flashy look but can be somewhat glamourous in the season where everyone's just concerned about keeping themselves warm. These boots come with an eye-catching detail along with lace up style with genuine shearling to keep your feet warm. The lug sole adds to the shoe's usability.
6. Donald Plinerc – Elix Shearling Bootie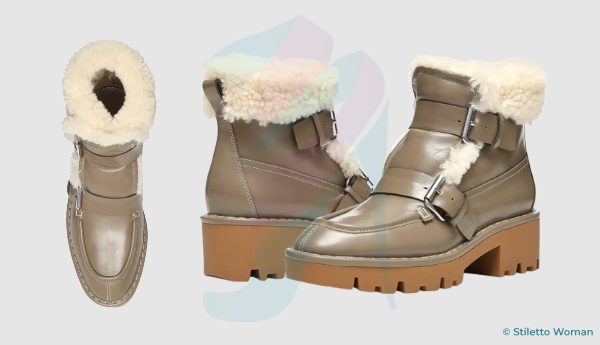 Yet another stunning and useful pair by a renowned brand, Donald Pliner excels in the domain of footwear. Promising excellent quality, these winter boots feature genuine shearling trim which adds a cozy finish. Also, the two buckles can ensure a good fit, ensuring that they offer you maximum warmth. Besides that, it has a nice, glossy patent look which can be quite appealing. Another great thing about them is that they are grounded by memory foam cushioning.
7. Swedish Hasbeens – Shearling Lined Boot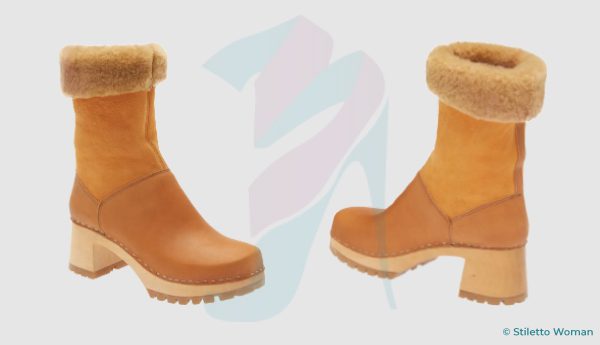 These ultra-modern and simplistic, clog-inspired winter boots based on a wooden sole – almost like a platform style can prove to be a great investment, lasting you a long time and offering you utmost warmth and superior comfort. All these features are paired up with the fact that the block heel and lug sole can ensure that you do not slip, so that makes the footwear extra safe too. For all the fashionistas out there, these should be in your closet for the winter season!
8. Tory Burch – Miller Trim Boot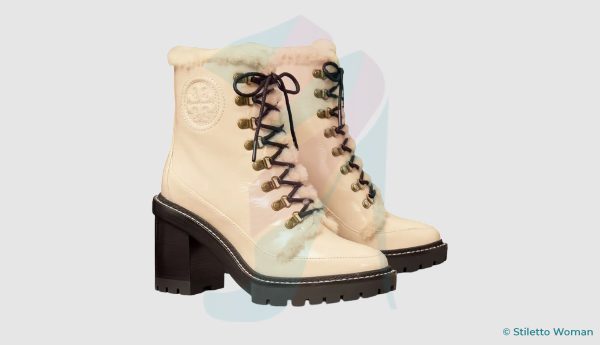 These winter boots by Tory Burch ooze great quality and warmth. Placed your feet in one of these pairs can make you feel as if you're all cozy in a fleece, soft blanket. Not just that, but the block heel, lug sole can ensure that the walking experience is breezy for you too. However, the ones who hate tying up laces, may not prefer this option, but we have plenty of others for you too. The laces ensure a sturdy grip over your feet so that you can head onto your winter adventures without worries.
9. Stuart Weitzman – Stuart Belted Booties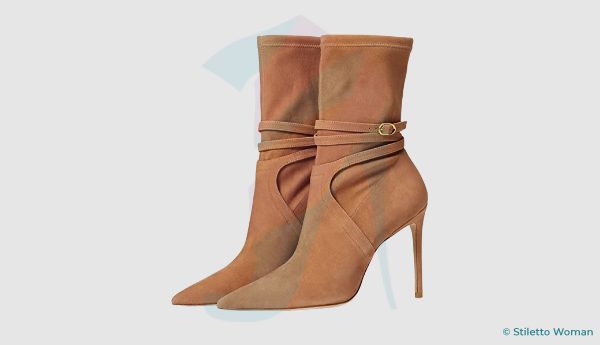 We all know that even when we have chunky heels lovers, the classic stiletto heel lovers remain. For that very purpose, these winter boots by Stuart Weitzman are sure to leave you stunned. They consist of a soaring stiletto heel with a buckled strap at the shaft and sleek pointy toe. These boots can accentuate your feet and legs, at the same time, keep your feet warm too!
10. Clergerie – Ally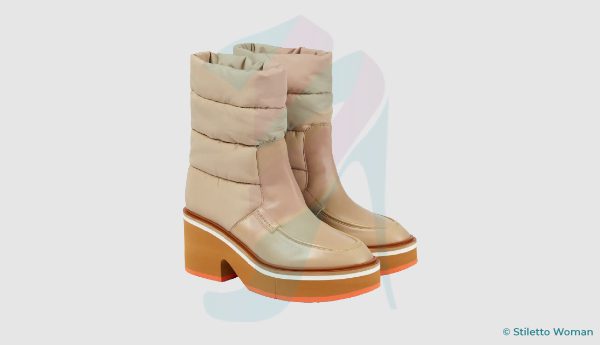 Another great pair to consider would be this rounded toed and pull-on style winter boots which are sure to leave you awe-inspired. They have a quilted shaft, along with a microblock heel and a platform style which adds to the comfort. Also, these boots are made in France, so you can be sure that they'll last you a long time!
11. Chloé x Moon Boot – Lace-Up Boot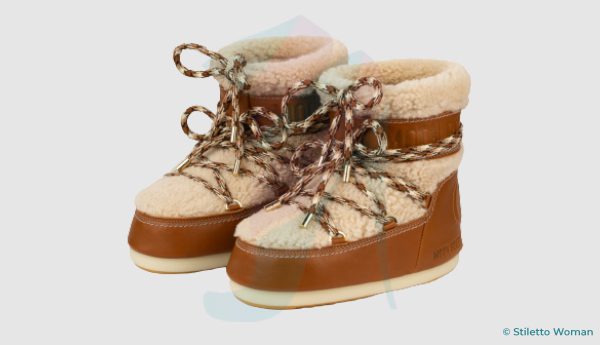 These winter boots by Chloe can be the ultimate go-to for all those who are cold intolerant. These hybrid boots are crafted from low ecological impact materials, so they are environmentally friendly, and they're set n a biodegradable sole. They will not only last you a long time but provide you with superior comfort and warmth. You can go for all your winter adventures if you have a pair of these in your wardrobe.
12. Dolce & Gabbana – Puffer Boots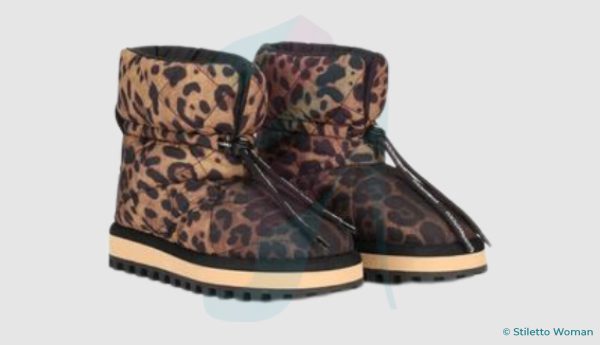 Talk about uniqueness and you'll see D&G excelling in the domain. The brand has an excellent reputation within the fashion industry, particularly footwear, so you can't go wrong with these puffer winter boots. They come with adjustable bungee pull at ankle with a slip-on style. They consist of a quilted puffer body which, then again adds to the comfort and warmth. Also, they're made in Italy, so you can be sure of the quality too.
13. Miu Miu – Platform High Block Heel boot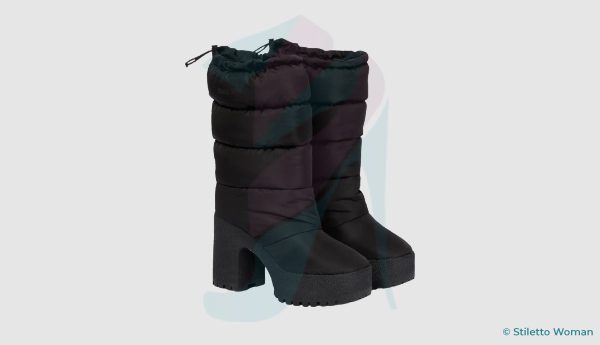 Another uber-modern option to consider in terms of winter boots would be that of the luxurious and high-end brand, Miu Miu. These winter boots feature elasticized toggle drawstring at the topline for a flexible fit and this makes them quite convenient too. They consist of padded, boot shaft and quilted upper along with a square toe design – everything you'd want in winter boots.
14. Proenza Schouler – Shearling Lined Boot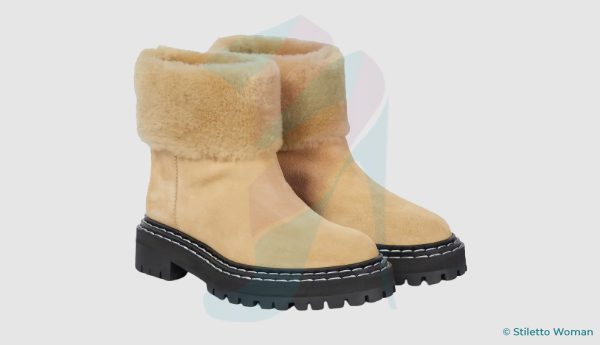 These winter boots are made from calfskin suede and plush Italian Shearling which makes them not only ultra-modern winter boots, but also durable ones. They come with a lug sole which is sturdy. Also, you can simply slip them on instead of tying up laces, so there's a benefit in that. Investment in these boots won't make you regret it.
15. Jimmy Choo – Youth Lined Biker Bootie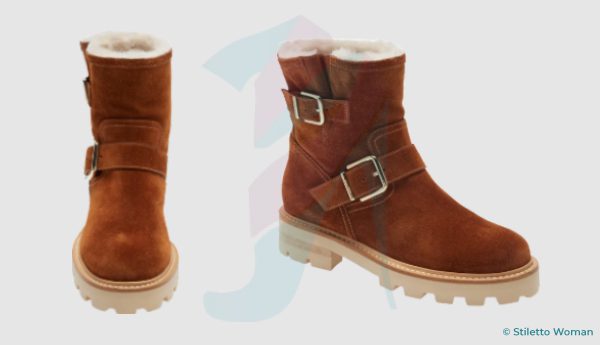 When you hear the name of the brand 'Jimmy Choo', you already know that the product is going to be amazing. Oozing luxuriant coziness, coupled with street toughness, this sturdy pair of winter boots can be an excellent investment for the cold season. It features a chunkier lugged sole that offers more grip and security as you won't slip easily. Besides that, the two buckles can ensure a good fit as well!