There's no doubt that stiletto heels have an alluring charm, and all the heel enthusiasts are seen gushing over the narrow and long heel type. Unfortunately, not all women have the patience or the skill of wearing stiletto heels with poise. Even if they do, some are still daunted by the idea of them. Therefore, many alternatives like kitten heels, mules, wedges, slingback styles and even platforms come to rescue! Platforms are generally considered as one of the chic and most stylish heel type which not only offers more balance and support, but also ensures that you make a strong fashion statement as you walk into a room filled with fashion-conscious audiences.
What You Need To Know Before Buying White Platform Heels:
You may assume that white platform heels would look tacky, very flashy and lack the finesse and creativity that stiletto heels would otherwise have. However, we have newer versions of white platform heels which are suited to many occasions and preferences. Ranging from white strappy platform heels, white platform heels closed toe, white platform sandals heels to white platform slingbacks and many others – the choices are limitless. A few things that you need to know before investing in white platform heels include the following:
Your Individual Requirement

Some women want to have a pair of white platform heels for weddings, while some like to have them for parties. Whatever the individual requirement may be, it is important to note that a more formal version of white platform heels would be appropriate for wedding sort of events, while informal versions with a strappy look would be better for party type events.

Who Should Buy White Platform Heels?

The answer is very simple – women who love to look classy and elegant. Those who have subtle and traditional fashion tastes would love to go for a nice pair of white platform heels. Not just that, but those who love comfort would also love to invest in a pair of white platform heels.

Features To Look Out For

White Platform Heels come in the form of white strappy platform heels or with embellishments, buckles, various textures, heel shapes, heel height and a lot more. You can pick the one that best suits your needs as you browse through the popular designer brands like Giuseppe Zanotti and others.

Florence Pugh

Olivia Rodrigo

Jennifer Lopez
Disclosure: This post contains affiliate links. When you purchase a service or a product through the links, I sometime earn a commission, at no additional cost to you. Read my full disclosure here.
Without further Ado, let's head onto our list.
 Stiletto White Platform Heels in 2023
1. Lisa Vicky – Badab Mule
Ranking at the very top, one of the most economical options available for you would be that of Lisa Vicky. These ultra modern white platform heels can be the stunners. They come with a mule style with no back straps which you can easily slip on and go ahead with your day. The block and the thick sole platform heel design can make it easy for you to walk in them too.
2. MICHAEL Michael Kors – Laney Sandal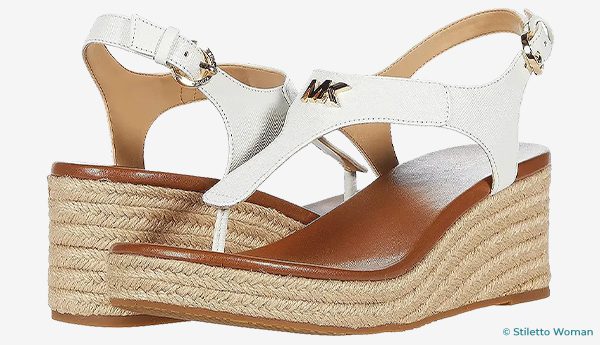 Featuring a pair that you'd love to have, these white platform sandals heels by Michael Kors are inspired by a wedge heel design. They come with an espadrille-infused sole and heel, covered with jute fabric making them lightweight and breezy. They'd be ideal for causal events and the slingback style makes them look super chic too.
3. Linea Paolo – Ileana Sandal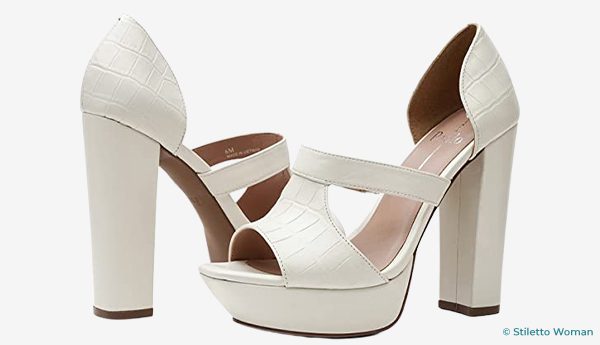 Another great option in terms of white platform sandals heels to try would be this one! Consisting of a high platform heel style with a back cover, you can slip theese white platform sandals heels on, yet they'll have a sturdy grip over your feet so they're unlikely to slip off. Also, they can offer you more balance and support.
4. Dolce Vita – Brenan Loafer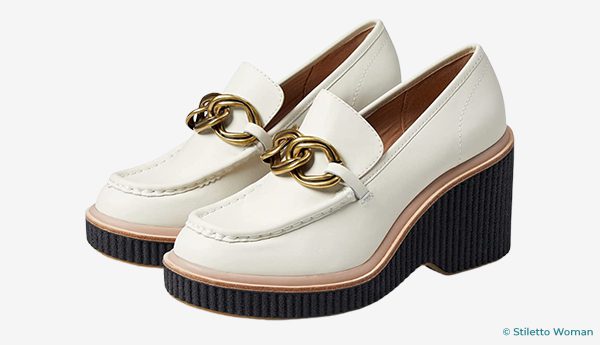 A uniquely designed and a carefully crafted pair of white platform heels by Dolce Vita that's sure to catch your attention. These loafer inspired heels can make a strong fashion statement about your choices especially at workplace. They'd also be appropriate for casual events. You won't regret investing in them.
5. Mercedes Castillo – Lisanne Clog Sandal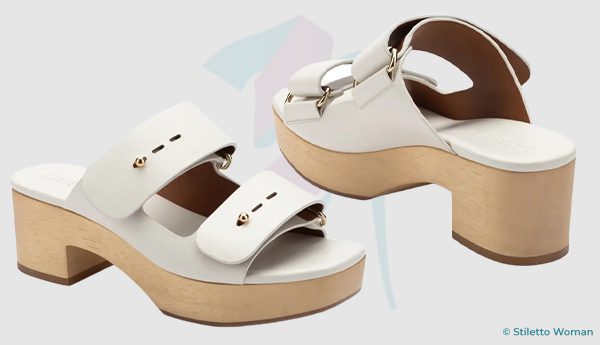 These white platform sandals heels come as a slip on style with two bands which makes them super chic. They make a breathable pair that is ideal for casual strolls and events. Pair them up with a casual tee and pants, and you'll be sorted for the day without any worries!
6. Alexandre Birman – Clarita Woven Sandal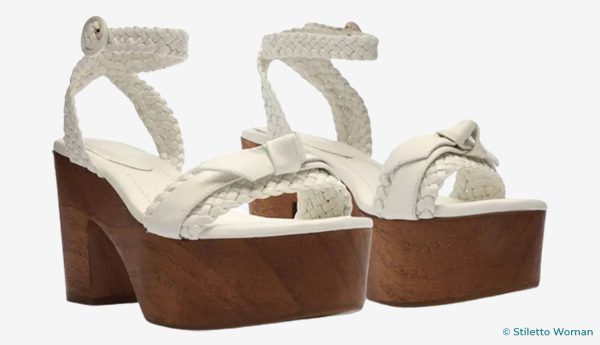 Featuring a high-end and luxury option in terms of heels, these white platform sandals heels come with a braided look exuding an ultra feminine vibes. They can not only make a strong fashion statement, but also make a super comfortable pair. They are unique and consist of an opulent look suitable for most occasions, even formal!
7. Jimmy Choo – Dovina Wedge Sandals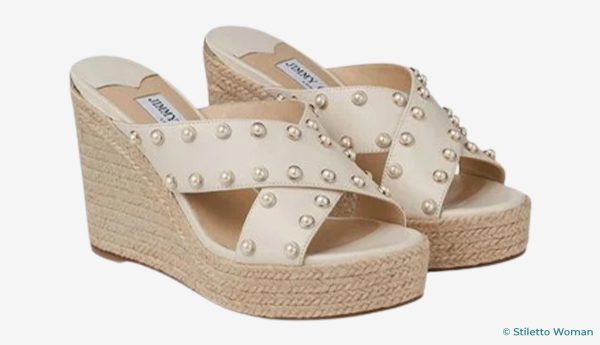 Another great high end option for you to try would be the very famous, Jimmy Choo. Known for its exquisite designs and superior quality, these white platform heels come with an embellished look and an espadrille infused design which can make heads turn as you step into the room. It's definitely worth investing in.
8. Bottega Veneta – Web Wedge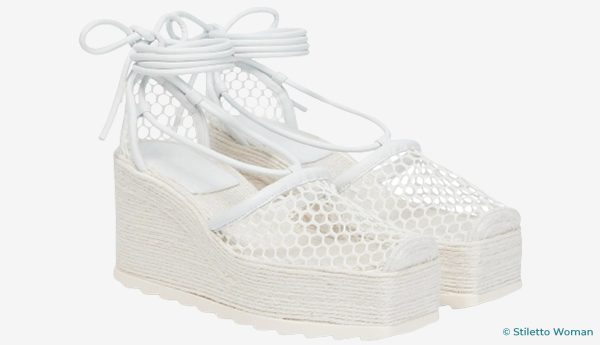 It seems like the series of high-end brands and Bottega Venetta has to be in it too! These web-inspired white strappy platform heels ooze confidence and finesse. They exude modernity and an ankle strap design that makes you look super attractive as well. These white strappy platform heels make a unique and elegant pair that you should try.
9. Aquazzura – Cupid Sandals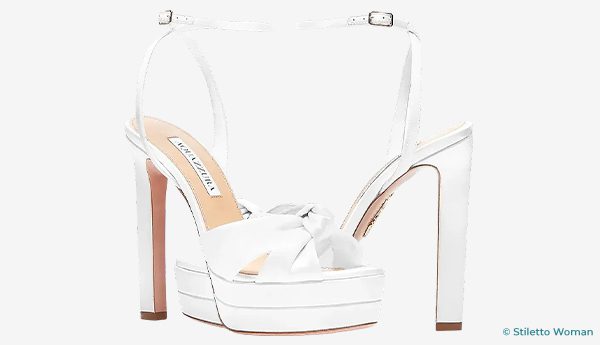 Another great option in terms of white platform heels would be that of Aquazzura. These heels exude a feminine charm like no other. They consist of a stiletto heel design with a platform and thick sole to balance out the pressure and make you gain additional few inches in your height. They make a classy and sophisticated pair.
10. Chloé – Kurtys Crepe Platform Pump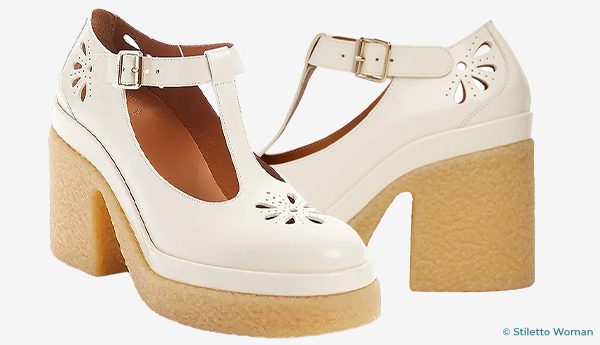 Looking for something other than a slip and ankle strap? Then look no further, as these white strappy platform heels by Chloe are sure to leave you stunned. They come with a Mary Jane-inspired look with a rubber sole and heel offering you more balance and support. You can walk in them for hours without feeling tired.
11. Christian Louboutin – Very Lace Peep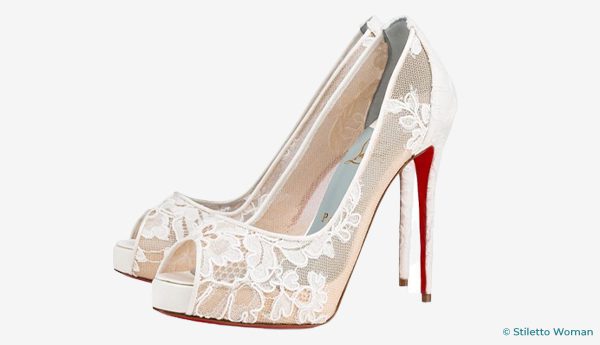 In the series of luxury heels, Christian Louboutin doesn't get left behind either. These printed net white platform heels exude luxury at its best. They come with a stiletto heel design but with a sturdy platform in the sole which balances out the pressure. They also resemble pump style and have a peep toe look at the tip which makes them appear super chic.
12. Saint Laurent – Jodie Sandal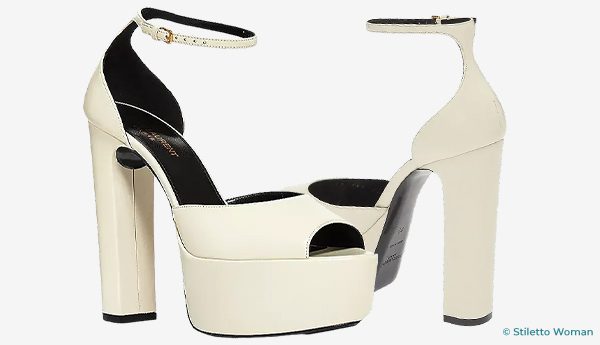 Saint Laurent is another high-end and exclusive brand which is known for its timeless classics. These white strappy platform heels by Saint Laurent are sure to leave you impressed. They come with a peep toe style and an ankle strap design, offering you much more grip than any other heel type. You can walk in them easily for hours too!
13. Gucci – Horsebit Loafer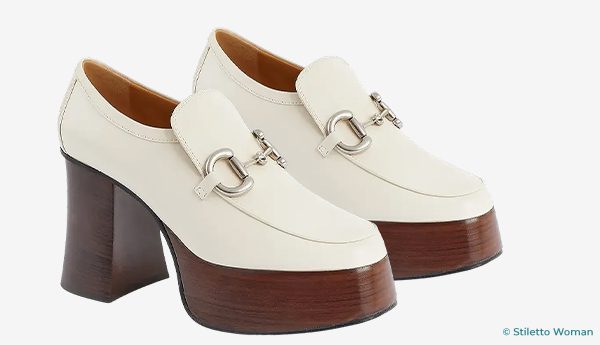 These loafer inspired white platform heels are likely to have you stunned. They ooze finesse and luxury. They'd be great for corporate events, but you could also wear them to formal events like interviews. Also, they'd be a great addition to your heels collection as they have a personality of their own, the brown colour in the heel and sole area add to the overall appeal of the footwear.
14. Miu Miu – Chain Strap Sandal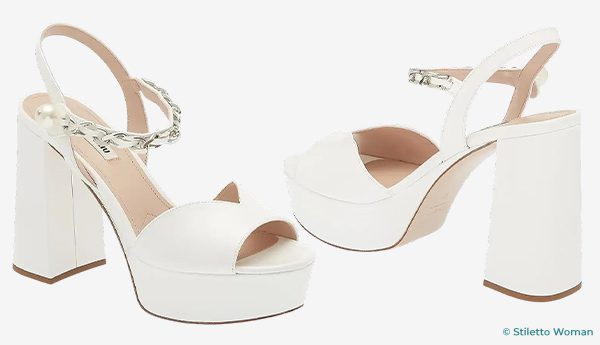 Miu Miu is another cool and high end option to explore in terms of white platform heels. These heels come with an opulent and exquisite look coupled with embellishments over the ankle strap and a nicely cut out toe strap. These heels exude confidence and creativity. You can't go wrong with these beauties!
15. Prada – Chocolate Loafer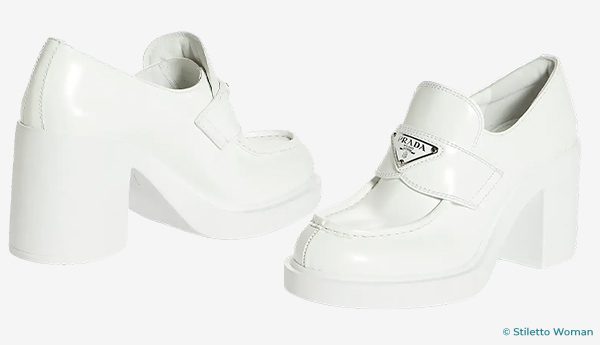 Another loafer inspired white platform heels by an ultra modern brand that is sure to be in your wish list – Prada. It is a woman's dream to own a pair of Prada heels and these heels would not only be appropriate for corporate events, but also if you have to go for sports like golfing. They are a comfortable and sturdy pair which will also you a really long time too, so rest assured, investment in these heels won't make you regret it one bit!