There's nothing quite like a nicely manicured set of nails. As much as there's great emphasis placed on skincare and hair care, nail care holds equal importance. In fact, bad nails can leave a bad impression on your audience, conveying a message that personal grooming isn't of any importance to you – which nobody wants. Not only do manicured nails make you look put together, but they can also make you look attractive.
In a world where there is a plethora of options available for everything, from heels, makeup to nails and much more, you wouldn't want to get left behind either! There are so many types of nails available before you decide to get a manicure of your dreams. From stiletto nails to subtle and soft almond nails which seem to be the talk of the town in 2023. Another contemporary version of almond nails has emerged recently called edgy almond nails.
What are Edgy Almond Nails?
We all know that almond nails form an angular shape so they're a more softer version of the sleek and narrow stiletto nails. However, some of us are thirsty for creativity, hence a typical almond nails style isn't enough and to add more finesse, an edgy look is added to the angular shape to satisfy the fashion demands of women. This style has emerged quite recently whereby popular celebrities are seen flaunting them off. Let's head on to discussing some of the edgy almond nails design looks that you can copy.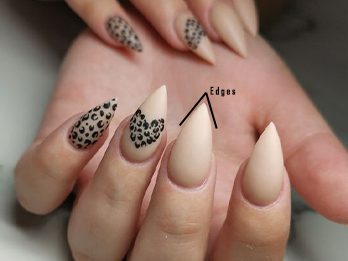 Disclosure: This post contains affiliate links. When you purchase a service or a product through the links, I sometime earn a commission, at no additional cost to you. Read my full disclosure here.
Edge Almond Nail Designs Options
Though there is an array of options available out there, but we've summed up the top generic go-to designs for you which you can elevate based on your own preferences. Without further ado, let's get into it.
Matte VS Glossy Look
Edgy Almond Nails can be styled in a way that they either appear too mysterious or too out there. You can form a matte base or a glossy one based on your own preferences. Both the looks have a charm of their own. Where a glossy appeal will make your nails eye catching, a matte look can hold that attention which tends to fade away with the glossy look.
Neon Colours
Add zest and energy into your edgy almond nails by splashing some of the neon colours into your nails. A nice green neon or a pink one can uplift the look of your hands and your entire outfit too. Kylie Jenner is mostly seen flaunting off her neon coloured nails with utmost finesse and they can have a vibrant and striking appearance too.
Creative Nail Art
Choosing the colour of your nails can be a hefty task, but what can be crucial is how you add more finesse to it. You do that by adding creative nail art designs to make your nails irresistible. You can add butterflies, flowery look, plain lines, stars, or anything as long as it fits the occasion. For example, for a Halloween party, you can get black matte base with orange lines over it or anything similar.
Embellishments All The Way!
Another great idea for stunning edgy almond nails would be to incorporate some glitz and glam by adding embellishments like pearls or anything similar. Make sure you don't overdo it, or else you'd look flashy. A little bit would look great though, especially for bridal events or prom to look exquisite and unique.
French Tips!
Go all natural with some French Tips and a light pink base with white ends. This look ensures that you not only look professional a d put together, but also super chic and stylish. This design can be a multipurpose one as you can customize it too! You can add nail art or you can keep it completely simplistic, depending on your own preferences.
Final Thought
That having said, you can explore more options by surfing the internet or going through catalogues of manicure stylists at spas. However, it's always advisable to use your own creativity and weigh out the appropriateness of wearing them on a particular occasion. For example, embellishments and neon colour may be too flashy for an office look, so you may want to tone down there a bit.