As the old adage says that give a girl a pair of heels and you'll watch her conquering the world. Since heels are a woman's best friend, you'll find an array of heel types in their closets. It's not surprising that a true heel enthusiast would have all types of heels with them – from wedges to stilettos, the diversity will be unbelievable.
One of the heel types which is quite rare and also referred to as hourglass heels, are known as spool heels. Many celebrities are seen flaunting off one of the pairs of spool heels and many designers too, are investing their time and energy into crafting the best pair. Before getting into the specifics of spool heels, let's first dig into the definition of it.
Spool heels are characterized by a wide top and bottom, but with a narrow middle part. So, they take the shape of an hourglass. The curvy look adds to the alluring and mysterious charm of the heels, so these statement making heels are a must have for any woman who loves versatility.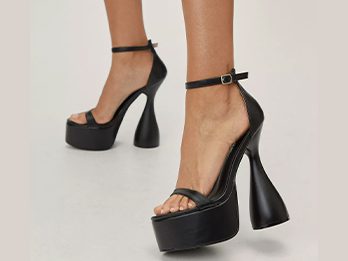 Disclosure: This post contains affiliate links. When you purchase a service or a product through the links, I sometime earn a commission, at no additional cost to you. Read my full disclosure here.
Common Features of Spool Heels
Since there's a plethora of heels out there, it can be hard to distinguish between each of them. Let's make the task easy by pointing out the main features of spool heels below.
Marked by wide top and bottom and narrow in the middle
They are generally shorter in heel size, typically ranging between 1-2 inches high
They're a key part of corporate wardrobe owing to the professionalism and comfort that they offer
They can come with a Slingback style, ankle strap style, open or closed toe design and many others
Why Should You Wear Them?
Now that you know what are Spool heels, let's explore the reasons why you should be having at least one pair of spool heels in your closet.
They can be a great addition to your corporate wardrobe owing to the sleek design and comfort that they offer along with stability.
They come with a modern twist unlike plain wedges or narrow stiletto heels which are boring.
They can make you look super trendy and fashion forward since they meet the contemporary fashion demands.
Most of the renowned celebrities wear them and prestigious designers are too, coming up with some of the most luxury pairs, so you should join the bandwagon too!
They can be great for casual and party wear too. They'd make a multipurpose solution for all your fashion needs.
They are great for beginners. If you're bad at wearing heels, then spool heels would be great to train you how to walk with utmost poise in the narrow stiletto heels.
How To Style Spool Heels With Outfits
Structured Dresses With Spool Heels
Get a pastel coloured dress and pair up some spool heels with it to look elegant and lady like. This look can be great for work and formal occasions. Moreover, you can go for a striking neon coloured dress and then pair up embellished spool heels for a party look. The curves in the spool heels add to the overall finesse of your look.
A Skirt, Shirt & Spool Heels
If you want to get the chic, yet a super girly look, then go for a plain, button down tee and pair it up with a checkered skirt and black spool heels. You'll be ready to make heads turn wherever you go. This look would be great for work and casual events too.
Casual Long T Shirt Dress with Spool Heel Boots
If all fails, you can add spool heels boots with a Casual Long T shirt Dress to you look. With this you can get height boost as well as comfort both in one. So even if you're going to grab a cup of coffee, you can make jaws drop owing to the fashion forward and statement-making look.
Final Thoughts
That having said, it brings us to an end to our article. Based on the above information, it can be safe to say that a pair of spool heels is a must have, if you are a working woman or even a trendy sort of a person. These heels look unique and creative, so they can have a striking appearance too.
Unlike boring shapes which are very common these days, go for something unique and upbeat, like the curvy and hourglass look of the spool heels. Skim through the designer brands like Giuseppe Zanotti, Gianvito Rossi, Jeffrey Campbell and many others to get your hands on your favorite one. You will not go wrong with these as they'll be useful, stylish and a convenient pair of heels which can be your savior in most of the every day events as well as special occasions.