To reveal or not to reveal? A question that can be applied to clothing, interior design and a lot of other domains which leaves heels as no exception. To decide between an open toe and closed toe heels can be like trivia. While open toe style exudes a more open and easy going vibes, closed toe heels, on the other hand, closed toe heels are the classic style dating back to the 50s which oozes elegance and royalty.
While the typical stereotypes have eroded surrounding open toe and closed toe heels, the mind-set is still prevalent amongst some individuals. In the modern and contemporary era, open toe is the commonly preferred style in heels because it's a more manageable and creative option for the millennials, as well as the Gen Z. Not just that, but recently, open toe style has transformed into many other styles like square toe and peep toe as well. Without further generic discussion, let's first discuss what exactly both of them are.
Disclosure: This post contains affiliate links. When you purchase a service or a product through the links, I sometime earn a commission, at no additional cost to you. Read my full disclosure here.
Open toe heels are the type of heels in which there is an opening at the toe box which allows your toes to show. So, in case you have recently gotten a nice pedicure, you'd definitely want to show it off by opting for an open toe style. Another thing about open toe heels is that they allow the air to get into your toes so they make a breathable pair of heels which doesn't cause excessive comfort. Plus, showing a little bit of skin can make you seem attractive.
The opposite of open toe heels, closed toe heels cover your toes entirely. They're appropriate for work wear and where you want to make a strong fashion statement in terms of sophistication. Closed toe heels can be in the form of slingback and pump style heels which can help you achieve the put together too. Closed toe heels can also accentuate your feet, making them appear more sleek and in shape.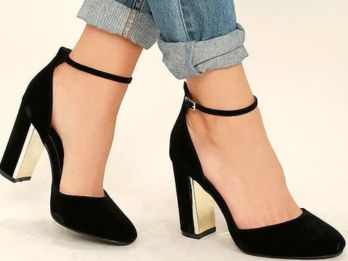 Comparison between Open Toe VS Closed Toe Heels
| | |
| --- | --- |
| Open Toe  Heels | Closed Toe Heels |
| Breathable and light weight option | Not breathable and can be suffocating |
| An easy going and casual option for boisterous women | A sophisticated option for professional women and the ones who like a put together look |
| Prevents the skin from contracting athletes' foot, warts and other contagious irritants. | There's a threat of bruises and sores developing because of suffocation in the toes |
| Less sturdy and dependable | More sturdy and dependable |
| Appropriate for all events | Appropriate for formal events, especially work wear |
| An easy going and flexible vibe | A rigid, sleek and put together look, coupled with an classy vibe |
Final Thoughts
To sum it all up, a more chic and fashionable option is always an open toe style which is available in newer and more opulent versions by renowned designers. On the other hand, you'll have to make the choice considering the sturdiness of the styles too. An open toe style may not be as sturdy and dependable as that of closed toe heels which secure your toes and feet well, avoiding any issues like slip offs because of a loose strap.
That having said, you can browse through the popular brands like Giuseppe Zanotti, Gianvito Rossi and many others to make your picks. Also, look into what's popular amongst celebrities and influencers to make a mindful and fashion forward decision. Celebrities like Rihanna, Lady Gaga, and even royal people like Kate Middleton have their own preferences. Generally celebrities in the pop music industry go for open toe style while Kate Middleton is usually seen in closed toe style which makes her look sleek and graceful as ever at all times!