Chelsea boots and jeans have become a match made in fashion heaven, captivating style lovers around the globe. As we approach winter, outfits with Chelsea boots take the spotlight with their unbeatable comfort and warmth, showcasing their timeless charm.
While figuring out how to style a chunky Chelsea boots outfit might seem like a bit of a challenge for some, worry not! We are here to help you out with an array of fresh outfit ideas. With origins reaching back to Victorian times and countless trends they've conquered over the years, it's safe to say that investing in Chelsea boots is always a smart move.
So get ready to explore the answer of "what to wear with Chelsea boots" and see how effortlessly they enhance your go-to pair of jeans.
Disclosure: This post contains affiliate links. When you purchase a service or a product through the links, I sometimes earn a commission, at no additional cost to you. Read my full disclosure here.
What are Chelsea Boots?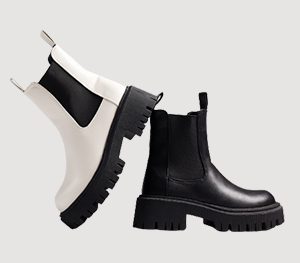 Chelsea boots, originally designed by J. Sparkes Hall in the Victorian era for Queen Victoria herself, have a captivating history. These boots were created with practicality as their main focus, allowing for easy slipping on and off during walks or horseback riding.
Nowadays, Chelsea boots are adored as a fashionable statement piece and an essential item in both men's and women's wardrobes alike. With their distinct elastic side panels and convenient loop or tab at the back, the Chelsea boots outfit effortlessly combines style with functionality.
Thus, if you're thinking what to wear with Chelsea boots, then for a relaxed and casual look, you can pair them with distressed jeans; if you're aiming for more formal occasions, simply opt for dark wash jeans to elevate your ensemble.
Best Outfits with Chelsea Boots and Jeans!
Chelsea Boots with Straight Jeans
If you're looking for a relaxed option to wear with a Chelsea boots outfit, straight jeans with these boots are the way to go! Unlike skinnies, they provide more room allowing you to easily tuck in the boots beneath their wider legs.
To highlight your waistline, opt for high-waisted jeans and pair them with a half-tucked sweater or linen shirt that adds a touch of simplicity. For an on-trend appearance, consider longer straight-leg jeans that reach almost down to your ankles without forming any creases. Choosing wider cuts ensures comfort when styling Chelsea boots.
Chelsea Boots with Skinny Jeans
Looking for what to wear with Chelsea boots that are sure to make a statement? Look no further than the classic combination of skinny jeans and Chelsea boots.
Whether you prefer a shorter boot with heels or a wider mid-calf style, rest assured that these versatile boots will effortlessly complement any style or design.
While it may be challenging to fit boots underneath tight skinny jeans when styling Chelsea boots, there are a couple of tricks you can try: either tuck your pants into your socks first for a smoother look or choose cropped jeans that sit right above the top of your boots.  Certainly, one of the best outfits with Chelsea boots!
Chelsea Boots with Wide-leg Jeans
The wider leg jean chelsea boots outfit is a popular new addition this year. Achieve a trendy look by effortlessly slipping your Chelsea boots underneath these full-length, wide-leg jeans. Chelsea boots and jeans particularly, wide-leg jeans have become the favorite of fashion enthusiasts.
For a street style-inspired vibe, tuck or roll your wide-leg jeans into high-rise Chelsea boots. Create an eye-catching contrast of outfits with Chelsea boots by pairing pale denim with black boots.
Chelsea Boots with Flared Jeans
One of the iconic fashion trends from that era making a comeback is flared jeans. Therefore, if you're seeking what to wear with Chelsea boots, pairing them casually with Chelsea boots is effortless, as their shapes effortlessly complement each other.
The graceful flare starting from the knee provides ample space for the boots to snugly fit underneath. To fully embrace that '70s styling Chelsea boots, consider opting for pointed-toe Chelsea boots in beige or tan shades, preferably with a modest heel.
Flared jeans are particularly flattering on shorter individuals since they create an illusion of longer legs – pairing them with heeled Chelsea boots will enhance the effect of outfits with chelsea boots.
Chelsea Boots with Kick-Flare Jeans
Are you looking for a more subtle option for chelsea boots and jeans than full flared jeans? If yes, then kick-flare jeans could be the perfect fit for you. These jeans have a slight flare at the bottom of the leg, which adds some flair towards your ankle while still maintaining a cropped length. This style provides an excellent base for highlighting your Chelsea boots without overshadowing them.
Furthermore, to counteract any potential leg-shortening effect that cropped pants may have, we recommend choosing snug-fitting chelsea boots with heels. By doing so, you'll maintain the appearance of longer legs and showcase your amazing outfits with Chelsea boots.
Chelsea Boots with Mom Jeans
Chelsea boots and jeans like Mom jeans are a polarizing fashion trend that people tend to either love or hate. These jeans have a high waist and slightly wide, tapered legs, which give them their distinctive look.
If you're a fan of mom jeans, one great way of styling Chelsea boots is pairing boots and jeans together. The narrower cuffs on the jeans easily slide over these form-fitting boots, creating a Chelsea boots outfit that combines the sleekness of skinny jeans with a modern twist.
Moreover, to win over those who might be skeptical about this combination, opt for a slim-fitting Chelsea boots outfit with low heels – this pairing is all that you need when you think of what to wear with Chelsea boots.
Chelsea Boots with Boyfriend Jeans
While mom jeans and boyfriend jeans both provide a relaxed fit, they do have some key differences.
Mom jeans typically have a high waist and slightly wide, tapered legs which pay homage to '80s and '90s fashion trends. On the other hand, boyfriend jeans offer an overall looser fit with a more casual and slouchy style.
Now let's talk about styling chelsea boots and jeans, specifically, boyfriend jeans! To achieve that laid-back look, simply roll up the cuffs of your jeans to show off the boots. For optimal balance, go for outfits with Chelsea boots that are slim-fitted boots to complement the relaxed fit of the jeans.
What is the Best Chelsea Boots Outfit with Jeans?
When it comes to rocking the perfect outfit with jeans and chelsea boots, you can't go wrong with a classic and effortlessly stylish look.
To start things off, choose your favorite style of jeans – whether it's skinny, straight, flared or boyfriend fit. The sleek design of Chelsea boots and jeans goes hand in hand with any of these styles perfectly.
Next up is choosing the right top or sweater to pair with your jeans. Opt for something fitted to create a polished look that complements the overall ensemble. If you want an extra touch of fashion and warmth in styling chelsea boots, throw on a leather jacket or a timeless trench coat. To let your outfits with Chelsea boots shine, keep your accessories minimal.
Is there a Best Jeans for Styling Chelsea Boots?
When it comes to matching a Chelsea boots outfit with jeans, the optimal selection will depend on several factors. These adaptable boots seamlessly blend smart and casual settings, providing a combination of functionality and fashion.
You can explore various denim options because styling Chelsea boots is so fun! Keep in mind the color coordination between your jeans and boots, and determine whether to roll or tuck them depending on the design of your jeans.
Moreover, if you are still wishy-washy about what to wear with Chelsea boots, the fashion guru Chantelle Malarkey asserts that there isn't a single jean style that perfectly matches Chelsea boots. However, she believes that flared or boot-cut jeans usually complement them effectively.
Ultimately, the choice of jeans primarily depends on how much emphasis you want to place on showcasing the boots. For an eye-catching impact of outfits with Chelsea boots, stylist Ranson proposes going for skinny or straight-leg jeans that are either cropped or tucked in, which allows the entire boot to be prominently displayed. It's advised to aim for the hemline of your jeans just above the top edge of your Chelsea boots if you prefer a cropped look.
How to Wear Chelsea Boots and Jeans?
To achieve a fashionable and balanced look when combining Chelsea boots and jeans, opt for ankle-length jeans that fall just above the top of the boots. It's best to avoid from tucking-in your favorite jeans inside boots as this can ruin the overall aesthetic and might loosen your boots too from upper end. Instead, let your jeans naturally drape over the boots for a clean and refined appearance.
This approach ensures that both your Chelsea boots and jeans seamlessly complement each other, resulting in a stylish outfit.
Can we Wear Black Chelsea Boots and Jeans in Blue Color?
Definitely! Pairing blue jeans with black Chelsea boots is a trendy and adaptable option for styling Chelsea boots. Aside from black, you can also consider opting for tan, cream, or beige chelsea boots to complement your blue jeans. These color combinations in chelsea boots outfit create a stylish appearance and truly eliminates all the queries about what to wear with chelsea boots.
Final Thoughts
In a nutshell, finding the ideal balance is the key to pulling off the jeans and chelsea boots look. You can effortlessly convey a stylish and put-together vibe by letting your chelsea boots outfit blend in together. So whether you're wearing straight, flared, boyfriend, or skinny jeans, let your Chelsea boots and jeans steal the show with their classic appearance.