When we say that we are going to present you with the best 12 shoes that go with everything- we really mean it!
Hunting down the perfect pair of shoes that go with everything is like putting together a jigsaw puzzle for your wardrobe. It's not about having an excessive number of options, but rather what shoes go with everything?
Just imagine owning fashionable shoes that match with everything and effortlessly complement any outfit, leaving both you and your feet feeling content.
Whether it's flats for work, elegant footwear for a special occasion, or sneakers for everyday tasks, we have carefully handpicked a collection of the top 12 minimalist shoe styles that prioritize both style and comfort.
These versatile shoes that go with anything are absolute staples in your closet because of their timeless design making them suitable all-year-round.
Disclosure: This post contains affiliate links. When you purchase a service or a product through the links, I sometimes earn a commission, at no additional cost to you. Read my full disclosure here.
So, let's have a look at the best shoes that go with everything- which are meant to effortlessly elevate any outfit while still being easy to mix-and-match with various looks!
Stylist Best Shoes That Go With Everything
Classic Flats
Flats have become the most bought shoes that go with everything providing a range of colors, trendy styles, and flattering shapes.
When it comes to the workplace, traditional flats take on a fun and playful feel with their bold hues, ankle straps, pointed tips, and creative designs.
Conversely for formal events or business-casual settings formal shoes that match with everything are preferred over trendiness. Thus, by sticking to timeless basics such as black navy blue, or brown; these choices guarantee an elegant appearance.

Ballet Flats
Prepare yourself for the revival of ballet flats- the versatile shoes that go with anything and seamlessly transition from the workplace to a night at the theater!
These flats possess a charming vintage aesthetic, evoking memories of iconic women like Audrey Hepburn and Grace Kelly. They come in various styles and colors – from Chanel's timeless quilting to Ferragamo's Vara ballet flats – combining sophistication with comfort comparable to high heels.
Whether you pair them with straight-leg jeans or a mini skirt, the elongated shape of these timeless ballet flats adds a spark to any ensemble. Opt for traditional shades such as off-white or black, or add a refreshing twist by selecting pale blue shoes that match with everything and complement numerous looks.

Lace-up Sneakers
White lace-up sneakers have become a fashion sensation on the streets, capturing attention as a popular everyday item. These versatile sneakers are certainly the shoes that match with everything and any color in your wardrobe!
They are an essential year-round staple that is easy to style and provides exceptional comfort. When you're unsure about what to wear, white sneakers are always a safe choice and the best shoes that go with everything. They perfectly complement yoga pants, t-shirts, and even summer dresses, adding a chic touch without effort.

Knee-High & Ankle Boots
Knee-high boots have remained a classic symbol of fashion as well as the shoes that go with anything. Their versatility and ease of matching with different outfits make them the perfect choice for any occasion – whether it's jeans, skirts, or casual streetwear.
Available in a wide range of colors, materials, and heel heights, knee-high boots effortlessly blend into any outfit you choose to wear.
On the other hand, ankle boots are essential shoes that match with everything all year round and go well with both denim jeans and midi skirts. They can be worn during any season; when it's colder outside they pair perfectly with tights whereas during spring and summer months, wearing them with sundresses works just as flawlessly!

Loafers
Loafers are a popular choice of shoes that match with everything due to their timeless design. With a wide variety of options available, ranging from the sophisticated Gucci loafers with their iconic horsebit details, to textured and glossy variations, there is a perfect pair for everyone.
Loafers combine the comfort of flats with a durable sole, distinguishing them as the more grown-up alternative to ballet flats. Often associated with preppy fashion, loafers are considered essential wardrobe staples best shoes that go with everything.
Leather loafers offer an elegant alternative to white sneakers while providing the same versatility. Style icons like Gigi Hadid and Taylor Swift have been seen sporting loafers regularly.

Strappy Sandals
Minimalist sandals are another versatile pair of shoes that go with anything that complements any outfit, making them perfect for parties. Its thin straps, inspired by the '90s fashion trends, seamlessly blend with various color choices.
Moreover, as the warmer weather approaches, embrace strappy sandals to show off a stylish pedicure and leave casual flip-flops for beach outings. Elevate your summer wardrobe by opting for strappy sandals with low, mid, or high heels. Go for neutral shades or classic black if you want a more professional look, or add some glamour to your ensemble with a platform sandal adorned in glitter.
Make sure to have versatile strappy sandals as part of your shoe collection so you can make a stylish statement on any occasion.

Court Shoes
Designed with smaller heels and lower front cuts, court shoes provide a more comfortable alternative to high and uncomfortable heels. The timeless appeal of court shoes is truly captivating. With this must-have court shoes that effortlessly go well with any outfit, you can confidently rock them all summer long.

Slide Sandals
Slide sandals, as spring arrives, turn out to be a common choice of shoes that go with anything. They match beautifully with beach attire and business-casual clothing by providing breathability and style.
Not only this, the slide sandals come in many forms and so there is a lot to choose from for your shoe closet, depending on your style.

Mules
Still, thinking about what more what shoes go with everything to add to your shoe closet? We got you!
Mules are classic design shoes that go with anything and combine fashion with comfort. Opt for an elegant neutral shade and seek out delicate elements such as a gracefully shaped heel, reflective embellishments, or decorative studs along the sole.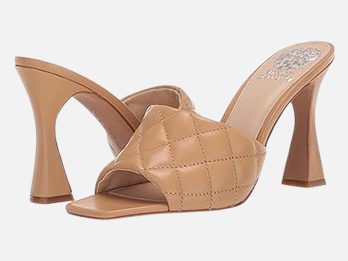 Platform Trainers
Formerly a streetwear trend, platform trainers shoes that match with everything are now a well-liked and accepted look. These are the shoes that you can wear with confidence and without hesitation because they provide both comfort and style. These adaptable trainers look great with any outfit and go from every day with ease.
Platform trainers are the go-to option best shoes that go with everything for a stylish and comfortable look. Whether they are worn with tight leggings and a tunic or an old-school tracksuit and a graphic T-shirt, you will never be disappointed!

Mary Janes
Mary Janes are the best shoes that go with everything, establishing them as a highly adored shoe style.
Their charming silhouette adds an air of sophistication to any ensemble effortlessly. Take note of the iconic characteristic – an attractive strap that crosses over the top portion of your foot.
Whether you prefer the traditional ballet design or opt for modern variations with stylish colors and patterns, Mary Janes enhance both flirtatious dresses and casual jeans-and-sweater combinations.
Choose Mary Janes to embrace their timeless appeal and enjoy a feminine yet versatile choice in footwear.

Chelsea Boots
During colder weather conditions, Chelsea boots become an indispensable option of shoes that go with everything. They serve as one of the most versatile shoe styles for both autumn and winter, they seamlessly adapt to the changing seasons.
Whether paired with spring mini dresses or cozy knitwear in autumn, Chelsea boots effortlessly complement any outfit choice.
Also, for those seeking a more polished appearance, Dr. Martens offers classic Chelsea boots- the best shoes that go with everything, crafted from smooth leather.

Final Thoughts
When it comes to dressing up for the day, we often don't give much thought to our shoes and thus, we are always guilty of grabbing the closest pair without much consideration.
However, whether you prefer a simple closet or like to follow the latest trends, every woman should have shoes that match with everything. Although these styles of shoes that go with everything may not immediately catch your eye, their subtle design, textures, and interesting neutral colors, add a hint of fashion-forwardness to your outfit!
Happy shoe shopping!