There's something so irresistible about wearing a sophisticated pair of heels. When you walk into them, you exude confidence. Not only do you feel it, but others can feel it too! Loafer heels are the combination of elegance and class at its best. Featuring a closed toe design with a block heel and, generally covers your feet and grips them well, Loafer heels make a great addition to your corporate wardrobe in general.
What You Need To Know Before Buying Loafer Heels:
In the era of feminism where women are changing their fashion tastes to comply by the feminist rules, loafer heels exude boldness and confidence, especially if you're planning on adding these to your corporate wardrobe. Ranging from high heel loafers to a strappy look – the choices are limitless. A few things that you need to know before investing in Loafer heels include the following:
Your Individual Requirement

Some women want to have a pair of Loafer heels for their corporate wardrobe, while some prefer having a spare for a formal event like an office get together. Whatever the individual requirement may be, it is important to note that a more formal version of loafer heels would be appropriate for Office sort of events, while informal versions with a strappy look would be better for party type events.

Who Should Buy Loafer Heels?


The answer is very simple – women who love to look classy. Loafer heels are associated with royalty and luxury, hence it should be bought by women who love to experience both the things and who love attending formal and informal events.

Features To Look Out For

Loafer Heels can come with a strappy look, embellishments, buckles, various textures, heel shapes, heel height and a lot more. You can pick the one that best suits your needs as you browse through the popular designer brands like Tory Burch and others.

Selena Gomez

Sienna Miller

Gigi Hadid
Disclosure: This post contains affiliate links. When you purchase a service or a product through the links, I sometime earn a commission, at no additional cost to you. Read my full disclosure here.
Without further ado, let's head on to our top picks.
1. Lisa Vicky – Major Bit Mule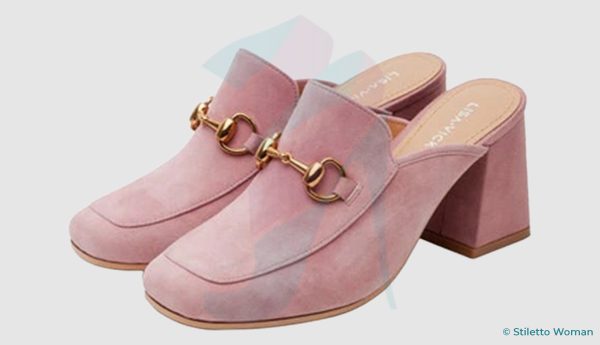 These ultra-modern, unique, and mesmerizing loafer mules by Lisa Vicky are sure to be a keeper. They come with a sculpted block heel and a slip-on, backless style which represents a timeless mule design. They can look great on most outfits and can serve as a multipurpose solution for all your fashion problems.
2. ALDO – Hairalle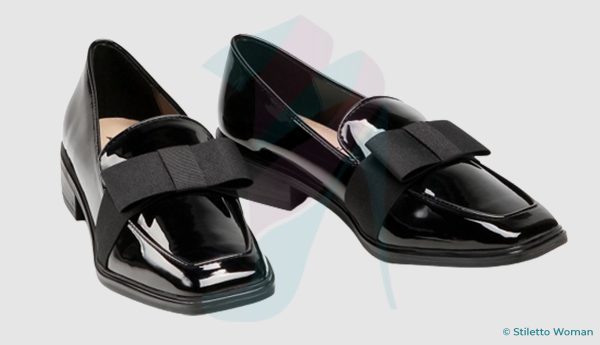 Another great pair by Aldo which oozes finesse and simplicity. Marked by a low heel height and a sleek design, these loafer heels are best for corporate events. They can go well with any outfit and they're super easy to carry too. Thanks to the convenient heel height, you can walk around in them without feeling too tired.
3. Rockport – Total Motion ESMA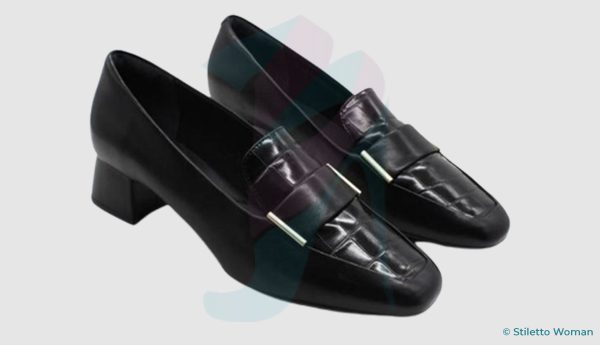 Featuring a classy pair by Rockport, these loafer heels are sleek and modern. They come in a block heel design and a black colour which makes them multipurpose and your saviour in case of any fashion crises. These can be your go-to heels when you're confused on what to wear at your workplace. Not just that, but you could wear them at casual events too.
4. Circus by Sam Edelman – Deana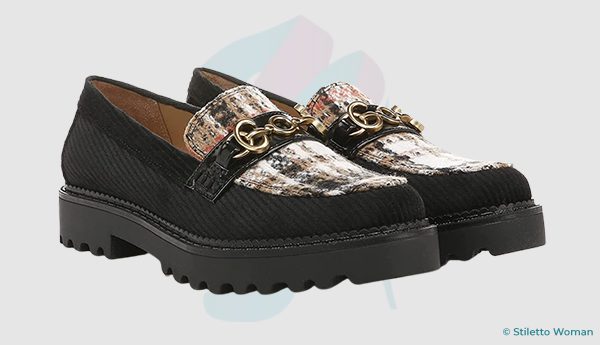 Here's a little exciting touch to loafer heels. Circus by Sam Edelman ooze creativity and zest for fashion trends. These heels ooze modernity and innovation. They come as textured, glossy loafer heels with a reasonable heel height which makes them a convenient and useful pair for most events. You can never go wrong with these.
5. Seychelles – Holidays
Who said you can't wear loafers that have high heels? These loafer heels by Seychelles feature a higher heel height which can give you an additional height boost and at the same time, help you appear super professional and charming. These heels would look great under a nice, plain dress for a work event or even a casual one.
6. Franco Sarto – Nolan Pump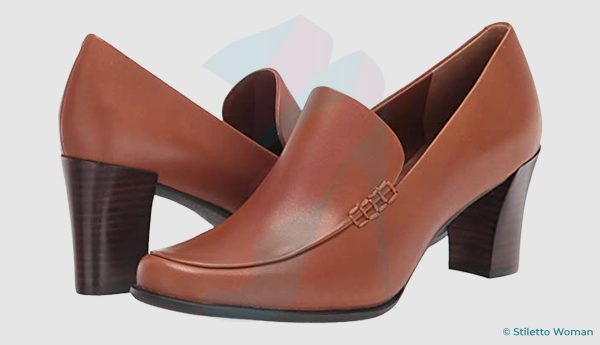 Nothing oozes cowboy vibes like Franco Sarto's loafer heels. However, by cowboy we do mean in a contemporary sense. These are more of a hybrid version. These heels exude modernity and timeless sophistication. They're great for casual and work events. These too, come in a convenient heel height which makes them the ideal pair for events where you need to walk a lot.
7. Dolce Vita – Brenan Platform
These stunning loafers by Dolce Vita feature a chunky platform and an integrated block heel. They consist of a chain-link embellishment over the top which adds to the finesse of the heels. They can be one of the most comfortable pair of loafers you've ever laid your feet in. Also, they are made up of high-quality material which can last you a long time!
8. Michael Kors –  Mid Padma Pump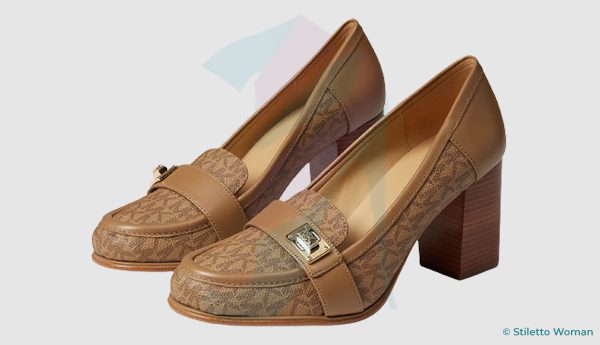 If you want a unique pair of loafer heels, then look no further as Michael Kors's pump heels can have you stunned. Featuring a signature logo hardware gleaming from the top, these heels consist of a block design which facilitates walking too. You'll never regret investing in a pair of Michael Kors's loafer heels!
9. NINE WEST – Remal2 Pump
While we know that Nine West is rather a hip-chic type of a brand, but it also comes up with minimalistic and sophisticated designs. These loafer heels by Nine West exude timeless grace and charm. They consist of embellishments of a chain on top of the footwear which makes them appear luxurious and classy too.
10. COACH – Leah Platform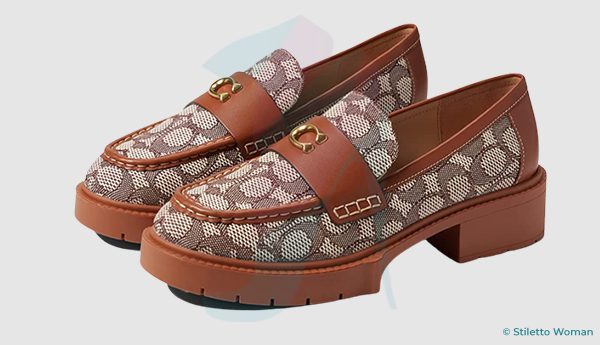 Another sophisticated pair of loafer heels which comprises of the signature Coach logo with a durable lug sole and a chunky platform style that is sure to catch everyone's attention. They are great for everyday events and are available in many colors. They'd be a great addition to your corporate/casual wardrobe. They're sure to make a strong fashion statement and make you look professional at the same time.
11. Clarks – Juliet Palm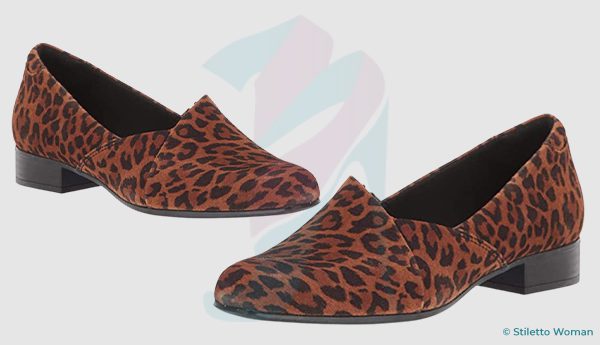 A brand that's known for its amazing quality and useful designs, Clarks has been around in the fashion industry since decades. Featuring a very low heel height, you can even consider them as your running shoes. If there's a horse riding event or a charity event where you need to run around a lot, these heels would look great!
12. Gentle Souls by Kenneth Cole – Eliott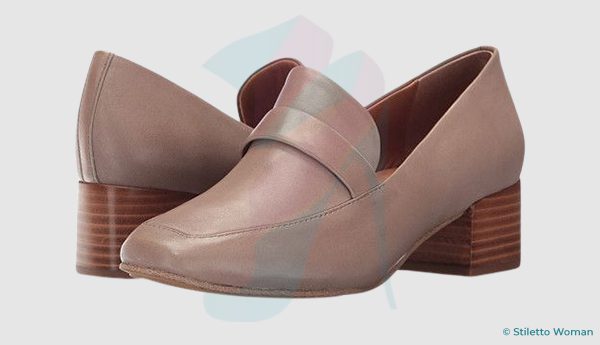 Similar to Franco Sarto's loafer heels, these heels by Kenneth Cole are defined by their timeless grace and charm. They come with a glossy touch and a minimalistic look which makes them irresistible. They look great with any outfit, thanks to the multipurpose color. Also, they're very comfortable, sturdy and long lasting too.
13. Donald Pliner – Avi Pump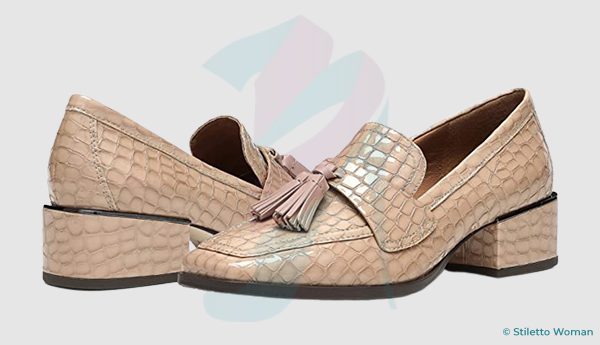 When we talk about comfort and loafer heels, Donald Pliner takes the lead. These heels are not only stylish and modern, but they are super comfortable too, thanks to the intricate designing. The best part about these heels is that they come in a nice pastel colour which is great for most events. They also add a few inches to your height so there's that perk as well!
14. Tory Burch – Buckle Heeled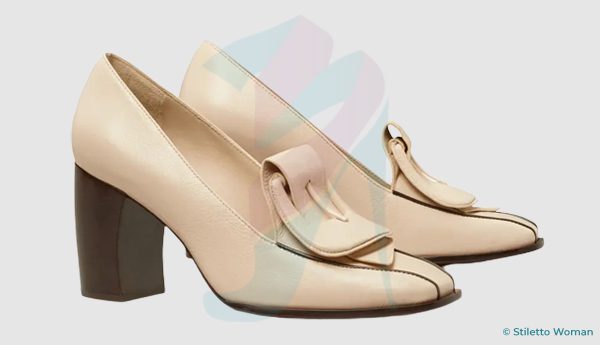 These loafer heels by Tory Burch ooze finesse and luxury. They are great for corporate events, as well as other formal events too. If you wear them to a job interview, you'll have the interviewers sold at your fashion sense. They have a minimalistic yet impactful appeal which is sure to leave a lasting impression on your audience. Though they're a bit pricey, we're sure you won't regret it in the long run, as they're super sturdy, sleek and long lasting.
15. Prada – Chocolate Platform Mule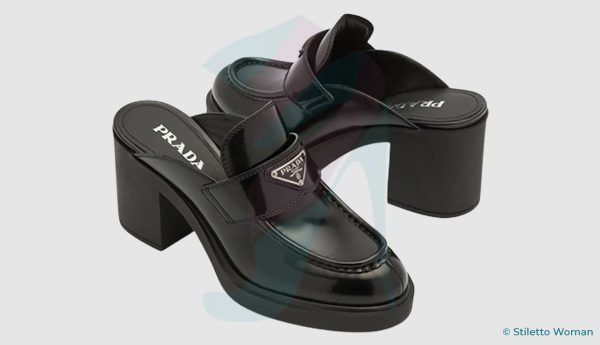 Last, but not the least, these ultra-modern, exquisite, and high-end heels by Prada exude confidence and finesse at its best. They consist of a chunky molded rubber sole with block heel design. Also, the backless silhouette – the mule style makes it seem more sophisticated. They are an easy-going pair, oozing class and modernity. You can't go wrong with these!