A telltale way to exude a feminine charm and to make a strong statement would be to follow the latest trend of feather fashion, i.e. to wear feather high heels. Since feathers represent delicateness and softness, heels that consist of feathers on them can make you appear attractive and ladylike. Depending on the occasion and your own preferences, there are many ways to style heels with feathers. From a dense feathery look to just a few feathers on top to look chic and fashion-forward, you can find all the variations out there.
What You Need To Know Before Buying Heels With Feathers:
You may assume that feather high heels would look very flashy and extra as compared to the look of simpler heels. However, we have newer versions of heels with feathers which are suited to many occasions and preferences. Ranging from open-toe, closed-toe, square-toe, feather block heels, and many others – the choices are limitless. A few things that you need to know before investing in heels with feathers include the following:
Your Individual Requirement

Whether it's your prom, graduation ceremony, or the desire to have heels with feathers, know that there are many variations out there. So make your picks wisely according to the occasion and your preference.

Who Should Buy Heels With Feathers?

Women who love to look creative and feminine. For those who love to try something unique and love stocking up on girly heels, feather-high heels can match their preferences accurately.

Features To Look Out For

Heels with feathers come with a strappy look, embellishments, buckles, various textures, heel shapes, heel height, and a lot more. You can pick the one that best suits your needs as you browse through popular designer brands like Giuseppe Zanotti, Jeffrey Campbell, and others.

Fabiola Sciabbarrasi

Jodie Turner

Beyoncé
Disclosure: This post contains affiliate links. When you purchase a service or a product through the links, I sometimes earn a commission, at no additional cost to you. Read my full disclosure here.
Without further ado, let's head on to our top picks of the best feather heels:
 Stiletto Best Feather Heels To Buy in 2023
1. Nina – Dalva Sandal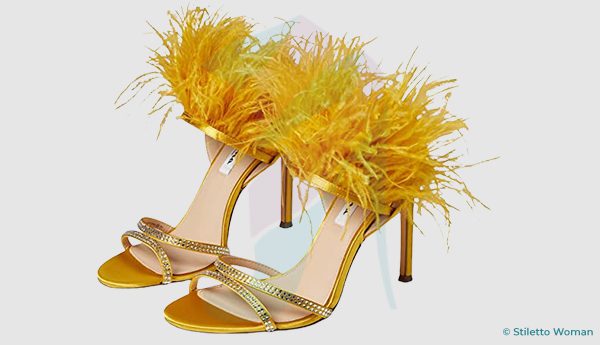 Ranking at the very top, these ultra chic and modern feather high heels by Nina feature a plume of feathers that bring a vintage-inspired look. These heels are set on a tall stiletto heel which can give you an additional height boost and the open-toe style can make these heels breathable too.
2. Circus by Sam Edelman – Brenna Heeled
Another great pair that is marked by a geometric and sculpted heel shape which adds a dramatic flair to the feathery vamp strap heels. You can make a strong fashion statement with these black feather heels and they'll be suitable for most occasions too. The ankle strap design adds to the overall finesse of the heels.
3. Charles David – Esquire Feather High Heels Sandals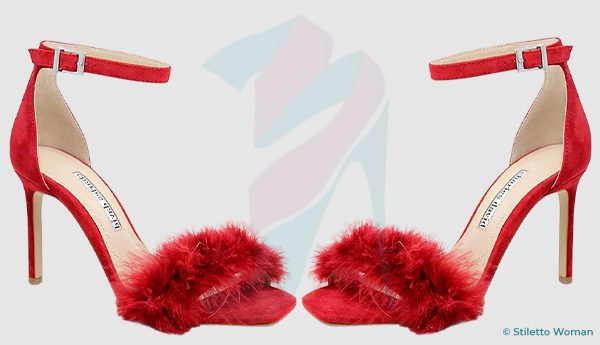 These feather high heels by Charles David are sure to be a keeper. They will not only be a great addition to your heels collection but also, the heels consist of cushioned footbeds which allow more comfort for your feet. On top of that, you get to have an added bonus of a height boost owing to the heel height of these feather high heels.
4. Jeffrey Campbell – Shake-Ya Feather Boot
A brand that's marked by its timeless designs – Jeffrey Campbell never disappoints. These boots by the brand are featured with feathered fringe and lofty heels along with a pointy-toe design. It not only goes with your outfit but creates a whole new contemporary look. These pink feather heel boots would be perfect for the winter season too.
5. Something Bleu – Sophia Pump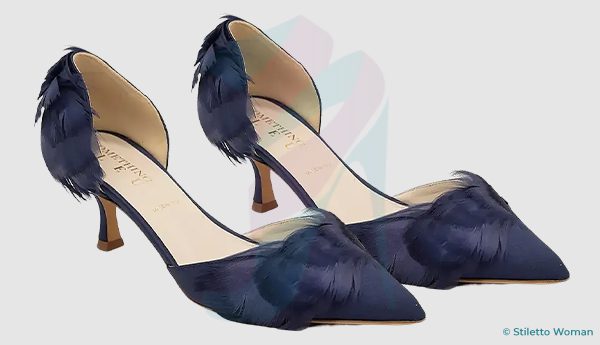 Looking for something sophisticated and elegant? Then look no further as these feather kitten heels by Something Bleu are sure to have you amazed. They come with delicate feathers which rest on Italian-made leather and a D'Orsay pump that exudes grace and sophistication. With a flared kitten heel style, these feather kitten heels add an elegant finish to your evening ensemble, so you can't go wrong with them.
6. Sebastian Milano – Marie A. Sandals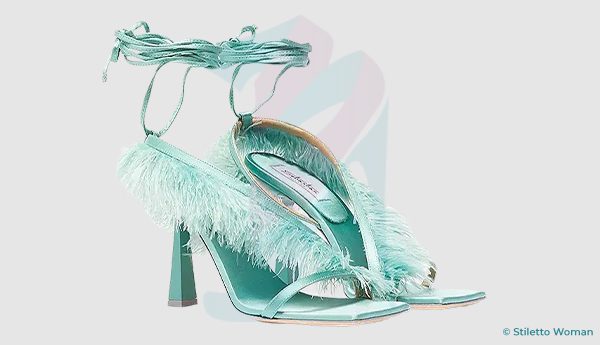 Another uber-chic option for you to try would be these. If you're looking for something extra and flashy, then these feather fashion heels would suit your preferences well. They come with an ankle tie design and feather appliques along with a square toe design and a sculpted heel for added finesse. They're sure to be a keeper.
7. Alexander Wang – Lulu Slide Sandal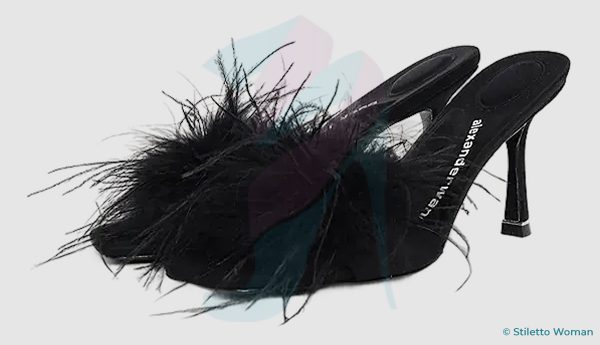 A high-end option for you to consider would be that of Alexander Wang. This brand is marked by its bold and extravagant heel designs which can make a statement. These heels come with extravagant feather details along with Hollywood glamor that has the added benefit of the tall stiletto heels to give you a height boost.
8. Sophia Webster – Delicia Marabou Mules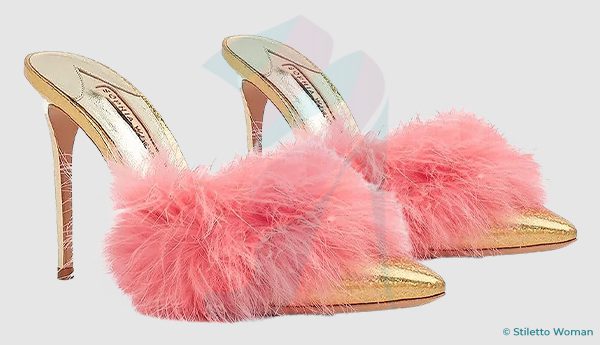 These dramatic and bold, yet feminine and super classy stiletto high heels with feathers are sure to catch your attention. These feather high heels mules consist of a pump heel style that can not only accentuate your feet but also make you look chic at the same time. These pink feather heels give you a height boost as well. Moreover, these pink feather heels come with a simple slip-on style which makes them easy-going and convenient. 
9. Giuseppe Zanotti – Feather Detail Heeled Sandals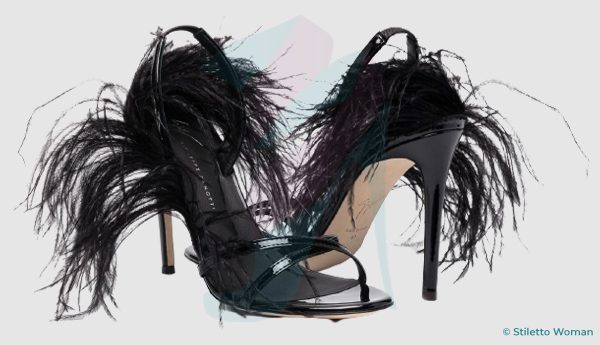 Another high-end option for you to consider would be that of Giuseppe Zanotti. These black feather heels come with disorganized feathers which exude a casual and bold look. These black feather heels are defined by utmost luxury and finesse. You can wear them to parties and you're sure to make heads turn with these stylish black feather heels.
10. Aquazzura – Concerto Heel Sandals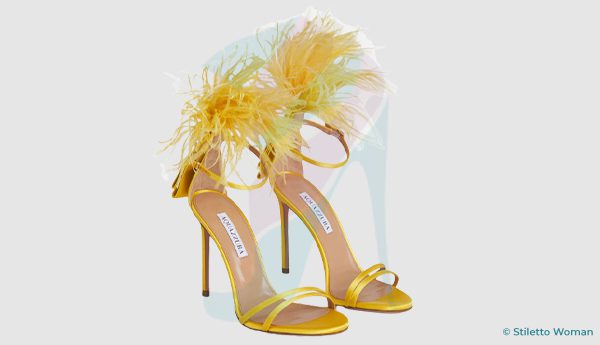 A brand that perfects the idea of luxury, finesse, and sophistication – Aquazzura heels are known worldwide for their amazing quality. These feather fashion heels by the brand represent the same. They come with moderate feather detailing over the ankle strap area and they come with sky-high stiletto heels and an open-toe style that makes them breathable and lightweight too.
11. Sergio Rossi – Sophia Sandals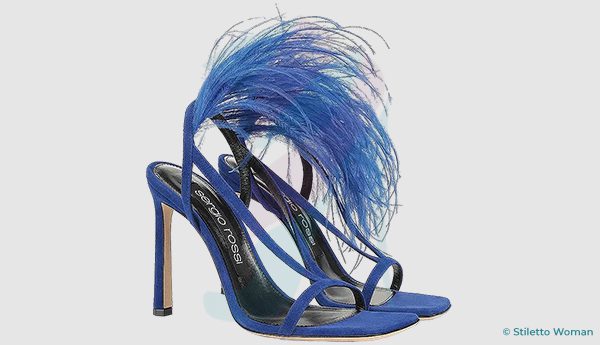 One of the most pricey options, yet considerably amazing one – these feather fashion heels by Sergio Rossi are breathtaking. They exude confidence and modernity like no other. The brand is defined by its amazing quality, so investment in these feather fashion heels won't be a wrong decision. They come with a slingback style which is quite unique if you notice it meticulously.
12. Saint Laurent – Pompom Sandal
Carefully crafted with utmost finesse and precision, these white feather heels by the ultra-luxury brand, Saint Laurent are sure to leave you impressed. These white feather heels consist of a puff of marabou feathers at the vamp which adds to the old-school glamour of these heels. Also, the convenient heel height allows for a smooth walking experience with these white feather heels.
13. Givenchy – G-Chain Slingback Sandal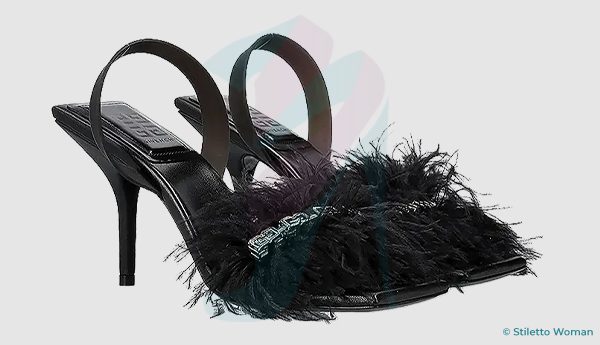 Featuring the ultra-glamorous and sensational brand's heels – the black feather heels by Givenchy is a stunner. Marked by their simplistic yet significant looks, these black feather heels consist of cloud of pinch ostrich feathers along with a square toe style and a translucent slingback and G cube hardware draped at the vamp. These black feather heels help you make a statement wherever you go!
14. Dolce & Gabbana – Keira Feather-Trim Sandal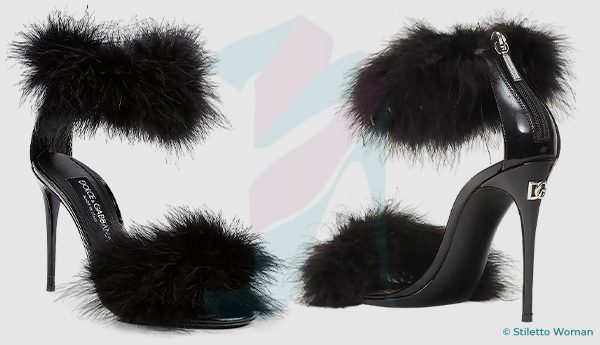 Another one of the bold types, these black feather heels exude opulence, confidence, and modernity at their best. Coming from D&G, you can trust that these black feather heels won't disappoint you. Even though they are ridiculously expensive, these black feather heels will last you a lifetime. They're defined by plush poufs which can uplift any dull-looking outfit.
15. Bottega Veneta – Leather Feather Dot Sandals
Here's a dramatic option for you to consider if you love feather heels. The generous amount of feathers attached to these pink feather heels will make sure your needs are met. The ankle strap can grip your feet well and prevent slip-offs. Besides that, these pink feather heels can add a few inches to your height too.