'This winter season, where we must wrap our arms around fuzzy blankets, have cozy nights in with a hot bowl of soup, and most importantly, some warm tights with our boots if we plan to head outdoors. Although there are some people who are daring and can tolerate the chilly winds with bare legs and warm boots, the majority prefers adding extra layers to save our skin from blistering cold winds. Notably, tights are not winter-restricted apparel and can be worn in summer under dresses too but pairing them up with heels or pantyhose high heels correctly can not only make you look chic, but also feel warmer.
Though there are major stereotypes and fashion faux pas attached to pairing heels and tights, often people forget about the dos and don'ts which get blurred in the derogatory remarks. Fortunately for you, we have made the perfect combos that will protect you from such remarks or prejudice by reviewing which dress pantyhose heels will look better. Here are some examples of heels with cotton tights celebs favorites or dress pantyhose heels references:
Must Try Heels To Pair Up With Tights:
Tights With Heels Ankle Boot
The style-forward, and fashionista, Victoria Beckham is seen wearing ankle boots with black opaque snag tights and she is completely nailing the look with a casual street style in the winter season. You could do the same.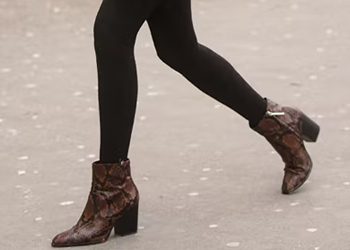 Pump Heels With Semi-Opaque Tights
Here's a pictorial representation of the gorgeous, Kate Middleton in high heel pumps, paired up with semi-opaque black tights for an effortlessly graceful look. Not only do you get to show off a bit of your skin but do so in a nonchalant way. You won't be the odd one out if you manage to pull the look of high heels and stockings just like Kate did, or even better!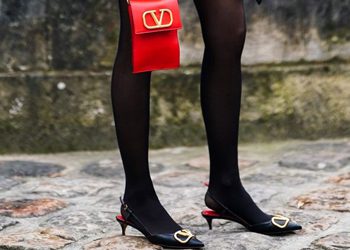 Oxford Heels And Tights
The singing sensation, Taylor Swift is seen in basic, black oxford heels with opaque black tights for a casual street-style look. You could imitate the style in a slightly different way but just wear a midi dress or a mini skirt over the tights to effortlessly look great. At the end of the day, it is all about how well you can carry your outfit which translates into the overall look.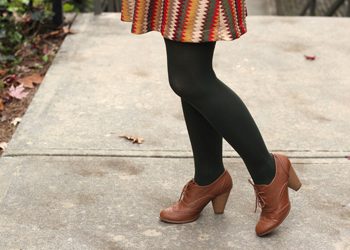 Over-The-Knee Boots With Fishnet Tights
Here's how you can take your fashion-forward style to the next level by pairing up some alluring fishnet tights with heels and that too the knee high stiletto boots. You could wear shorts or a mini skirt over it to make it look more dramatic. Sofia Vergara is seen wearing fishnet tights with over the knee boots a basic, leather mini-skirt, and a printed jacket.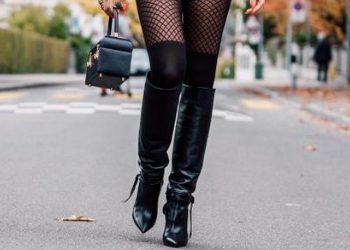 Heels and Tights That Shouldn't Be Paired:
Now that we've had the discussion of heels to wear with tights, let's now dig into the don'ts – heels that should NOT be paired with tights.
Cowboy Boots
Yes, you'd wonder why as we have previously mentioned about ankle and over the knee boots looking good with tights. The thing with cowboy boots is that they look better without the tights, and they're designed to be that way. So, it is better to avoid tights in this situation.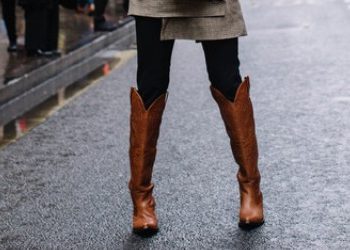 Peep-Toe Heels
The main purpose of a peep-toe heel or an open toe heel just gets lost if you wear tights with them. Open toe heels with tights can look extremely bizarre, ultimately ruining your entire look as the peep toe heels are supposed to show your skin.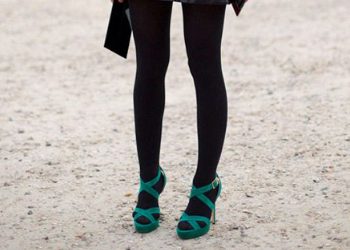 Final Thoughts
Wearing heels and tights together can be a tricky task sometimes, especially if it is the summer or spring season. In the winter season, it is common to see women wearing high heels and stockings, along with pumps, stiletto heels, boots, and similar footwear. Sometimes tights with heels are attached which add an extra chic vibe to your look, so you should try that one out too!
Besides that, it all comes down to how well-versed you are with the major fashion trends. Make sure to stay updated with our styling guide and also with the latest magazines, fashion runways, etc. to imitate fashion trends in a good way. The pursuit of wanting attention by following bizarre fashion trends only does us more harm than good. Get a second opinion if you'd like to wear your outfit with confidence – the most important thing you can own.