While indoor weddings have their own charm, outdoor weddings are now a major trend, especially in European and American countries. Since an indoor wedding does not require you to take any particular precautions, an outdoor wedding would. Walking in the dress, if it's in a garden, or anything similar, can be a hassle if you are not in the right pair of heels/shoes. For an outdoor wedding wedge or block heel would be more appropriate as you're expected to walk around too.
What You Need To Know Before Buying Outdoor Wedding Heels/Shoes:
Outdoor wedding heels/shoes should be classy and convenient. Since you are expected to walk around and the ground may not prove you with a lot of stability either, it's important to invest in pair that caters to your need. The newer versions of outdoor wedding shoes/heels are suited to many occasions and preferences. Ranging from open-toe, closed-toe, square-toe, block heels, and many others – the choices are limitless. A few things that you need to know before investing in such outdoor wedding heels/shoes includes:
Your Individual Requirement
Whether it's your own wedding ceremony or you're a close friend of the bride, it's always important to make a strong fashion statement and yet wear a comfortable pair at an outdoor wedding. So make your picks wisely according to the occasion and your preference.
Who Should Buy Outdoor Wedding Shoes/Heels?
Someone who is going to be a bride or someone who has to attend an outdoor wedding as a guest should invest in such heels/shoes. Not just that, women who prefer diversity in their heels collection may also want to invest in such heels to have a spare.
Outdoor comfortable heels for weddings come with a strappy look, embellishments, buckles, various textures, heel shapes, heel height, and a lot more. You can pick the one that best suits your needs as you browse through popular designer brands like Stuart Weitzman, Jeffrey Campbell, and others.

Jessy Mendiola

April Banbury

Mica Argañaraz
Disclosure: This post contains affiliate links. When you purchase a service or a product through the links, I sometimes earn a commission, at no additional cost to you. Read my full disclosure here.
Without further ado, let's head on to our top picks for comfortable heels for weddings:
 Best Heels For Outdoor Wedding To Buy In 2023
1. NINA – Nadette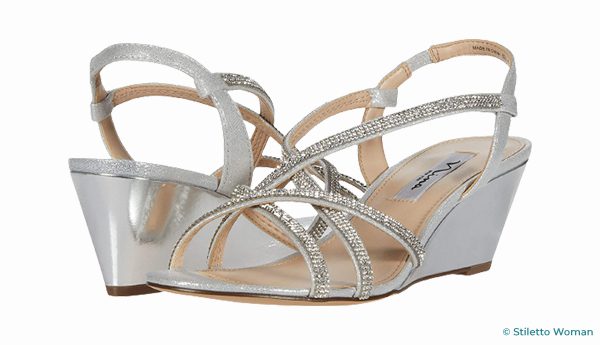 Ranking at the very top and having rows of sparkling crystals that bring irresistible glamour to these wedding sandals, these bridal sandals heels by Nina are a keeper. They consist of the perfect low wedge style with a strappy look which makes these bridal sandals heels ideal if you want to take over the dance floor at an outdoor wedding too.
2. DKNY – Balto Embellished Slingback Sandal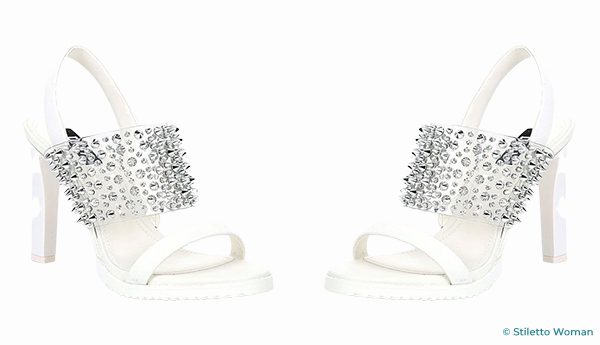 Sometimes looks can be more appealing than the characteristics of the shoe. These comfortable heels for weddings by DKNY come with pointy studs which add a subtle edge and shine to the camp of these statement-making bridal heels that are lifted by a tall and tapered heel which facilitates walking too. They are the ideal bridal sandals heels for an outdoor wedding as they grip your feet well too.
3. Karl Lagerfeld Paris – Bristol Embellished Bridal Sandals Heels
Featuring a rhinestone embellished look with a dazzling strappy upper of this almond-toe pair of bridal heels, lifted in a bold heel, they're the bridal sandals heels for an outdoor wedding. These bridal heels by Karl Lagerfeld come with an ankle strap too, to secure your feet well in order to prevent slip-offs.
4. Badgley Mischka – Everafter Wedding Sandals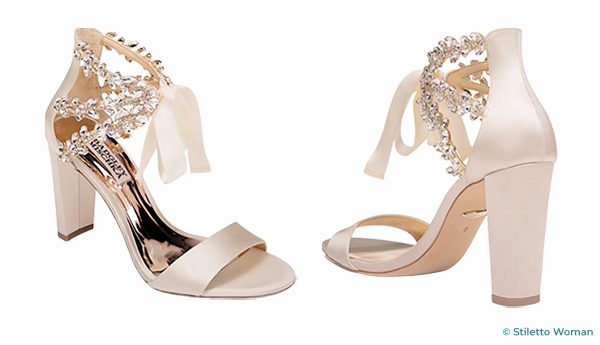 Another great option for you to try would be these, wedding sandals for outdoor weddings as a guest of Badgley Mischka. The brand is marked by its classy collection of wedding sandals. These heels come with a mix of crystals at the straps and they're lifted by a tall half-moon heel that gives you more support and balance. You can't go wrong with these wedding sandals as you'll make heads turn wherever you go.
5. LARROUDE – Dolly Platform Bridal Sandals Heels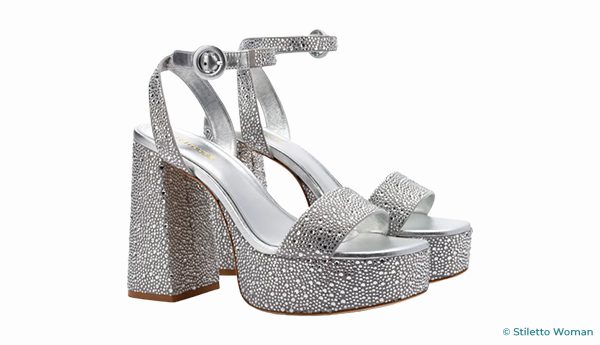 Still not satisfied? Not a problem. Here's a flashy option that is sure to have you sold at first look. These bridal sandals heels feature a chunky heel and a platform base which adds a burst of glamor to the show-stopping appeal of the footwear. Not only will these bridal sandals heels be super comfortable, but they'll also last you a great time.
6. Bella Belle – Valerie Pump (Bridal Shoes Block Heel)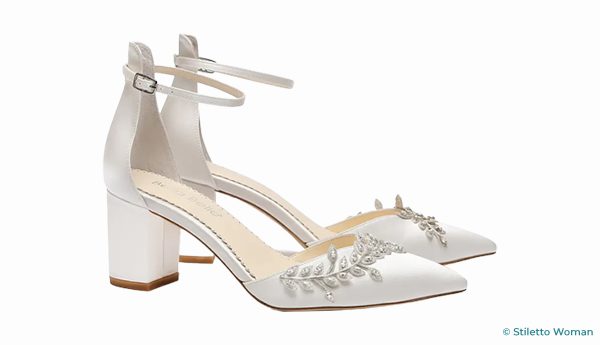 Featuring a simplistic, classy, and more elegant version of the bridal shoes block heel with a low heel height by Bella Belle. If you're someone who likes the idea of 'less is more' then you'll love this pair. These bridal shoes block heels come with clusters of sparkling crystals that dazzle along the V Shaped topline of an elegant pointy toe pump that is elevated by a wrapped block heel to facilitate walking for you.
7. Loeffler Randall – Shay Bridal Sandals Heels
A more high-end and luxurious option would be that of Loeffler Randall. These bridal shoes block heels by Loeffler Randall come with a sparking rhinestone crystal embellished look which enriches the entire appeal of it. They're lifted by an elegant block heel and a slender ankle strap to grip your feet well. The investment in these bridal shoes block heels will definitely be loved by you.
8. Stuart Weitzman – NEARLY NUDE Bridal Heels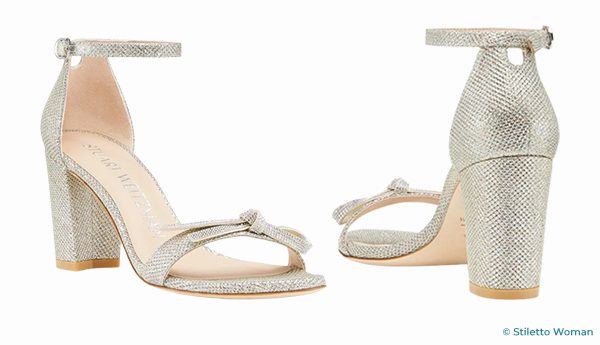 Yet another great option in terms of bridal heels would be that of Stuart Weitzman. These bridal heels come with sparkling crystals which illuminate the bow detail on a dazzling block heel design that is topped by a slim ankle strap which can help you make a strong fashion statement. They can make heads turn and your feet will be thanking you for investing in these bridal shoes block heels.
9. Dries Van Noten – Glitter Slide Wedding Sandals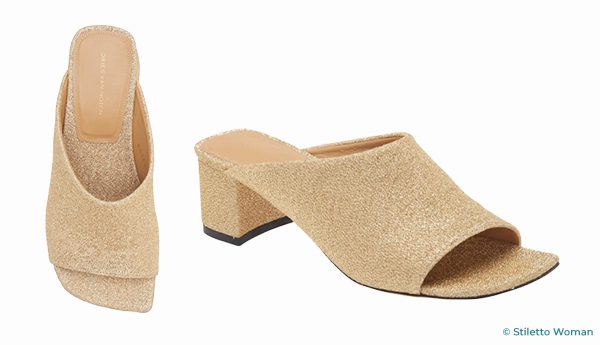 If you are just finding a pair of heels for attending an outdoor wedding as a guest that you can easily slip on and go about your day, then try these Glitter Slide Wedding Sandals. Keep in mind that these wedding sandals would be more appropriate for the guests than the bride. They come with a block heel design and they're crafted in Italy from a golden shimmer fabric with an angled square toe to leave a lasting impression on the audience.
10. Santoni – Strappy Wedding Sandals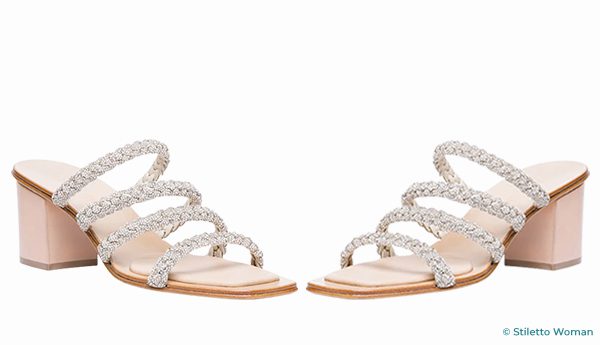 Featuring a really chic and sophisticated pair of wedding sandals that comprise rows of glittering Swarovski crystals that catch the light with every step and consist of a strappy look that is lifted by a chunky block heel, they're sure to leave you stunned. You'll be making heads turn wherever you go. Also, with an easy slip-on style, this pair makes the most comfortable heels for wedding.
11. Jimmy Choo – Bing Wedge Bridal Sandals Heels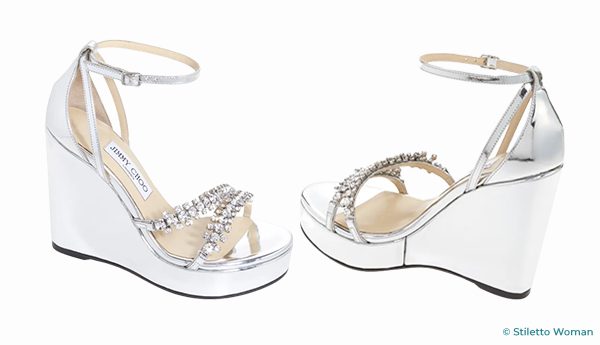 A brand that's known worldwide for its label and quality, along with design, Jimmy Choo is every woman's dream. Though the brand is marked by its high prices, these bridal sandals heels can be an ideal pair for brides. These iconic bing style feature sparkling crystals and a lofty platform wedge wrapped in metallic leather which gives these bridal sandals heels a glossy appeal that's hard to resist.
12. Gianvito Rossi – Odyssey Bridal Sandals Heels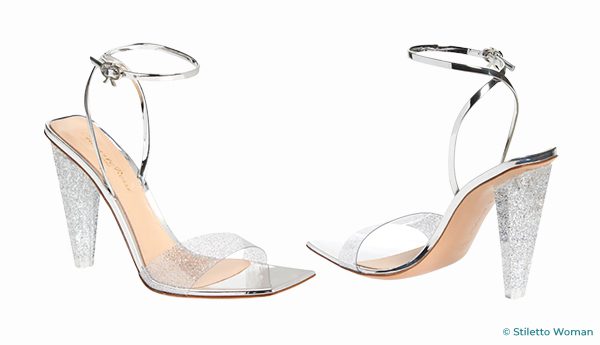 Another high-end, luxurious, and glamorous option for you to try in terms of the best bridal sandals heels would be that of Gianvito Rossi. These comfortable heels for weddings have a shimmering glitter that illuminates the clear strap and the sculptural heel of these Italian-inspired heels. These bridal heels are more like a modern version of Cinderella's glass slippers with added finesse.
13. Amina Muaddi – Caroline Bridal Sandals Heels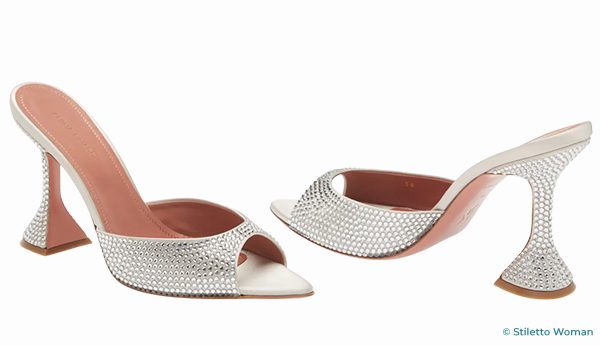 A smart, convenient, and useful option of bridal sandals heels can also be that of Amina Muaddi. These bridal heels consist of a dazzling slipper style and they consist of a pointed toe with a crystal-embellished satin design that can help you make a strong fashion statement. They're not only fashion-forward but also super comfortable and convenient too.
14. Miu Miu – Crystal Heel Wedding Sandals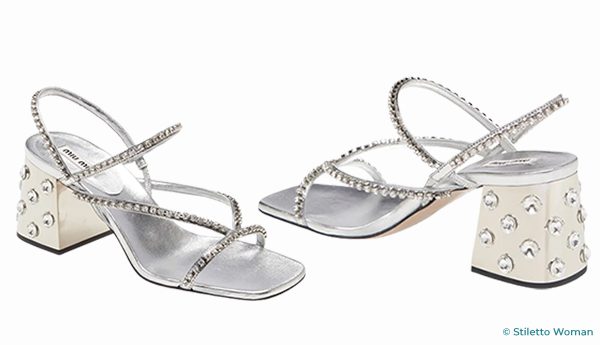 Featuring another luxury and premium option for you, these wedding sandals by Miu Miu come with the prestigious label embossed  Made In Italy. On top of that, they consist of a mirror finish block heel bedecked with dazzling crystals which enhance the shine of a silvery look that's covered in crystal-embellished straps.
15. Valentino Garavani – Tan-Go Crystal Pump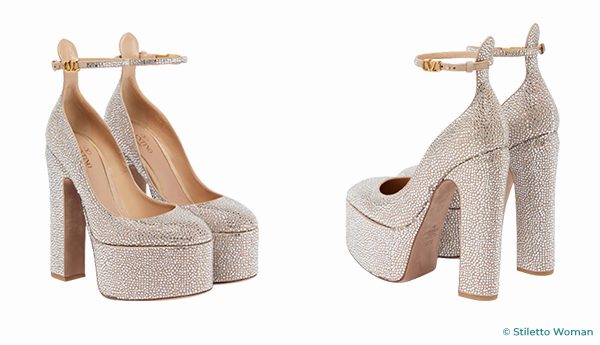 Last, but not least, these glamorous and super classy best wedding heels for brides take chicness to another level. They come with crystal-embellished leather and they're elevated on a hefty platform and soaring block heels which can make the walking process a whole lot easy for you. You can't go wrong with these ultra-modern and luxurious bridal heels. They'll be a good long-term investment too as they'll last you a long time.