The American countries are known for their rich culture and music industry, along with many aesthetic places. But New York is typically known to be the hub of fashion. American brands, specifically, are known for their superior detailing in terms of products, along with stunning designs which are not only fashion forward, but also durable and long-lasting. Therefore, fashion and America are two words which go hand in hand. One of the most renowned and luxury American brands, DKNY is known worldwide for its excellence in products and services.
About DKNY
DKNY was founded in 1984 by Donna Karan and it is headquartered in New York, New York, United States. DKNY is spread across 5 different continents with over 300 stores and more than 1000 employees. It caters to both, men, and women. It is known to be the New York fashion house and that too, one of the leading ones.
DKNY prides itself in creating opulent and fashion forward designs for audiences who are concerned about their appearances and are willing to invest in brands which offer the best solution to their fashion problems. For that very reason, it targets the people aged between 20-40, though individuals outside of that age bracket may also buy heels from DKNY.
The Types of Heels Available at DKNY
DKNY offers a range of stiletto heels for women under the category of heels.
Types of Heels
Sandals
Block heels
Mules
Slingbacks
Pumps
Stiletto heels
Wedges
Boots & Booties
Disclosure: This post contains affiliate links. When you purchase a service or a product through the links, I sometime earn a commission, at no additional cost to you. Read my full disclosure here.
Who Wears It?
Even though it is an American-inspired brand, people wear it across the globe, including Canada, UK, and Australia too. Some of the celebrities who love the brand include the following:
Celebrities Who Wear DKNY :
Jessica Alba
Bella hadid
Bella thorne
Victoria justice
Cara delevingne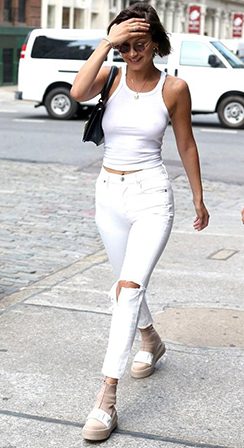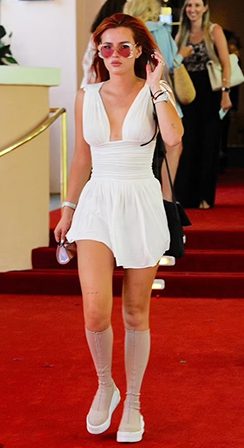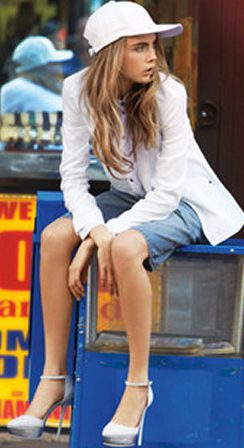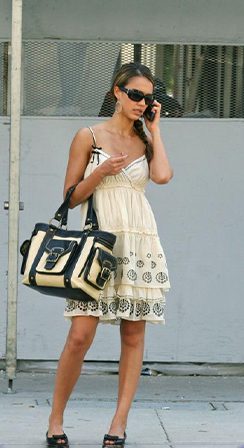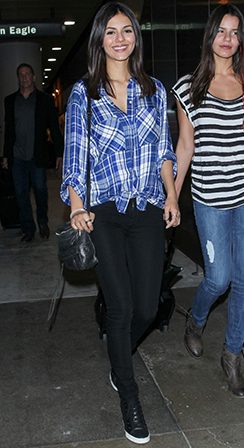 The brand is not just restricted to celebrities or famous people, even you can get a pair or two, but that depends if you can afford it. You can get a pair when there's a sale or you have a voucher to avail to save up on your order.
Is it for me?
If you have a finer taste in life and do not mind spending a lot of money on premium heels, then DKNY is for you! These heels ooze modernity and easy-going vibes, so they'd be suitable for the trendy types, but also the ones who prefer comfort and fashionable products which includes heels as well. The brand is suitable for women who have creative and elegant tastes in fashion.
Criteria Based Rating: DKNY
Design & Style
 8.5/10
The brand has a versatile and modern range of heels. From comfortable and casual wear to formal and stylish heels it has it all.
Colour Range
6/10
Offers a fair range of colours that may cater to everyday wear, but ultimately limit your choices too.
Affordability
6.5/10
The highest price can go up to $400, so it is a relatively economical brand.
Celebrity Preference
9.5/10
The brand boasts about its long list of celebrity following as they gush over the heel designs.
Similar Stiletto Brands like DKNY
Similar to ALDO, DKNY is considered as a luxury available at relatively economical prices. It has a versatile range of heels ranging from slingback heels, pump heels, mules, wedge heels, boots to platform heels and a lot more.
Similar to Stuart Weitzman and Tory Burch, DKNY is also an American brand which reinforces on the idea of delivering excellent quality footwear for women.
Some of the Best DKNY Stiletto Heels!
Where To Buy DKNY
Some of the platforms where you can find DKNY Heels at:
When Do You Wear DKNY Stiletto Heels?
| | |
| --- | --- |
| Types of Heels | Suitability Rating |
| Casual | 8/10 |
| Party | 4/10 |
| Formal | 7/10 |
| Bridal | 2/10 |
DKNY – Shipping and Return Policy
Countries
Shipping & Return Policy
United States
Shipping: 5-9 working days

Return: within 30-days from delivery.

United Kingdom
Shipping: N/A

Return: within 60 days of your purchase.

Canada
Shipping: N/A

Return: within 60 days of purchase.

Australia
Shipping: N/A

Return: within 60 days of the receipt of your order.
At A Glimpse: Customer Feedback Regarding DKNY
Based on the customer reviews, customers are generally not satisfied with the brand, claiming that the heels can be of low quality, and they are not worth the price. Besides that, customers claim that they have issues with the durability and materials used in the heels too which hinders their capacity to walk in them. On the other hand, most of the customers claim that the customer service is very good. All in all, we'd recommend you to try a pair to get hands-on experience about the brand.